'This film's only vector isn't neoliberal': Hari Nef discusses 'Assassination Nation' and social media
Hari Nef isn't your typical up-and-coming Hollywood actress. She's unrehearsed. She's self-assured. She's self-reflective.
On a recent morning, seated in a wicker chair on the patio of Lyric Hyperion Theatre & Cafe, Nef stares off into the distance through thick, dark sunglasses. An iced coffee in hand, she's wearing an easy, sage-colored silk and lace dress, flicking her crossed leg as she recalls what it was like filming "Assassination Nation," her film debut opening Sept. 21 after premiering at this year's Sundance Film Festival.
"I had never done that wake up, go to your trailer, act your boobs off, go home, wake up, back to the trailer [routine]," she said. "If I could do that, just that, for the rest of my life, I'd be happy. That's what I found out shooting this movie. This is it. This is what I want.
"I was the happiest I've ever been in in my life shooting this movie and I want to shoot more. I am shooting more."
"Assassination Nation" follows a group of high school seniors who spend their time scrolling on social media and going to parties. But when the city is targeted in a malicious data hack, their privacy is invaded and lives are ruined as secrets involving the entire city are exposed. As the townspeople turn on one another, the teens, played by Nef, Odessa Young, Suki Waterhouse and Abra, band together in a fight for survival. Think the Salem Witch Trials for the digital age.
She can be so viciously funny one second and just shatter your heart the next.
Sam Levinson
Nef, who like her "Assassination Nation" character Bex is a trans woman, first discovered her admiration for acting at 5 years old in a play at her local Jewish Community Center. That interest in the profession, and the stories that come with it, percolated as her media diet consisted of cartoons and Disney movies on VHS — and "a couple wildcards" in "Victor Victoria" and "A Chorus Line" — as well as the local theater productions her grandparents frequented with Nef in tow. But it was role-playing video games including "The Legend of Zelda" that truly solidified her passion.
"I liked playing video games because I felt like I was inside of the story in a way that I didn't feel when I was just watching something," the now-25-year-old said. "Any chance I could get to step into the shoes of another person, I would take. I couldn't get enough of stories."
That is, in part, why when modeling presented itself as an option while still a student at Columbia University, she took it.
"Modeling was something that I liked and encountered thanks to Tyra Banks [and "America's Next Top Model"], but I never thought that that would be me," she said. "But I consider everything I do to be storytelling. It's just storytelling in different languages.
"Modeling is through your body and gesture and movement and context and attitude."
Days after graduation, she signed with modeling agency IMG Worldwide. Acting, however, was always the goal.
Nef got a big break on the small screen in 2015 with "Transparent" when creator Jill Soloway wrote a role for her. Since, she's had a number of parts in short films and currently has a recurring role on the Lifetime thriller series "You," but "Assassination Nation" is her biggest project to date.
Writer-director Sam Levinson said the film was written "on a very primal level" as he was "about to bring a child into a world, or country, that was outwardly celebrating violence, vigilantism and mob rule."
"That led to the idea of repurposing the Salem Witch Trials, but through the lens of the Internet where I could take all the anxieties, pressures and fears that come with growing up in the digital age, ratchet it up and turn it into a modern-day horror," he said. "And there was never a question as to who the perspective would be centered around because the roots, the anxieties, the horror are all uniquely female."
Bex has one of the film's meatiest subplots, grappling with the ramifications of young love as her suitor is taunted by his classmates for being attracted to someone who is transgender.
"I thought she was funny and cool," said Nef about the character. "I was drawn in by her confidence and her intelligence and the swagger that she had at a younger age."
Levinson said Nef was "perfect" for the role "because of the sheer ... magnitude of her talent."
"It's intimidating," he continued. "She can be so viciously funny one second and just shatter your heart the next. It's a level of emotional agility that's hard to comprehend. I don't think there's anything she can't do."
Both "Assassination Nation" and "You" deal with the dark side of social media and the digitally uncharted, but Nef says that, contrary to what might be expected, "social media has been a very positive force in [her] life."
"I had to figure out how to use it in the right way before I could keep the good and dispense with the bad," she said. The key was to set boundaries "about what you share and post, what you say and how you say things.
"And you probably shouldn't go looking for things you don't want to find."
For Nef, social media has been empowering as "a place where I could frame myself, where I could put forth an image and tone and voice that was unmediated by any third party.
"I was able to use social media to communicate about myself on my own terms."
But with the positive has come negativity, including from those who use the platforms to disseminate hate. Even trying to use such media to hold people accountable is foolhardy, she said, speaking as someone who trafficked heavily in online call-out culture to publicly denounce bigotry.
I don't want anyone to feel to comfortable watching this film.
Hari Nef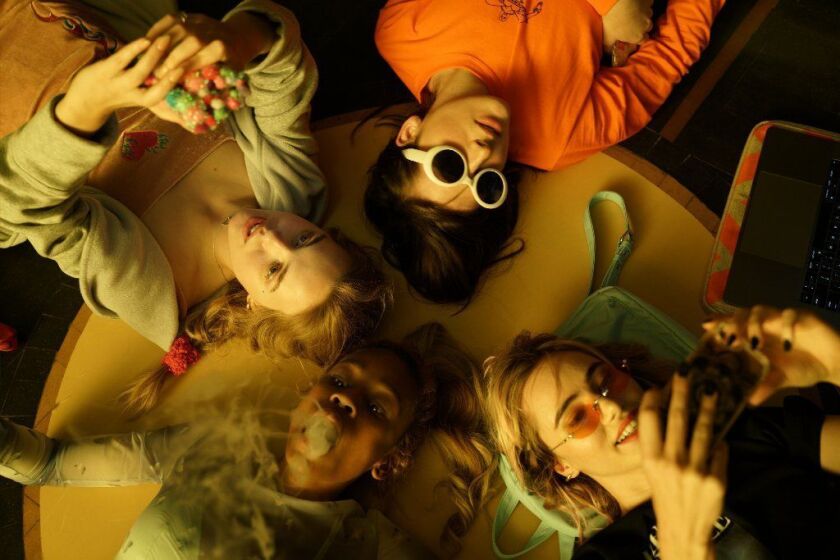 "I was a part of that, when I was on Tumblr," she admitted. "I had just learned my ABCs about race, class and gender in college and was like, 'Oh my God! My whole life has been a lie.' I felt so crazy that I had just learned all this stuff ... I felt guilt about that. The way I dealt with that was by going online and proselytizing these ideas in an occasionally aggressive way.
"I don't think that's actually effective," she continued. "I think it's an oversimplification of somebody's worth, to 'cancel' them. We're so quick to cancel but also so quick to lift somebody up as 'the queen,' 'the mom,' 'the dad,' 'the god.' Either side of the pole is absurd to me at this point."
That's why Nef advises constantly evaluating one's social media practices.
"There have been moments where I've had to question the way I've used social media and change it," she said, "not because anything was wrong or right but because my needs had changed and my perspective had changed. I think people get stuck in a cycle with social media sometimes and don't know how to make adjustments that are personal."
The vantage point Nef brought to the project made her "a dream" to work with, Levinson said. He credits much of Bex's role in the final script to a "months-long dialogue [between us] that was so exciting that I actually ended up weaving our discussions not just into the character but the dialogue between the girls.
"I think that's ultimately what this film's intention is — to spark a dialogue about who we all are, to listen, to empathize, because then maybe we can come together."
Nef agrees and hopes "Assassination Nation" generates conversations among audiences, no matter if they love it or hate it.
"I know it'll be polarizing. I know people are going to love it. I know people are going to hate it," she said. "But hate doesn't scare me because I feel like any negative reaction that could be had to this film is a productive part of the conversation that this film intends to spark. After all, it's about America, America right now."
And though she's "called this film a feminist film in the past," she cautions against labels and believes audiences of all socio-political stripes will find something both inviting and challenging in the material.
"This film's only vector isn't neoliberal," she said. "I feel like this film critiques neoliberals in certain ways, the same way it critiques conservatives and the 'alt-right' and the patriarchy. No one is really safe from this film… I don't want anyone to feel to comfortable watching this film.
"I don't want anybody thinking this film is [just] for them. It's for everyone, but it's not letting anyone off easy."
Get your life! Follow me on Twitter (@TrevellAnderson) or email me: trevell.anderson@latimes.com.
---
The complete guide to home viewing
Get Screen Gab for weekly recommendations, analysis, interviews and irreverent discussion of the TV and streaming movies everyone's talking about.
You may occasionally receive promotional content from the Los Angeles Times.