'Mountain' man Idris Elba: 'My best performance is yet to come'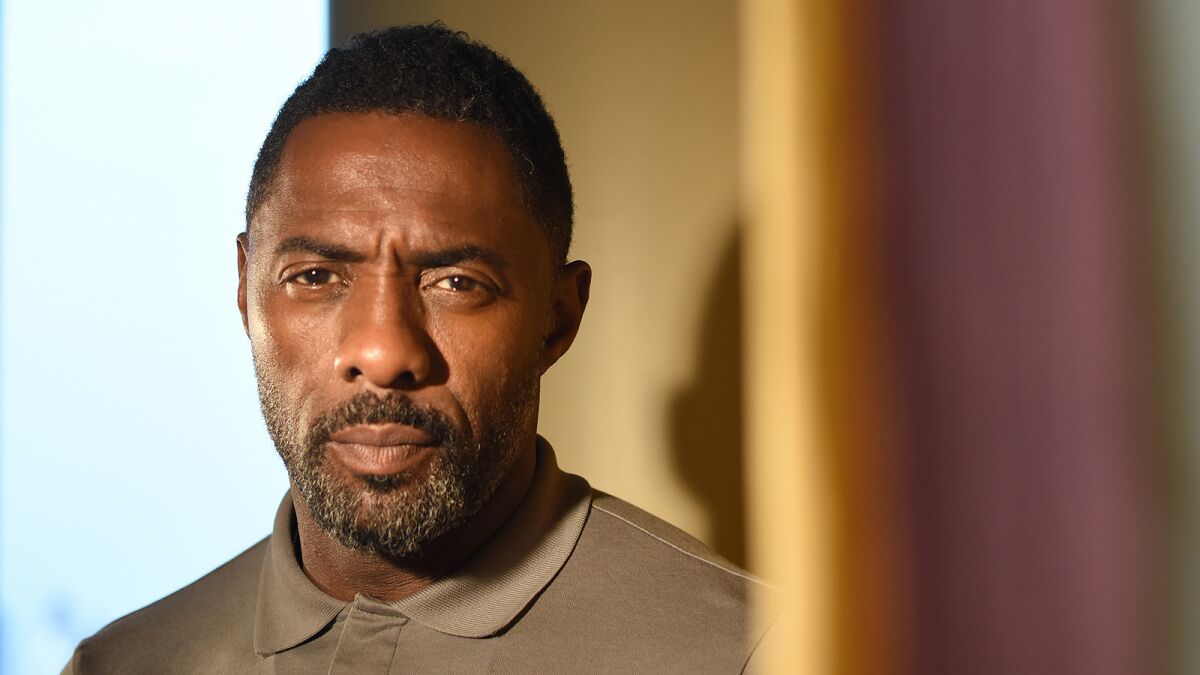 Reporting from London —
Idris Elba doesn't think of himself as a romantic leading man. He might be the only one who doesn't.
Over the summer, Matthew McConaughey declared that Elba, his costar in "The Dark Tower," should be named People magazine's next Sexiest Man Alive. (And McConaughey, having held the title in the past, is an authority.)
George Clooney recently told journalists at the Toronto International Film Festival that Elba would be a "perfect" James Bond and upon reading a recent script thought to himself, "Why aren't you getting Idris Elba to play this?"
And if the 45-year-old Elba needs more concrete proof of his bona fides, he can look no further than "The Mountain Between Us," out Oct. 6.
In the romantic drama directed by Hany Abu-Assad, Elba plays an American neurologist named Ben Bass who is faced with precarious survival after his plane crashes in Utah's remote High Uintas Wilderness. With him are photojournalist Alex Martin (Kate Winslet) and a doe-eyed golden retriever, who both rely on Ben to escape the perilous conditions. At its core, it's a love story.
Idris Elba and Kate Winslet play two strangers stranded on a mountain after a plane crash in "The Mountain Between Us."
"I didn't try to put on a performance [as] 'romance lead,'" Elba says. The Hackney-born actor is lounging on a pair of plush armchairs in London's Ham Yard Hotel, his foot elevated due to an ACL repair surgery last week. The way he's reclined makes him look like some kind of Greek sculpture — if Greek sculptures wore T-shirts and sneakers. "I don't think Ben looks like a romantic lead," he adds. "He's a guy who's caught in a … situation. He doesn't look handsome or sexy to me. It's not designed that way."
Abu-Assad disagrees. "What you need for a romantic lead besides a good actor is a man that women as well as men can fall in love with," the director notes. "You should have seen the reactions from the producers, the studio, my wife, my nephews, my nieces, my friends and my mother-in-law when we suggested Idris as the lead. The excitement was beyond expectations."
But if Elba is getting so much attention lately, why do people question whether he's getting his due? On the heels of Clooney's comments in Toronto, the BBC ran an article with the headline "Has Hollywood Let Idris Elba Down?" Elba missed the hubbub at the time, but he seems pleased to hear Clooney's sound bites now, grinning widely and quipping, "Thanks, George." He's not sure, though, that he agrees.
"Is Hollywood giving me a shot?" Elba muses. He shrugs. "Yes, I think? I've been getting more opportunities to work on more interesting roles. There is so much talent. I think they have choices. I don't think it's a black thing or a white thing or a race thing. It's 'Who's available? Who's great? Who can do it?' Look, 'The Dark Tower' wasn't written for me or a black actor. It was just written and anyone could have gotten that role and I did.
I was cast in the role because I'm a good actor — or perceived to be. It's definitely a landmark. I don't think anyone should be cast because they're black.
— Idris Elba on 'Dark Tower'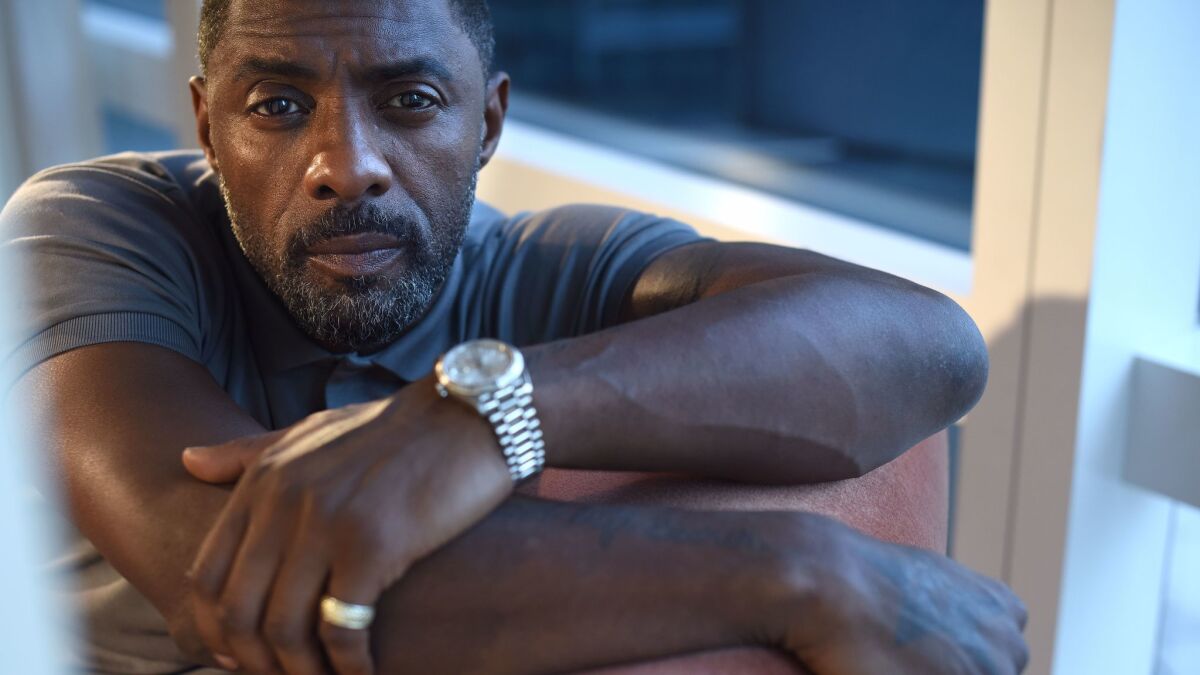 "Regardless of how the film was received, that was a character who's white in his iconography and I was cast in the role because I'm a good actor — or perceived to be. It's definitely a landmark. I don't think anyone should be cast because they're black. I think people should be cast because they're good at what they do. That's the state of play."
Released in the U.S. the first week of August, Stephen King adaptation "The Dark Tower" has so far grossed a disappointing $110 million worldwide and was made on a reported budget of $60 million. The film was intended to launch a franchise, including a spinoff television series that is still in development. Elba doesn't know what the future holds for the franchise, or his involvement in it.
"I don't think we'll make any more," he says before backtracking. "Well, I don't know actually. I think they should, maybe with a different approach to some aspects of it. But I enjoyed the film. I think it was poorly reviewed, but ultimately I enjoyed making it and I enjoyed having that opportunity."
"The Dark Tower" may not have launched Elba as the full-fledged movie star many believe he should be — he is perhaps still best known for his TV work in HBO's beloved "The Wire" and BBC's "Luther," for which he won a Golden Globe — but "The Mountain Between Us" brings another chance for the actor to demonstrate his full potential.
The shoot itself didn't leave the actors so starry-eyed. Production took place in the Canadian Rockies last winter over 45 days, most of which involved Elba and Winslet trekking through knee-deep snow in minus-freezing temperatures. Winslet has gone so far as to say that the shoot was more difficult than "Titanic." But despite the challenges of filming a two-person movie in that harsh climate, Elba feels that he gained more than he lost.
"I'm not a morning guy," he admits. "So 4 a.m. starts in minus whatever it was? I was like, 'What? Can't we shoot this in Jamaica?' But once I got into it, it was just like anything. The cold became a way of life. I'm kind of happy because I broke a barrier. I don't like the cold and I broke that barrier. I don't mind it as much now. It frees the things I can do. The cold is like a fear barrier — it makes you tense up. And I don't as much."
"It was extreme, what we were going through," he adds. "It was very, very tough. There was no fake snow. It was all real. And minus 38 is very cold. We flew up in a helicopter every day to 10,000 feet and at 10,000 feet the oxygen left was nothing. So when you walk you're tired. Your toes and your fingers are just numb. It's not comfortable. But I enjoyed it. It was quite exhilarating. I've seen a mountain range that most human beings will never see."
For Elba, pushing himself out of his comfort zone is a "perquisite" for a role. That sensibility is evidenced by a lot of his past work, from "The Wire" to the documentary series "Idris Elba: Fighter," in which the actor trained for a professional kickboxing fight for an entire year. Immediately after filming that series last year, Elba went to Toronto to shoot "Molly's Game," Aaron Sorkin's directorial debut, out Nov. 22. To say he was uncomfortable is a serious understatement.
"I winged that performance, if I'm honest," Elba says of his turn as real-life lawyer Charles Jaffey. "Right after I won my professional fight — thank ... God — I went to Toronto to work on it. I only had 12 days before I had to go to 'The Mountain Between Us.' When you're fight-training your brain is completely mush because you're tired all the time, so I was literally going, 'This is going to be the end of my career.'"
Elba's back-to-back scheduling meant no rehearsal time for the fast-talking, punchy dialogue that always accompanies Sorkin's work. Jessica Chastain told The Times in Toronto that she would "grab [Elba] every chance I got" to rehearse between takes.
Elba clearly isn't feigning humility when he admits that he never expected to be cast in an Aaron Sorkin project. "Aaron asked me to do this film and I was like 'yes,' but I didn't think I was on his radar," Elba says. "Honestly. Of all the actors he could go to for that role?"
The pressure was understandably high. "It's fast-talking, but the thing with Aaron is that you have to believe what you're saying," the actor says. "You have to be there. It's fast-paced and lots of words and lots of stuff and lots of punctuation, which he is paying attention to, but you do have to live it. I hope I did a good job."
Spoiler alert: he did. In fact, a pivotal speech Elba gives toward the end of the film is the sort of Oscar-bait scene on which studios build supporting actor awards campaigns. (Although Elba has been down that road before, earning a Golden Globe nomination and a SAG award victory for the Netflix drama "Beasts of No Nation," and then missing out on an Oscar nomination. That surprise "snub" helped stir up the #OscarsSoWhite controversy.)
"Molly's Game" also offers a new side of the actor, which was purposeful. More and more, Elba is thinking about his career arc. He considers projects based both on what he wants to learn from the work and on whether he's ever done something similar before. It's a strategy that means this year he appears in four vastly different films, from "The Mountain Between Us" and "Molly's Game" to "The Dark Tower" and the upcoming "Thor: Ragnarok."
He's also directing his own feature, "Yardie," which was shot earlier this year in London and Jamaica, and his unfinished debut rap album is apparently forthcoming.
As life goes on — and life is short — I just want to choose based on 'What do I want o learn from this? Where do I want to go?
— Idris Elba
"There was a time when I was a job actor and I didn't know what I wanted to learn from it – I just wanted to get paid," he explains. "But as life goes on — and life is short — I just want to choose based on 'What do I want to learn from this? Where do I want to go? If I can work with any director, who do I want to work with and why? What is the audience going to get from this?' I ask that quite a bit."
Whether there's more "Dark Tower" in the future, Elba won't be slowing down. He's preparing to film new episodes of "Luther" next year (and has no idea if his "Thor" character, Heimdall, might appear in the upcoming "Avengers" sequels). He'd like to play a "real" romantic lead someday, perhaps one who doesn't have bits of ice and grit stuck in his beard for the entire movie.
And in the meantime, he's gotten really into Snapchat, where you can see photos of his shoes and clips of him singing along to the radio. It's all about about extending his creative muscles.
"I still feel my best performance is yet to come," Elba says. "I think that will always be my mantra, even if I got 17 Oscars. I'd still think, 'Well, I think I got one more in me somewhere.' It's a privilege to be there. As a sportsman obviously there are certain things that prohibit you from pushing yourself any further, but as an actor you become wiser with age and you become more interesting."
Times staff writer Steven Zeitchik contributed to this report.
ALSO:
'Mountain Between Us' cinematographer Mandy Walker set the mood for Idris Elba and Kate Winslet's romance
Idris Elba reflects on playing a TV detective in 'Luther' and a commander of child soldiers in 'Beasts'
---
Get the Indie Focus newsletter, Mark Olsen's weekly guide to the world of cinema.
You may occasionally receive promotional content from the Los Angeles Times.