If you ask Colin Farrell what unites all his work on film and television, his only reply is "me." The 40-year-old actor, born in Dublin, Ireland, has often sought edgier roles, like in the recent second season of "True Detective" or in last year's eclectic indie "The Lobster." But he's also ventured into the fantastical, romantic worlds of films such as "A Winter's Tale." Now he's starring in J.K. Rowling's "Fantastic Beasts and Where to Find Them," an adaptation of the Harry Potter author's book about wizards in 1920s New York. But even here, in Rowling's magical world, Farrell finds himself in a character that requires a sense of grit.
"I think there are certain themes I've played over time," he notes. "Often I play men who are dealing with some kind of moral quandary. But not all of them for sure – I like to think of them each as unique. It's a lot of fun to explore things you haven't explored before."
Farrell, who is filming Sofia Coppola's "The Beguiled" in New Orleans, was interested in the sense of fun surrounding "Fantastic Beasts," in which he plays a character who might be good or who might be very bad. "The idea of working on a story by J.K. Rowling and knowing that David Yates was going to be at the helm — David is such a strong director — were things I was aware of before I even read the script," Farrell says.
"And then I read the script and it was such fun really. It transported me to another time and place, and I liked the character. He has an enigmatic quality to him."
It was so much fun to be around these extraordinary sets and see the imagination of J.K. Rowling being brought to life. And to get a wand? Come on.
Colin Farrell
Here Farrell looks back at some of his projects, including his first onscreen appearance.
"Fantastic Beasts and Where to Find Them," Percival Graves (2016)
"I'd done a couple of pieces that were heavy and a bit darker in tone before and I thought it would be nice to find something lighter. This came up and it was a no-brainer. Sometimes you're trying to bury yourself into a character – and you're still looking at this character, what their truth is and what their purpose is and the grounding of the story, but there was such an escapist element to it. It was so much fun to be around these extraordinary sets and see the imagination of J.K. Rowling being brought to life. And to get a wand? Come on."
"True Detective," Det. Ray Velcoro (2015)
"I loved doing 'True Detective.' And I had a real love for that character. As a man, he was the human equivalent of an old, beaten down pair of shoes. He was born of an America that was part of a bygone era. A very conflicted character, too. There was a lot of really humane issues at play and he had a lot of incredibly dramatic scenes I got to jump in and play around with. I know the reception was lukewarm – the first season was so strong across the board and there were so many expectations – but the experience was incredible."
"The Lobster," David (2015)
"It was easily the most unique thing I'd ever read. It was so nothing else. It was so specific and so disturbing and it stayed with me after I put it down. As much as I was agitated and confused in reading 'The Lobster,' in the end I was also really moved. I thought there was a sweetness I really engaged with. But it was mostly about believing in Yorgos [Lanthimos] as a director and wanting to be part of his vision come to life."
"Winter's Tale," Peter Lake (2014)
"I'd known [director] Akiva [Goldsman] for years. It was such a beautiful experience. I don't know that we fully realized the beauty or the power the script had in it when we were making the film. But the actual script was incredibly moving – one of the most moving things I'd ever read."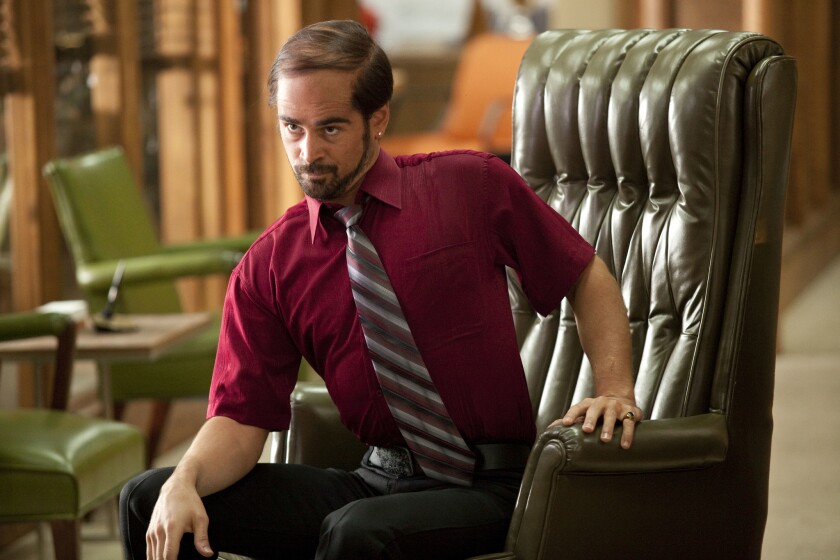 "Horrible Bosses," Bobby Pellit (2011)
"He was just an ... Just shallow and self-centered and kind of dumb beyond all belief and obnoxious. So I got to really play dress-up. I'm sure it was something of a superficial performance, but it was fun the way we created the bald cap and the belly. I had a big say in my costume and the interior decorating of his house. There was a certain amount of safety I felt because I had so much on with the costume. It might seem like I would feel ridiculous, but I felt less vulnerable than I do when I'm playing characters that look closer to me. I was also only there for two weeks. If I had to play that character for three months I don't know that I'd be as effusive in my speaking of enjoying it."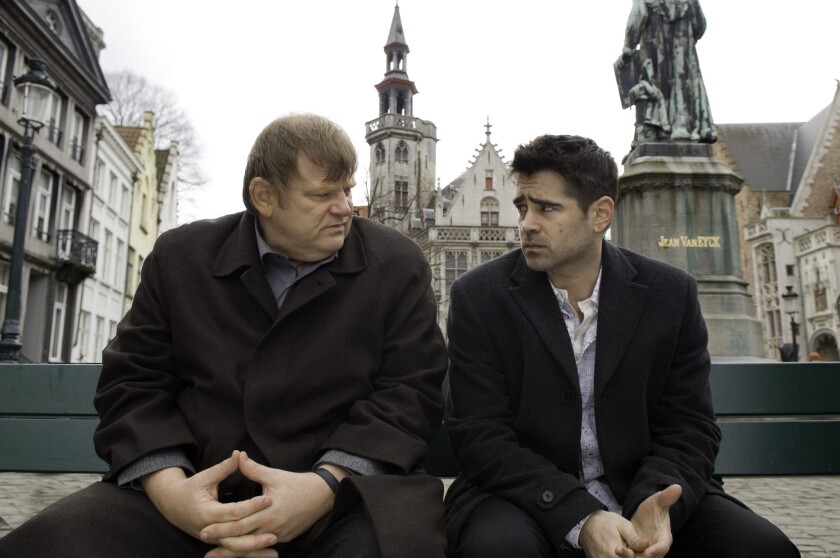 "In Bruges," Ray (2008)
"When I read it, it was fun, anarchic, irreverent and ultimately really moving. With all the violence and racist and classist stuff, it was a really moving story about these two men who live lives of great loneliness and find a deep sense of kinship and love in catastrophe. We were in Bruges for several months in the winter, which added to the sense of darkness. It was a small movie so we'd shoot at a café and then literally pick up the camera and move down the road and shoot there. The city is so small that it just felt like our movie set for a couple of months."
"Alexander," Alexander (2004)
"'Alexander' was a once in a lifetime experience. It was so big in scope and reach and ambition and epic quality. It had an incredible filmmaker and an incredible cast and script. And yet somehow it was not what people wanted it to be or what people expected it to be. It got thrashed critically and publicly. But more importantly the experience of shooting it was extraordinary. It was a cast of mostly male actors getting up to all sorts of nonsense at night and working really hard during the day, in all these exotic locales. It feels like it was a very significant chapter in all our lives even though it didn't work out commercially or financially. I would do it all over again."
"Minority Report," Danny Witwer (2002)
"Steven Spielberg was wonderful to work with. He gets very excited about the scenes and takes. He's very supportive and very positive. And I'd grown up on 'Risky Business' and 'The Outsiders' so to be on a set with Tom Cruise I was like, 'What is happening here?'"
"Frankie Starlight," Young Man in Cinema No. 2 (1995)
"I think that was the first time I was ever on a film set. I remember that day very well. It was me and two other fellows sitting behind a guy and a girl together. We were eyeballing the girl. I remember there was a little caravan and they had my costume in the caravan. I thought, 'Holy ... this is amazing.'"
---