IMDb file: The versatile Michael Peña takes on projects from 'Dora' to 'Narcos'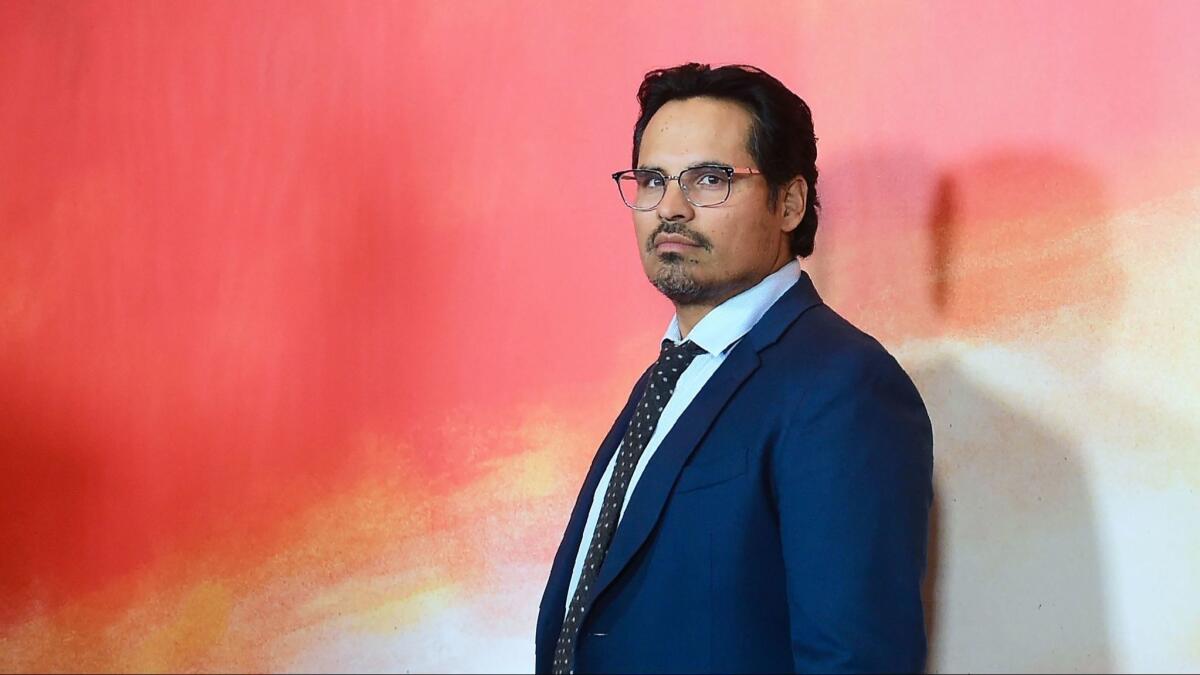 "I used to only be interested in darker dramas," says Michael Peña. "And now I just finished making 'Dora the Explorer.' It's because of my son. I watch so many movies with him. So now, I have an audience of one who I do movies for."
Certainly, Peña, 42, has expanded his career drastically in the last few years, especially with roles in "Ant-Man" and "A Wrinkle in Time." The actor, who got his start in the '90s with small parts on such TV shows as "Touched by an Angel" and "7th Heaven," has long been interested in a wide variety of projects.
His latest is Netflix's "Narcos: Mexico," a reboot of the series that explores the early years of the Mexican drug war. On the series, out Friday, Peña plays real-life DEA agent Kiki Camarena, a role he took on because he wanted to explore the layers of playing someone seeking justice. Ultimately, he wants to take on characters who challenge and push him, even if they're in family flicks.
"At the end of the day, it's just being part of a good story," the actor says. "And then, there's a couple things that come with that: How can I be a part of that story? What do I have to do acting-wise and physically to be part of that? And then, in a dream world, you're trying to make your part better than what's even written. Add layers that make it better. If you're able to pull that off — and sometimes I don't, and sometimes I do — then it's a lot of fun."
Next up, Peña has "The Mule" alongside Bradley Cooper and Clint Eastwood, as well as "Dora the Explorer" and a remake of "Fantasy Island," in which he'll play Mr. Roarke. His career is often as much about whom he works with as what he works on, a theme that threads through the actor's IMDB page. "I know how hard acting is for me," Peña notes. "So when it's done well, it's easy to appreciate."
Here Peña looks back on some of his seminal projects, including "End of Watch" and "Crash."
"Narcos: Mexico," Enrique "Kiki" Camarena (2018)
"The fact that half of it is in Spanish and they hire a lot of Latin actors was really appealing. It's cool to be a part of that. [Showrunner] Eric Newman approached me and mainly talked to me about Camarena and what kind of guy he was — he was a very driven guy who wanted to take down the cartel empire. He's the kind of guy who wanted justice and wanted to do right, and that was really interesting to me."
"A Wrinkle in Time," Red (2018)
"I had never done a character like that. I respect everything Ava DuVernay does immensely — she's such a wonderful, great talent and has a strong sense of story. It was super fun to work on something like that. I tried to think of him just as Red. You never want to play the villain like a mustache-twirling villain. You want to play that character with his own point of view, because I don't think anyone thinks they're evil."
"Collateral Beauty," Simon (2016)
"That changed a lot. I remember reading a script, and it changed while we were filming. But I also remember Will [Smith] just being so good in it. There's a scene where he talks about his daughter, and I just broke down, especially now that I have a son. That was one of the better scenes I think I've ever seen. When I read it, I thought it was strong, but then when I saw what Will did with it, it was even stronger."
"Ant-Man," Luis (2015)
"I did a version of that role in '30 Minutes or Less,' and then nobody really saw that, so I changed it a little bit. I could envision this character. When you're a supporting character, you have to make a splash and really be the gas pedal in a way to make the lead character react. That's a different job to when you're starring in something. Those movies were a hell of a lot of fun, and I love it that my son really loves that movie. That's the reason to do these kind of movies."
"American Hustle," Paco Hernandez / Sheik Abdullah (2013)
"I did it because I wanted to work with all those guys. I'll do small parts, because at the end of the day, I want to be part of a cool stories. I thought that this story was really cool. And it has this amazing cast. Seeing these guys go, no holds barred, was incredible. I love acting still. I've been doing it for so long, and I still like performing, and seeing people fire on all cylinders is quite a sight. It was a wild moment."
"End of Watch," Mike Zavala (2012)
"It was a great script. I remember reading it and sobbing at the end. It stayed with me for so long. I got paid very little for that movie, but I just wanted to be a part of it. They were considering another actor at the time for the part. But I auditioned with Jake Gyllenhaal. We rehearsed every scene like a hundred times. We had five months and we trained together all the time. At that time, I didn't really costar in a lot of movies, and I had to make sure I didn't put too much significance on it. I got to really transform, because I had so much time with it. The whole experience was really satisfying."
"Crash," Daniel (2004)
"I was studying acting a lot. I watch old movies. I watched 'The Godfather' and 'On the Waterfront' a lot. Early Pacino and De Niro and how natural they were. Characters propelled by their own instincts, rather than an idea. I fell in love with that style of acting. I wanted to do something like that. He was a really three-dimensional character, and that's what I was working on the most, to make these characters three-dimensional. I had a good audition, but I knew I needed more research, and I was blessed with the fact that my brother had just had a kid. I went to visit him, and it was amazing how his attention went from himself to this completely new person. I thought, 'I can act that.' So that's the way I went in to it."
"Felicity," Brian Burke (1999-2000)
"I had been acting for five years, and I still didn't know what I was doing. I read the scripts and I thought, 'This is really cool dialogue.' That was a big year for me, because that was when I started trying to get into projects with good writing. I didn't do that great of a job. I had a couple of good scenes, but I don't think it was that successful."
Get the Indie Focus newsletter, Mark Olsen's weekly guide to the world of cinema.
You may occasionally receive promotional content from the Los Angeles Times.