John David Washington leaves football behind with a breakout role in Spike Lee's 'BlacKkKlansman'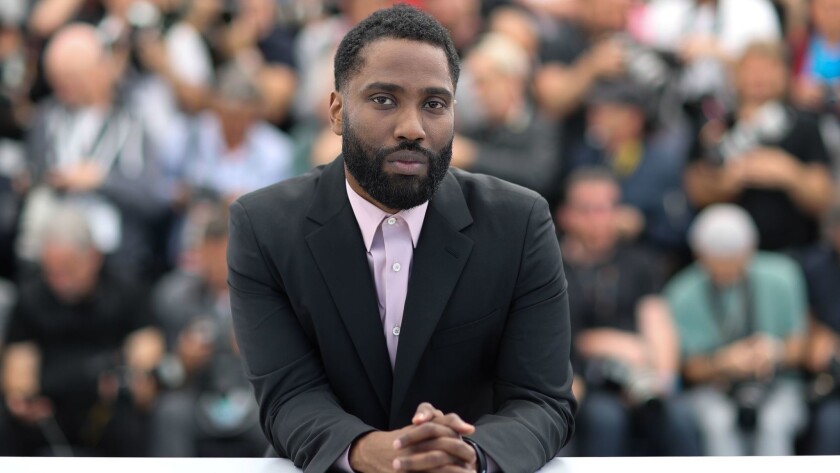 Reporting from Cannes, France —
John David Washington was so intent on making a name for himself that he suffered five concussions, a torn meniscus and broken ribs while trying to distance himself from his father's celebrity.
As a kid, Washington -- who goes by J.D., because John David is his actual first name -- knew he wanted to be an actor. But because his father was Denzel Washington he rebelled, deciding to put his energy toward a professional football career instead of one in Hollywood. He played running back at Morehouse College, was drafted by the St. Louis Rams and moved on to the United Football League after two years.
"I tried to create my own narrative — my own name — and I paid for it physically," the younger Washington, 33, admitted. He was sitting at a rooftop wine bar overlooking a row of yachts at the Cannes Film Festival, where his first big movie, "BlacKkKlansman," premiered to rapturous reviews last week.
In the film, directed by Spike Lee, Washington stars as Ron Stallworth, a real-life detective who infiltrated the Ku Klux Klan during his time with the Colorado Springs police force in the 1970s. Though the actor had a one-line role in Lee's 1992 film "Malcolm X" — his father was cast in the titular part — he only dove into the profession post-football. His most prominent role to date has been on HBO's "Ballers," now in its fourth season, where he plays — yep, you guessed it — a wide receiver.
"BlacKkKlansman," which won the Grand Prix prize at Cannes, opens in August. Washington had a brief conversation with The Times about his experience at the festival and how he expects the movie will affect his career.
I feel like everyone I've met here is really surprised to learn you're Denzel's son.
Awesome. Great! Woo! Yes! I've been reluctant in doing press stuff -- even my Instagram isn't properly managed; I manage it myself. It's kind of by design. I knew that would be what people see first. Like when the first season of "Ballers" came out, I didn't do any press. I was getting positive responses like, "Who is this guy?" Just like football and helmet syndrome. "We don't know who he is, we can't see his face, but whoever that guy running ball is, he's Denzel's son?" They couldn't believe it.
Did people always ask you about your dad when you were growing up?
All the time. And I work hard for this. I work hard at it. I mean, listen, I don't feel sorry for myself. I just do the work. I'm starting to slowly but surely come out.
I heard Spike say part of why he cast you is because talent runs in your DNA. How do you feel about that?
He's the one that believes in me, so let's go with that. I'll go with that. I'm just honored that he trusted me with this material and this project. I'm really happy for him and the kind of reception that he's getting.
So how did he reach out to you about the movie?
He texted me. I got a text from him like, "Yo, it's Spike, call me." I'm, like, "What up?" "Where are you? I got a book. I want you to read it. Send me your address." Click. I read it, I call him back, I'm, like, "This is really true?" "Yeah. So we go in August." I was, like, "Uh, fo' sho."
I don't know how he got my number. "This is Spike." I was, like, this has to be Spike Lee.
I heard he was into your performance on "Ballers."
And that dude is such a different character. He's so different. ["BlacKkKlansman"] kind of scared me because it was such a stretch. It was a good kind of fear. I was, like, "Yeah, this is the kind of challenge I want."
What is Spike like on set?
When a living legend believes in you, it encouraged me in such a way. I'm so much more confident as an actor after this experience. He didn't coach me up. He understands energy and momentum, which we really used in such a beneficial way. We were able to find things that weren't planned. A lot of times it was what he didn't say that encouraged me. He let us find it.
In the movie, you trick former Ku Klux Klan Grand Wizard David Duke into believing you're white by "sounding white" on the telephone. How did you approach that?
Ron asks his superiors in the film: "What do black people talk like?" I love that line, because I went to private school [at Campbell Hall in Los Angeles]. We'd posture and joke. But I also was raised in North Carolina. Every time I was off school, I was in Carolina with my cousins. So it was a big influence on me. I actually experienced straight-up racism out there too. Like, I got called the N-word. It was a different culture.
You said you've known you wanted to act since you were a kid, yet you got so deep into football. How did that happen?
I was almost telling myself, "This is a phase, right, J.D.? We're gonna do what we wanna do eventually, right? Eh, I guess I'll just go with it." I got a scholarship, so I was getting my independence and not paying for school. And then here comes the NFL. "Now you got an opportunity to get drafted? Guess we'll do that." I did all right. Running back, about 30 pounds ago.
Your first Cannes has been kind of amazing, in terms of how the film went over at the premiere. How are you feeling?
I've never been here before, so I don't know, but based off what I was told, there's a couple of reactions: There's silence and you hear the chairs flip up and they're out of there. I've heard sometimes they boo, and I've heard about standing ovations, but I heard this was a unique one. I can't formulate my words correctly -- I need to do these interviews next week because the emotions I'm having right now are so overwhelming. I'm starting to remember little details from that night every hour on the hour. I've never experienced anything like that in my life. Such a celebratory environment, people who appreciate film and really get Spike.
Follow me on Twitter @AmyKinLA
ALSO:
Topher Grace's mission to reinvent himself takes a quantum leap with Spike Lee's 'BlacKkKlansman'
Spike Lee hopes 'BlacKkKlansman' is a wake-up call for the Trump era
---
The complete guide to home viewing
Get Screen Gab for weekly recommendations, analysis, interviews and irreverent discussion of the TV and streaming movies everyone's talking about.
You may occasionally receive promotional content from the Los Angeles Times.