Must Reads: How 'The Kissing Booth' became a pop culture sensation (even if critics hated it)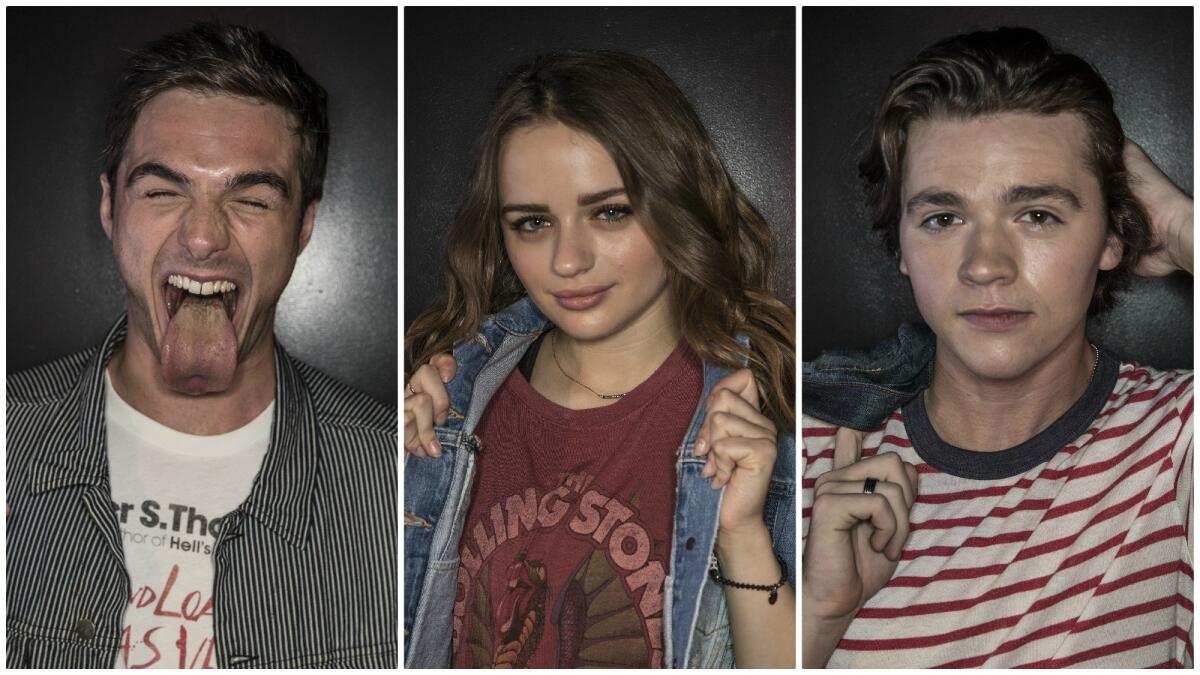 They had just finished up a round of Skee-Ball when they were spotted by a couple of teenage girls meekly clutching iPhones.
"We love 'The Kissing Booth,'" one of the young women exclaimed. "Can we take a selfie with you?"
The three stars of the Netflix film -- Joey King, 18, Jacob Elordi, 21, and Joel Courtney, 22 -- obliged of course. Since the film's release in May, they said, they've been approached like this hundreds of times.
"Every day, at least a couple of times a day," Elordi said. "Some people are strange, but most of the young kids are awesome. The other night I was eating by myself at a diner and a group of college friends asked me if I wanted to sit with them, so I did."
A year ago, this would have never happened to him -- certainly not in America, anyway. Not long ago, he was an aspiring actor living in Brisbane, Australia, whose biggest role to date was playing an uncredited marine in the fifth "Pirates of the Caribbean" movie. Before "The Kissing Booth" hit Netflix this spring, he had 15,000 followers on Instagram. Now, he has 4.3 million.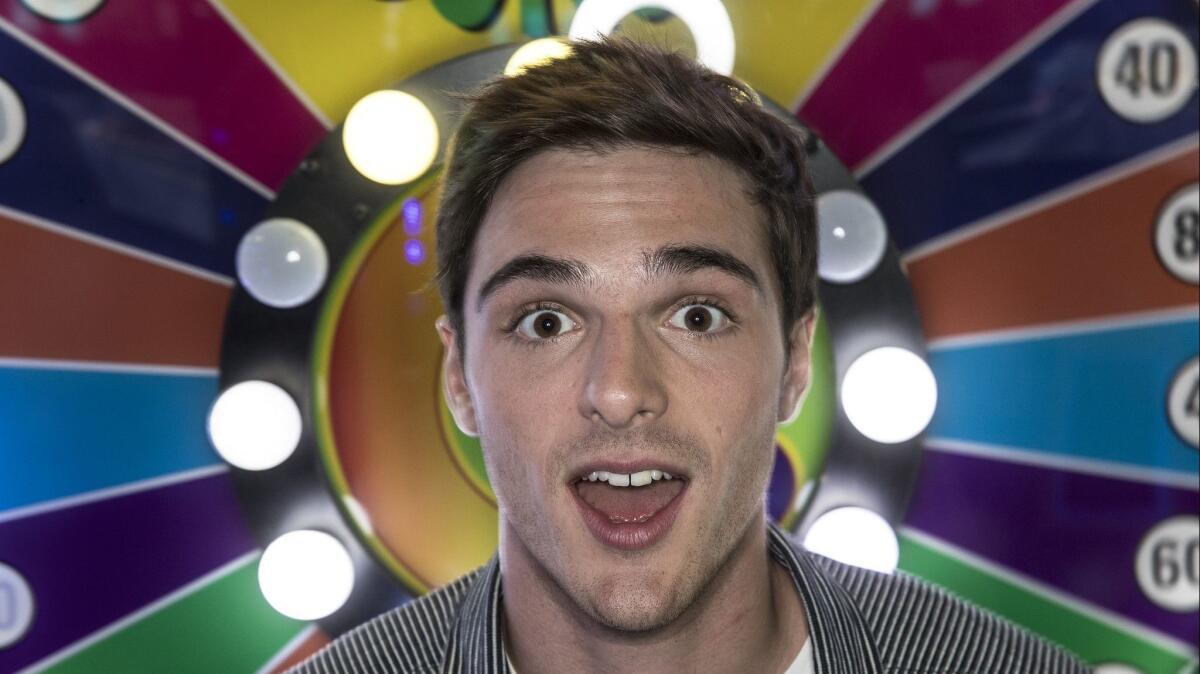 His costars, meanwhile, grew up as kid actors in Hollywood. Courtney was 14 when he scored his first big role in J.J. Abrams' "Super 8," and King just 10 when she starred opposite Selena Gomez as the iconic Beverly Cleary character Ramona Quimby in "Ramona and Beezus."
But despite years of building up solid resumes -- King has appeared in "The Conjuring," "The Dark Knight Rises" and the TV series "Fargo" -- none of their projects have given them the instant recognition of "The Kissing Booth." Earlier this month, Ted Sarandos, Netflix's chief content officer, called the film "one of the most-watched movies in the country, and maybe in the world."
Which, frankly, no one expected.
The film is based on a story written by a 15-year-old, and it first appeared on Wattpad, an online self-publishing platform. It follows an upbeat teenager named Elle (King) whose high school existence is going swimmingly until she falls for her best friend's hunky older brother (Courtney plays the BFF, Elordi the b.f.). It was directed by Vince Marcello, a Disney Channel filmmaker responsible for "Teen Beach Movie" and its subsequent sequel, "Teen Beach 2."
In other words, "The Kissing Booth" is cute enough, but the majority of critics have declared it an objectively bad movie: It has a 14% rating on Rotten Tomatoes.
But as Vulture put it, the romantic comedy is "bad in a comforting way. Most of the plot points and supporting characters are blatant rip-offs of earlier teen films, which gives the film a similar quality to those pop songs that build their hooks by sampling previous hits."
It's also an intriguing new piece in the ongoing puzzle known as Netflix original movies. While the streaming giant has produced a slew of respected, award-nominated television fare -- "Orange Is the New Black," "House of Cards," "Making a Murderer" -- its film content has yet to make the same kind of broad impact.
Dee Rees' "Mudbound," which the company picked up at the 2017 Sundance Film Festival, earned Netflix its first Oscar nominations outside of documentary categories just this year.
Other titles — from "Okja" to "War Machine" to Sundance prize winner "I Don't Feel at Home in This World Anymore" — have flown lower on the cultural radar. Even a "success," like Will Smith's "Bright" — which Netflix says attracted a lot of eyeballs, though it never publicly released streaming figures — was dinged by scathing reviews.
But few, if any, of Netflix's movies outside of its film library have been aimed at young people. Which is partially why the company decided to produce "The Kissing Booth," financing the film's two-month shoot in South Africa last year.
"We had '13 Reasons Why' and 'Stranger Things' on the series side, but it was a space we hadn't explored much on the film side," said Ian Bricke, Netflix's director of independent film. "We thought this had a Disney Channel vibe, but felt slightly more grounded -- it felt like an interesting, underserved spot between younger YA and edgier teen fare."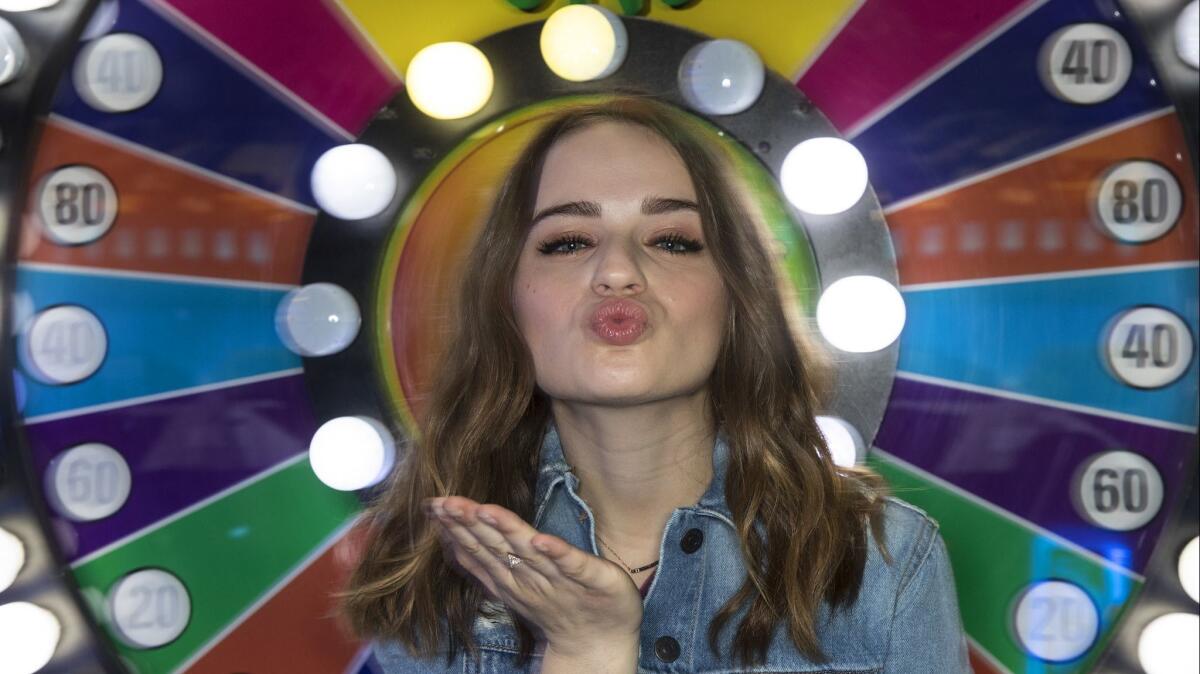 Still, King admits she was somewhat skeptical of signing onto a Netflix movie. She loved the script and the idea of playing a teenager who is comfortable with her body -- especially after years of playing cutesy kid types on the big screen.
"I really, really wanted to do it, but I also was afraid, of course, that it would get kind of lost in the crowd of all the Netflix content," she explained.
King, Courtney and Elordi were sitting around a plate of fries after a few rounds of arcade games at Dave & Buster's. The three actors are exceptionally close, and their IRL relationships have only fueled the fan interest in "The Kissing Booth."
King -- whose Instagram following jumped from 600,000 to 4.7 million post-release -- has been dating Elordi ever since "The Kissing Booth" wrapped. He moved into her home in Sherman Oaks for a year, during which they continuously posted a stream of mushy pictures kissing, sharing ice cream cones and wearing matching Halloween costumes.
Since "The Kissing Booth" came out, though, the couple has become increasingly more private. At the interview, the two went to pains to not appear lovey-dovey, barely touching as the group played air hockey (King won), basketball (Elordi won) and motorcycle racing (Courtney won).
"I guess I feel like it's almost scary giving people what they want so much, because of how much people are obsessed with our relationship," King explained, referring to her recent lack of couple-y posts. "I'm like, 'Maybe I should keep some of that to myself.' I go back and forth on that."
The trio said they had an indication "The Kissing Booth" might become a thing shortly after the trailer debuted. Within the first week, it had racked up 18 million views globally; that number has since jumped to 46 million.
And since Netflix is so strategic in the information it releases, those seeking to confirm the film's hit status are forced to look elsewhere — like IMDb rankings, internet search volume and social media.
"A movie like this, I expected it to have a solid fan base but a really niche demographic," said Courtney. "It's been so much bigger than I could have ever hoped for. People love it so much and watch it on repeat. I can't tell you how many comments I've seen on pictures saying 'I've watched your movie seven times.'"
Indeed, according to one metric Netflix will share, one in three viewers have rewatched "The Kissing Booth" -- 30% higher than the average movie rewatch rate on the platform.
"That rewatch rate is a really significant read on the popularity of the film," explained Bricke. "There's a sense from the viewers that they discovered the film, and when people feel like they found something and have ownership in it, they're very loyal to it. This shows the power of the Netflix phenomenon -- how you can launch a movie into the pop culture conversation almost overnight and create a sensation like this."
The film's cast said it views "The Kissing Booth" as a throwback to the kind of teen movie the film business rarely makes anymore -- "like if 'She's the Man' and 'Mean Girls' had a little, bitty baby," King said.
"It's like they're bringing back the old favorites, because there haven't been any movies out in the last couple of years like 'Kissing Booth.' It's an old-school rom-com, and I love that," she continued.
"It was very reminiscent of 'Pretty in Pink' for me," said Courtney.
The comparisons to John Hughes classics are intentional. Molly Ringwald actually has a small role in "The Kissing Booth," and the movie's nostalgic touches — including using the most iconic song from "The Breakfast Club" — are meant to help the appeal for those far outside the target demographic.
"We watched 'Pretty in Pink' and 'Ferris Bueller' while we were on set, just trying to get the vibe," said Elordi. "I feel like everyone is trying to be edgy and dark all the time, and this kind of just proves that kids still want to be kids and dream a little bit, as opposed to feeling [bad] about themselves all the time."
Bricke said Netflix would explore the possibility of a sequel for the film "if there was a good organic continuation of the characters," and all three actors are open to it if "the script was banging," said King.
Courtney, for one, said he understands how important the next role he takes will be.
"When a movie comes out like this and it becomes so wildly successful, it opens up doors and possibilities that may not have been opened before," he said. "After this kind of movie, you can be picky -- you can choose the right project to follow up such an amazing experience to keep your career moving forward. The next film you do matters."
"From the reaction I've gotten from people," King chimed in, "I think they're all really excited to see what we're gonna do next. And we just hope we don't disappoint them."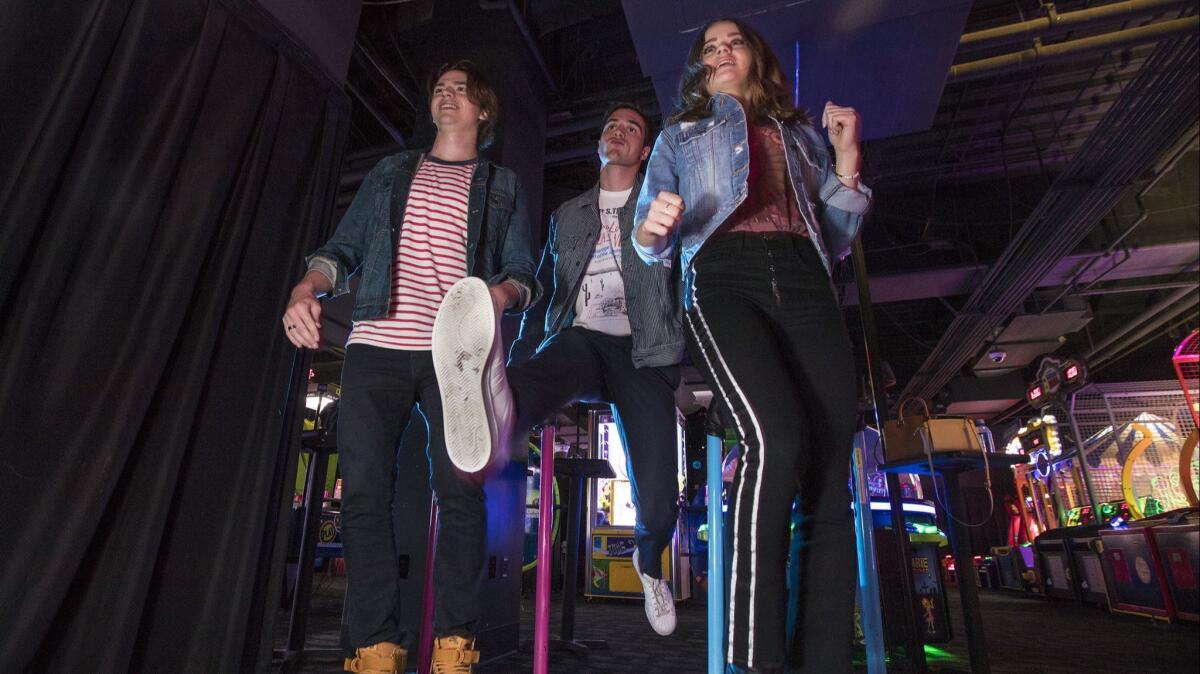 Follow me on Twitter @AmyKinLA
Get the Indie Focus newsletter, Mark Olsen's weekly guide to the world of cinema.
You may occasionally receive promotional content from the Los Angeles Times.