"Baywatch" and "Pirates of the Caribbean: Dead Men Tell No Tales" square off at the box office. The Grateful Dead doc "Long Strange Trip" and Brad Pitt in Netflix's "War Machine" highlight limited releases.
May 25
Baywatch Dwayne Johnson steps into the formidable flipflops of David Hasselhoff as lifeguard Mitch Buchanan in this adaptation of the 1990s TV series. With Zac Efron, Priyanka Chopra. Written by Damian Shannon & Mark Swift, story by Jay Scherick & David Ronn and Thomas Lennon & Robert Ben Garant, based on the series created by Michael Berk & Douglas Schwartz and Gregory J. Bonann. Directed by Seth Gordon. (1:56) R.
May 26
Afterimage A renowned and uncompromising artist struggles against authoritarianism in post-World War II Communist Poland in director Andrzej Wajda's final film. With Boguslaw Linda. Written by Andrzej Mularczyk.In Polish with English subtitles. (1:38) NR.
American Media and the Second Assassination of John F. Kennedy Sequel to John Barbour's 1992 film "The JFK Assassination: The Jim Garrison Tapes" includes more interviews with the former New Orleans district attorney. (2:10) NR.
Berlin Syndrome An Australian photographer's tryst with a German man takes a dark turn when he imprisons her in his apartment. With Teresa Palmer, Max Riemelt. Written by Shaun Grant, based on a novel by Melanie Joosten. Directed by Cate Shortland. (1:56) NR.
Black Butterfly A desperate screenwriter engages in a game of cat-and-mouse with a drifter at a remote mountain cabin. With Antonio Banderas, Jonathan Rhys Meyers, Piper Perabo. Written by Marc Frydman and Justin Stanley, based on the French thriller "Papillon Noir." Directed by Brian Goodman. (1:33) R.
Buena Vista Social Club: Adios Twenty years later, members of the Cuban band reflect on their career and the changing world. Directed by Lucy Walker. In English and Spanish with English subtitles. (1:50) PG.
Drone The quiet suburban life of a U.S. drone pilot, who has conducted remote covert missions for years, is threatened when a Pakistani businessman shows up seeking revenge. With Sean Bean, Patrick Sabongui, Mary McCormack. Written by Paul A. Birkett and Jason Bourque, story by Ian Birkett, Roger Patterson, Paul A. Birkett. Directed by Bourque. (1:31) NR.
Joshua: Teenager vs. Superpower Hong Kong youth Joshua Wong takes on the Chinese government on education and democracy in this documentary. Directed by by Joe Piscatella. (1:19) NR.
Long Strange Trip The 30-year trek of the Grateful Dead as their organic approach to touring and getting the word out turned them into one of the most successful and popular live acts in rock 'n roll is chronicled in this documentary. Featuring Jerry Garcia, Mickey Hart, Bill Kreutzmann, Phil Lesh, Bob Weir. Directed by Amir Bar-Lev. (3:58) R.
Manifesto Cate Blanchett plays multiple roles in a series of vignettes inspired by artist manifestos. Written and directed by Julian Rosefeldt. (1:35) NR.
96 Souls An experiment gone wrong enables a biochemistry researcher to see people's true intentions. With Grinnell Morris, Sid Veda, Paul Statman. Written and directed by Stanley Jacobs. (1:52) NR.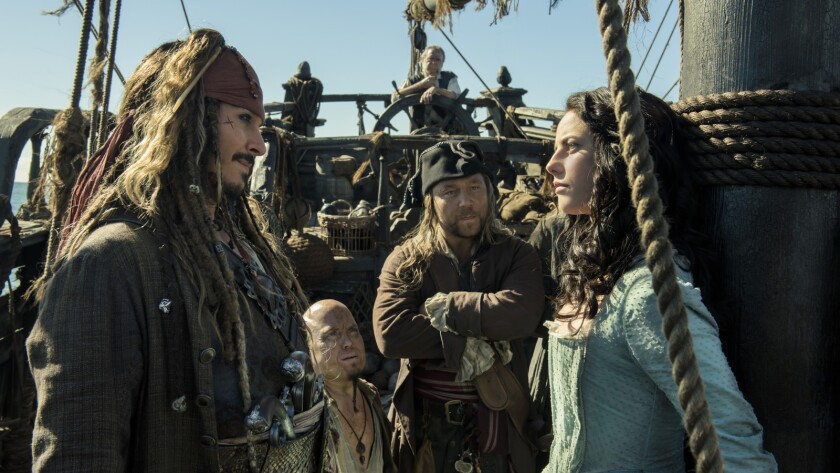 Pirates of the Caribbean: Dead Men Tell No Tales Captain Jack is down on his luck and his survival depends on an alliance with an attractive astronomer and a Royal Navy sailor. With Johnny Depp, Javier Bardem, Geoffrey Rush. Written by Jeff Nathanson, story by Nathanson and Terry Rossio. Directed by Joachim Rønning and Espen Sandberg. (2:09) PG-13.
Spirit Game: Pride of a Nation The Iroquois, originators of the sport of lacrosse, host the 2015 World Championships in this documentary. Featuring Oren Lyons, the Thompson Brothers, Jim Brown, Bill Belichick, Al Gore. Directed by Peter Spirer and Peter Baxter. NR.
Wakefield Bryan Cranston stars as a successful but overwhelmed businessman whose disappearance is not what it appears. With Jennifer Garner, Jason O'Mara, Beverly D'Angelo, Ian Anthony Dale, Pippa Bennett-Warner, Isaac Leyva, Victoria Bruno, Ellery Sprayberry, Tracey Walter. Written and directed by Robin Swicord, based on a short story by E.L. Doctorow. (1:46) R.
War Machine A four-star U.S. general is charged with ending the country's involvement in Afghanistan. With Brad Pitt, Ben Kingsley, Tilda Swinton, Topher Grace, Anthony Michael Hall, Will Poulter, Keith Stanfield. Written and directed by David Michod, based on a book by Michael Hastings. (2:00) NR.
See the most-read stories in Entertainment this hour »
---