Screen it from the rooftops: How outdoor movies have become a 'selfie paradise' for millennials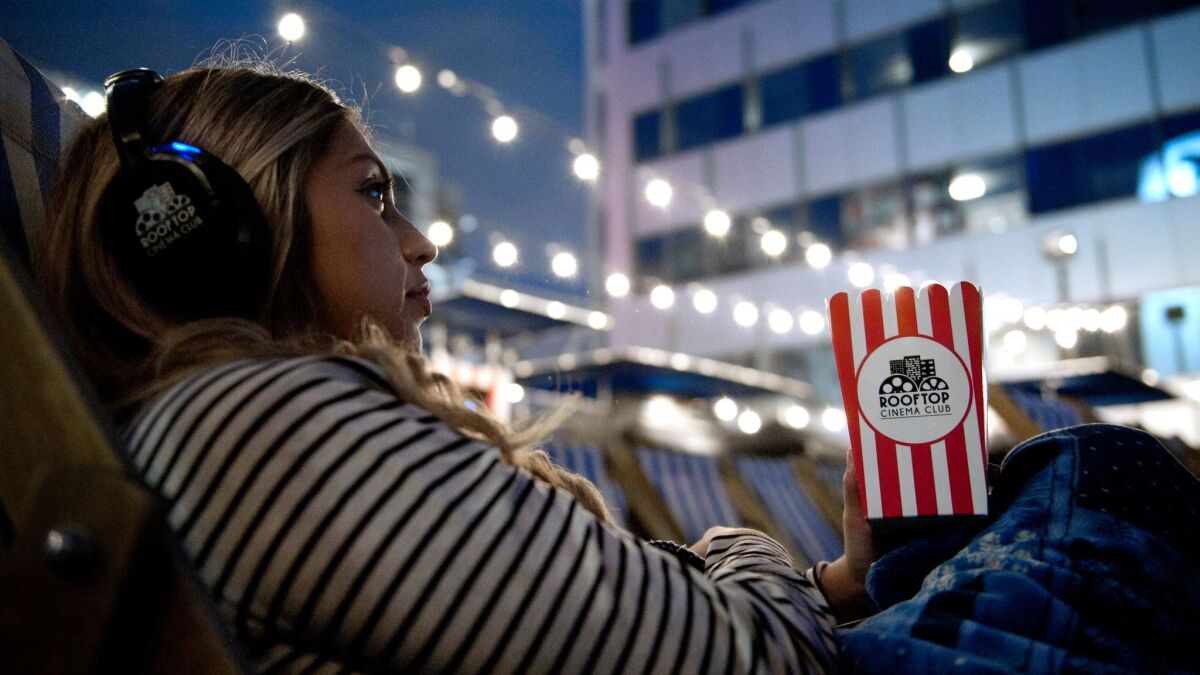 On the roof of Hollywood's Montalban Theater, under a nearly starless sky, guests huddled beneath fleece blankets just after sunset to watch (or re-watch) the 1990s mob drama "Goodfellas."
The screening, four flights up from Hollywood's bustling Vine Street, was arranged by the bicoastal and bicontinental Rooftop Cinema Club, with movies offered almost every summer evening through October.
The brainchild of Gerry Cottle Jr., the son of a circus owner who started RCC branches in London, New York and Los Angeles on "a wing and a prayer (and a loan from the bank)," the club provides guests with a blanket and a set of wireless headphones before screening cult, classic and newly released fan-favorite films like "Dirty Dancing," "Casablanca," "Moonlight," "La La Land," "Donnie Darko" and "Get Out."
"I saw this rooftop in London and I just thought, 'Well, people have [shown movies] in parks and I've seen some great screenings outdoors," Cottle says. "But what a way to do it in the city surrounded by buildings."
Special Report: Can moviegoing be saved? »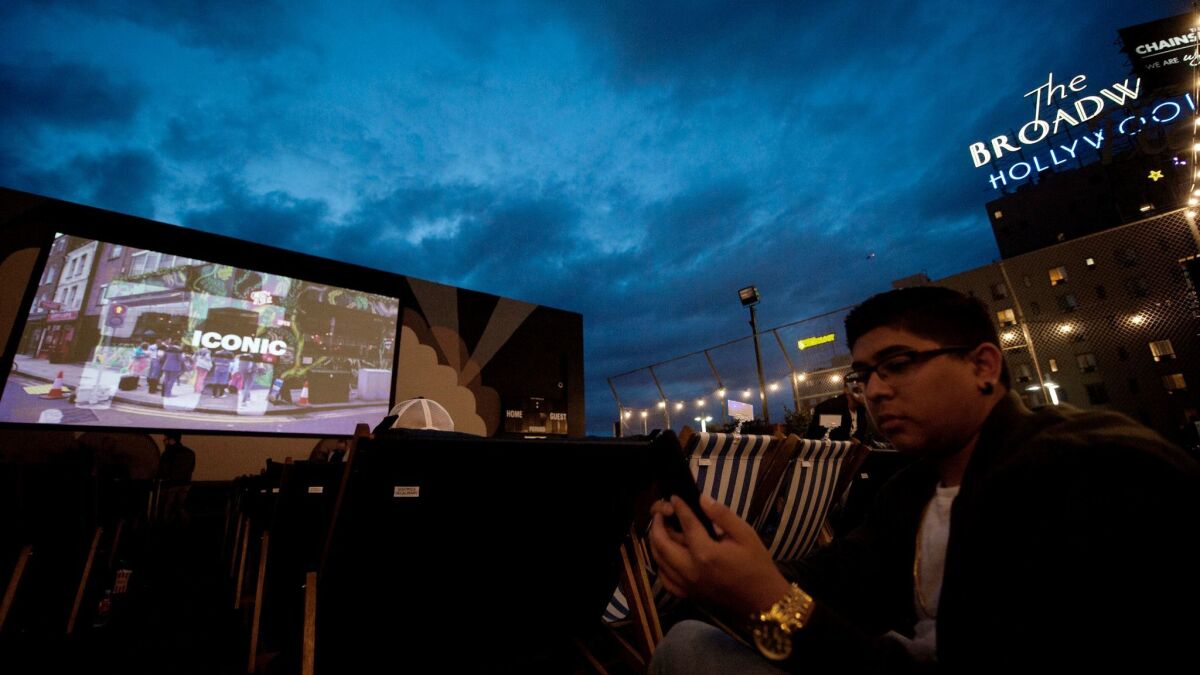 With moviegoing down among young adults age 18 to 39 over the last five years, film buffs looking to attract the coveted millennial demographic have had to get creative. Nontraditional moviegoing experiences, including outdoor cinema clubs and rooftop screenings, are hugely popular with selfie-obsessed millennials always on the hunt for social experiences to document.
"[RCC] started from my desire to create a cinema that offered a completely different experience to the traditional multiplex," Cottle says. "Cinema is about escapism, and what better way to escape the confines of your sofa than high up on a rooftop?"
It's an idea that John Wyatt, founder of the Cinespia Cemetery Screenings at Hollywood Forever, has been perfecting since his 2002 inaugural screening of "Strangers on a Train." The number of guests showing up to the Cinespia screenings has ballooned from a few hundred to 4,000 guests on any given night.
"When I started, there were no [large-scale] outdoor screenings in Los Angeles," Wyatt says. "And I just thought that there should be a place where people can get together and do what so many people in the city love to do and that's watch movies."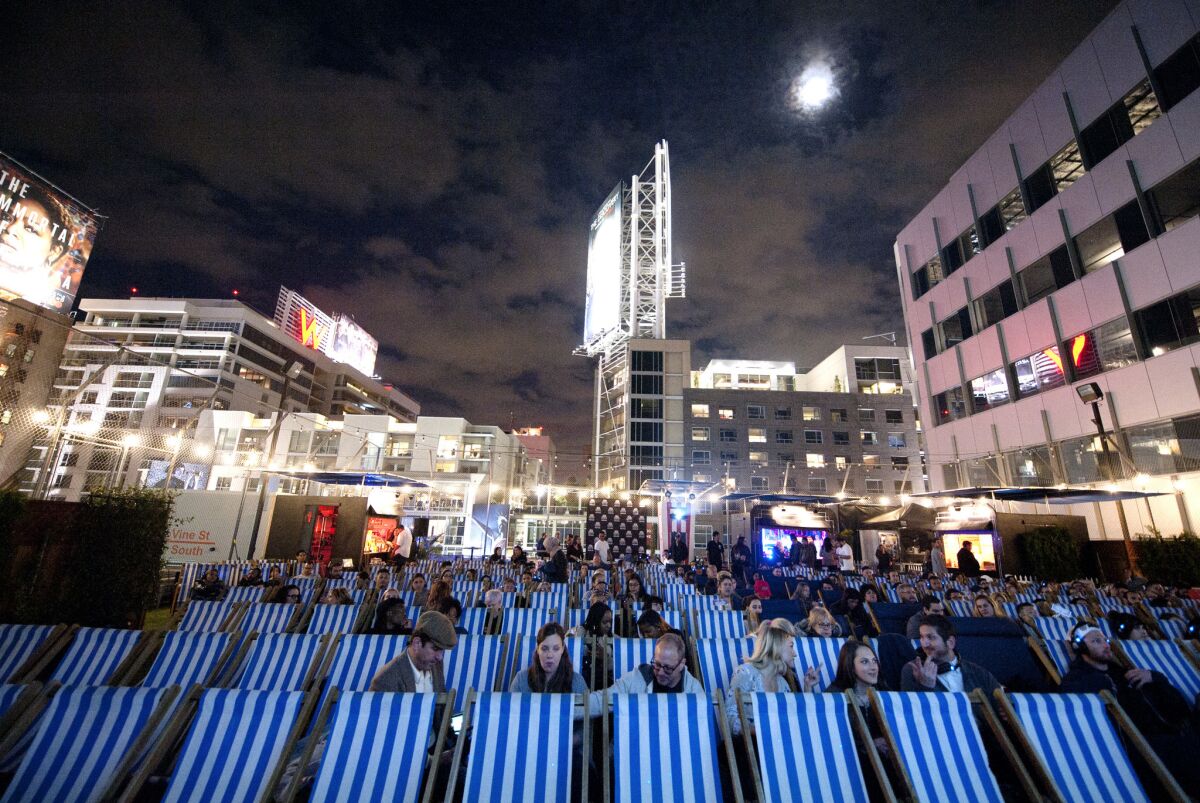 Outdoor screening clubs are injecting new life into what has become a stale process. While the film remains the focal point of the experience, extraneous details like being outdoors or having food and alcohol available for purchase is what's drawing in younger crowds. There are even millennial variations on the drive-in movie. Los Angeles' Electric Dusk Drive-In — which started showing movies on the roof of a downtown parking lot in 2012 and has since relocated to the site of the old Van de Kamp Bakery — is known for its AstroTurf seats where moviegoers can picnic and bring pets.
"People want more nowadays," Cottle says. "We call it the experience economy. They get more out of the night. So for us, we're kind of the antithesis of the multiplex cinema. It's really more of an evening out."
At Cinespia, that evening out can include anything from surprise appearances by stars of the film (Alicia Silverstone recently surprised an audience watching "Clueless") to one-of-a-kind selfie-ops. For a recent screening of "Boogie Nights," a photo studio made to resemble a '70s porn set was erected on the lawn with a professional photographer on hand to shoot free portraits.
"It really, really struck a chord with the millennials," Wyatt says. "We bring in like 70 lights to light up the whole place and it's just selfie paradise."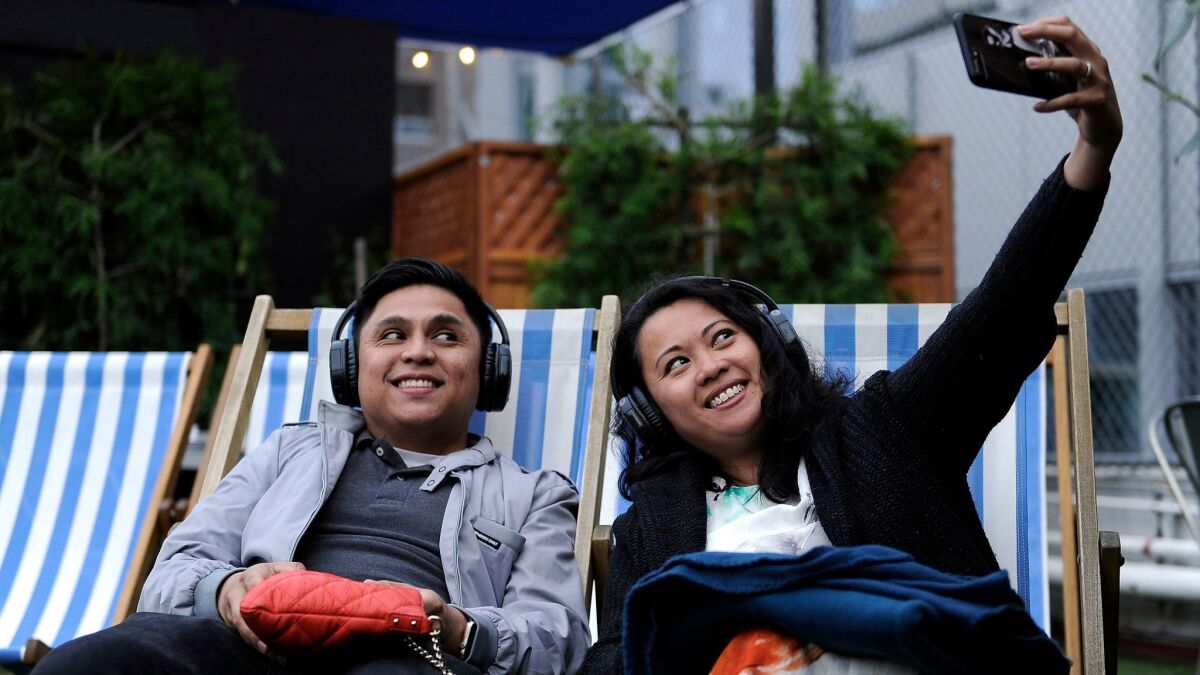 "I think especially for lots of people now, they want to put stuff on social media," Cottle says. "But mostly, I think for the millennials and younger generation, the most important thing is just being with their friends. That shared experience is just … you can't replicate that. The only place you'll ever replicate that is at a West End show or a Broadway show where you get that same sort of reaction."
RCC, which will open its second L.A. location this month atop downtown L.A.'s Level hotel, recently offered the world's first 3-D rooftop screening at its London location.
I think the future of cinema is what we're doing, which is more of a one-stop shop where people are able to come and get more of a night out."
— Gerry Cottle Jr.
"The one thing that's constantly evolving with us is our programming," Cottle says. "We're always looking for new ways to do things differently."
While audiences are shifting to expect more out of their movie experience, it's unlikely that screening clubs will render traditional cineplexes obsolete anytime soon.
"Honestly, I don't think that people getting together to watch movies will ever go away," Wyatt says. "Movie theaters have survived television, they've survived home video, now they're up against streaming services, but I really think audiences want to get together and connect."
"I think most things go full circle," agrees Cottle. "I think the future of cinema is what we're doing, which is more of a one-stop shop where people are able to come and get more of a night out. At the end of the day, I think people love to see something on the big screen and they love to see it in a great environment. I think the future is great cinemas like ours that have more to do with entertainment. I think that's the future. People getting more out of the evening, I really do believe that."
follow me on twitter @sonaiyak
---
Get our L.A. Goes Out newsletter, with the week's best events, to help you explore and experience our city.
You may occasionally receive promotional content from the Los Angeles Times.