Teens at the multiplex: Why some of the young are returning to theaters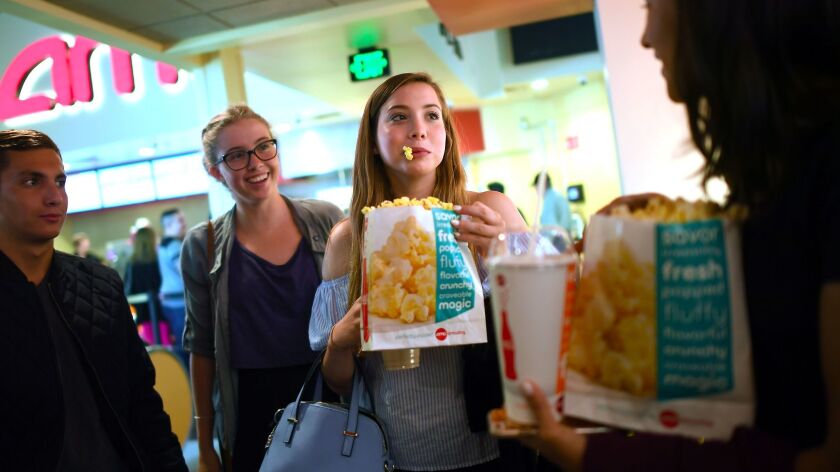 At this year's CinemaCon, the annual gathering of movie theater owners held in Las Vegas each spring, Hollywood presented unexpected news. After years of shying away from the multiplex, young people in North America were returning to the cinema. The number of frequent moviegoers ages 18 to 24 jumped to 7.2 million — a 26% increase from 5.7 million in 2015. That's still significantly lower than in 2012, when there were 8.7 million frequent moviegoers in the same age group, but there was also an uptick last year among frequent moviegoers 12 to 17 and 25 to 39. (The Motion Picture Assn. of America, which reported the statistic, defines "frequent moviegoers" as those who see one or more movies per month.)
In an era when Netflix is buying award-winning content at film festivals and theatrical windows are shrinking, it is somewhat of a surprise that the young are getting off the couch to head to the theater. To get a sense of what might be luring high schoolers and college students to the box office, we asked six teenagers — all on the cusp of turning 18 — if we could crash their movie date. They chose the movie ("Baywatch") and the theater (AMC Santa Monica 7). We paid for the tickets ($13.29 per student).
---
"The Rock is so funny. Do you know he was the Sexiest Man Alive last year?" Zoe Parcells asked her friends, who were huddled in the theater lobby. "I don't know. He's more like an adorable dad."
The teenagers paused to examine Dwayne "The Rock" Johnson on a nearby "Baywatch" poster. The 45-year-old former wrestler was outfitted in a skintight rash guard that accentuated his colossal biceps. Audrey Hattori, a 17-year-old senior at Santa Monica High School, did not find this especially attractive.
Special Report: Can moviegoing be saved? »
"Someone was asking me recently who I thought they'd named as the Sexiest Man Alive, and I was like, Ryan Reynolds? Ryan Gosling? The Rock?" she said, laughing.
Still, Hattori — one of three in the group wearing Converse sneakers — had decided to come see Johnson's new film on its opening weekend. Zac Efron, Johnson's bronzed 29-year-old costar in the lifeguard flick, was a draw. She knew "Baywatch" wouldn't be anywhere near as good as the sci-fi flick "Arrival," her favorite movie from the last year. "But there are some really bad movies that you just wanna see," she said with a shrug.
"It matters how bad it is. I would never see 'Nut Job 2,'" agreed her classmate Natalie Gold, who had organized the movie outing. "But 'Baywatch' is bad where it looks, like, funny."
Gold, who is headed to UC Berkeley in the fall, said she goes to the movies about once a week — often with her parents, who consider it a bonding experience.
"My mom forced me to watch the movie 'Snatched' on Mother's Day," she explained, rolling her eyes. "I asked her if we could leave halfway through and she was like, 'No. This is mother-daughter bonding.'"
"I'm not gonna lie, I kind of want to see that," Parcells said of the Amy Schumer-Goldie Hawn comedy. "I just saw the mother smothering her child with sunscreen in the trailer and I was like, I need to see this — even though it looks awful. I'm going to spend $10 to see it."
Parcells, who earns spending money as a tutor, said she decides whether to go to the theater solely based on the amount of cash she has in her wallet.
"If it's gonna cost me $10 to go to the movies and I want to eat food, that's a lot," said Parcells, who smuggled a plastic carton of blackberries into the theater in her purse. "If I don't have a lot of money, I'm probably gonna watch Netflix. But I have the money to go to the theater, I'd rather do that."
Others who had not brought along fresh produce stopped at the concession stand before heading into the theater. Gold picked up a small popcorn and pumped some butter into it.
"You're getting the butter?" Hattori asked, wide-eyed.
"Um, yeah, it's so good," Gold responded.
"Whenever it says 'butter-flavored popcorn topping,' that scares me," Hattori said.
Unfazed, Gold threw a handful into her mouth and hopped on an escalator, leading the group toward the theater. Once inside, the teens rushed toward their reserved seats: plush red "premium power recliners" that resembled La-Z-Boys. Immediately, they extended the foot rests and settled in for the two-hour screening.
Throughout the R-rated film, they remained rapt, not once pulling out their cellphones or taking a bathroom break. Some of them did, however, shield their eyes during a scene that included Zac Efron's character examining a cadaver's flaccid penis.
When the credits began to roll, the posse exited the theater and walked onto the Third Street Promenade to discuss the film.
"It was hilarious. It wasn't a good movie, but it was funny," Gold said, speaking over a street performer's blaring speakers.
"It was just so dumb," Parcells said, shaking her head. "You can't hate it, though, because you knew you were going into something stupid."
"Yeah," Gold interjected, "and if you know you're going to be hanging out or going on a date with someone and there's awkward conversation where you don't know what to talk about, it's easy to go to a movie. You go to a bad movie and the whole night, you're having fun because you're talking about how bad the movie was."
Plus, it's any easy way to fill time. While some in the group had local gigs babysitting or coaching, they are generally free of adult responsibilities. Gold has plans to work as a lifeguard herself at Leo Carrillo State Beach in Malibu this summer, but training doesn't start until June. (As for the terrors depicted in "Baywatch," by the way, she isn't worried that art will imitate life: "You don't find drugs on the beach. The worst that's gonna happen is you have to do CPR or call 911 because someone has heat stroke.")
"We have the time to hang out with friends," said Morgan Gerlach, who was carrying a shopping bag from a soap store she'd visited earlier in the afternoon. "If we're gonna be hanging out on the Promenade, we might as well go to a movie."
Sure, they know how to illegally download movies — "Everyone pirates!" said Gold — but the experience isn't as immersive on a laptop.
"Usually there's, like, Russian subtitles," Gold said. "But on your laptop, it's not like you're there. I like everything better on the big screen. For me, it's like a break from reality. You get to live somebody else's life for two hours."
An unexpected rise in young moviegoers
Frequent moviegoers in the U.S. and Canada increased by 2.1 million in 2016, according to the annual Theatrical Market Statistics report put out by the Motion Picture Assn. of America. After four straight years of declines in the number of frequent moviegoers age 12 to 17 and 18 to 24, both groups saw increases in 2016.
Frequent moviegoers (millions) by age
Ages 12 to 17
2012: 6.3 million
2013: 5.5 million
2014: 5.5 million
2015: 5.3 million
2016: 5.4 million
Ages 18 to 24
2012: 8.7 million
2013: 7.2 million
2014: 7.0 million
2015: 5.7 million
2016: 7.2 million
Average Cinema Ticket Price (U.S.$)
2007: $6.88
2008: $7.18
2009: $7.50
2010: $7.89
2011: $7.93
2012: $7.96
2013: $8.13
2014: $8.17
2015: $8.43
2016: $8.65
Source: National Assn. of Theater Owners
Follow me on Twitter @AmyKinLA
---
Get the Indie Focus newsletter, Mark Olsen's weekly guide to the world of cinema.
You may occasionally receive promotional content from the Los Angeles Times.