The Internet Movie Database is one of the most popular websites for tracking the work of actors, filmmakers and others in the movie and TV world. We've asked some actors to look at their own IMDb page and comment on some of their best-known roles.
Natasha Lyonne is currently experiencing what feels like a second chapter in her career. The New York-born actress, now 37, started acting as a child, appearing on "Pee-Wee's Playhouse" and in "Dennis the Menace." Lyonne's dry wit and deadpan appeal brought her a series of roles as a teenage, from her breakout in "Slums of Beverly Hills" to the launch of the "American Pie "series.
Although her filmography is ceaseless, Lyonne appeared to hit a pause after her apparent heyday. "I've been doing this a long time," she notes. "Part of that long distance comes at times where you're really relevant and times where people could care less."
But then in 2013 "Orange Is the New Black" appeared on Netflix with Lyonne playing a likable addict named Nicky. It was the beginning of a new era for the actress, who credits the show with helping her find her love of acting again. "There's something great about being in my 30s and in this environment of encouraging, supportive women where we all want to do our best together," she says. "It feels very fulfilling. It's the kind of common ground you can only find in a group of outcasts and misfits – the power of the outsider. We're like the Bernie Sanders of TV, but, like, six months ago."
Now Lyonne has two new films arriving in theaters. The first, "The Intervention," out Aug. 26, is an intimate comedy written and directed by her best friend Clea DuVall, who cast Lyonne as her onscreen girlfriend in the film. The second, which is out Sept. 2 and which Lyonne produced, is called "Antibirth" and stars the actress' other best friend Chloë Sevigny. Here Lyonne recounts some of her iconic roles and how they've allowed her to build this particular career.
Lou, "Antibirth" (2016)
"I ended up producing the film because I know [director] Danny [Perez] from real life. He wrote the movie for me and Chloë. Chloë is my heavy-duty best friend – basically my sister – and it really feels in line with the kind of movie I enjoy. It has a real kind of John Waters insanity to it and a punk sensibility."
Sarah, "The Intervention" (2016)
"I remember Clea talking about this years ago. She wrote it with Melanie Lynskey in mind, and I'm obsessed with these women – like, a healthy obsession. Clea was suddenly directing it and asked me to be in it. The big thrill was seeing my best friend completely take over in a new way. hem really step into their own. Plus, Clea and I have been method-acting our chemistry for the past twenty years so it was amazing to actually get to work with her and do scenes together."
Nicky Nichols, "Orange Is the New Black" (2013-present)
"It's been incredible both personally and in terms of my career. It really gave me a full second leg. There had been a lot of things that were slowly bringing me back from the edge. Doing theater was laying a foundation for reclaiming my passion – and relevance – for acting. I had confused it with being this dark experience because of how it had ended the first time. So when 'Orange Is the New Black' came along I was ready to be back at work. I felt like the part had so much I could sink my teeth into, especially in terms of being the '70s male actor I've always dreamed of being."
Megan, "But I'm a Cheerleader" (1999)
"So many people are so obsessed with being liked, and it's so risky to not be popular or screen-grabbable at all times. That can be a real bummer for the arts. You need ideas that take risks and feel a little bit crazy. One of the joys of being around for so long is I can really see how movies like 'But I'm a Cheerleader' really found its legs – even more so 20 years later. The movies that make insane, original choices end up having the most serious legs."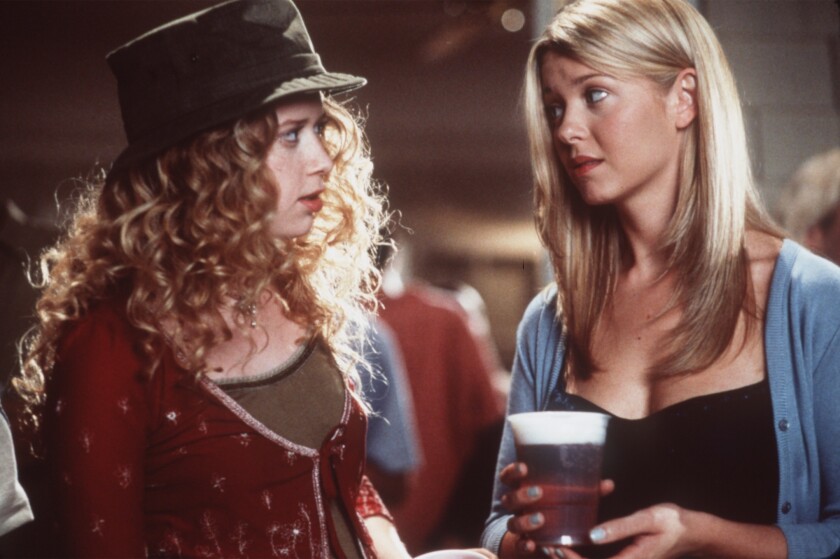 Jessica, "American Pie" (1999)
"I always had mixed feelings about this movie. It was definitely the movie that made me realize that as a long-term actor you have to slip in some studio pictures if you want to keep doing the independent stuff. It gave me so many legs to be a known commodity, which I'm very grateful to, but on the other hand I think it's too mainstream for my sensibilities. I don't identify with that experience at all. I did not then and I still don't. It's a very suburban white male trip. I had a hard time relating. It's not a movie I would watch, basically. It feels like a movie for the popular kids at school, of which I am not one. Looking back now I can see it's particular quirk and what made it a success."
Vivian, "Slums of Beverly Hills" (1998)
"This is still my favorite movie. That movie had a lot of transference happening for me where I was in a fantasy world of 'What if Alan Arkin really was my dad?' And 'What if I really am falling in love with Kevin Corrigan?' Full transference. I got confused and thought that was my family for life. It's not like I see these people often, but in my mind's eye I confuse them. There's something about playing family with people when you're in your teens that's really interesting. Especially if you come from a difficult family, which I imagine a lot of people in movies do, it can feel like such a safer place than high school or home."
DJ, "Everyone Says I Love You" (1996)
"I had no idea that Woody Allen was the kind of guy who wasn't always the nicest to his actors. I didn't know he had a professional distance – or whatever he does. So I was always right there, sitting next to him, trying to look through the lens. I see old photos of us and I'm right over Woody's shoulder, probably being, like 'OK, what's this shot?' I was, like, 'This is so cool. I'm getting to work with Woody Allen. He's my dad!' I totally did not catch the picture that there should be some sort of respectful distance. He sent a form letter after the movie that said, 'Dear Natasha, it was so wonderful having you on the film. I hope you get a chance to see it and you'll want to participate in press for the movie.' And I immediately wrote back thinking I was the only person who got the letter. It was one of my odder experiences."
ALSO:
Christina Applegate, a 'dark kid,' used Kelly Bundy and strong roles to craft a comedic career
Chris Pine and Jeff Bridges celebrate the 'cowboy poetry' of modern western 'Hell or High Water'
'War Dogs' journo on the movie's real moral: 'These guys didn't break the law. The law broke them'
---