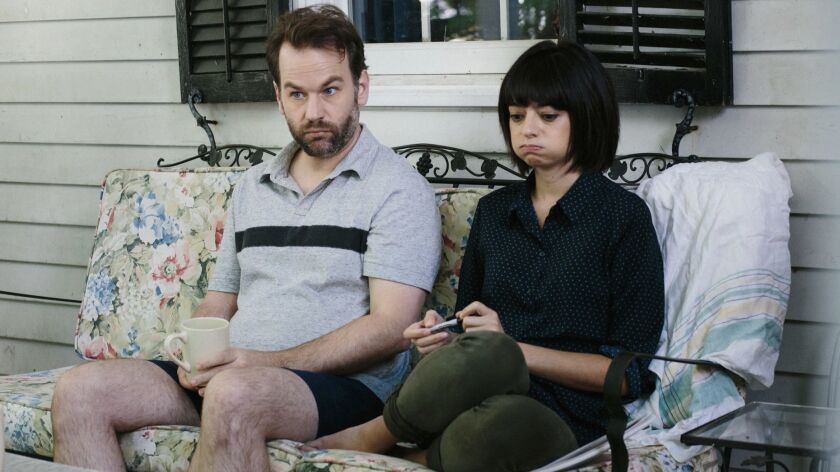 New on Blu-ray
"Don't Think Twice" (Universal DVD, $22.98; Blu-ray, $29.98; also available on VOD)
Comedian Mike Birbiglia draws heavily on personal experience for this film, his second as a writer-director, which explores how the comedy improv scene can be both supportive and cutthroat. Birbiglia plays the leader of a struggling troupe that falls apart when one of its members — a charismatic, ambitious performer played by Keegan-Michael Key — gets hired by a "Saturday Night Live"-like TV show. Filled with knowing detail about unwritten rules and petty jealousies, "Don't Think Twice" is unusually sensitive to how even a small success can be catastrophic to a clique of professional comedians. What made this movie such a solid hit on the art-house circuit (besides a killer cast that includes Gillian Jacobs, Chris Gethard and Kate Micucci) is that it's not excessively cynical or pessimistic. Birbiglia believes in the value of community and live theater, though he's also honest about how individual desires can mess with group cohesion.
[Special features: Deleted scenes and featurettes]
VOD
"808" (available Dec. 9 on Apple Music, Dec. 16 on iTunes)
For anyone who's watched PBS' excellent "Soundbreaking" docu-series and wants to delve deeper into the particulars of modern pop production, director Alexander Dunn's documentary explains how one strange Japanese drum machine defined hip-hop, R&B and dance music in the '80s. Interviews with the likes of Afrika Bambaataa, Fatboy Slim, Phil Collins, Arthur Baker (who also co-produced the film) and members of the Beastie Boys help break down the appeal of the Roland TR-808, which sounds like an instrument from the future and not an approximation of actual percussion. "808" is an enlightening, tuneful look at how one simple piece of technology can have a huge influence on the culture.
TV set of the week
"Greenleaf: Season One" (Lionsgate DVD, $34.98; Blu-ray, $34.97)
It didn't get as much buzz as "UnReal" or "Mr. Robot," but this past summer's best cable drama — and one of the most highly viewed — was this Oprah Winfrey Network series. Keith David plays the head of the titular Greenleaf family, nearly all of whom work in the same Southern megachurch, dealing both with the ordinary problems of their parishioners and their own melodramatic scandals. The show captures the real business, politics and social dynamics of modern religion, while also functioning as addicting prime-time soap opera. It's both highly entertaining and a rich portrait of an American subculture generally ignored by TV.
[Special features: Interviews and behind-the-scenes featurettes]
From the archives
"Mad Max: High-Octane Collection" (Warner Bros. DVD, $54.97; Blu-ray, $79.99)
How does a motion picture franchise endure over 35 years, while evolving from one grubby low-budget Australian cult hit into a multi-Oscar-winning blockbuster? That's the question answered by this box set, which collects George Miller's four action-packed post-apocalyptic thrillers, adding hours of documentary reflections on how the director's ambitions grew. Last year's "Mad Mad: Fury Road" remains a crowning achievement; it's essentially a two-hour car chase with more souped-up vehicles, eccentric characters and crazy camera angles than anything previously attempted in cinema. But it's also fun to revisit the original 1979 "Mad Max" and its '80s sequels "The Road Warrior" and "Beyond Thunderdome," to see the birth of Mel Gibson as a movie star and to marvel at how prescient Miller's vision of a future marked by environmental devastation and intense factionalism has turned out to be.
[Special features: Extensive featurettes on the making of the series, plus commentary tracks, and a special black-and-white version of "Fury Road"]
Three more to see
"Jason Bourne" (Universal DVD, $29.98; Blu-ray, $34.99; 4K, $44.98; also available on VOD); "The Hollars" (Sony DVD, $25.99; Blu-ray combo, $30.99; also available on VOD); "The Secret Life of Pets" (Universal DVD/Blu-ray combo, $34.98; 3D, $44.98; also available on VOD)
.
---