New video: 'At Eternity's Gate' features a masterful Willem Dafoe as Van Gogh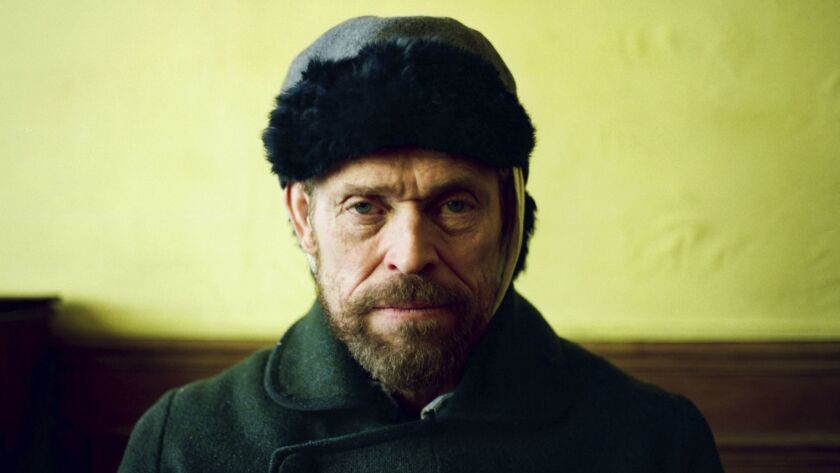 New on Blu-ray
"At Eternity's Gate" (Lionsgate DVD, $19.98; Blu-ray, $24.99; also available on VOD)
The life of Vincent Van Gogh — and how he turned poverty and madness into art — has been told several times on film, with the likes of Kirk Douglas and Tim Roth playing the driven, grubby genius. Director Julian Schnabel's "At Eternity's Gate" doesn't necessarily improve on the bona-fide movie classics "Lust for Life" and "Vincent & Theo," but it does feature the best Van Gogh performance. Willem Dafoe's Oscar-nominated version of the painter is reminiscent of his interpretation of Jesus in Martin Scorsese's "The Last Temptation of Christ," marked by a combination of passionate fervor and spiritual bewilderment. "At Eternity's Gate" is an unconventional biopic, more about artsy vignettes than any story. But it's frequently quite magical, as Schnabel and Dafoe explore how great artists often yearn for some connection to the divine.
Special features: A commentary track and a trio of featurettes
VOD
"Lorena" (available Feb. 15 on Amazon Prime Video)
Comedian and filmmaker Jordan Peele served as an executive producer on "Lorena," a four-hour documentary about one of the stranger news stories of the 1990s: that time when John Wayne Bobbitt had a chunk of his genitalia sliced off by his wife, Lorena, who then tossed the organ out a window. Director Joshua Rofe rehashes the facts of the case — including the aftermath, when the Bobbitts became minor celebrities and the butt of late-night TV jokes. But this doc is also about the enduring ramifications of this incident: from the way it reduced the mainstream media to the level of salacious tabloid reporters, to the conversations it sparked about domestic abuse.
TV set of the week
"Rick and Morty: The Complete Seasons 1-3" (Warner Bros. DVD, $59.99; Blu-ray, $69.99)
As the 2010s lurch to a close, Adult Swim's acerbic animated science-fiction spoof "Rick and Morty" looks more and more like one of the decade's defining TV shows. With the fourth season still months away (or even longer), the "Rick and Morty: The Complete Seasons 1-3" offers a good chance to reflect on the series so far and to appreciate the depth of co-creators Justin Roiland and Dan Harmon's unapologetically sour take on family life, fantasy genre clichés and the raging egotism of adventure heroes. This space-time-and-dimension-hopping saga of a monstrously callous mad scientist and his nervous grandson isn't just clever and hilarious, it's also a spirited inquiry into whether people need each other.
Special features: Commentaries on selected episodes, plus deleted scenes and featurettes
From the archives
"Four Weddings and a Funeral: 25th Anniversary Edition" (Shout Select Blu-ray, $34.93)
In the early 1990s, when art house audiences were flocking to genteel British period pieces, director Mike Newell and screenwriter Richard Curtis dragged those anglophiles into the modern day, with one of the decade's smartest, warmest comedies. In "Four Weddings and a Funeral," star Hugh Grant is both charmingly breezy and more than a little melancholy, playing one of a group of upper-crust friends, all warily approaching the big life transitions of middle age. The film shifts easily between farce and pathos; and viewers around the world were enchanted by Newell, Curtis and Grant's vision of an England where everyone's at once erudite, glamorous, and more than a little fumbly.
Special features: A commentary track, deleted scenes and featurettes
Three more to see
"Bohemian Rhapsody" (20th Century Fox DVD, $39.99; Blu-ray, $34.99; 4K, $39.99; also available on VOD); "The Front Runner" (Sony DVD, $30.99; Blu-ray, $34.99; also available on VOD); "Shoplifters" (Magnolia DVD, $26.97; also available on VOD)
---
From the Emmys to the Oscars.
Get our revamped Envelope newsletter, sent twice a week, for exclusive awards season coverage, behind-the-scenes insights and columnist Glenn Whipp's commentary.
You may occasionally receive promotional content from the Los Angeles Times.