New on Blu-ray
"First Man" (Universal DVD/Blu-ray, $34.98; also available on VOD)
Ryan Gosling plays pioneering astronaut Neil Armstrong in the unusually naturalistic biopic "First Man." Oscar-winning "La La Land" director Damien Chazelle and Oscar-winning "Spotlight" co-writer Josh Singer take an intimate and impressionistic approach to the story of how the U.S. reached the Moon, focusing closely on Armstrong — an emotionally reserved, doggedly analytical pilot and scientist, who joins the Gemini and Apollo programs as a way of coping with his grief over the death of his young daughter. "First Man" puts audiences deep inside Armstrong's experience: from cramped and rickety space capsules to the competitive and demanding culture of NASA. For various reasons, the movie failed to catch on with a wide moviegoing audience last fall, but it's a fantastic film, and one that — like the similar "The Right Stuff" before it — is bound to endure.
[Special features: A commentary track, deleted scenes and extensive featurettes]
VOD
"West of Sunshine" (available Jan. 22)
Short, simple and quietly profound, writer-director Jason Raftopoulos' debut feature, "West of Sunshine," is a small pleasure. Expanding his own 2011 short, "Father's Day," Raftopoulos sets this slice-of-life over the course of one day in Melbourne, Australia, where a financially struggling courier named Jim (Damian Hill) takes some shady assignments to pay an overdue debt, all while looking after his preteen son Alex (Ty Perham). The movie keeps the melodrama to a minimum, instead dwelling on the tense interactions among friends, family members and colleagues who barely trust one another because everyone knows their weaknesses too well.
TV set of the week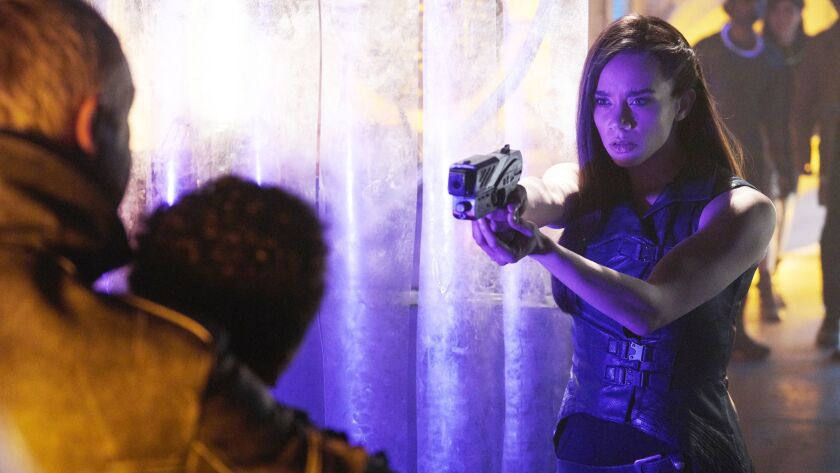 "Killjoys: Season Four" (Universal DVD, $39.98; Blu-ray, $44.98)
The zippy science-fiction series "Killjoys" will be coming to an end with its fifth and final season later this year. Judging by the 10 episodes in the "Killjoys: Season Four" set, the show's going out on a high. The story of three cocky bounty hunters patrolling a small planetary system, this cult favorite has always done a fine job of balancing short, exciting adventures with more slowly unfolding mysteries, all meant to explain the combative culture that spawned these antiheroes. In the fourth year, a larger mission begins to come into focus, setting up what should be a raucous, epic finish.
[Special features: None]
From the archives
"Mikey and Nicky" (Criterion DVD, $29.95; Blu-ray, $39.95)
One of the most offbeat films from the marvelous career of comedian-director Elaine May, the 1976 mob comedy "Mikey and Nicky" stars John Cassavetes as a paranoid mobster trying to escape a vengeful boss with the help of a longtime friend. Peter Falk plays the buddy, a much less successful small-time hood (and kind of cranky about it). May delays the chases and gunplay for as long as possible, preferring to watch these two schmoes careen between seedy bars and flophouses, beefing with each other about bum marriages, middle-aged aches and pains, and the unresolved issues from their shared past. May notoriously had trouble both on the set and in the editing room finding her precise mix of subtle humor and stark truth. What she emerged with is flawed but singular.
[Special features: New and vintage interviews]
Three more to see
"4 Months, 3 Weeks and 2 Days" (Criterion DVD, $29.95; Blu-ray, $39.95); "The Hate U Give" (20th Century Fox DVD, $29.98; Blu-ray, $34.99; 4K, $39.99; also available on VOD); "Johnny English Strikes Again" (Universal DVD, $29.98; Blu-ray, $34.98; also available on VOD)
---