New video: 'Sorry to Bother You' is an original, lacerating social satire
New on Blu-ray
"Sorry to Bother You" (20th Century Fox DVD, $21.72; Blu-ray, $34.99; also available on VOD)
One of the most original comedies of the year, this lacerating social satire stars Lakeith Stanfield as an Oakland-based telemarketer who rockets to success when he starts making calls using his "white voice." That barbed joke is just Square 1 of a story that keeps building out in crazy directions, encompassing more and more ideas: class betrayal, genetic modification and literal wage-slavery, among others. The movie is a little over-stuffed at times, as writer-director Boots Riley (a hip-hop legend, in his filmmaking debut) squeezes in seemingly everything that's been on his mind for the last decade or so. But a stellar cast that includes Tessa Thompson, Danny Glover, Terry Crews, Steven Yeun and Armie Hammer — plus the voices of David Cross and Patton Oswalt — keeps the picture lively as Riley takes a sledgehammer to the institutions he feels work actively against individual liberty.
[Special features: A commentary track and featurettes]
VOD
"Shirkers" (available Oct. 26, on Netflix)
Sandi Tan's touching and unexpectedly twisty documentary looks back on the filmmaker's teenage years in Singapore, when she and a handful of arty pals made an independent movie that never got released. This doc explains what happened to the film. It's an absorbing story, involving a flighty collaborator and friendships that were ultimately tested by both the passage of time and a reordering of priorities. As Tan reconnects with her girlhood chums, the doc describes how big dreams can go awry yet still change the dreamers' lives.
TV set of the week
"Stephen King's The Shining" (Warner Archives DVD, $24.99)
In 1980, Stanley Kubrick turned Stephen King's novel into a pop masterpiece: a mood-altering meditation on horror movie clichés and all-consuming desire. But King hated the movie, and so in 1997, he collaborated with ABC and director Mick Garris on a more faithful 4 1/2-hour TV version, with Steven Weber playing an alcoholic writer who takes a job as the caretaker at an off-season hotel and Rebecca De Mornay as his long-suffering wife, worried about their troubled psychic son. Far less artful than Kubrick's take, the miniseries does flesh out the characters and the story, and it is arguably scarier.
[Special features: None]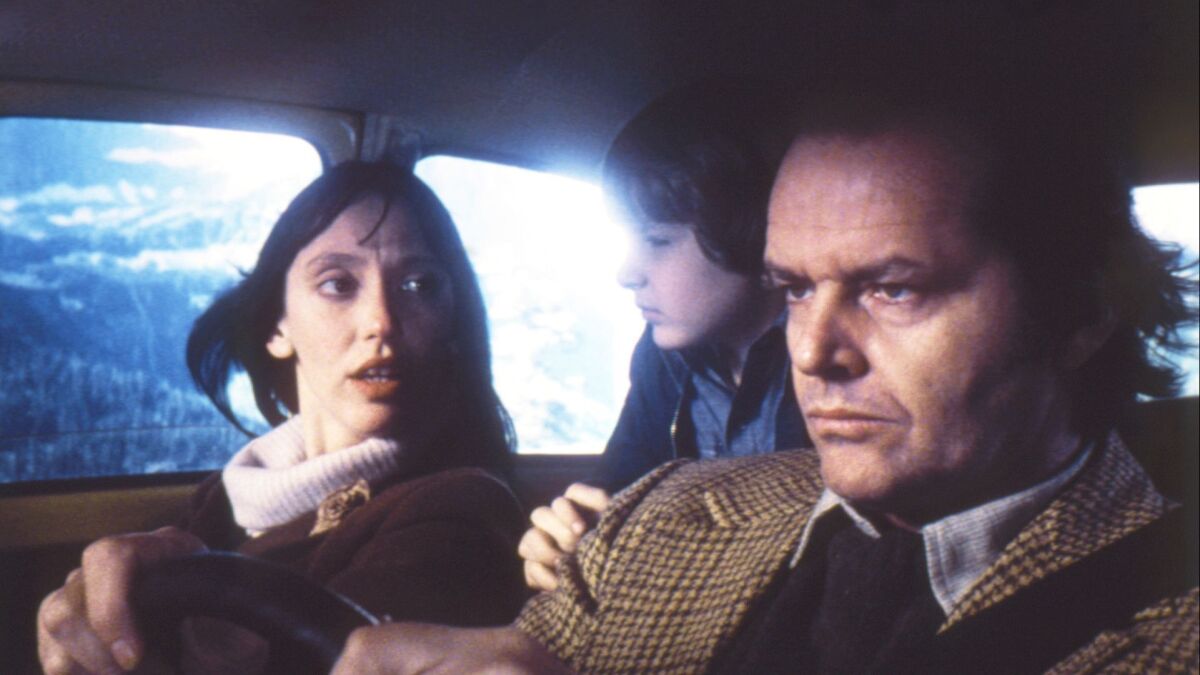 From the archives
"Sisters" (Criterion DVD, $29.95; Blu-ray, $39.95)
Director Brian De Palma built his reputation with puckish underground comedies, then shifted to Hitchcock-inspired thrillers, starting with this offbeat 1973 riff on "Psycho" and "Rear Window." Margot Kidder stars as both a French-Canadian model and her disturbed twin, while Jennifer Salt plays an investigative journalist who witnesses a homicide in the sisters' apartment, and Charles Durning is a gruff detective digging into the case. The first full flowering of the De Palma style, the film cleverly uses split-screens and cross-cutting to string the audience along, while heightening the emotions of any given scene nearly to the point of parody. The movie is playful and provocative — at once one of the scariest and funniest horror movies of the '70s.
[Special features: New and vintage interviews]
Three more to see
"Creepshow" (Scream! Factory Blu-ray, $39.93); "Elena Ferrante on Film" (Film Movement DVD, $34.95; Blu-ray, $49.95); "Mamma Mia! Here We Go Again" (Universal DVD, $29.98; Blu-ray, $34.98; 4K, $39.98; also available on VOD)
Get our L.A. Goes Out newsletter, with the week's best events, to help you explore and experience our city.
You may occasionally receive promotional content from the Los Angeles Times.