New video: 'Spider-Man: Into the Spider-Verse' sets the standard for superhero films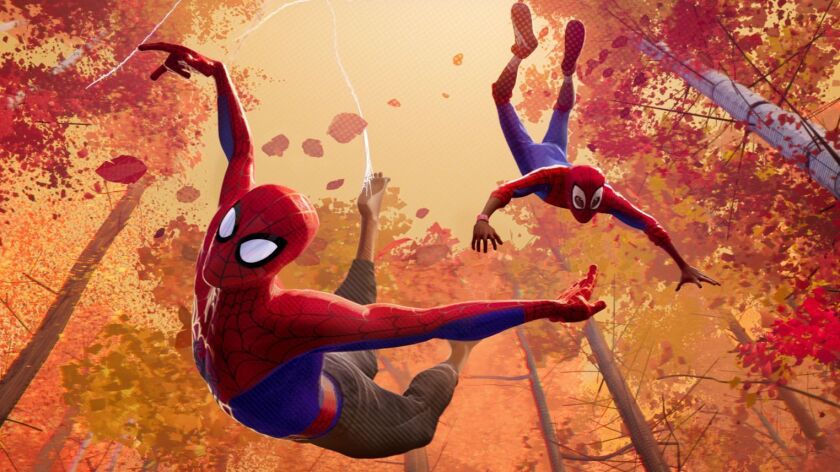 New on Blu-ray
"Spider-Man: Into the Spider-Verse" (Sony DVD, $30.99; Blu-ray, $38.99; 4K, $45.99; also available on VOD)
One of the most inventive and original American animated adventure films of recent years — and a deserving Oscar winner for animated feature — "Spider-Man: Into the Spider-Verse" is set on a version of Earth where the beloved, heroic Spider-Man has died, passing the mantle on to a mixed-race teenager named Miles Morales, voiced by Shameik Moore. Almost as soon as he gets his powers, Miles meets counterparts from different dimensions: a depressed Peter Parker, a spunky, young Gwen Stacy, a dark detective, a cartoon pig, and a Japanese girl with a robot pal. With its lively story, its terrific voice-cast (including Jake Johnson, Hailee Steinfeld, Nicolas Cage and John Mulaney), and a visual design that resembles a top-end comic book, "Into the Spider-Verse" sets a new standard for superhero movies, animated or otherwise.
Special features: Featurettes and alternate scenes
VOD
"Dragged Across Concrete" (available March 22)
Similar to writer-director S. Craig Zahler's previous films "Bone Tomahawk" and "Brawl in Cell Block 99," his "Dragged Across Concrete" is long, violent and stubbornly hard to pigeonhole. Mel Gibson and Vince Vaughn play plainclothes cops who get caught using excessive force in pursuit of a drug dealer. While on suspension, a combination of flippant pride and financial need prods the partners into a crime of their own, robbing a gang. Everything quickly goes awry over the course of one bloody night. The cast of irredeemable characters (and the controversial actors playing them) will likely repel some viewers. But for those who can stomach its gore and don't care to unpack its politics, "Dragged Across Concrete" is an exceptional genre picture, taking time and care to develop a rich milieu … and to make audiences uncomfortable.
TV set of the week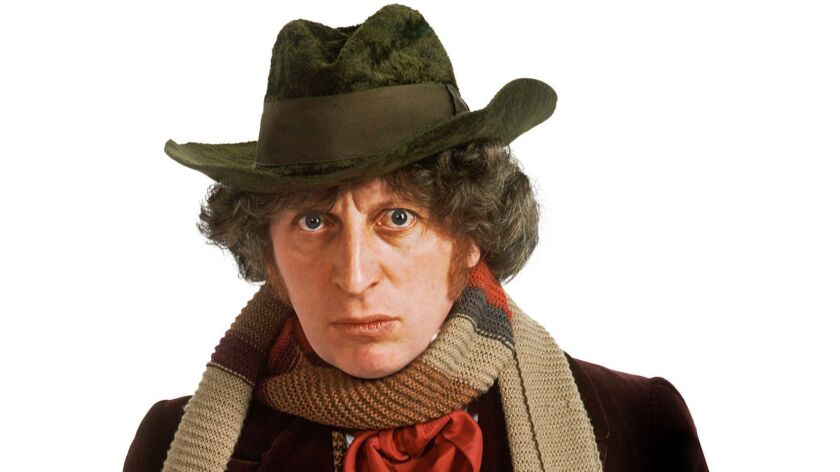 "Doctor Who: Tom Baker — Complete Season Seven" (BBC Blu-ray, $69.99)
"Doctor Who" had been on the air for over a decade before Tom Baker took on the role of the mysterious, nameless, time-and-space-traveling "doctor." Thanks to his softly shaggy appearance and childlike playfulness — coupled with his episodes getting wide exposure on American public television — Baker's take on the character drew acclaim. The "Doctor Who: Tom Baker — Complete Season Seven" set collects his final seven story lines, comprising 28 episodes of reptilian aliens, space vampires and oversized scarves. These shows are landmarks of 1970s British popular culture, now properly preserved, on a Blu-ray loaded with extras.
Special features: New and old featurettes, and selected episode commentaries
From the archives
"Wanda" (Criterion DVD, $29.95; Blu-ray, $39.95)
Filmmaker-actress Barbara Loden's raw 1970 drama "Wanda" languished in obscurity for decades before a 2010 UCLA restoration brought more attention to this singular road movie, about an exhausted Pennsylvania housewife who has a series of tawdry sexual and criminal misadventures. The film's low-rent locations — and its blunt honesty about the daily transactional aspects of womanhood — make it a very different kind of feminist/counterculture statement. "Wanda" isn't about some upper-middle-class suburbanite or hairy hippie hero; it's about a woman with no prospects, enduring abuse while trying to find a reasonable facsimile of freedom.
Special features: Vintage Loden interviews and a bonus Loden short film
Three more to see
"Detour" (Criterion DVD, $29.95; Blu-ray, $39.95); "Mary Poppins Returns" (Walt Disney DVD/Blu-ray, $24.99; 4K, $29.99; also available on VOD); "Pokemon the Movie: The Power of Us" (Warner Bros. DVD, $19.98; Blu-ray, $24.98; also available on VOD)
---
From the Emmys to the Oscars.
Get our revamped Envelope newsletter, sent twice a week, for exclusive awards season coverage, behind-the-scenes insights and columnist Glenn Whipp's commentary.
You may occasionally receive promotional content from the Los Angeles Times.