Bong Joon Ho on Netflix's 'Okja,' the meatiest film of his career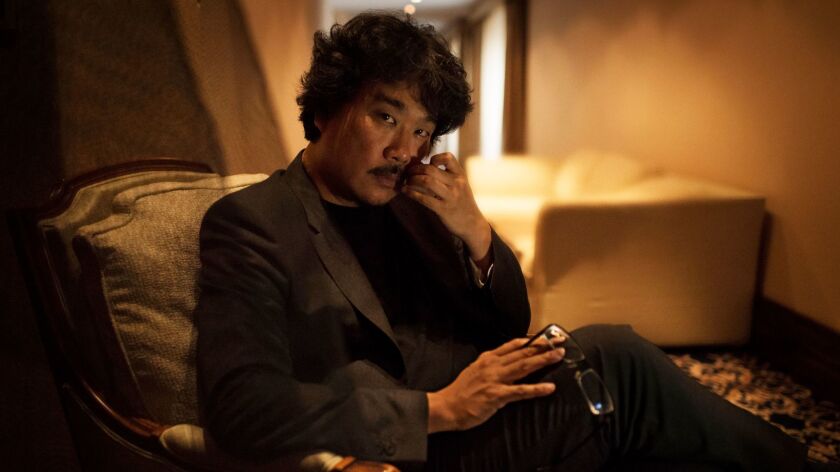 Film Critic
Bong Joon Ho isn't eating too much meat these days.
The South Korean writer-director known for intense, genre-bending thrillers like "The Host," "Memories of Murder" and "Snowpiercer" is grabbing a quick dinner just a few floors down from Koreatown's CGV Cinemas, where audiences are lining up for an advance screening of his latest picture, "Okja." The smell of beef sizzling on tabletop grills is inescapable, but tonight Bong is sticking to cold naengmyun noodles and kimchi dumplings ("Not beef!" he notes, hoisting one aloft with his chopsticks), as part of a steady reduction in meat consumption that he largely attributes to his new film.
One of the highest-profile features produced by Netflix, which will begin streaming it Wednesday for audiences worldwide, "Okja" follows a 13-year-old Korean girl, Mija (An Seo Hyun), in her quest to save a genetically modified "super pig" named Okja from being chewed up by the forces of 21st century global capitalism. By turns thrillingly inventive and politically gutsy, the movie also has an emotional core that harks back to classic children's movies, at times suggesting an action-adventure mash-up of "Free Willy," "Charlotte's Web" and "Soylent Green."
It also plays like a companion piece to Bong's 2006 film, "The Host," another creature feature wrapped in a satirical warning about man's destructive effect on his environment. The implied horror of "Okja's" slaughterhouse climax could put you off bacon for a lifetime, though Bong notes that converting viewers to veganism was hardly the main objective.
The film does address the environment and animal rights, but it's more about capitalism and the system that we live in because of it."
— Bong Joon-ho
"The film does address the environment and animal rights, but it's more about capitalism and the system that we live in because of it," he says. "The animals are experiencing a holocaust, basically, but to the companies, it's just mass production."
The company in this case is the fictional Mirando Corporation, run by rapacious twin sisters Lucy and Nancy Mirando (both played by Tilda Swinton) and fronted by an aggressive Steve Irwin-style TV personality (Jake Gyllenhaal). Okja is one of 26 genetically enhanced piglets that Mirando sends out to be raised on farms all over the world, then recalls to its New York headquarters years later for inspection, breeding and eventual execution — but not if Mija, Okja's caretaker and best friend, has anything to say about it.
Sporting thin eyeglasses and unruly hair atop a tall, bulky frame, the 47-year-old Bong looks every inch the giddy, overgrown film nerd, an impression borne out by the way he peppers the conversation with the names of favorite directors (along with numerous Korean expletives that our interpreter is too polite to translate).
The dizzying range of his cinephile enthusiasms — they include Alfred Hitchcock, Joseph Losey, Claude Chabrol, Shohei Imamura, Henri-Georges Clouzot, Kim Ki-young, Kiyoshi Kurosawa and Jonathan Demme — should come as little surprise to anyone familiar with his work, which has become more and more international in scope over the last several years.
Shot in New York City, Vancouver, Canada and Seoul, and featuring a sprawling bilingual cast that includes Paul Dano, Steven Yeun, Lily Collins, Giancarlo Esposito, Shirley Henderson and Byun Heebong, "Okja" represents Bong's latest and nerviest venture into the realm of big-budget, predominantly English-language filmmaking. (About 20% of the film's dialogue is in Korean.)
It's a progression that began with his 2014 graphic-novel adaptation, "Snowpiercer," a breathless post-apocalyptic thriller set aboard a train carrying the last remnant of humanity. That film starred Chris Evans along with Swinton, Ed Harris, Octavia Spencer, Jamie Bell, Romanian actor Vlad Ivanov and Song Kang-ho, the top Korean star who also anchored "The Host" and "Memories of Murder."
If "Snowpiercer" and "Okja" feel like products of (and metaphors for) an increasingly global film industry, Bong maintains that his casting and location decisions of late remain as story-driven as they were in his Korean productions.
"I am just led by where the story goes," he says. "In the case of 'Snowpiercer,' it's every language but [it all takes place on] one train, one linear world, so it allowed me to make a multinational movie quite naturally. 'Okja' is totally different in that there are two worlds that don't collide. I wanted a feeling of bewilderment: How can a person from one universe come into contact with a person from another?"
For Swinton, a longtime admirer of Bong's films, starring in "Snowpiercer" and "Okja" (she also served as a co-producer on the latter) allowed her to witness the director's trademark precision on a more ambitious canvas.
He is completely dedicated to a moment-by-moment exploration of how peculiar and specific existence is."
— Tilda Swinton
"He is completely dedicated to a moment-by-moment exploration of how peculiar and specific existence is," she says. "One doesn't have to work within a $5-million budget or less to be that precise, that individual, that complicated. It's thrilling to see him take that specificity and put it into a film of this size."
Dooho Choi, a producer on "Snowpiercer" and "Okja," notes the near-Kubrickian intensity of the director's approach to storyboarding and shot construction. Far from making the work feel stilted or detached, Choi says, Bong remains alive to the in-the-moment possibilities of the actors in those meticulously constructed frames.
"It's almost like setting up dominoes, and then the fun part is watching them all fall," Choi says. "I think the best moments for him are when the actors do something completely crazy, beyond what he could have come up with."
"It's not a controlled environment but a prescribed environment," Swinton agrees. "And within those parameters you are not only free, but you are invited to amuse him. It's a really quite playful and joyful place to be."
Some might say that Bong has gone Hollywood, a misleading charge given how few U.S. studio filmmakers bring as distinctive an auteur signature to their work. Fewer still routinely attempt such a heady fusion of action and ideas, character-driven emotion and state-of-the-art visual effects.
There's also the fact that much of Hollywood remains highly suspicious of Netflix, which produced the film with Plan B Entertainment. In the end, Netflix was the only outfit willing to put up the film's $50-million production budget and grant Bong full creative control.
The director is quick to praise Netflix for giving him the freedom to make the film without compromise. The company's sole criterion was that "Okja" be shot digitally rather than on film, which spurred Bong and cinematographer Darius Khondji to use the Arri Alexa 65, the digital equivalent of a 70-millimeter camera.
But Bong also acknowledges that "Okja," with its painstakingly designed and computer-generated pig protagonist, was made to be seen on the big screen.
"The best way to watch a film is in the theater," he says. "But for directors who make weird films like mine, the digital studio platforms are a great creative opportunity. I do believe that the two [modes] can coexist."
"Okja" will receive an awards-qualifying limited release in Los Angeles and New York theaters, also starting Wednesday. In L.A., the film will be shown at iPic Westwood and Laemmle's Monica Film Center in Santa Monica, as well as a special 35-mm engagement at the New Beverly Cinema on July 7-8. In New York, the film will be shown at iPic New York and Film Society of Lincoln Center.
Netflix is not planning to report theatrical grosses for "Okja."
The distributor issue caused friction at the recent Cannes Film Festival, where cinema purists decried the inclusion of "Okja" and another Netflix title, Noah Baumbach's "The Meyerowitz Stories (New and Selected)," in the main competition. The controversy continues in Bong's native South Korea, where the country's three largest exhibitors — CGV, Lotte Cinema and Megabox — are refusing to screen the film because of its simultaneous Netflix release.
There is perhaps a measure of irony in the notion of "Okja," an attack on a fictional conglomerate that exploits resources around the world, running afoul of various film exhibitors abroad. But for producers and Plan B partners Jeremy Kleiner and Dede Gardner, the problem begins less with the disruptive effect of Netflix than with the creative timidity of the U.S. studio system.
"Why is a vision of this level of singularity so difficult for studios that are in the theatrical distribution business? I feel like that's the question," Kleiner says. "Do we believe in, support and stand behind original visions of all shapes, sizes and forms of storytelling, or do we not?"
As bold an advance as "Okja" and "Snowpiercer" may seem for Bong, his ability to invest the conventional idiom of the Hollywood blockbuster with moral ambiguity, subversive humor and topical satire is nothing new. That mordant sensibility was already in evidence in his 2000 feature debut, "Barking Dogs Never Bite," a screw-loose dark comedy about reckless canine endangerment at an apartment complex.
The film was a box-office flop, but its producer, Cha Seung-jae, had enough faith in Bong to greenlight his next project, an adaptation of a 1996 stage play based on a string of unsolved murders that terrorized the South Korean city of Hwaseong between 1986 and 1991. Released in 2003, "Memories of Murder" became a major critical and commercial hit, won numerous awards at film festivals and is still widely considered Bong's masterpiece, a disturbing, tonally complex police procedural that foreshadowed David Fincher's "Zodiac."
"Back in 2003, it was hard to imagine a Korean director making English-language films with Hollywood stars," says Kim Moo-ryoung, a producer on "Memories of Murder." But she adds that the strong international response to the film, particularly its Korea-specific political elements, expanded Bong's sense of cinema's potential, as well as his own.
"I think that's how gradually Bong's global perspective was established and expanded. His talent for creating a universal story that is very authentic to his sensibility hasn't changed."
After "Memories of Murder" came the smash success of "The Host," a hybrid of monster movie, dysfunctional-family comedy and government-bureaucracy takedown that remains the fourth highest-grossing film of all time in South Korea. Bong followed that with the smaller-scaled "Mother," a deliciously dark whodunit that Bong conceived as a project for the veteran Korean star Kim Hye-ja. Her performance in the title role won several prizes abroad, including actress from the Los Angeles Film Critics Assn.
Bong's upcoming seventh feature, which features the working title of "Parasite," will be something of a return to basics: an all-Korean production starring Song and featuring a dysfunctional family of four. If history is any indication, the film will tap into what Swinton describes as the thematic concern that runs through all Bong's films, regardless of provenance.
"It's this existential question of feeling like a freak," she says. "There are very few of us who have never felt like that, and that is the deal. That's the existential deal."
For Gardner, Bong's ability to transcend cultural boundaries speaks to a vision as compassionate as it is ferocious.
"I think of Bong as a true humanist," she says. "And when that happens, borders evaporate."
---
Get the Indie Focus newsletter, Mark Olsen's weekly guide to the world of cinema.
You may occasionally receive promotional content from the Los Angeles Times.