Pushed to her limits, the first horror heroine of the Time's Up era is born in the gutsy 'Revenge'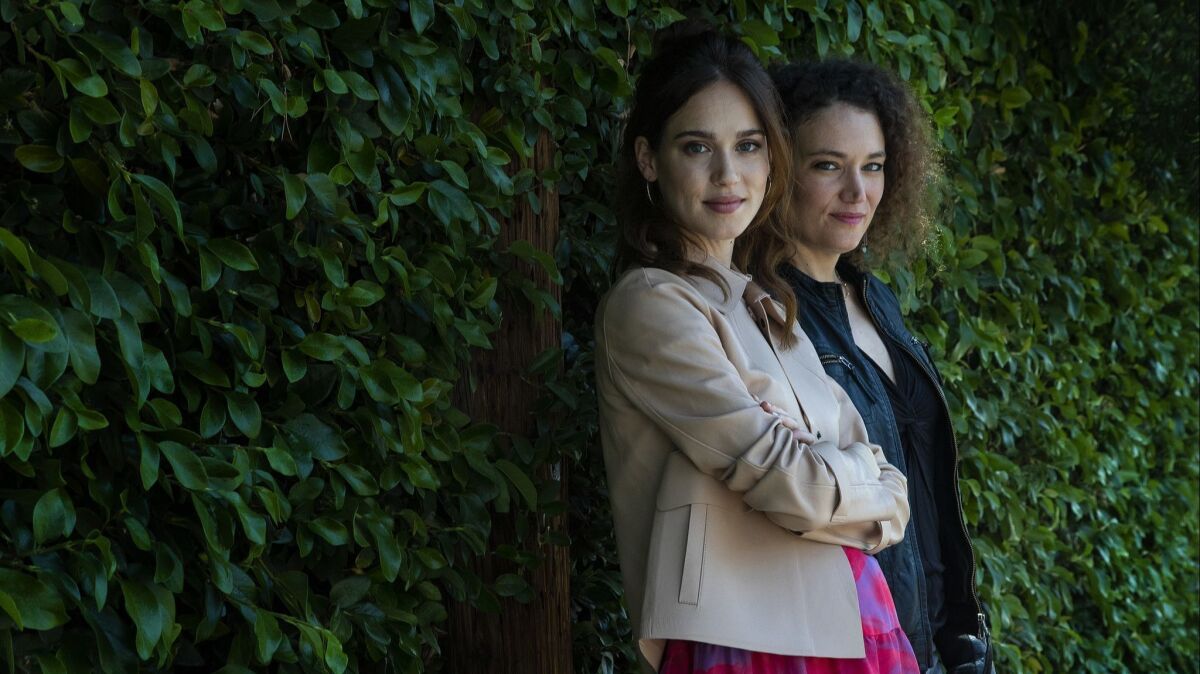 Left for dead and vastly underestimated by a trio of male attackers, a young woman stands tall against the expanse of an unforgiving desert, spattered in blood. Steely determination is set in her eyes, a rifle slung over her shoulder. She is the first horror movie heroine of the Time's Up era, the center of the French film "Revenge" — and she's ready for a fight.
"Revenge" is the stylish, gutsy and gory feature debut of director Coralie Fargeat, whose film's premise is itself a trigger warning: Aspiring actress Jen, played by Matilda Lutz, and her wealthy married boyfriend Richard (Kevin Janssens) find their remote weekend getaway interrupted by the early arrival of his hunting buddies (Vincent Colombe and Guillaume Bouchède), who bring with them a charge of leering unease.
They party, and then things get out of hand. When Jen's sensuality is misread as availability, she is sexually assaulted. And when Richard finds out, he opts to dispose of his mistress rather than risk her exposing his indiscretions.
"The first idea [for 'Revenge'] really came from the idea of this character," Fargeat says on a recent afternoon at a Studio City cafe, joined by Lutz in the middle of a lunchtime rush. "I am very fascinated by the Lolita type of girl, who I think brings very polarizing thoughts."
It's crazy how it's changed so many things in my life... shooting a movie like ['Revenge'] gave me a lot of confidence.
— "Revenge" star Matilda Lutz
She turned to the multilingual Lutz, who was born and raised in Milan, Italy, to parents involved in fashion and moved to California years ago to give acting a shot. The director and her star share a warm rapport, and neither is too squeamish to detail the brutal thrills and tough subjects that power "Revenge."
"It's — how do you say it in English? A person who brings a lot of attraction and plays with her power of seduction," Fargeat continues. "At the same time, because of that, she's also going to be seen as an empty character that men think they can really sweep away when they don't need her anymore."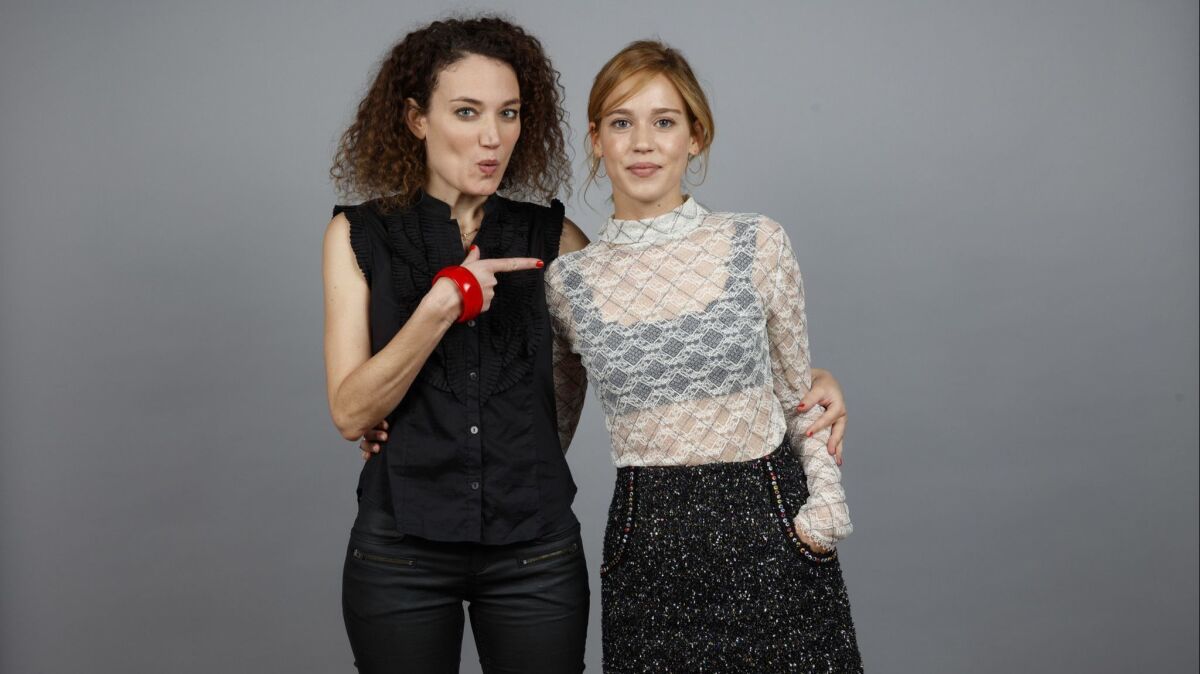 I wanted her to be very cool, to be a badass — not to be the poor little girl that was going to be chased.
— "Revenge" director Coralie Fargeat
Male entitlement and presumptions of privilege are what Fargeat's film aims to obliterate, along with viewer assumptions about blaming women for the trespasses that are committed against their own bodies. But "Revenge" is also about a woman seizing her own agency, empowering herself, and relying on strengths she never knew she had.
"Seeing her as attractive and thinking you can get rid of her as you want really says something about the male gaze and the way women are considered," says the director. "And having the story of a character who would free herself from these representations and boxes where men want to put her because she looks that way and she dresses that way and because she allows herself to do whatever she wants — that was the very first idea."
Acclaimed by critics since its Toronto International Film Festival premiere in September, "Revenge," which opens in theaters May 11, boasted a 100% Rotten Tomatoes rating until this week (it was at 92% at press time). Fargeat has been praised for reclaiming the ogling male lens of 1970s exploitation pictures that tread similar ground but were made by men — precursors in the so-called "rape and revenge" genre like 1978's controversial "I Spit on Your Grave."
Fargeat, however, sees "Revenge" less as a rape-and-revenge story and more a visceral tale of survival. "I knew early on that I didn't want the movie to be so realistic and to be about the rape — that was not at all my idea," she says. "It was really to build an iconic heroine."
Hers is a heightened phantasmagorical allegory influenced by the transformative horrors of John Carpenter and David Cronenberg movies, the transcendent violence of Korean films like "I Saw the Devil" and "Oldboy," and the operatic vengeance of Quentin Tarantino's "Kill Bill" — "the kind of movies where fights are massive and go over the top into a kind of craziness that brings something else," Fargeat explains, "that bring a kind of poetry in the blood."
Symbolism dots her visual landscape in bold strokes, saturated palettes and economical choices, speaking to bigger-picture targets: Societal conditioning, media constructs of femininity, toxic expressions of masculinity and ingrained systems of misogyny that tell women like Jen that they are meant to be adornments, and are disposable.
At the center of it all Lutz, 26, enlivens both sides of Jen with nuance: The babe with L.A. dreams eager to play arm candy to her alpha male boyfriend, juxtaposed with the survivor she becomes, forged in fire, whose odyssey is underscored by a tongue-in-cheek bit of self-surgery involving a Mexican beer can that leaves a phoenix-like mark as it cauterizes her wounds.
"I don't care if it's possible!" Fargeat says with a laugh, her clear gaze twinkling with mischief. "I also wanted her to be very cool, to be a badass — not to be the poor little girl that was going to be chased. The image of a phoenix coming from a beer can, the mix of those two symbols, the heroic and the very basic, is fun and makes her original in the way she acts."
She and Lutz began exploring the character a little more than a year ago in their first meeting at L.A.'s Chateau Marmont, in the heart of a glitzy Hollywood that a wannabe starlet like Jen might dream of. Lutz had acted in Italian films and television shows and was opening her first major studio film stateside, the horror sequel "Rings," when Fargeat rang to offer her the role in February last year.
Two days later Lutz boarded a plane to start the grueling "Revenge" shoot in Morocco, much of which she spends barefoot and covered in grime, toting a gun and locked in an emotionally and physically demanding campaign of retribution. The film's memorable set pieces are breathtakingly R-rated, not for the faint of heart, and far from easy to accomplish.
"We were covered in blood, the blood was very slippery, and the hallway was very narrow," Lutz says of "Revenge's" most virtuosic sequence, a violent showdown between Jen and a fully naked Richard that bathed the set of his sleek luxury villa in so much fake blood the production had to have more flown in from Paris. "They were making it over and over and over," she says smiling proudly.
"It was me and the actors and the Steadicam operator giving very basic instructions like, 'Left!' 'Right!' 'Running!' 'More anger!' and it was kind of a ballet," Fargeat says. "I told my script supervisor, 'Don't worry, I know how I'm going to edit it.' Me, I loved it. Because I knew I had it all in my head."
"Revenge's" elemental story of survival relies little on dialogue and increasingly on the visceral experience as Jen turns the tables on her predators. But Fargeat and Lutz couldn't have predicted the cathartic release "Revenge" would bring to moviegoers in 2018, particularly women, as they hit the festival circuit with the film at the height of the #MeToo and Time's Up movements.
Fargeat had written "Revenge" (distributed theatrically by NEON and digitally via streaming service Shudder) before the current dialogue around sexual harassment and assault rippled into Hollywood's consciousness and public conversations. The film's Toronto International Film Festival premiere was three weeks before reports in the New York Times and the New Yorker blew the Harvey Weinstein scandal wide open.
"It's obvious that when you start to pay attention to the difference in treatment, or what women have to face, it's huge," says Fargeat, who is gratified to see discussions of "Revenge" join the ongoing discourse. "And it's true that we are raised so as to think it's normal. I was raised being told that being a girl is dangerous, that you can be raped, that if you dress sexy you're going to be raped, and you think it's normal."
A major change of society is needed and that's not going to happen in three or four or five months ... it's the whole root of society that needs to be changed.
— "Revenge" director Coralie Fargeat
"It's just amazing how society was used to being blind," she adds. "I think, unfortunately, that the Weinstein story is just the tip of the iceberg. A major change of society is needed and that's not going to happen in three or four or five months, because it's the whole root of society that needs to be changed."
Lutz says she left the shoot a changed woman, challenging values she was taught back home as she brought "Revenge's" avenger to life.
"It's crazy how it's changed so many things in my life, what I learned from set," she says. "Shooting a movie like that gave me a lot of confidence. In Italy you grow up being told that you shouldn't wear a skirt because men will look at you. I've always been strong, but I've always felt very concerned about what other people thought of me, what my body looked like, what people were saying about my body, on the beach... on the street if a man was looking at me I would either put my head down or change sides because I was scared of what might happen to me."
"And now," she said, "I don't do that anymore."
They have both found new energy in California — Lutz in Santa Monica where she lives, and Fargeat in L.A. where she's been researching her next film.
"My next movie won't be horror. I like to do different things," she teases. "But I think there are common elements that attract me: Some kind of excess, some kind of madness in the characters that can go very far for what they want, and also creating a not totally realistic universe."
Fargeat plans to return to Europe to shepherd "Revenge" through its U.K. release, but, Lutz says with assurance, "She'll be back!"
"I never saw how important a director can be for an actor," she says. "Working with [Fargeat] I really realized how important it was for me to trust her and for her to trust me, to do what she wanted me to do. I don't think this would have been the same if she wasn't the director of this movie."
"Day to day it was not easy," Fargeat says, glancing warmly at Lutz. "It was tiring but we had this bond during the whole movie, and I think the fact that it was a very intense role, physically and emotionally, added to this relationship. She decided to trust and to be there and that was amazing. So, I think there was a destiny. It was meant to be."
ALSO
The language of horror: Coralie Fargeat, John Carpenter and more horror maestros on what drives the movies that scare us most
'Fast Color' turns the superhero genre upside down, with a woman of color — and a mother — in the lead
Chills and thrills: 7 scary movies to see this summer
---
Get our L.A. Goes Out newsletter, with the week's best events, to help you explore and experience our city.
You may occasionally receive promotional content from the Los Angeles Times.