'Black Panther' costume designer Ruth E. Carter is Hollywood royalty — with or without the awards
Ruth E. Carter wasn't supposed to be an Oscar-nominated costume designer. At least, that's not what she envisioned as a child growing up in Springfield, Mass. Back then she saw everything the arts as a hobby, things "inner city" kids did in their summer programs to pass the time.
"While you were getting coached or tutored for math and science, they also had a black music program where all the percussions would be laid out on a blanket in the grass and everyone would come around and we'd have this whole drum session where the music just played and played and played and played," Carter recalls, sitting in her Mid-City Los Angeles home. "And there was a few of us who loved the whole idea of performance. We would, to the beat, recite poetry and we were doing African dance. I did enough of that to know that I enjoyed it."
When she'd go home, her older brothers "had art going on," leaving behind charcoal pencils and paper that she'd take and try her hand at copying.
"But I never thought of any of that as a career," she says. "I always framed it as extracurricular, the natural way to enjoy your summer or entertain yourself at home."
Fast-forward some 40 years and the 58-year-old is one of the Hollywood's most consistently employed costume designers, working with Spike Lee, Ava DuVernay and Steven Spielberg. And, as awards season kicks into full gear with next week's Golden Globe nominations, Carter is already an Oscar favorite for her designs in Ryan Coogler's "Black Panther."
If she receives an Oscar nomination in January, it would mark her third invitation to the show following nominations for Lee's "Malcolm X" biopic and Spielberg's slave ship drama "Amistad."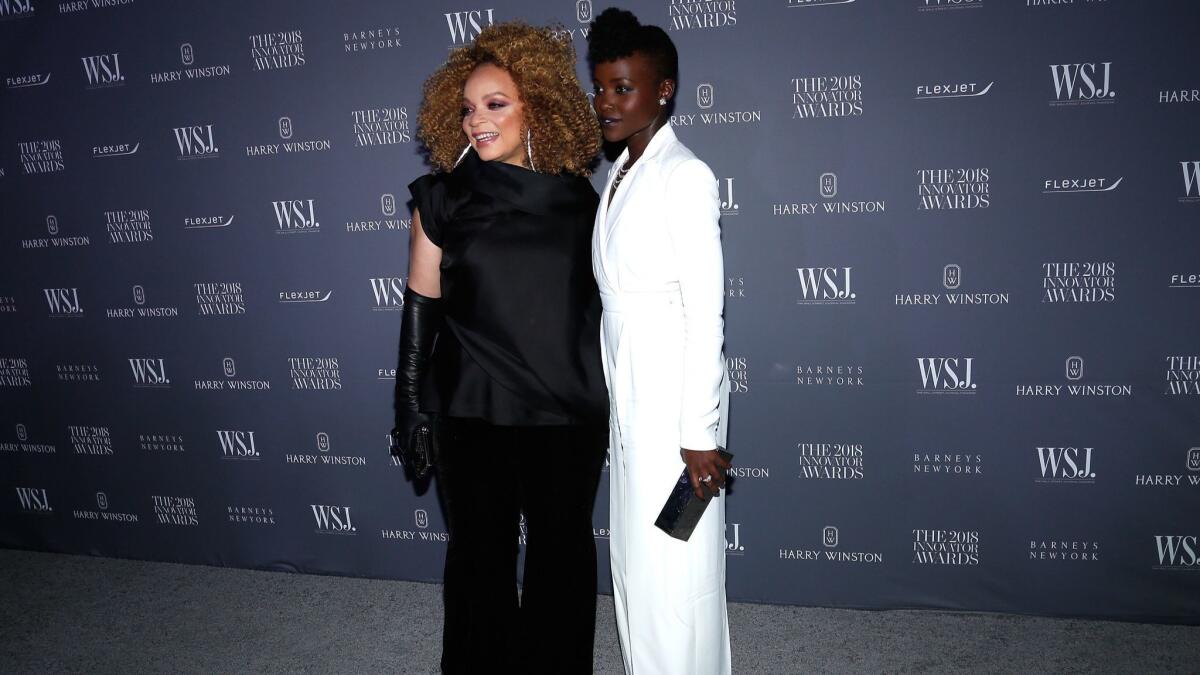 The road hasn't been easy, she admits. Despite her immense success as a black woman, the field of costume design isn't the most inclusive. When asked to name the black costume designers who were working when she entered Hollywood, she can remember just one: Palmer Brown who designed for TV's "Family Matters," "Gimme a Break!" and "A Different World."
Long before she found her current success, Carter went to Hampton University to become a teacher. But, she says, she always knew art of some sort would be involved. With a special education major, she had an interest in working with the National Theatre of the Deaf. After two years of elementary education courses, she realized she was more active in the theater department.
"They were really fun classes, but I was, like, 'Oh, is this what you chose? You're going to be teaching children math?'" she laughed.
She changed her major to theater arts and instantly reverted to "that girl who loved to recite poetry and perform." She remembers auditioning and not getting cast in a play but being asked by the instructor to do the costumes.
That was the start, she said, noting that it allowed her to further explore her childhood infatuation with drawing. She went to the library to read up on what making costumes entailed and, taking a textbook approach, went to the local Joann's Fabrics, bought materials with a small budget and made many of the clothes for the production.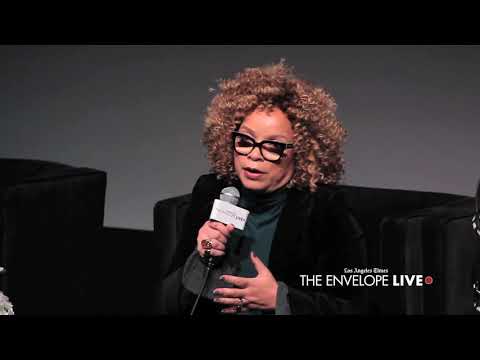 "Black Panther" costume designer Ruth Carter breaks down the meaning behind the major colors used for the different tribes in the Marvel movie.
"Once I did that, it caught on like wildfire," she said. "By my senior year, I was the costume designer on campus."
In fact, she had a "a full, immersive experience in costume design and theater arts" since she was often acting in and making costumes for shows.
After graduation, she interned at a local theater company in her hometown for a season. It was unpaid and she had to live off of food stamps, but it came with an apartment. She next found a job at the Santa Fe Opera, "living a life of hand sewing and immersing into all of the craft work," she said. She quickly realized she didn't want to be a stitcher.
"I saw these opera designers coming in with their beautiful illustrations and I desperately wanted to get back onto that side because … we weren't even allowed to speak to them because of the hierarchy of opera," she said. "The firsthand or the head cutter was the person who spoke to the designer and he would lay his sketches out and after he left we would go over to the cutter's table and take a look and ooh and ahh."
When a relative invited her to move to Los Angeles and pursue a career in Hollywood, Carter said, "the film part of that kind of went in one ear and out the other because I was like, 'I'm going to be a theater designer.' The whole idea of it just didn't have any impact because I hadn't experienced it."
After she settled in L.A., she picked up a copy of the Los Angeles Times' Calendar section that would lead to her next gig. In the paper, she saw a picture of the full staff of the Los Angeles Theatre Center alongside an article about the then-new center. She applied and was hired, talking herself into a leadership role as "more or less a design assistant to the designers that came in."
That's how she met noted choreographer Otis Sallid who, in 1986, was staging his "A Night for Dancing" at LATC.
"I sat watching this performance and [thought] they could use a costume designer," Carter said. "I could see little things that they didn't have. And since I had been at LATC for a long time, I had access to our stock and the workroom after hours. I knew I could cheaply get some things for them done to enhance the performances."
She talked to Sallid and became the show's costume designer, for free. When it returned to its home in South L.A. at the Lula Washington Dance Theater, she remained on board as Hollywood types continued frequenting the production. One night, her longtime friend, casting director Robi Reed, brought Spike Lee to see the performance. Afterward, Lee, who had finished shooting "She's Gotta Have It" by then but had not released it, gave her advice:
"He said to go to USC or UCLA and sign up in the film department to volunteer on a student thesis project," she said. "I did and before long I was on the set of a student. I just remember thinking how it's just so much different than theater."
Still, she stayed at LATC, all the while receiving postcards from Lee with images from "She's Gotta Have It" on one side and a message on the other.
"Missed you at the screening. What's up?" they'd read.
Carter wasn't much for socializing, at least not after long days and nights in the theater. The Hollywood types she did meet were because of that job, including actors Madge Sinclair, Richard Lawson and Barry Shabaka Henley.
Then Lee's film screened at the Cannes Film Festival to critical acclaim.
"I was floored when Robi called me and said he won [an award] and I was, like, 'Why did I not answer them postcards?" she laughed.
Months later, he called.
"'Ruth,'" Carter said, mimicking Lee over the phone. "'Hello, this is the man of your dreams.' I was, like, 'Denzel [Washington]?'"
Lee asked her to do the costumes for his next movie, 1988's "School Daze." That film, about fraternity life on the campus of a historically black college, launched a decades-long relationship between the two — amounting to at least 12 films — and a historic career in Hollywood.
Ruth can do whatever is in front of her because she's got amazing taste. She's a true artist and can take on any assignment.
— Robert Townsend
After "School Daze," she designed the costumes for Keenen Ivory Wayans' action comedy "I'm Gonna Git You Sucka" followed by "bouncing back and forth between New York and Los Angeles doing 2½ films every year for 10 years," she said.
During that time, she slowly began to develop her own style of working — melding the hyper-indie approach of the East Coast with the more lax energy of the West Coast — which got her noticed.
Like when Robert Townsend, just weeks before filming, had to replace the initial designer on the period musical drama "The Five Heartbeats." At the suggestion of his producer Loretha C. Jones, he hired Carter.
"We were in the ninth hour and had to make a decision ... and you're talking about five different singing groups and a period piece that goes from the '60s to the '70s to the '80s to the '90s," Nineties," Townsend said. "And I just remember her digging in. As a director, you have a vision in your head and then you hope that your costume designer can capture the vision. She took it to the next level."
The two would go on to collaborate on the black superhero comedy "The Meteor Man" (1993) and the fish-out-of-water comedy starring a pre-"Monster's Ball" Halle Berry, "B*A*P*S" (1997).
"Ruth can do whatever is in front of her because she's got amazing taste," Townsend said. "She's a true artist and can take on any assignment."
Those diverse assignments have included the pilot for "Seinfeld," Salim Akil's movie-musical inspired by the Supremes "Sparkle," Gina Prince-Bythewood's romantic drama "Love & Basketball" and historical dramas "The Butler," "Selma" and "Marshall."
The awards recognition for "Malcolm X" and "Amistad" established her as an expert in period detail, but playing a central role in this year's blockbuster "Black Panther" has put Carter on a whole new level. In addition to receiving the Costume Designers Guild's Career Achievement Award at the top of the coming year, her Afrofuturistic designs have made her a front-runner for another Academy Award nomination.
"Ryan [Coogler] and the rest of the team wanted the costumes in the film to feel as authentic to continental Africa as possible, while also expressing the technological superiority of Wakanda," said Nate Moore, one of the film's producers. "That fidelity was important because narratively Wakanda is a nation that has never been conquered, so they haven't had to shed any of their cultural touchstones in how they dress. Every costume then needed to be a celebration of African culture with hints of tech exploited in unexpected ways to make the clothing feel uniquely Wakandan."
Carter, who was "unflappable and never defeatist," he said, was the best person for the gig.
"She has such a great energy and passion which was infectious, and her ideas were beyond anything we could have hoped for," Moore added. "She also went out of her way to source as much as possible from continental Africa, which spoke volumes to her integrity and desire to get it right. … We were very lucky to have her as an integral part of the crew."
Angela Bassett, who starred in "Black Panther" as Queen Ramonda, agreed.
"I don't know what she does in private and how she does it, but when I walked in that warehouse for 'Black Panther,' I was mindblown because there was such thought, detail and organization," she said. "It was as if she's a costume ninja."
Bassett has worked on a total of five films with Carter as costume designer including "Malcolm X," the adaptation of Terry McMillan's "How Stella Got Her Groove Back," Lee's modern take on the ancient Greek play Lysistrata "Chi-Raq" and the Tina Turner biopic for which she was Oscar nominated, "What's Love Got to Do With It."
"She always does her research and it's always comprehensive and complete," she said. "As soon as you enter her space, you feel a collaboration that takes place. And when you finally get it right, when she's finally satisfied, you are as well because you sense the character coming alive and emerging."
Reflecting back over her career, Carter realizes that part of her success has coincided with the emergence of new voices on the film scene.
"Key positions like the costume designer were not handed out [to black people] as much as other positions like set costumer or the makeup artist or the hair person," she said. "I did see Hollywood as a place that felt very old school as I was living in this world of filmmakers that were representing the new school."
As Carter's star grew, and she became the first black person to be nominated for the costume design Oscar in 1993 for "Malcolm X," more opportunities outside of the new wave of black filmmakers arose.
Twenty-five years later, Carter is still one most recognizable below-the-line names of diverse background — though she shouts out Sharen Davis, who was Oscar nominated in 2005 and 2007 for "Ray" and "Dreamgirls," respectively; the Emmy-nominated Michelle Cole of "black-ish" and "In Living Color" and the Emmy-nominated Rita McGhee of "Empire" among others.
"I scratch my head today when I go to these mixers that happen around Oscar time with the top designers and all of the students around who study costume design," she began, "and I don't see any black girls. I don't see many Asian girls. I don't see many Latino girls. And I'm wondering, 'How is this still happening? What's missing? Why aren't we offering this view of who we are to more diverse groups? Is this by accident? Can this be because I didn't do something?'
"I think that we have been so closed up in these unions … that we haven't even exposed ourselves to the real world out there that doesn't know very much beyond that you can be a teacher, a doctor, a lawyer. Because, guess what? Look at me. I'm a costume designer, and you can be that too."
Get your life! Follow me on Twitter (@TrevellAnderson) or email me: trevell.anderson@latimes.com.
Get our L.A. Goes Out newsletter, with the week's best events, to help you explore and experience our city.
You may occasionally receive promotional content from the Los Angeles Times.