Q&A: 'Bumblebee' screenwriter Christina Hodson is shaping Hollywood's blockbuster future — and centering female stories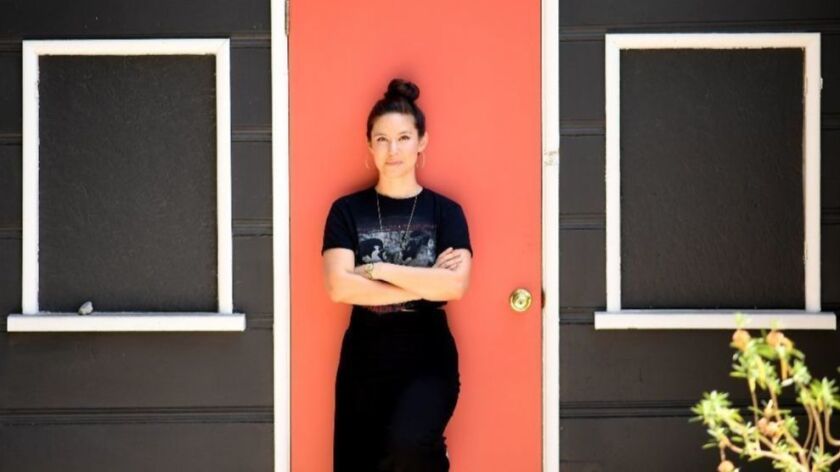 Movie-mad "Bumblebee" screenwriter Christina Hodson returns on more than one occasion to the subject of Linda Hamilton's awesomeness in "Terminator 2: Judgment Day" as we chat over tea and scones made from scratch in her Los Angeles home.
And who among the Sarah Connor-worshiping faithful can blame her? Hodson's lifelong love of film turned into a career when she took a leap and penned her first script just seven years ago: "In my heart," she smiles, "I always wanted to write 'T2.'"
The London native grew up a fanatic for action movies and wearing out her VHS collection, gravitating toward the big explosions, bombastic set pieces, and epic emotions of American big-budget blockbusters — exactly the kind of movies she's now making her specialty as one of the exciting new voices shaping Hollywood's future.
In 2011 after switching tracks from a career in development to screenwriting, three of Hodson's spec scripts made the Black List. Within a few years she was hired to reboot "The Fugitive" for Warner Bros., which led to her working in the diverse "Transformers" writer's room assembled to spark new directions for the Hasbro franchise.
Emerging with the script for "Bumblebee," an origin tale that tracks the titular fan-favorite Autobot as he's befriended by a teenager named Charlie (Hailee Steinfeld) in the 1980s, Hodson is the first woman to originate and write a film in the $4.3-billion "Transformers" franchise.
Lorenzo di Bonaventura, the producer who has shepherded the property through four sequels and a prequel following 2007's $709-million worldwide grosser "Transformers," hopes "Bumblebee," which opens Dec. 21, will inaugurate a new constellation of spinoffs.
"The audience was telling us that they wanted to go in-depth on a character," he said, explaining that Bumblebee was a hero fans already felt an emotional connection to. "But we were also interested in changing the rhythm of the franchise."
FULL COVERAGE: 2018 Holiday movie preview »
The result is a scaled-down, more intimate "Transformers" action pic about a girl and her robot, featuring the kind of defiantly independent heroine who rarely gets to lead big studio blockbusters. (Kelly Fremon Craig, whose offbeat 2016 high school comedy "The Edge of Seventeen" was instrumental in getting Steinfeld on producers' radar according to Di Bonaventura, also contributed scripting duties after being considered to direct.)
Perhaps even more intriguing for the comic book hardcore: Hodson is prepping for a January production start on the Harley Quinn "Birds of Prey" spinoff starring Margot Robbie, which she wrote and Cathy Yan will direct. And she's currently writing a standalone "Batgirl" movie, also for Warner Bros. and DC.
"Mostly, I want my nieces to grow up in a world where the girls and women they see on screen feel as varied and complicated as they are," Hodson said of her approach to writing characters.
Her rise has made Hodson not only one of the most in-demand screenwriters in town, but among the small but growing ranks of strong female voices working in a multibillion-dollar blockbuster business historically dominated by men.
"Particularly as women, we feel like we need permission to be writing the bigger movies — and it is hard breaking into that space," Hodson said. "It's lovely that we all know each other, but I would love it if there were so many of us that we can't know each other."
In speaking with Hodson in advance of "Bumblebee"'s holiday release, it quickly became apparent that she can provide something all the best blockbuster movies need: a unique point of view.
How did your love for movies — and the kind of huge genre action movies you're writing now — first start?
I was always obsessed with movies. I just loved Hollywood movies. In one year when I was 15 or 16, I wrote down every movie I watched and it was something like 750 movies. I have two sisters, both older, and we would watch some movies again and again, like "The Lost Boys." [On "Bumblebee"] we actually shot one of the days in Santa Cruz right on the pier. When I was writing it I always imagined that. When I found out they were shooting there I was like, "That's my brain! You put my brain in the movie!"
What were some of your favorite films growing up?
"Terminator 2" is one of my favorite movies of all time. Ever. I actually reference that movie all the time when people ask me, "What do you want to write?" It's everything you could possibly want! And it is so intimate. Even at the very end and he's like, "I know now why you cry" – how amazing it is to deliver such big emotion in such a small line, such a small moment? That's what I want to do. I want to make big movies that also feel really intimate and have a lot of heart and emotion.
How did you find your way into the "Transformers" universe?
I loved the toys and as a kid I watched the cartoons. I was robot-obsessed as a kid and weirdly always thought I would one day build my own robot that would be alive and real... [Steven] Spielberg said about the first ["Transformers"] that the thing he responded to was the simple concept of a boy and his car, which I totally loved. I remember the first time I turned the ignition in my dad's car, the feeling of bringing a big hunk of metal to life — the most magical feeling.
And that's a feeling you infused into "Bumblebee" with Charlie. Why was Hailee Steinfeld the right choice to play a teenage gearhead still figuring out who she is?
We're lucky we got her because it's a tricky role; so often we see girls in films who are "the mean girl" or "the tomboy" or "the artist," and what I loved about her and what I could relate to because it's who I was, is that she's a bit of everything. I think most kids are. Most of us are a weird mishmash of everything. We don't totally know where we fit in with each other and with ourselves and that was the stuff I was drawn to.
RELATED: Virtually every film coming out this holiday season »
What has it been like working closely with Margot Robbie on the "Birds of Prey" project?
This, I can say: [Robbie] is an amazing producer. She's so dedicated, cares so much, she is in it and works so hard — looks through every choice, reads through every draft, and has super-smart notes. I am all about finding good people you believe in as human beings as well as being good creative partners and producers, because it's an investment — writing these movies takes it out of you. I'm also just excited that [director Cathy Yan] is a woman and she's Asian. That's a big deal.
Diving into comics lore, what was it about Harley Quinn that spoke to you?
I just fell in love with Harley. She makes me laugh, but she also makes me cry.... She's got such emotional depth that is completely contrasted by this light, superficial, fun exterior. Even in the comics when she is at her best, she's doing something bad — and when she's at her worst she's doing something good. And that makes her so interesting and so much more real, because that's what people are like in real life. Very few people are just purely heroic or purely villainous, and she is this wonderful balance of everything.
How much can you share about working on "Batgirl"?
Basically nothing, other than I'm really excited — because she's Batgirl! She's all the things I love about Batman. I've always been more interested in humans than supernatural things and monsters. People are capable of profound good, but also profound evil. The things that people will do when you back them into a corner are amazing, terrifying, and wonderful at the same time, and it draws out these primal things in us — good and bad. And that, to me, is so fascinating.
Every project you've written so far has been female-driven. Is it a priority for you to center female leads in your stories?
When I grew up and I was watching all of these Hollywood movies, all of the heroes were straight white men — always. I wanted to be the archaeologist digging up the big thing running away from the boulder. I wanted to have those big adventures and I never got to see it. Certainly as a mixed-race kid, I never got to see it… so I can't help but want to fix that. I can't help but want all of my leads to be female.
Producing is also a focus for you, and you already have a few projects in the works. Why is that next step so important?
I want more control over the things that I do… I want to take control of stories and shape things, and put a spotlight on the things I care about. Barbara Hillary is the 87-year-old who became (at the age of 75!) the first black woman to go the North Pole, and who is currently prepping her next expedition to Northern Mongolia in March. I'm helping her with fundraising and we are working with a writer on her memoir, as well as developing a feature film, and a separate TV show about her early years. In addition, I'm also working with Matthew Baker to adapt one of his short stories into a feature. He will write, I will produce. He's an incredibly talented author who I know will make a great screenwriter.
How much do you think about the impact your characters might have on young girls and boys who haven't traditionally seen themselves reflected onscreen?
I hope it has an impact. I hope that girls will watch ["Bumblebee"] and go, "I can be something that's not one of these four boxes, I can be something in the middle!" and "I can have a big adventure." It bums me out that it's always the boy or the man that goes on the adventure and has the story, and the girl is the one that comes along for the ride — if they're lucky. I wanted a girl behind the steering wheel, literally.
Los Angeles Times film critics Kenneth Turan and Justin Chang chat about the holiday movies they're looking forward to seeing this busy holiday season.
---
Get the Indie Focus newsletter, Mark Olsen's weekly guide to the world of cinema.
You may occasionally receive promotional content from the Los Angeles Times.