Hong Chau is poised to break big in 'Downsizing,' her second film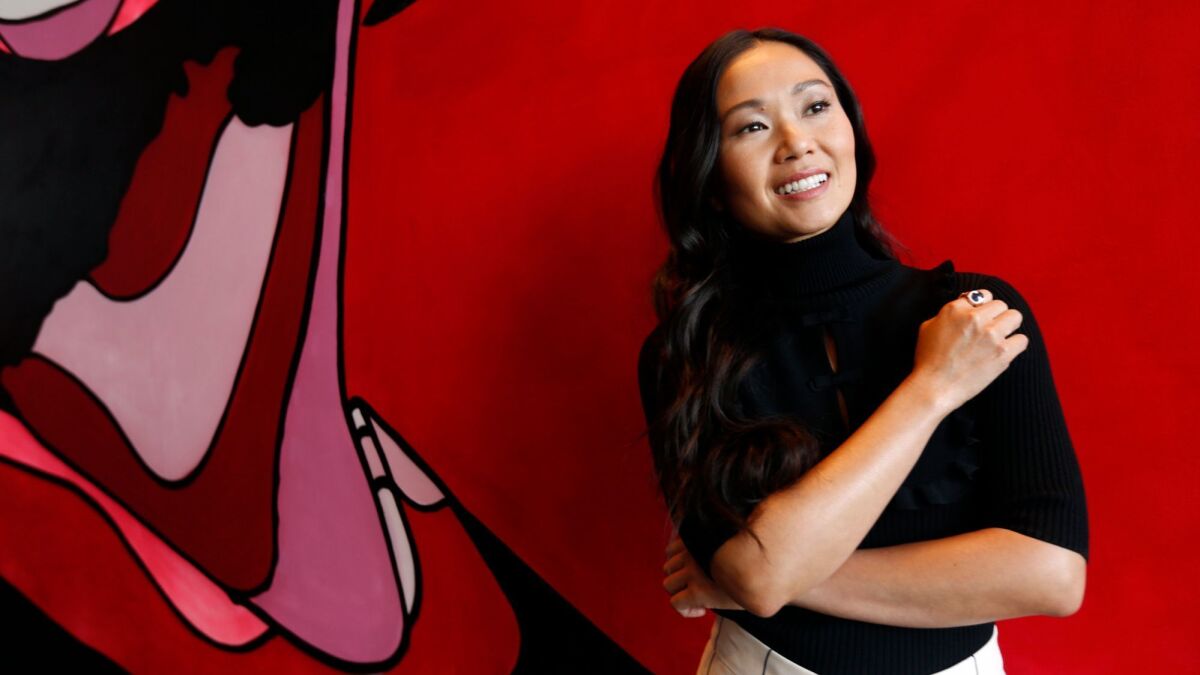 Big break. Hong Chau turns over the phrase. There have been many times the "Treme," "Inherent Vice" and soon-to-be "Downsizing" star wondered if she was about to have one.
The New Orleans native has already gone from virtual unknown to budding television player to scene-stealer for directors Paul Thomas Anderson and Alexander Payne.
"Your first union job is like a break because now you're in the union. 'Treme' was big, because that was my first time getting to return to a show," said Chau, who played Linh for three seasons on the HBO series, as she sipped iced coffee in a booth in the corner of a bustling Melrose Avenue brasserie.
As a teenager Chau went to boarding school in Natchichotes in northern Louisiana – "where they filmed 'Steel Magnolias,' " she notes emphatically — then attended film school in Boston. The former New Yorker and natural introvert who accidentally fell into acting after performing for her film school classmates currently lives in Los Angeles with her beloved Rottweiler-Australian shepherd mix, Kobe.
"I didn't like it here my first two years," confessed Chau, now a nine-year Angeleno, "but now that I'm nice and comfy, I'm thinking about leaving L.A."
Her dream escape involves an RV and the open road. She even has one in mind. "I mentioned to Alexander [Payne] that I wanted to do that and he said, 'I still have the RV from "About Schmidt" – you can borrow it if you want to!' I don't normally take people up on their offers, but that might be amazing."
FULL COVERAGE: Holiday movie preview »
Her first movie role, playing a brothel employee with a heart of gold and secrets to share opposite Joaquin Phoenix in Anderson's 1970s-set Los Angeles stoner noir "Inherent Vice," effectively put her on the Hollywood map three years ago.
She remembers just being happy to audition for Anderson, whose films she admired. Her first day of filming left her so giddy she got pulled over for speeding on the way home from the set.
"We shot this crazy car chase scene in the canyon overnight, we wrapped with the sun came up, and I remember feeling super high and happy," she said and smiled. "And then I got my very first speeding ticket ever, driving back home. I had crazy green eye shadow on and my hair was insane, and the cop said, 'Where are you coming from?' 'I'm coming from work – I'm an actor!' "
A few television stints followed as Chau turned up on NBC's "A to Z" and, earlier this year, on HBO's "Big Little Lies." Making her second film appearance, in Paramount's Dec. 22 release "Downsizing," Chau steals the show again — this time from Matt Damon.
Payne's science-fiction dramedy takes place in an alternate reality in which scientists have solved overpopulation by shrinking select human volunteers to the size of a Pop-Tart. Going "small," dopey everyman Paul Safranek (Damon) finds his new life in a lavish resort community for miniature people lacking, but discovers meaning and newfound purpose in his budding friendship with Ngoc Lan Tran (Chau), a Vietnamese dissident shrunk against her will by the government.
Chau could relate to Ngoc Lan's trials; her own parents fled Vietnam in 1979 by boat, ending up in the Thai refugee camp where she was born. "If anyone has to leave their homeland by boat, they all have difficult stories," she said. "But my parents had a difficult journey and their story always seems like a movie to me. So it's nice, in some way, to kind of portray some fictionalized, adjacent version of their story."
Her Ngoc Lan, a spitfire cleaning woman with a prosthetic leg and a selfless penchant for helping others, stands out among a stellar cast that includes Christoph Waltz, Kristen Wiig, Jason Sudeikis and Udo Kier.
But the character has also faced scrutiny from critics over the heavily accented broken English she speaks in a cadence that some say veers into stereotype before the script — and Chau's layered, dimensional performance — makes her a hero.
They have a problem with my character, who is so multifaceted and complex and well-written — they have a problem with her because she has an accent.
— Hong Chau
"One guy after a screening said, "So, that must have been a big deal for you, doing a character with an accent," said Chau. "I was like, 'Why?' Because she speaks broken English? Did she not come off as intelligent to you? What's the problem?' He didn't even know what he had a problem with."
"Another guy asked me, 'How do you feel about your character's accent being used as a punch line?' Well, it's not being used as a punch line," she continued. "'So, your character's kind of a tiger mom…' How is she a tiger mom? She doesn't have kids! She's not forcing Matt Damon to take violin lessons!"
"If I introduced you to my parents would you cringe? All of these people who have this vague feeling that they have a problem with this character, they have no problem going and getting a mani-pedi from some cheap nail salon, they have no problem buying mass-produced clothes from child workers in Bangladesh, they have no problem with a bunch of other stuff, but they have a problem with my character, who is so multifaceted and complex and well-written — they have a problem with her because she has an accent."
Chau speaks highly of "Downsizing" and of working with Payne, and voices a reluctance to sound off exhaustively on issues of representation and inclusion in the industry. She acknowledges it's hard in Hollywood for Asian female performers, but being choosy in her film work has reaped particularly enriching rewards so far.
"I don't want anyone to think I took this role in 'Downsizing' because it was the only role available to me," she said. "I'm not a passive participant in it. I actively went after this role after I read the script, I did the role the way I want to do it, and I felt like if I had an issue I could be honest with [Alexander] about it."
She says Payne, who co-wrote "Downsizing" with Jim Taylor, offered to let Chau change her character's name. "I said, 'No: We're going to keep this name, because usually when there's an Asian character they always name them something easy for Americans to pronounce.' I'm like, no — it's gonna be 'Ngoc Lan.' "
"It sounds beautiful in Vietnamese," she said and grinned, "but it sounds horrible when an American person says it."
This story is part of The Times' Holiday movie preview. See our complete coverage here.
Get our L.A. Goes Out newsletter, with the week's best events, to help you explore and experience our city.
You may occasionally receive promotional content from the Los Angeles Times.