Movie Sneaks: Nia Vardalos is finally back as Toula in 'My Big Fat Greek Wedding 2'
Nia Vardalos never sought stardom.
"Because I am a character actor, I thought I would be the fourth or eighth banana on a sitcom and that would be OK," she noted.
FULL COVERAGE: 2016 movies guide
Then she wrote and starred in "My Big Fat Greek Wedding," which turned into a blockbuster hit in 2002, and everything changed.
The charmingly old-fashioned romantic comedy revolves around 30-year-old Toula (Vardalos), who shocks her tight-knit and boisterous Greek American family when she falls in love with a handsome non-Greek, Ian (John Corbett).
The low-budget indie film, produced by Rita Wilson, Tom Hanks and Gary Goetzman, became one of the highest-grossing romantic comedies of all time, taking in some $241.4 million in the U.S. and earning an additional $127.3 million internationally. Vardalos received Oscar and Writers Guild nominations for the screenplay of her Cinderella story and a Golden Globe nod for her acting as well as winning an Independent Spirit Award for debut performance.
Executive producer Paul Brooks believes the film became such a pop culture phenomenon because "we got some angel dust."
"It all came together," he added. "People just related to it. So many families across America were saying, 'That's my family.' The one thing that matters at the end of the day is family."
Since "My Big Fat Greek Wedding," Vardalos, 53, has worked sporadically. A 2003 CBS sitcom version of her film, "My Big Fat Greek Life," which she didn't write, failed to catch on with critics and audiences.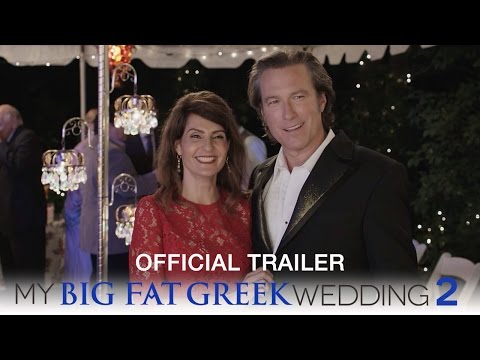 Vardalos wrote and starred in the 2004 comedy "Connie and Carla" and wrote, directed and starred in the 2009 comedy "I Hate Valentine's Day," which reunited her with Corbett, and co-wrote Hanks' 2011 film, "Larry Crowne." None of them approached the breakout success of "Greek Wedding," however.
But 14 years later, Vardalos is finally back as Toula in "My Big Fat Greek Wedding 2," which opens March 25. Set 10 years after the original, Toula is still working in her parents' Greek restaurant and is a super mother to daughter Paris (Elena Kampouris), who is graduating from high school. She's also dealing with marital issues with Ian, but it's another big Greek wedding that brings the family together.
See more of Entertainment's top stories on Facebook >>
The cast reunited for the sequel too, including Corbett as Vardalos' husband, Lainie Kazan and Michael Constantine as her parents and Andrea Martin as her aunt.
British filmmaker Kirk Jones ("Waking Ned Devine," "Nanny McPhee") has taken over the directing duty from Joel Zwick, who helmed the first movie, "to have fresh eyes on the material," said the outgoing Vardalos. "Poor guy. It was the loudest ethnic cast ever."
So why did it take so long for the sequel to happen?
"I suppose we started talking about a sequel maybe a couple of years after the first one came out," said Brooks. "We didn't want to force anything, because if we were going to do a sequel, we wanted to make it feel as authentic as the first."
"Is it ever too late for a sequel?," Goetzman asked in an e-mail. "We'd been trying to talk Nia into it for a long time! Luckily, motherhood gave her a new perspective, and that experience inspired her to write this movie script. We were thrilled when our cast read Nia's new script and couldn't wait to return. Story drives everything, and it was exciting to see what Nia had come up with."
Vardalos, who has been married for 22 years to actor Ian Gomez, said she initially didn't want to do a "sequel, because the press is so invasive."
"I was in a fertility situation publicly, so I disappeared," she added. "I was very satisfied just being to able to creatively express myself with writing. The white hot publicity that came from 'My Big Fat Greek Wedding' was appreciated but not sought, so I was happy to walk away from it and then write."
Though "My Big Fat Greek Wedding" ends with Toula and Ian's 6-year-old daughter Paris going to school, Vardalos thought she wasn't ready to write a sequel, realizing she couldn't pretend to know "the emotions that a mother would have. I have always written from a personal place."
Vardalos and Gomez adopted a 3-year-old foster child, Ilaria, seven years ago. And in 2013, Vardalos wrote a book, "Instant Mom," about the couple becoming parents with less than 24 hours' notice and to "disseminate adoption information and to try and get some kids adopted."
"I absolutely refused to take anything out of town for the first four, five or six years, while we were transitioning Ilaria into our home and her new school," said Vardalos, who recently co-hosted ABC's "Great Holiday Baking Show" with Gomez and is filming a new EPIX series, "Graves," with Nick Nolte and Sela Ward.
"I have no regrets about that," she said of her decision to focus on parenting. "I do get approached every day by people who say, 'Why don't you make more movies?' I don't really miss it when I get to go and watch my daughter in the Christmas pageant."
Donnie Yen returns as the real-life grandmaster who mentored Bruce Lee, this time taking on gangsters led by Mike Tyson. Directed by Wilson Yip. WellGo USA Entertainment
(Ritchie B. Tongo / EPA)
Newly widowed investment banker Jake Gyllenhaal pursues a destructive path until customer service rep Naomi Watts takes an interest. With Chris Cooper, Judah Lewis. Written by Bryan Sipe. Directed by Jean-Marc Vallée. Fox Searchlight
(Anne Marie Fox/ AMF Photography)
She came up with the idea for the sequel during her book tour.
"I saw myself," recalled Vardalos. "This line snaked around the bookstore. I saw a woman my age with an aging parent and a child or two. I thought, 'This is Toula. This is me.' I have been asked why didn't I write 'My Big Fat Greek Wedding 2' taking place like five years later. I feel a responsibility to my audience to write to my age group. I wanted to honor every mom who doesn't have time to barely take a shower; you put your own life into your kid."
Vardalos also admits she wrote the sequel because "there is so little out there" for actresses of a certain age.
"It's maddening for me," she said. "If I am looking for scripts, if Gwyneth Paltrow is looking for scripts and Sandra Bullock is looking for scripts, surely Andrea Martin and Lainie Kazan are looking for scripts. That's why I beefed up their roles. We have to write for each other."
MORE:
'The Revenant's' adventures weren't all on-screen
Nicholas Sparks on his connection with North Carolina's setting for 'The Choice'
Geza Rohrig finds a difficult truth in 'Son of Saul' and horrors of the Holocaust
Get the Indie Focus newsletter, Mark Olsen's weekly guide to the world of cinema.
You may occasionally receive promotional content from the Los Angeles Times.