'The Year of Spectacular Men' is a family affair for Lea Thompson and daughters Madelyn and Zoey Deutch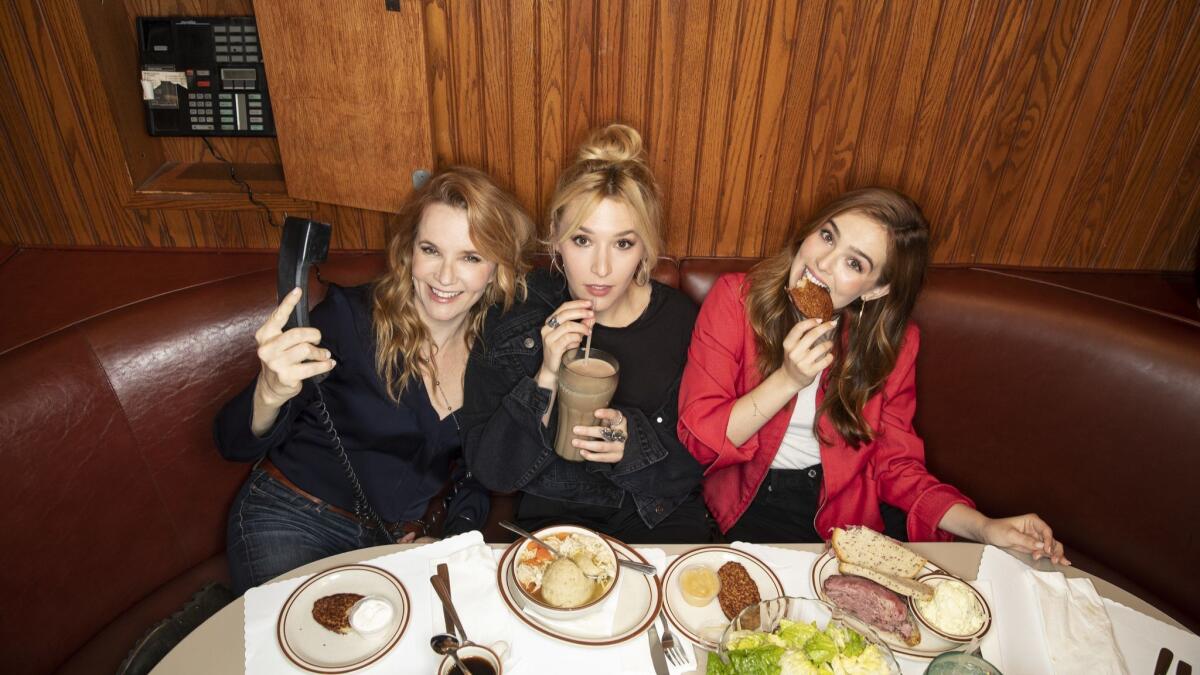 The dramedy "The Year of Spectacular Men" is a family affair. The film, which opens Friday, was directed by actress Lea Thompson and written by her daughter Madelyn Deutch, who also wrote the music and costars in the film with her sister Zoey Deutch, who co-produced it along with their father, director Howard Deutch.
So what's it like to work on a labor of love with your family? We asked all three to write about the experience.

For the record:
9:55 a.m. June 10, 2018The headline in an earlier version of this article misspelled the title of the movie "The Year of Spectacular Men" as "The Year of Spectacular Me.'
Lea Thompson, director:
From its first breath as just a title, "The Year of Spectacular Men" has been a part of our family for over four years.When Madelyn let me read the first draft, I was blown away by her skill and honesty. I had never directed a feature and I was honored she trusted me enough to partner up. When it actually came together, I knew it was important to create a space for my young writer to tell her own story with her own words because in my ingenue days every one of my words was written by an older man.
I envisioned it to be elegantly shot — the sets would be lush and tell their own stories. The "Spectacular Men" would each be distinctly wonderful, and we would shoot it as written, in four cities (New York, Lake Tahoe, San Francisco and L.A.) in all four seasons. All that for the same budget that "Dancing with the Stars" has for sequins.
Thankfully, our producers at Parkside Pictures were amazing and so committed to the difficult scope of our project. And we had such a fantastic cast — Avan Jogia, Nicholas Braun, Jesse Bradford, Cameron Monaghan, Brandon T. Jackson, Zach Roerig — and crew, who somehow trusted us enough to sign on to such a unique collaboration between family members — the kind of thing that could end in tragedy, but luckily it was some kind of wonderful.
The creation of this film has taught me so much about myself, my craft, and most importantly, the mysterious inner workings of my daughters' minds. After working in the arts for over 40 years, it has been invigorating to not only learn new things but to get my chance to help create something new from scratch, and tell a fresh story using all that I have been given from the thousands of people I have worked with as a dancer, singer, actress and director.Making this film with my daughters, whom I deeply respect and admire, is a blessing come true. And also … #funfact: "Daughter" and "laughter" are just one letter apart.
Madelyn Deutch, writer, composer, costar:
Making "The Year of Spectacular Men" felt like being a little kid again. Every room we went in told us female-fronted comedies were the riskiest investments. But the more we were told no, the scrappier we got, the harder we trudged. So you can imagine that by the time we sheer-willed our way onto set, it felt like we had tricked the establishment and gotten away with it.
Here we were, with a female director and producer and writer and composer and ... it was a snow day. It was ditching school for the beach. Playing hooky sans consequences. A series of small miracles that deter you from your ordinary. The best damn sleep-away camp of your life — and you didn't even get homesick.
I remember crying when we wrapped shooting in San Francisco. I had just done one of my last scenes as "Izzy," the film's lead, and I had no idea how to say goodbye to her. She became that friend from camp I shared the same scrapes and inside jokes with, who was down to drink too much Captain and Coke, and braid tacky rainbow-colored lanyards. The friend who slept in the top bunk with me, even though she had her own. I didn't want to climb down that ladder and go back to trying to be an adult.
Still, I feel so much joy for what we accomplished. Completing a project like this is often a years long journey and I'm proud that our mission statement remains true: We made the movie we intended to make.
Of course, myself and my character Izzy are examples of privilege, of a snapshot into a pretty particular world — but we were also just young women. With self-esteem deficits, buried trauma and a skillfully uncalculated approach. Universal things as far as I could tell. So, that was the film that I wrote. It was the film we shot. The film we cut. The film we sold. The film that's being released. Our consistent dedication to seeing that specific vision through, may be the element I'm most impressed by. And the fact that I have a mother and sister who were willing to do it with me.
Zoey Deutch, costar, producer:
"The Year of Spectacular Men" is about as grassroots and personal as it gets. I mean, my mom directed it, my sister wrote, starred in and scored it, my ex-boyfriend played my boyfriend, I produced alongside my dad. And everyone still speaks, and no one lost any limbs, and we made a really good film.
It's hard to know how influential or special something will be while you're doing it, and so hard to appreciate and practice gratitude in the moment... Life is cumulative: It's all the tiny little things along the way. But when I watched the movie for the first time, it wasn't all the decisions of filmmaking I was reminded of that made this piece of art something I'm so proud of. It was the family dinners my parents were so adamant we had together every night growing up. It was the strength of my parents' choice to not squash me and my sister's spirits. It was the arguments we had but worked through and didn't ignore. It was forgiveness. It was the love and support our family has had for one another. It's all the tiny little things along the way.
As artists who have chosen collaborative art forms, we are so used to being at the mercy of many strangers' opinions, wants and decisions. Making this film was empowering because it gave us control and showed us we could do it. It gave us the confidence to tell our fellow artists and friends who feel overwhelmed by the process, that they can do it too.
It seems impossible, until it's done, until you do it.
We did do it... and Deutch Family Films is just getting started.
Get the Indie Focus newsletter, Mark Olsen's weekly guide to the world of cinema.
You may occasionally receive promotional content from the Los Angeles Times.