Timothée Chalamet is Hollywood's next big thing with 'Call Me by Your Name' and 'Lady Bird'
Long before Timothée Chalamet turned 18, he was itching to be considered an adult. By age 10, he was riding the subway alone, a city kid growing up in Hell's Kitchen, Manhattan. At 16, he landed a major role on Showtime's "Homeland," playing the vice president's overly entitled son. A year later, he was admitted to Columbia University at 17 years old.
That was also how old Chalamet was when he was cast in his first big studio movie, "Interstellar." The film was slated to shoot in Canada, and the teenager had no interest in bringing his parents along as his legal guardians. So he looked online and found a loophole in the California state law that said "for films made by production companies based out of the West Coast, if you have a high school degree and are over 16 then you can travel alone," Chalamet explained.
Timothée Chalamet and Armie Hammer star in the trailer for "Call Me By Your Name"
"I just told my parents I was going alone," the actor recalled. "I've always felt like there was less creative space on sets with guardians. I just felt independent at a young age."
Now 21, Chalamet continues to outshine his peers. This fall, he appears in three critically acclaimed awards contenders: "Lady Bird," "Hostiles" and "Call Me by Your Name," which opens Friday. In the last film, directed by Italy's Luca Guadagnino, Chalamet stars as a high schooler who falls in love with the dashing 24-year-old grad student (Armie Hammer) studying under his father for a summer.
His performance in the film has earned Chalamet such strong reviews that many Oscar pundits believe he will earn an Academy Award nomination, which would make him the youngest lead actor nominee since 19-year-old Mickey Rooney for 1939's "Babes in Arms."
In some ways, this quick Hollywood ascent is hardly surprising — performing is literally in Chalamet's blood. His mother, Nicole Flender, danced at Lincoln Center with the New York City Ballet as a girl and went on to act in Broadway musicals such as "A Chorus Line" and "Gypsy"; she also serves as an officer of Actors' Equity Assn. and votes for the Tony Awards. Chalamet's uncle, Rodman Flender, is a television director and his aunt, Amy Lippman, has produced shows like "Masters of Sex" and "Party of Five." His grandfather, Harold Flender, was a screenwriter whose novel "Paris Blues" was adapted in a 1961 film starring Paul Newman.
Meanwhile, Chalamet spent his teenage years at LaGuardia — yes, the high school that the movie "Fame" is based on.
"The rote response my friends liked to give was that LaGuardia was nothing like the movie, but there is some truth to it," he acknowledged. "I mean, people were literally dancing on tables sometimes. It was an amazing creative and artistic school. I struggled very much leaving that place."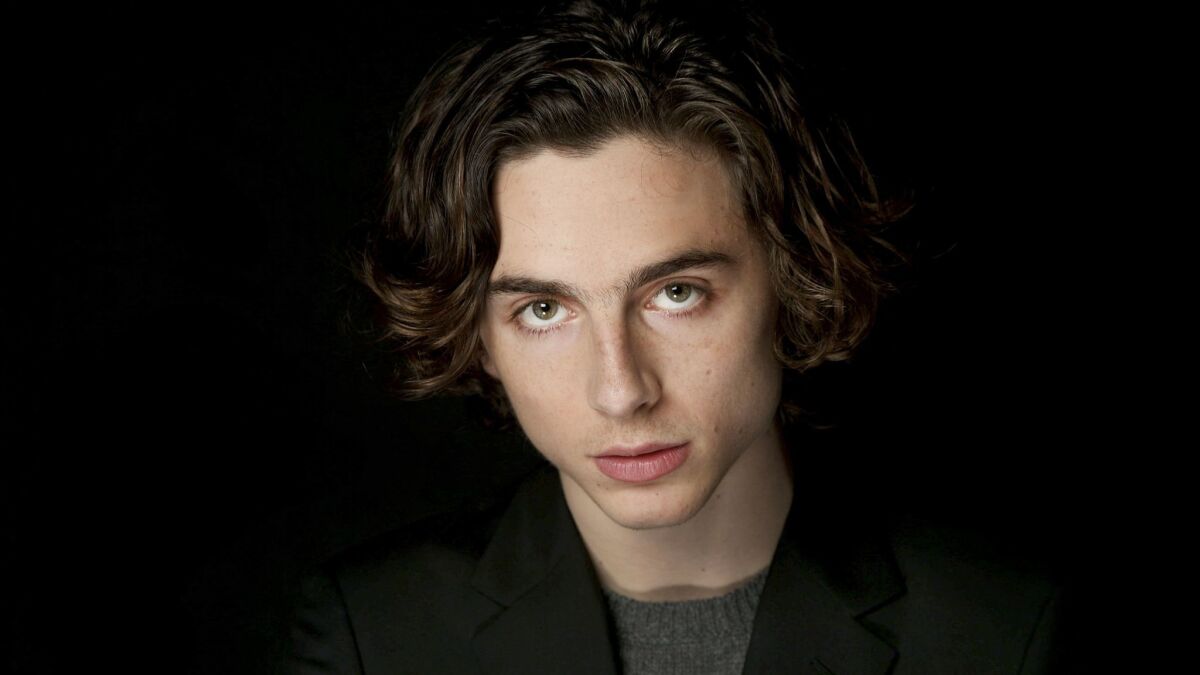 A few weeks ago, the internet unearthed a treasure from Chalamet's days at LaGuardia: a video of "ya boy Lil' Timmy Tim" rapping about statistics. Wearing a backward ball cap and surrounded by faux groupies, he spits rhymes about his beloved teacher, Ms. Lawton, and how he has "girls equal to the random digits table."
When the subject of the rap video came up, Chalamet appeared genuinely embarrassed, putting his head in his hands and fretting that the topic would become too much of a focus in this story.
"Certainly, I had no idea when I was making my final statistics project to pass the class that it would be a video five years later that would get some play online," he said, grinning. "It was just a high school side hustle. But the fact that it has gone viral takes the pressure off a little bit."
Chalamet was at the Los Angeles Times last week to sit for a roundtable discussion with other award season contenders, including Gary Oldman and Hugh Jackman. He had arrived early to talk about his own career, and as the more veteran actors entered the building, his anxiety became palpable.
"I've seen Hugh Jackman in a thousand Broadway shows," he said, lowering his voice so Jackman wouldn't overhear. "These are people I've been admiring for years, so it's hard not to feel differently around them. The rule I have for myself is that I try, at least, not to go, 'Oh my God! Oh my God!'"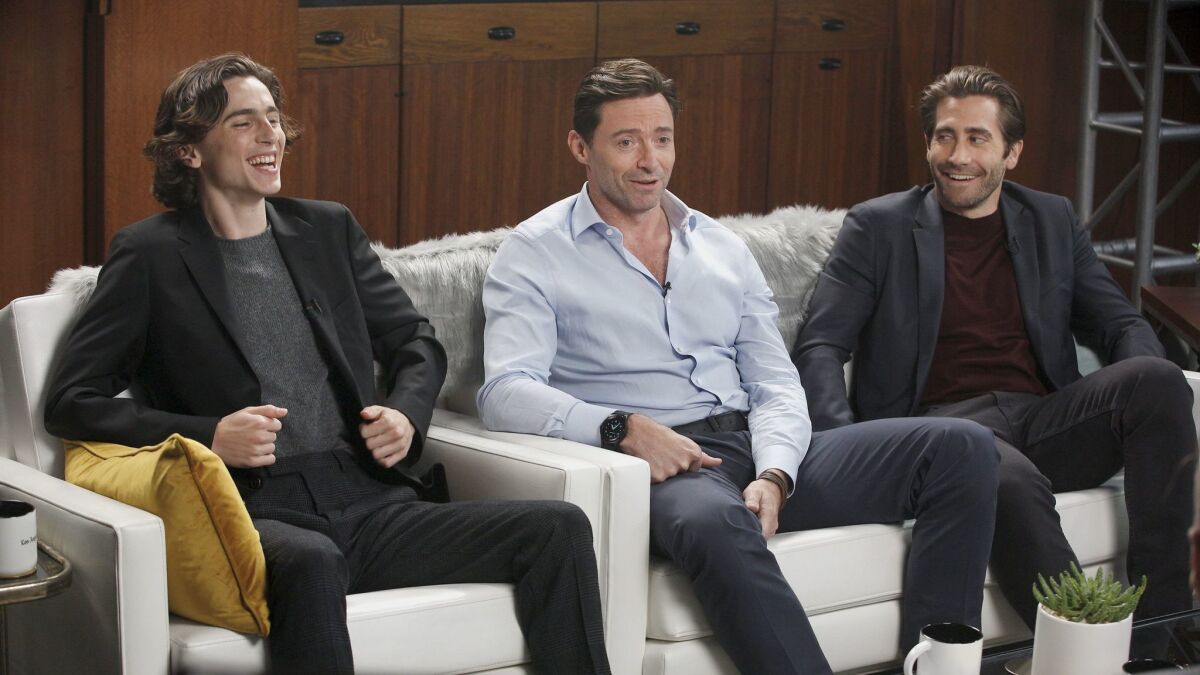 Chalamet isn't shy, however, about seeking advice from industry stalwarts. After filming "Interstellar," he struck up a friendship with costar Matthew McConaughey, whom he said he has reached out to for career guidance on numerous occasions.
"I think he sees the road map for young male actors and traps of Los Angeles," Chalamet said. "He's always tried to guide me in the right direction, as far as going about press or approaches to pre-production. He wants me to take it seriously and do it in the right way."
Chalamet took a page from the McConaughey playbook in preparing for "Call Me by Your Name," arriving five weeks early on location in Crema, Italy, to get in character as Elio Perlman. Once in Guadagnino's hometown — where the director set the 1980s romance — the actor spent more than four hours a day in Italian, piano and guitar lessons. Though he was new to Italy, Chalamet felt relatively comfortable in Europe: His father is French, and the family spent summers with relatives in Le Chambon-sur-Lignon, France.
But Chalamet — whose audition consisted of just casually meeting Guadagnino — also had to ready himself to be vulnerable in the movie's sensual sex scenes. As Elio and Oliver (Hammer) fall for each other, they become increasingly more intimate — and in one much talked-about moment, Elio even makes love to a peach.
"It always seemed to me that the worst-case scenario was I'd be walking the street five years from now and somebody might come up to me and say, 'Hey, you had sex with a peach in that movie once,'" Chalamet said with a laugh. "I didn't feel self-conscious filming the scene, because it just felt like the reality of what a young man experimenting with his sexuality would be. When you're young, you're almost shopping for a personality — and Elio is identifying himself by the person he's with. It's about becoming your lover by way of full abandonment and just totally revealing [yourself]."
Chalamet is reluctant to divulge too much about his own romantic life, though in high school, the paparazzi took pictures of him holding hands with Madonna's daughter, Lourdes Leon. He said he feels it's "impossible to compare" any of his own experiences to Oliver and Elio's, since they were living in a time before smartphones.
"There wasn't the all-bearing force field protector of looking at your phone if you're in an uncomfortable situation, which defuses about 97% of the interesting moments we have in life," Chalamet said.
Anyway, he already has legions of young female fans clamoring for his attention on Twitter. Recently, a girl in New York ran up to Chalamet, gave him a bag of peach candies and ran away. (He checked they were sealed and then ate them.)
"I've heard that there is a cult for him — apparently they call him 'Sweet Tea,'" said Guadagnino. "I was absolutely sure that he was perfect for this role. He's so intelligent that he had the capacity to understand that we wanted to do something meaningful and not exploitative. He had to let himself go, and he is destined to a great career and a lot of love."
Saoirse Ronan, who has a crush on Chalamet's disaffected hipster in "Lady Bird," said she's proud of how her new friend is dealing with the onslaught of attention.
"It's all new for him, and it's hard to know what's gonna happen or what to expect, but he's handling it so well," said Ronan, who rose to fame at an early age. "His work is so good, and you can tell that that's what important to him. So as long as he remembers that, he'll be fine."
Chalamet has already wrapped a couple of other upcoming high-profile films: "Beautiful Boy," in which he plays the meth-addicted son of Steve Carell, and Woody Allen's next film with Selena Gomez and Elle Fanning. Asked how he felt about working with Allen in the wake of the recent revelations about sexual harassment in the industry — the director's adopted daughter accused him of sexually abusing her — he demurred.
"I understand the question, certainly; it's going to be not only important but imperative to talk about," he said after a long pause. "I'm hesitant to talk about it now, because I'm here for 'Call Me by Your Name.'"
After he wraps press for his current slate of films, Chalamet will return to New York, where he's still in college. He transferred to NYU after a year at Columbia to create his own major at the Gallatin School of Individualized Study. He's living in the East Village, and shares a former tenement apartment with two roommates. He's been pondering getting his own place.
"You know, now that things are going a little bit better," he said. "Somebody said to me, 'You should keep a journal of this period in your life and really write down this stuff.' But that makes me a little uneasy. When I try to appreciate something, it feels like my hands are around the moment, trying to squeeze it. It's when you really release yourself of the responsibility to be enjoying things that you actually do."
Follow me on Twitter @AmyKinLA
---
Get our L.A. Goes Out newsletter, with the week's best events, to help you explore and experience our city.
You may occasionally receive promotional content from the Los Angeles Times.