Mark Olsen's top films of 2016 marked by the issues of women, men and the gaps between them
"Would that it were so simple." This line from the Coen brothers film "Hail, Caesar!," in which a film director attempts to prompt a specific delivery from an actor, is one that my mind has gone back to over and over again. This year, as much as any I can think of, movies provided a focus point to at least try to make sense of a complicated, conflicted, confusing world. Would that it were so simple.
Within the context of the movie, that line is about two people technically speaking the same language but completely failing to understand each other. I can think of fewer things that sum up 2016 better.
As I was pulling together this list I was very surprised by recurring themes examining the pressures of how to be a man, the everyday hassles of being a woman and the gaps of understanding that so often exist in between the two.
I also can't think of the last year that such a clear theme seemed to emerge from my own top 10. None of these films were made with the scrum of toxic contentiousness that marked the election season directly on filmmakers' minds, and yet they are nearly all marked by explorations of empathy, misunderstandings and the struggles of finding the right path forward.
This year, as much as any I can think of, movies provided a focus point to at least try to make sense of a complicated, conflicted, confusing world.
The trailer for "Moonlight."
'Moonlight'
It's tough to say if the film is more audacious formally or emotionally, as it tells a new story in a new way. The unusual triptych structure of writer-director Barry Jenkins' film, as three actors portray the same character at different turning points in his life, leads to a final section that is among the most spellbinding, soulful moments I've ever seen on-screen, a breathtaking interplay of seduction, friendship and self-discovery.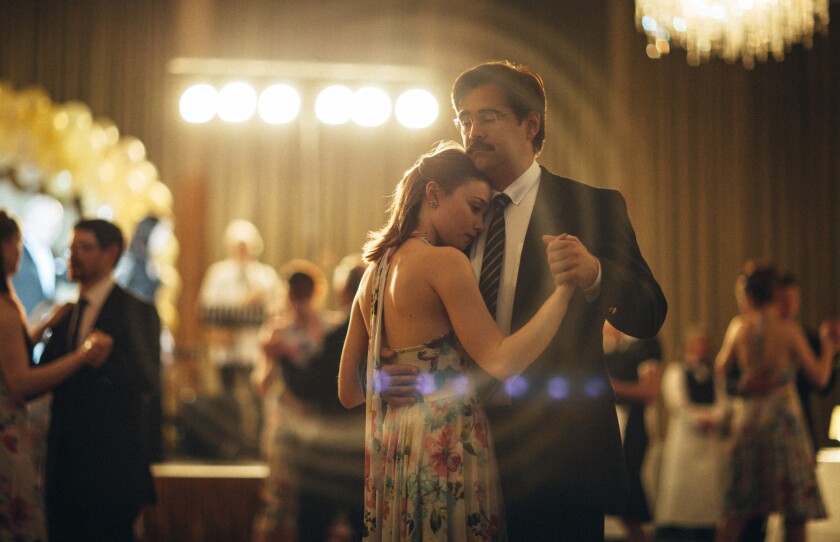 'The Lobster'
An absurdist allegory on men, women and society-building. The English-language debut of Greek filmmaker Yorgos Lanthimos is this bittersweet sci-fi romantic comedy starring Colin Farrell and Rachel Weisz as people seeking the most basic connections in a world determined to keep them apart.
'Silence'
Few other filmmakers would be able to marshal the forces of top-shelf, high-class commercial filmmaking to craft something as genuinely spiritual, inquisitive and deeply uncertain as this new work by Martin Scorsese. His sense of adventure as a filmmaker and storyteller has led to a tale of Jesuit priests in 17th-century Japan, a saga of religious faith and personal interrogation that asks the question "Why am I here?," with all its multitude of meanings.
Justin Chang reviews 'Certain Women'. Directed by Kelly Reichardt. With Michelle Williams, Kristen Stewart, Laura Dern, James Le Gros. Video by Jason H. Neubert.
'Certain Women'
To call filmmaker Kelly Reichardt the biggest maker of little movies in America isn't intended as some kind of slight, yet phrases like "portraitist" or "in miniature" that attempt to convey the patient, attentive details in her work also fail to capture the large-scale ideas and emotions that form their foundations. Set in small-town Montana, this trio of stories starring Laura Dern, Michelle Williams, Kristen Stewart and discovery Lily Gladstone survey the difficulties of getting from here to there.
'Things to Come'
French filmmaker Mia Hansen-Løve has often had a hazy, emotionally uncoupled aspect to her work as she grappled with hard-to-define feelings and moods, looking to convey a vibe as much as tell a story. Here, through an earthy, grounded performance by Isabelle Huppert as a woman forced to grapple with unexpected changes after she thought all in her life had already been settled, Hansen-Løve discovers a new clarity and sharpness.
"Manchester By The Sea" stars Kyle Chandler, Michelle Williams and Casey Affleck.
'Manchester by the Sea'
Grief and guilt collide in writer-director Kenneth Lonergan's tale of a man who has to finally reconcile with the worst thing that will ever happen to him, struggling to find a way out of the maze of his own moral confusion. Casey Affleck's tender, bruised and interior performance captures Lonergan's affinity for nuances of language and behavior, how awkward pauses can speak volumes.
WATCH: Justin Chang reviews 'Elle' directed by Paul Verhoeven and starring Isabelle Huppert, Laurent Lafitte, and Anne Consigny. Video by Jason H. Neubert.
'Elle'
With this movie that ran right at everything most #problematic about 2016, director Paul Verhoeven showed that he still has a singular knack for wild provocation. Featuring another powerhouse performance by Isabelle Huppert – something of a greatest-hits set of her screen persona, by turns enigmatic, damaged, sensual, terrifying – the film pushes through its bizarre rape-and-revenge setup to become an intense character study and story of unlikely self-possession.
'Christine'
This was one of the strongest, most visceral emotional experiences I had with a movie all year and I personally find it unbelievable that actress Rebecca Hall is not more of a contender in the year-end awards-giving rituals of Hollywood. Directed by Antonio Campos with an alternately cerebral iciness and spasmodic fury, Hall stars as Christine Chubbuck, the Florida newscaster who shot herself on the air in 1974, giving a fearsome performance that often seems more an act of spiritual possession than mere acting.
'O.J.: Made In America'
I include Ezra Edelman's epic documentary meditation on race, celebrity, culture and the American justice system, broadcast on television in five parts and released to theaters in two, not despite any conflict over whether it should be classified as cinema or TV, but rather in part because of those very issues. Along with the likes of the limited television series "The People v. O.J. Simpson: American Crime Story" or the visual album of Beyonc's "Lemonade," many recent works demand that we broaden our own definitions, as what we watch and how we watch it becomes increasingly fluid.
'20th Century Women'
Mike Mills crafts a multifaceted story of empathy and understanding with Annette Bening as a single mother in late-'70s Santa Barbara doing her best to raise her son among a circle of well-meaning misfits and amid changing times. One of the emotional pinnacles of the film is a group of people watching President Jimmy Carter deliver his 1979 "Crisis of Confidence" speech on television, transformed into one of the most unexpectedly moving moments of 2016.
Any one of these following movies could easily have also made this list, and frankly, it surprises me that some of them didn't. (And another 10 films after that!) In alphabetical order: "A Bigger Splash," "Don't Think Twice," "Hail, Caesar!," "Hell or High Water," "The Handmaiden," "Hunt for the Wilderpeople," "I Am Not Your Negro," "Love & Friendship," "Paterson" and "Toni Erdmann."
SIGN UP for the free Indie Focus movies newsletter »
Follow on Twitter: @IndieFocus
ALSO:
'Loving,' 'Jackie' and 'Hail, Caesar!' make Kenneth Turan's Top 10 films of 2016
'Silence,' 'Moonlight,' 'Manchester' highlight Times film critic Justin Chang's Top 10 movies
Plumbing the depths of sorrow with Casey Affleck and Kenneth Lonergan in 'Manchester By The Sea'
Paul Verhoeven and Isabelle Huppert lean into the incendiary revenge of 'Elle'
---
Get the Indie Focus newsletter, Mark Olsen's weekly guide to the world of cinema.
You may occasionally receive promotional content from the Los Angeles Times.