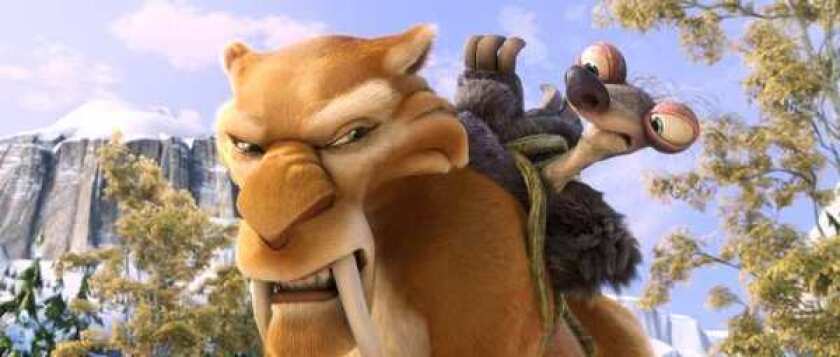 May 4
The Avengers
A team of superheroes including Iron Man, Captain America, the Hulk and Thor unite to save the world. With Robert Downey Jr., Chris Evans, Mark Ruffalo and Chris Hemsworth. Written and directed by Joss Whedon. In Imax 3-D. Walt Disney Pictures
---
FOR THE RECORD:
Movie listings: The April 29 Summer Sneaks list of films gave the name of a documentary about Iraq and Afghanistan war veterans as "Higher Ground." The Aug. 17 release is called "High Ground." —

---
The Best Exotic Marigold Hotel
A group of British retirees travel to India to spend their golden years at a newly restored hotel but find the accommodations to be less than palatial. With Judi Dench, Bill Nighy, Dev Patel and Tom Wilkinson. Written by Ol Parker. Directed by John Madden. Fox Searchlight Pictures
First Position
This documentary follows six young dancers as they prepare for and compete in the Youth America Grand Prix, a prestigious ballet competition. Directed by Bess Kargman. Sundance Selects
Jannat 2
A smooth-talking gun runner and a maverick cop take down a network of criminals. With Emraan Hashmi, Randeep Hooda and Esha Gupta. Written by Shagufta Rafique. Directed by Kunal Deshmukh. In Hindi with English subtitles. Fox International
Last Call at the Oasis
A documentary exploring the potential causes and consequences of a global water crisis. Directed by Jessica Yu. ATO Pictures
A Little Bit of Heaven
A lively but commitment-averse young woman has her life changed, in more ways than one, by a visit to the doctor. With Kate Hudson, Gael García Bernal and Rosemarie Dewitt. Written by Gren Wells. Directed by Nicole Kassell. Millennium Entertainment
Mother's Day
After purchasing a foreclosed home, a young couple and their guests are taken hostage by the sadistic sons of the previous owner, who soon shows up herself and raises the stakes. With Rebecca De Mornay. Written by Scott Milam. Directed by Darren Lynn Bousman. Anchor Bay Films
The Perfect Family
A suburban wife and mother is nominated for the Catholic Woman of the Year Award at her local parish and must face the truth about her imperfect nonconformist family, whom she has to introduce to the church board. With Kathleen Turner, Jason Ritter and Emily Deschanel. Written by Paula Goldberg and Claire V. Riley. Directed by Anne Renton. Variance Films
May 11
Dark Shadows
In 1772, after breaking a witch's heart, an inveterate playboy is turned into a vampire and buried alive for 200 years, at which point he is inadvertently freed and emerges into a very different world. With Johnny Depp, Michelle Pfeiffer, Helena Bonham Carter and Eva Green. Written by Seth Grahame-Smith. Directed by Tim Burton. In Imax.Warner Bros. Pictures
Girl in Progress
While a busy single mom juggles work, bills and romance, her neglected teenage daughter is eager to skip over adolescence into adulthood. With Eva Mendes, Matthew Modine, Patricia Arquette and Cierra Ramirez. Written by Hiram Martinez. Directed by Patricia Riggen. Pantelion Films
God Bless America
With nothing left to live for, a man divorced, fired and possibly terminally ill decides to take out his frustration by hunting down irritating celebrities. With Joel Murray and Tara Lynne Barr. Written and directed by Bobcat Goldthwait. Magnet Releasing
Hick
Fleeing her abusive, alcoholic parents, a smalltown teenager lights out to Las Vegas, where she crosses paths with a drifter and a rebel. With Chloe Grace Moretz, Blake Lively, Eddie Redmayne and Juliette Lewis. Written by Andrea Portes. Directed by Derick Martini. Phase 4 Films
I Wish
Two young brothers in Japan separated by their parents' divorce believe that the secret to reuniting their family lies in the impending opening of a new bullet train line. With Koki Maeda, Nene Ohtsuka and Ohshiro Maeda. Written and directed byHirokazu Kore-Eda. In Japanese with English subtitles. Magnolia Pictures
Nesting
A thirtysomething married couple try to rekindle their relationship by visiting, and eventually squatting in, their old apartment in a hip Los Angeles neighborhood. With Todd Grinnell, Ali Hillis, Kevin Linehan and Erin Chambers. Written and directed by John Chuldenko. PMK-BNC / Danger Train Films
The Road
Investigators reopen a 12-year-old cold case when three teenagers vanish along a notorious abandoned road. With Carminga Villaroel, Rhian Ramos and T.J. Trinidad. Written by Yam Laranas and Aloy Adlawan. Directed by Laranas. In Tagalog with English subtitles. Freestyle Releasing
Romeo and Juliet in Yiddish
A middle-aged Brooklyn nurse and grad school student enlists the help of two streetwise young Orthodox Jews to help her translate Shakespeare from arcane to modern Yiddish. With Lazer Weiss, Melissa Weisz and Mendy Zafir. Written and directed by Eve Annenberg. In English and Yiddish, with English subtitles. Nancy Fishman Film Releasing
Tonight You're Mine
Two feuding musicians must survive a weekend music festival after being accidentally handcuffed to each other. With Luke Treadaway, Natalia Tena and Mathew Baynton. Written by Thomas Leveritt. Directed by David Mackenzie. Roadside Attractions
Where Do We Go Now?
In a remote village where a church and a mosque stand side by side, the town's women come up with clever ruses to keep their blowhard men from starting a religious war. With Claude Baz Moussawbaa, Layla Hakim and Nadine Labaki. Written by Labaki, Jihad Hojeily and Rodney Al Haddad. Directed by Labaki. In Arabic, Russian and English, with English subtitles. Sony Pictures Classics
May 16
The Dictator
A political strongman will stop at nothing to keep democracy out of his oppressed nation. With Sacha Baron Cohen, Anna Faris andJohn C. Reilly. Written by Baron Cohen, Alec Berg, David Mandel and Jeff Schaffer. Directed by Larry Charles. Paramount Pictures
May 18
Battleship
Naval officers participate in a global effort to fight off invading aliens. With Taylor Kitsch, Brooklyn Decker, Alexander Skarsgard and Rihanna. Written by Jon Hoeber and Erich Hoeber. Directed by Peter Berg. Universal Pictures
Hysteria
In Victorian London, a forward-thinking young doctor deals with a job treating hysterical women, an engagement to his employer's demure daughter, a secret attraction to her outspoken older sister and an affliction that threatens his career. With Maggie Gyllenhaal, Hugh Dancy, Jonathan Pryce and Felicity Jones. Written by Jonah Lisa Dyer, Stephen Dyer and Howard Gensler. Directed by Tanya Wexler. Sony Pictures Classics
Lovely Molly
When a newlywed wife and her husband move into the young woman's long-abandoned childhood home, she encounters frightening reminders of a nightmarish upbringing. With Gretchen Lodge, Alexandra Holden and Johnny Lewis. Written and directed by Eduardo Sanchez. Image Entertainment
Natural Selection
A barren Christian housewife in suburban Texas is shocked by her husband's near-death revelation that he has an illegitimate adult son in Florida, whom she then sets out to reunite with him before he passes. With Rachael Harris, Matt O'Leary, Jon Gries and John Diehl. Written and directed by Robbie Pickering. Cinema Guild
Polisse
A close-knit team of officers working in the child-protection unit of the Parisian police force deal with their demanding line of work and its toll on their personal lives. With Karin Viard, Marina Fois and Nicolas Duvauchelle. Written by Emmanuelle Bercot and Maiwenn. Directed by Maiwenn. In French with English subtitles. Sundance Selects
Virginia
The intertwining relationships between a mentally unstable mother, her illegitimate teenage son, the local sheriff and his daughter threaten to reveal the secrets of a boardwalk town. With Jennifer Connelly, Ed Harris, Toby Jones and Amy Madigan. Written and directed by Dustin Lance Black. Entertainment One
What to Expect When You're Expecting
Five couples have their interconnected lives turned upside down by impending parenthood. With Cameron Diaz, Jennifer Lopez, Elizabeth Banks and Chace Crawford. Written by Shauna Cross and Heather Hach. Directed by Kirk Jones. Lionsgate
May 25
Chernobyl Diaries
Six young tourists in search of adventure abroad hire an extreme tour guide, who takes them to a ghost town thought to have been deserted in the wake of the Chernobyl nuclear disaster. With Devin Kelley, Jonathan Sadowski and Ingrid Bolso Berdal. Written by Oren Peli, Carey Van Dyke and Shane Van Dyke. Directed by Brad Parker.Warner Bros. Pictures
Elena
When a sudden illness strikes, an uneasy marriage between a wealthy sixtysomething businessman and his dowdy former nurse threatens to unravel over inter-family tensions, with dangerous consequences. With Nadezhda Markina, Andrey Smirnov and Elena Lyadova. Written by Oleg Negin and Andrey Zvyagintsev. Directed by Zvyagintsev. In Russian with English subtitles. Zeitgeist Films
Hide Away
A once-successful businessman retreats to an idyllic harbor town to escape his dark past and possibly find redemption. With Josh Lucas, Ayelet Zurer and James Cromwell. Written by Peter Vanderwall. Directed by Chris Eyer. MMC Joule Films
The Intouchables
In France, a rich white quadriplegic and his new caretaker, a poor Senegalese man from the projects, strike up an unlikely friendship. With Francois Cluzet and Omar Sy. Written and directed by Olivier Nakache and Eric Toledano. In French with English subtitles. The Weinstein Co.
Men in Black 3
With his partner's life and the fate of the planet at stake, a special agent travels back in time to set things right. With Will Smith, Tommy Lee Jones, Josh Brolin and Jemaine Clement. Written by Etan Cohen. Directed by Barry Sonnenfeld. In Imax 3-D. Columbia Pictures
Mighty Fine
In the 1970s, a high-spirited husband and father relocates his family from Brooklyn to New Orleans in search of a better life, but his lavish spending jeopardizes their livelihood. With Chazz Palminteri and Andie MacDowell. Written and directed by Debbie Goodstein. Adopt Films
Moonrise Kingdom
In a 1960s New England town, a young boy and girl run away together, prompting the locals to mobilize and track them down. With Bruce Willis and Edward Norton. Written by Wes Anderson and Roman Coppola. Directed by Anderson. Focus Features
Oslo, August 31st
A recovering drug addict on the verge of completing rehab treatment is allowed to travel to a job interview in Oslo, where he also visits old friends and haunts and wrestles with his demons. With Anders Danielsen Lie, Malin Crepin and Aksel M. Thanke. Written by Eskil Vogt and Joachim Trier. Directed by Trier. In Norwegian with English subtitles. Strand Releasing
June 1
For Greater Glory
Against the backdrop of the Cristero War in 1920s Mexico, a retired general is reluctantly drawn into conflict against a ruthless government. With Andy Garcia, Eva Longoria, Peter O'Toole and Oscar Isaac. Written by Michael Love. Directed by Dean Wright. Arc Entertainment
For the Love of Money
Based on the true account of a Jewish immigrant who searches for his piece of the American dream over two decades. With Yehuda Levi, James Caan, Edward Furlong and Jeffrey Tambor. Written by Jenna Mattison. Directed by Ellie Kanner-Zuckerman. Archstone Distribution.
High School
When a high school's exacting principal orders a schoolwide drug test, the future valedictorian, who has just tried marijuana for the first time, schemes to cover his tracks. With Matt Bush, Sean Marquette, Adrien Brody and Michael Chiklis. Written by Eric Linthorst, John Stalberg Jr. and Stephen Susco. Directed by Stalberg. Anchor Bay Films
Pink Ribbons
This documentary about the ubiquitous pink-ribbon campaign to support breast cancer research and awareness asks whether its focus has shifted from activism to consumerism. Directed by Lea Pool. First Run Features
Piranha 3DD
A school of prehistoric flesh-eating fish return to terrorize a bustling summer water park. With Christopher Lloyd, Paul Scheer, Danielle Panabaker and David Hasselhoff. Written by Patrick Melton, Marcus Dunstan and Joel Soisson. Directed by John Gulager. In 3-D. The Weinstein Co.
Snow White and the Huntsman
A young woman threatens the reign of a wicked queen with her beauty and bravery in this re-imagining of the Snow White fairy tale. With Kristen Stewart, Charlize Theron and Chris Hemsworth. Written by Evan Daugherty, John Lee Hancock and Hossein Amini. Directed by Rupert Sanders. Universal Pictures
June 8
6 Month Rule
A bachelor follows a set of rules to avoid emotional attachment, until he meets a girl who changes everything. With Blayne Weaver, Natalie Morales, Patrick J. Adams and Jaime Pressly. Written and directed by Weaver. Abramorama.
Bel Ami
In 1890s Paris, a rogue uses his wits and powers of seduction to climb from poverty to wealth and influence. With Robert Pattinson, Uma Thurman, Kristin Scott Thomas and Christina Ricci. Written by Rachel Bennette. Directed by Declan Donnellan and Nick Ormerod. Magnolia Pictures
Lola Versus
A 29-year-old woman leans on her close friends and tries to regain her footing when her longtime boyfriend dumps her three weeks before their wedding. With Greta Gerwig, Zoe Lister-Jones and Joel Kinnaman. Written by Lister-Jones and Daryl Wein. Directed by Wein. Fox Searchlight Pictures
Madagascar 3: Europe's Most Wanted
In this animated film, a group of animals trying to return to their home in a New York zoo get waylaid in Europe, where they join a traveling circus. With the voices of Ben Stiller, Chris Rock, David Schwimmer and Jada Pinkett Smith. Written by Noah Baumbach. Directed by Eric Darnell, Conrad Vernon and Tom McGrath. Paramount Pictures
Nobody Else But You
A bestselling French crime novelist suffering from writer's block investigates the presumed suicide of a local beauty. With Jean-Paul Rouve, Sophie Quinton and Guillaume Gouix. Written and directed by Gerald Hustache-Mathieu. In French with English subtitles. First Run Features
OC87: The Obsessive Compulsive, Major Depression, Bipolar, Asperger's Movie
This documentary explores mental illness through the lens of the personal experiences of one of its makers. With Bud Clayman, Dan Fisher and Maurice Benard. Directed by Clayman, Glenn Holsten and Scott Johnston. Fisher Klingenstein Films
Peace, Love and Misunderstanding
An uptight Manhattan lawyer takes her teenage son and adult daughter to visit their estranged hippie grandmother, whom they've never met. With Jane Fonda, Catherine Keener, Elizabeth Olsen and Chace Crawford. Written by Christina Mengert and Joseph Muszynski. Directed by Bruce Beresford. IFC Films
Prometheus
While investigating a clue to the origin of mankind on Earth, a team of space explorers become embroiled in a battle to save the future of the human race. With Noomi Rapace, Michael Fassbender, Idris Elba and Logan Marshall-Green. Written by Jon Spaihts and Damon Lindelof. Directed by Ridley Scott. In Imax 3-D. 20th Century Fox
Safety Not Guaranteed
Intrigued by a bizarre classified ad, three magazine employees track down an eccentric man who thinks he's solved the mystery of time travel. With Aubrey Plaza and Mark Duplass. Written by Derek Connolly. Directed by Colin Trevorrow. FilmDistrict
June 15
Americano
After the death of his mother, a Frenchman returns to his childhood home in Los Angeles to settle her estate, which involves tracking down a mysterious woman mentioned in her will. With Mathieu Demy, Salma Hayek and Geraldine Chaplin. Written and directed by Demy. In French, English and Spanish, with English subtitles. MPI Media Group
Follow Me: The Yoni Netanyahu Story
A documentary portrait of Jonathan "Yoni" Netanyahu, an Israeli soldier killed in action at age 30 while leading a daring hostage rescue mission in Uganda in 1976. Directed by Ari Daniel Pinchot and Jonathan Gruber. International Film Circuit
Rock of Ages
A smalltown girl and a city boy meet on the Sunset Strip while pursuing their Hollywood dreams. With Julianne Hough, Diego Boneta, Russell Brand and Paul Giamatti. Written by Justin Theroux, Chris D'Arienzo and Allan Loeb. Directed by Adam Shankman. New Line Cinema
That's My Boy
Estranged for years from the son he had and raised as a young man, a father shows up uninvited on the eve of the son's wedding. With Adam Sandler, Andy Samberg, Leighton Meester and James Caan. Written by David Caspe. Directed by Sean Anders. Columbia Pictures
The Woman in the Fifth
A struggling American writer who has recently moved to Paris to be closer to his young daughter begins a romance with a mysterious woman, and soon people start dying all around him. With Ethan Hawke, Kristin Scott Thomas and Joanna Kulig. Written by Pawel Pawlikowski and Douglas Kennedy III. Directed by Pawlikowski. ATO Pictures
Your Sister's Sister
A slacker reeling from the death of his brother goes to spend time alone at the family cabin of his late sibling's ex-girlfriend, but while there he begins an unlikely relationship with her older sister. With Emily Blunt, Rosemarie DeWitt and Mark Duplass. Written and directed by Lynn Shelton. IFC Films
June 22
Abraham Lincoln: Vampire Hunter
This alternate-history tale imagines the secret life of the 16th president, who moonlights as a vampire hunter. With Benjamin Walker, Dominic Cooper, Anthony Mackie and Mary Elizabeth Winstead. Written by Seth Grahame-Smith and Simon Kinberg. Directed by Timur Bekmambetov. In 3-D. 20th Century Fox
Brave
Determined to follow her own path in life, a headstrong young princess defies an age-old tradition and unwittingly unleashes chaos in her kingdom, which will require all her skills and resourcefulness to fix. With the voices of Kelly Macdonald, Emma Thompson, Billy Connolly and Julie Walters. Written by Mark Andrews, Steve Purcell, Brenda Chapman and Irene Mecchi. Directed by Andrews and Chapman. Walt Disney Pictures
The Invisible War
This documentary investigates widespread sexual assault and subsequent cover-ups within theU.S. military. Directed by Kirby Dick. Cinedigm Entertainment / Docurama Films
To Rome With Love
In Italy, the romances and adventures of a number of residents and visitors overlap and intersect. With Woody Allen, Alec Baldwin, Roberto Benigni and Penelope Cruz. Written and directed by Allen. Sony Pictures Classics
Seeking a Friend for the End of the World
In the near future, sparks fly between a man and woman who are facing the imminent end of the world. With Steve Carell and Keira Knightley. Written and directed by Lorene Scafaria. Focus Features
June 27
Beasts of the Southern Wild
In an isolated Southern bayou town, an independent 6-year-old girl with a vivid imagination faces an ailing alcoholic father, a missing mother and a series of catastrophes. With Quvenzhane Wallis and Dwight Henry. Written by Lucy Alibar and Benh Zeitlin. Directed by Zeitlin. Fox Searchlight Pictures
June 29
G.I. Joe: Retaliation
Members of an elite special-ops force face off against an international terrorist organization while dealing with threats from within their own government. With Channing Tatum and Dwayne Johnson. Written by Rhett Reese and Paul Wernick. Directed by Jon M. Chu. Paramount Pictures
Magic Mike
An experienced male stripper takes a young dancer under his wing. With Channing Tatum, Alex Pettyfer, Matthew McConaughey and Olivia Munn. Written by Reid Carolin. Directed by Steven Soderbergh.Warner Bros. Pictures
Neil Young Journeys
This documentary chronicles Neil Young's road trip last year from his hometown of Omemee, Ontario, to Toronto for the closing two nights of his world tour. Directed by Jonathan Demme. Sony Pictures Classics
People Like Us
When his estranged father dies suddenly, a fast-talking twentysomething salesman returns home to help put things in order and is shocked to discover he has an older sister. With Chris Pine, Elizabeth Banks, Olivia Wilde and Michelle Pfeiffer. Written by Alex Kurtzman, Roberto Orci and Jody Lambert. Directed by Kurtzman. DreamWorks Pictures
Take This Waltz
A twentysomething woman finds her happy marriage to a good-natured cookbook writer thrown into doubt upon meeting a handsome artist who lives across the street. With Michelle Williams, Seth Rogen, Luke Kirby and Sarah Silverman. Written and directed by Sarah Polley. Magnolia Pictures
Tyler Perry's Madea's Witness Protection
After being set up as the fall guy for a mob-backed Ponzi scheme, a mild-mannered investment banker enters the federal witness protection program with his family and heads to the South. With Eugene Levy, Doris Roberts, Tom Arnold and Tyler Perry. Written and directed by Perry. Lionsgate
June TBA
The Loved Ones
When a crazed teen is turned down by the boy she asks to the prom, she kidnaps him and holds her own demented dance with help from her father. With Xavier Samuel, Robin McLeavy, John Brumpton and Richard Wilson. Written and directed by Sean Byrne. Paramount Pictures
July 3
The Amazing Spider-Man
A teenager grapples with the trials of high school, the mysterious disappearance of his parents years ago and a transformation that leaves him with superpowers. With Andrew Garfield, Emma Stone, Rhys Ifans and Denis Leary. Written by James Vanderbilt. Directed by Marc Webb. In Imax 3-D. Columbia Pictures
July 5
Katy Perry: Part of Me 3D
This concert documentary follows pop star Katy Perry's life both onstage and off. Directed by Dan Cutforth and Jane Lipsitz. In 3-D. Paramount Pictures
July 6
Crazy Eyes
A divorced playboy with a 5-year-old son is forced to reevaluate his carefree lifestyle when new family concerns coincide with him meeting an intriguing woman. With Lukas Haas, Madeline Zima and Jake Busey. Written by Adam Sherman, Rachel Hardisty and David Reeves. Directed by Sherman. Strand Releasing
The Do-Deca Pentathalon
During a weekend family reunion, two adult brothers rekindle a homemade competitive sporting event from their childhood while trying to keep it a secret from their relatives. With Steve Zissis, Mark Kelly and Jennifer Lafleur. Written and directed by Mark Duplass and Jay Duplass. Red Flag Releasing
The Magic of Belle Isle
A famous Western novelist struggling with his writing and the bottle takes up in a lakeside cabin, where he befriends the family next door. With Morgan Freeman, Virginia Madsen, Madeline Carroll and Kenan Thompson. Written by Guy Thomas. Directed by Rob Reiner. Magnolia Pictures
Savages
Three small-time Southern California pot dealers run afoul of a Mexican drug cartel. With Taylor Kitsch, Blake Lively, Aaron Johnson and John Travolta. Written by Shane Salerno, Don Winslow and Oliver Stone. Directed by Stone. Universal Pictures
July 11
Easy Money
A poor student leading a double life amongStockholm'selite falls for an upper-class girl and is lured into the criminal underworld. With Joel Kinnaman, Matias Padin and Dragomir Mrsic. Written by Maria Karlsson. Directed by Daniel Espinosa. In Swedish, Spanish, Serbian and English, with English subtitles. The Weinstein Co.
July 13
Farewell, My Queen
A look at the first three days of the French Revolution, as seen through the eyes of Marie Antoinette's private reader at Versailles. With Diane Kruger, Lea Seydoux and Virginie Ledoyen. Written by Benoit Jacquot and Gilles Taurand. Directed by Jacquot. In French with English subtitles. Cohen Media Group
The Happy Poet
An unemployed bohemian in Austin, Texas, puts everything he has into an organic, vegetarian-friendly food stand, but his new venture is not without challenges. With Paul Gordon, Jonny Mars and Chris Doubek. Written and directed by Gordon. Cinema Libre Studio
Ice Age: Continental Drift
A group of Paleolithic animal pals try to survive a continental cataclysm in the fourth installment of the "Ice Age" series. With the voices of Ray Romano, John Leguizamo, Denis Leary and Queen Latifah. Directed by Steve Martino and Michael Thurmeier. In 3-D. 20th Century Fox
Red Lights
Two scientists who study and debunk paranormal hoaxes begin investigating a famous blind psychic who has mysteriously reappeared after a 30-year absence. With Cillian Murphy, Sigourney Weaver, Robert De Niro and Elizabeth Olsen. Written and directed by Rodrigo Cortes. Millennium Entertainment
Ted
A grown man has to put up with his ever-present teddy bear, who was brought to life by a childhood wish and has remained by his side ever since. With Mark Wahlberg, Mila Kunis, Giovanni Ribisi and Joel McHale. Written by Seth MacFarlane, Alec Sulkin and Wellesley Wild. Directed by MacFarlane. Universal Pictures
Trishna
In India, a wealthy young man and a woman who works at a resort fall for each other and move to Mumbai together, but family issues endanger the young couple's happiness. With Frieda Pinto, Riz Ahmed and Roshan Seth. Written and directed by Michael Winterbottom. Sundance Selects
The Queen of Versailles
This documentary follows a billionaire family on a quest to build the largest house in America when the economy takes a nosedive. Directed by Lauren Greenfield. Magnolia Pictures
July 20
Compliance
An overworked manager at a fast-food restaurant receives a call from a police officer accusing one of her employees of stealing from a customer, leading to a situation that quickly spirals out of control. With Ann Dowd, Dreama Walker, Pat Healy and Bill Camp. Written and directed by Craig Zobel. Magnolia Pictures
The Dark Knight Rises
The masked vigilante Batman must save Gotham City from dangerous new threats, including the mysterious villain Bane. With Christian Bale, Michael Caine, Anne Hathaway and Tom Hardy. Written by Jonathan Nolan and Christopher Nolan. Directed by Christopher Nolan. In Imax. Warner Bros. Pictures
July 25
Ruby Sparks
A young novelist who was successful early in his career finds himself struggling until he invents an inspiring new character — who shocks him by appearing in the flesh shortly thereafter. With Paul Dano, Zoe Kazan, Antonio Banderas and Annette Bening. Written by Kazan. Directed by Jonathan Dayton and Valerie Faris. Fox Searchlight Pictures
July 27
Killer Joe
In debt to a drug lord, a 22-year-old plots to have his mother killed for her life insurance policy, but things go badly awry. With Emile Hirsch, Juno Temple, Matthew McConaughey and Gina Gershon. Written by Tracy Letts. Directed by William Friedkin. LD Entertainment
Little White Lies
In the wake of a tragic accident involving one of their own, a group of longtime friends reunite for their annual beach vacation, where they must confront the lies they've been telling one another and themselves. With Francois Cluzet, Marion Cotillard, Benoit Magimel and Jean Dujardin. Written and directed by Guillaume Canet. In French with English subtitles. MPI Media Group
Neighborhood Watch
Four average Joes form a neighborhood watch to escape the boredom of their suburban lives and accidentally stumble upon an alien invasion. With Ben Stiller, Vince Vaughn, Jonah Hill and Rosemarie DeWitt. Written by Jared Stern, Seth Rogen and Evan Goldberg. Directed by Akiva Schaffer. 20th Century Fox
Searching for Sugar Man
In this documentary, two South African fans set out to learn what became of their hero, the 1970s rock icon Rodriguez. Directed by Malik Bendjelloul. Sony Pictures Classics
Step Up Revolution
Newly arrived in Miami, an aspiring dancer falls for the leader of a local dance crew, and together they battle a wealthy developer. With Ryan Guzman, Kathryn McCormick, Misha Gabriel and Peter Gallagher. Written by Amanda Brody. Directed by Scott Speer. Summit Entertainment
Sacrifice
After a power-hungry general wipes out his rival and seemingly his entire family, one newborn secretly survives and is raised as an instrument of revenge. With Ge You, Wang Xueqi and Huang Xiaoming. Written and directed by Chen Kaige. In Mandarin with English subtitles. Samuel Goldwyn Films
July TBA
Grassroots
In 2001 Seattle, an unknown politician enlists a recently fired alt-weekly reporter to help campaign for a monorail system and against a councilman. With Jason Biggs, Joel David Moore, Lauren Ambrose and Cedric the Entertainer. Written by Justin Rhodes and Stephen Gyllenhaal. Directed by Gyllenhaal. Samuel Goldwyn Films
Aug. 3
360
Against the backdrop of international economic and political instability, the relationships and actions of an array of people from different backgrounds ripple across the globe. With Anthony Hopkins, Ben Foster, Jude Law and Rachel Weisz. Written by Peter Morgan. Directed by Fernando Meirelles. Magnolia Pictures
The Bourne Legacy
Another mysterious black-ops agent follows in the footsteps of Jason Bourne in this fourth installment of the espionage franchise. With Jeremy Renner, Rachel Weisz, Edward Norton and Albert Finney. Written by Tony Gilroy and Dan Gilroy. Directed by Tony Gilroy. Universal Pictures
Diary of a Wimpy Kid: Dog Days
An adolescent boy tries to survive his summer misadventures in such fraught situations as swimming at the public pool and going camping. With Zachary Gordon, Devon Bostick, Rachael Harris and Robert Capron. Written by Maya Forbes and Wallace Wolodarsky. Directed by David Bowers. 20th Century Fox
Hello I Must Be Going
Recently divorced and facing an uncertain future, a woman moves back in with her parents in suburban Connecticut and begins an affair with a 19-year-old actor. With Melanie Lynskey and Blythe Danner. Written by Sarah Koskoff. Directed by Todd Louiso. Oscilloscope Laboratories
Total Recall
In the future, a factory worker's role-playing mental vacation as a super-spy goes wrong, leaving him a hunted man and blurring the lines between reality and fantasy. With Colin Farrell, Kate Beckinsale, Jessica Biel and Bryan Cranston. Written by Kurt Wimmer and Mark Bomback. Directed by Len Wiseman. Columbia Pictures
Aug. 10
2 Days in New York
A Frenchwoman and her American boyfriend, each with a child from a previous relationship, try to survive a surprise visit from her family in this sequel to the 2007 film "2 Days in Paris." With Julie Delpy and Chris Rock. Written by Delpy, Alexia Landeau and Alexandre Nahon. Directed by Delpy. Magnolia Pictures
The Awakening
In post-World War I England, an expert at debunking supernatural hoaxes visits a boarding school to investigate a series of ghost sightings. With Rebecca Hall, Dominic West and Imelda Staunton. Written by Stephen Volk and Nick Murphy. Directed by Murphy. Cohen Media Group
The Campaign
When a long-running congressman commits a public gaffe ahead of an upcoming election, two wealthy CEOs arrange for a puppet candidate to challenge him. With Will Ferrell, Zach Galifianakis and Jason Sudeikis. Written by Chris Henchy and Shawn Harwell. Directed by Jay Roach. Warner Bros. Pictures
Hope Springs
Decades into a devoted marriage, a wife persuades her skeptical husband to see a renowned couple's therapist in hopes of re-igniting their spark. With Meryl Streep, Tommy Lee Jones and Steve Carell. Written by Vanessa Taylor. Directed by David Frankel. Columbia Pictures
Aug. 15
The Odd Life of Timothy Green
A childless married couple who can't conceive fantasize about what their child would be like, and shortly afterward a mysterious young boy enters their lives. With Jennifer Garner, Joel Edgerton, Dianne Wiest and C.J. Adams. Written and directed by Peter Hedges. Walt Disney Pictures
Aug. 17
The Expendables 2
After a seemingly routine mission is botched, a band of mercenaries seek revenge against an adversary and discover a global threat along the way. With Sylvester Stallone, Jason Statham, Jet Li and Dolph Lundgren. Written by Richard Wenk, Ken Kaufman, David Agosto and Stallone. Directed by Simon West. Lionsgate
Higher Ground
This documentary follows 11 Iraq and Afghanistan war veterans as they attempt to scale a Himalayan mountain and cope with their traumatic experiences on the battlefield. Directed by Michael Brown. Red Flag Releasing
ParaNorman
In this animated film, a misunderstood boy who can communicate with the dead is called upon to save the day when his small town is overrun by zombies. With the voices of Kodi Smit-McPhee, Tucker Albrizzi and Casey Affleck. Written by Chris Butler. Directed by Butler and Sam Fell. In 3-D. Focus Features
Sparkle
In Motown-era Detroit, a talented young singer tries to balance a new romance with her manager, her family life and her ambition to become a star. With Jordin Sparks, Whitney Houston, Derek Luke and Mike Epps. Written by Mara Brock Akil. Directed by Salim Akil. TriStar Pictures
Aug. 24
The Apparition
When a young couple are haunted by a presence conjured during a university parapsychology experiment, they enlist an expert in the supernatural to try to save themselves. With Ashley Greene, Sebastian Stan and Tom Felton. Written and directed by Todd Lincoln. Warner Bros. Pictures
Chicken With Plums
Distraught since his treasured violin was broken, a renowned musician in 1950s Tehran confines himself to bed, where he awaits death and enters a deep reverie. With Mathieu Amalric, Edouard Baer and Maria de Medeiros. Written and directed by Marjane Satrapi. In French with English subtitles. Sony Pictures Classics
Hit & Run
A former getaway driver ditches a witness protection program to drive his girlfriend to Los Angeles so she can land her dream job, but federal agents and criminals are after them. With Dax Shepard, Kristen Bell, Bradley Cooper and Tom Arnold. Written by Shepard. Directed by Shepard and David Palmer. Open Road Films
Premium Rush
For an intrepid New York City bike messenger, a routine delivery turns into a life-or-death chase. With Joseph Gordon-Levitt, Michael Shannon, Dania Ramirez and Jamie Chung. Written by David Koepp and John Kamps. Directed by Koepp. Columbia Pictures
Robot & Frank
In the near future, an aging former cat burglar's two adult children buy him a humanoid robot helper, with whom he forms an unexpected friendship. With Frank Langella, Susan Sarandon, James Marsden and Liv Tyler. Written by Christopher Ford. Directed by Jake Schreier. Samuel Goldwyn Films
Samsara
This documentary devoid of dialogue and descriptive text explores the wonders of the modern world, including sacred grounds, disaster zones, industrial complexes and natural spectacles. Directed by Ron Fricke. Oscilloscope Laboratories
Sleepwalk With Me
A stand-up comedian grapples with a stalled career, a stale relationship and wild spurts of severe sleepwalking. With Mike Birbiglia, Lauren Ambrose and Kevin Barnett. Written by Mike Birbiglia, Ira Glass, Joe Birbiglila and Seth Barrish. Directed by Barrish and Mike Birbiglia. IFC Films
Aug. 29
The Oogieloves in the Big Balloon Adventure
A group of friends tries to recover five magical balloons in time for a surprise birthday party. With Toni Braxton, Cloris Leachman, Christopher Lloyd and Chazz Palminteri. Written by Scott Stabile. Directed Matthew Diamond. Kenn Viselman Presents
Aug. 31
The Good Doctor
An ambitious but anxious young doctor gets a boost of self-esteem when he successfully treats a young woman for a kidney infection, but his enthusiasm soon turns into an obsession. With Orlando Bloom and Riley Keough. Written by John Enbom. Directed by Lance Daly. Magnolia Pictures
Lawless
In Depression-era rural Virginia, three bootlegger brothers living on the edge of the law try to make something of their family moonshining operation. With Tom Hardy, Jessica Chastain, Shia LeBeouf and Gary Oldman. Written by Nick Cave. Directed by John Hillcoat. The Weinstein Co.
The Possession
The divorced parents of a 10-year-old girl are troubled by her increasingly erratic behavior, which seems to be linked to an antique wooden box she purchased at a yard sale. With Jeffrey Dean Morgan and Kyra Sedgwick. Written by Juliet Snowden and Stiles White. Directed by Ole Bornedal. Lionsgate
---