An Appreciation: Burt Reynolds ran through my youth as a charmer and a spinner of wiles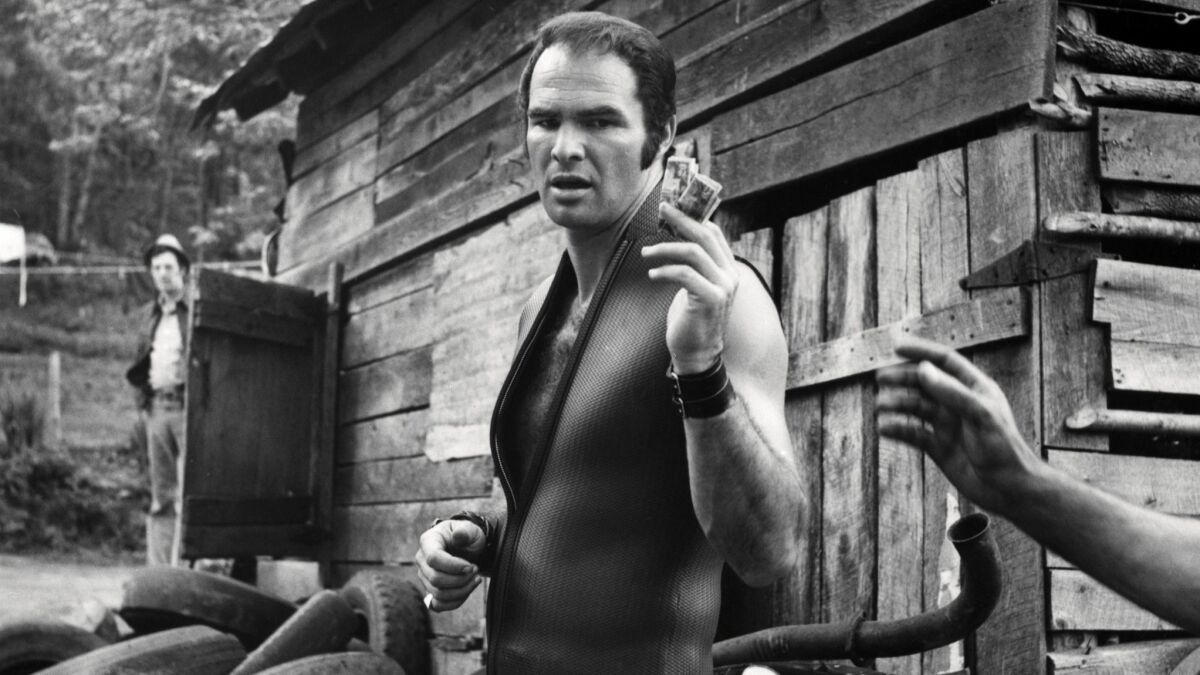 You had to like him, coming at you with a wink and a smile, as if he had swallowed all the world's secrets. He was cool, slick, a few steps ahead of the cops, a wiseguy with a Texas hat and a mustache, who back in the day was a box office sure bet, a star who could draw in men and women in equal measure, but for different reasons.
Burt Reynolds was a charmer, a spinner of wiles and self-deprecating grace. He was the kind of guy you'd sit with in a roadhouse and watch unfold a map to all the places you'd never been. He knew his roots and revered his Florida upbringing; his drawl was as smooth as a snake sliding through the Everglades. His films such as "Smokey and the Bandit" were celebrations of the Southern everyman — the one often underestimated — who pulls a prank and escapes to glory.
"Lots of movies ridiculed Southerners, and I resented them," Reynolds wrote in his 2015 memoir, "But Enough About Me." "I wanted to play a Southern hero, a guy who was proud of being from the South. . . Most of those folks are middle-of-the-road, not left or right. They believe in God, they work hard, and they love their country. They're the people I grew up with, and I like them."
Burt Reynolds as Bo "Bandit" Darville in 1977's "Smokey And The Bandit."
(Silver Screen Collection / Getty Images)
Singer Dinah Shore and Burt Reynolds appear together in Los Angeles on Nov. 5, 1971.
(Harold Filan / Associated Press)
Burt Reynolds and Sally Field in "Smokey and the Bandit."
(Michael Ochs Archives / Getty Images)
Burt Reynolds pinches the cheeks of comedian Dom DeLuise during a roast of Reynolds in Atlanta on Dec. 2, 1977.
(Steve Helber / Associated Press)
Burt Reynolds sits for a photo as he receives an award at UCLA in 1980.
(Iris Schneider / Los Angeles Times)
"Boogie Nights" star Burt Reynolds holds his award for supporting actor in a motion picture at the Golden Globe Awards in Beverly Hills on Jan. 18, 1998.
(Mark J. Terrill / Associated Press)
Burt Reynolds displays his Supporting Actor of the Year Award during the ShoWest Awards ceremony in Las Vegas on March 12, 1998.
(Lennox McLendon / Associated Press)
Burt Reynolds fields media questions about the film "The Crew" at the Loews Miami Beach Hotel on Aug. 20, 2000.
(Amy E. Conn / Associated Press)
Burt Reynolds is photographed by The Times on May 13, 2005, as he promotes his role in the film "The Longest Yard," a remake of his 1974 film.
(Mark Boster / Los Angeles Times)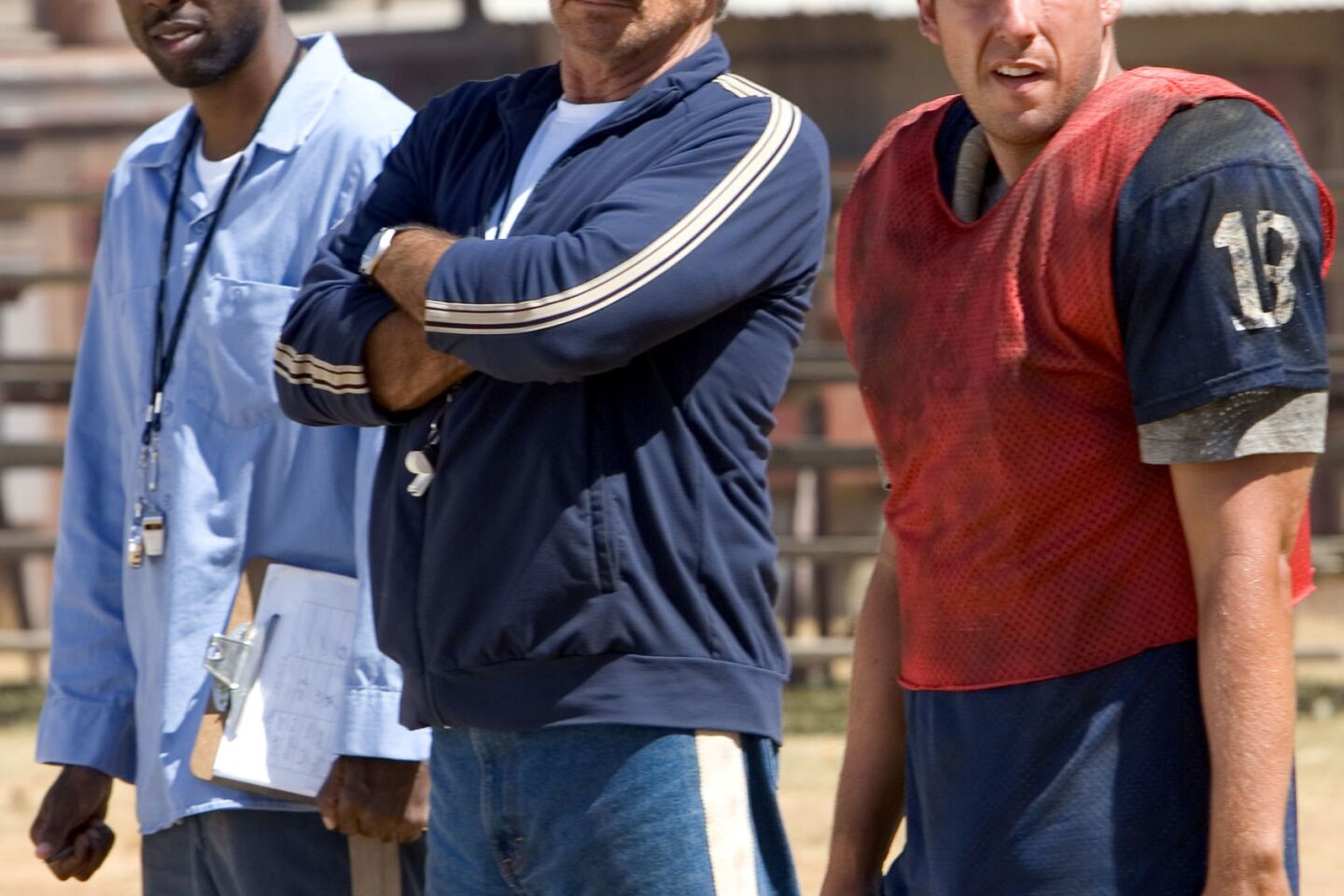 Burt Reynolds joins Adam Sandler in the 2005 remake of "The Longest Yard."
(Tracy Bennett / Associated Press)
Burt Reynolds at the Wizard World Chicago Comic-Con on Aug. 22, 2015.
(Barry Brecheisen / Invision / Associated Press)
Burt Reynolds sits on a 1977 Pontiac Trans-Am at the world premiere of "The Bandit" during the South by Southwest Film Festival in Austin, Texas, on March 12, 2016.
(Jack Plunkett / Invision / Associated Press)
Burt Reynolds poses for a portrait as he promotes the movie "The Last Movie Star" in Beverly Hills on March 21, 2018.
(Marcus Yam / Los Angeles Times)
Burt Reynolds sits for a portrait as he promotes his role in "The Last Movie Star" in Beverly Hills on March 21, 2018.
(Marcus Yam / Los Angeles Times)
RELATED: Burt Reynolds, wisecracking star of 'Smokey and the Bandit' and 'Deliverance,' dies at 82 »
He's gone, dead at 82. But he is forever part of my youth, a flickering piece of adolescence. His Lewis Medlock in "Deliverance" was a fierce survivor cut from the earth as if a character out of Hemingway. He was tough and hard-jawed. He braved the whitewater of a Georgia river and, as a boy played banjo and troubles gathered, led us into the strange, dark soul of America. You knew he'd endure. It was written on him. Like Ulysses.
That was his gift, to understand the laws of nature and defy them, even if sometimes that's impossible, in film and in life. It was all about staying clever, keeping your wits and finding humor in unexpected things. At times, though, I wondered if Reynolds pushed himself enough. He was ever self-effacing, but was he more seduced by the fun than by the hard work of his craft.
Many of his movies — the "Smokey" films, "The Longest Yard," "Gator" and "Starting Over" — became a scrapbook for the 1970s, when Reynolds was in his effusive, rakish prime. They played as antidote in a nation that was emerging battered from the Vietnam War and tumbling through a post-Watergate era, when trust was shattered by images of body bags coming home and a president fleeing from the White House in shame.
RELATED: Sally Field, plastic surgery and posing nude — Burt Reynolds discussed it all with The Times »
Reynolds was ingrained in the times, pop-culture personified, an actor who posed nude in a Cosmopolitan magazine photo spread that was at once a lark and a statement. He regretted it; Hollywood took him less seriously. Some things cannot be outrun. He racked up his share of bad movies — some excruciatingly so — and told the New York Times in 1978: "I think I'm the only movie star who's a movie star in spite of his pictures, not because of them; I've had some real turkeys."
He dropped out of sight for a while. But he made a stunning return in "Boogie Nights" (1997) when his turn as a porn producer with a Cadillac and a silver-black toupee earned him an Academy Award nomination. In a diner scene, the texture of his voice changes from old to mischievous to forsaken as if a man whose sins are laid next to his disappointments: "You got maybe 15, 20 guys standing around making sure your lighting is right. . .If you don't have those juices flowing down there and Mr. Torpedo in the fun zone. . ."
He was the Burt I knew from way back, only changed, carrying the things age turns into wisdom that bites and soothes. It was a voice of nuance and whispers. I was beginning to understand what he meant. The years were flying by me too, and, although he was much older, I liked that he was out there, causing a little ruckus, making eyes at the ladies, like he did when we were both young and I'd watch him from a row in the middle of a theater.
FROM THE ARCHIVES: Burt Reynolds is the comeback kid »
The last time I saw him was on TV in Adam Rifkin's moving film "The Last Movie Star." It's a homage to Reynolds, who plays Vic Edwards, a forgotten film star invited to receive a lifetime achievement award in an obscure festival held by a shrinking fan base in the rear of a Nashville pub. He arrives thinking it's something grander. It's not. It's an indignity and a lesson, a moment when a man must look at who he is, strip himself to his demons and flaws and carry on better in the time that's left.
"I'm tired of feeling like a has-been," says Vic, who lives alone with his booze, pill bottles and memories. "An audience will forgive a [terrible] Act II if you can wow them in Act III."
When that sinks in, there is a kind of peace in the loneliness of an empty house.
Twitter: @JeffreyLAT
Get our L.A. Goes Out newsletter, with the week's best events, to help you explore and experience our city.
You may occasionally receive promotional content from the Los Angeles Times.