Words and Pictures: Scott Hove, the artist behind the viral 'Cakeland' series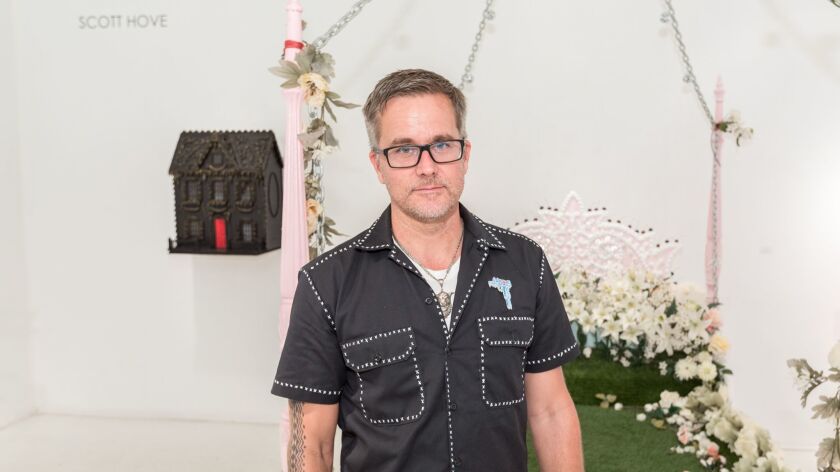 Artist Scott Hove thought it was time for him to go back to making cakes.
"I've been doing this work for probably about 12 years," Hove, 48, said of the confectionary catalyst for his "Cakeland" series. "And it's always positively received because of the nature of the experience, the immersive installations, and the spectacle of seeing cake presented in these different ways. This experience provides a relief and a means to integrate darkness into light, which is the base premise of my work."
The Los Angeles-based sculptor was a participating artist in Banksy's Dismaland installation in London in 2015. Now, Hove's latest series of sculptures and installations, "Last Ticket For the Beauty Train," is on display at KP Projects' La Brea gallery through Nov. 4.
According to his Facebook page, Hove began the "Cakeland" series of artificial cake sculptures and installations in 2005 with the intention of "navigating the area between euphoria and paranoia." The latest addition to the series, "Beauty Train," serves as commentary on the "decadence and excess of 2017 America," according to the gallery.
"I try and maintain an attachment to traditional Western values: rational thought, scientific argument, equality, human rights, democracy. All the things that are traditional that our country is supposed to embody," Hove said. "But the people who are in charge of that now would like us to forget about that and have us fight each other. So that is my subversive political message."
Originally part of a multi-gallery installation and art showcase, "Last Ticket for the Beauty Train" features nearly 30 new pieces, some of which were displayed at an immersive, walk-through installation at KP gallery's Chinatown pop-up (now closed). Other works are on display at the multi-media art showcase at the permanent La Brea gallery.
Here, the artist explains some of the La Brea sculptures in his own words:
'Felony Cake'
"In addition to doing objects, I do text cakes that have an irony to them or that have a political commentary. This one was intended to be kind of an ironic humor piece. Tragic, yet humorous. Making light of something very serious is something I do with these text cakes… It's just a personal way that I process things that I find disgusting."
'Dollhouse for Creeps'
"This goes back to a fascination I've always had with fake things, or representations of things that are real: miniatures, fake food, fake teeth. Just the impression that you get from something that [is not real]. So this piece is pretty decorative. The statement with it was more of enjoyment rather than anything pointed."
'Vanity Dresser'
" 'Vanity Dresser' is kind of like the dollhouse in its pre-existing form that I turned into a really decadent thing. I'm interested in fetishism and people's personal vanity and people's struggle to cling to their vanity. So this is just a beauty indulgence piece."
'You're Still Relevant'
"Right next to ['Vanity Dresser'], there's a tiny little pink cake that says, 'You're Still Relevant.' So you picture somebody sitting in front of the mirror all day long putting on their makeup trying to be perfect and they look at this cake to remind themselves like, 'You're still alive, you're still alive, don't worry.' "
'Armor for Beauty'
"I was going off on a fantasy tangent about my ideas about beauty, but also just the oligarchy and the failures of the Illuminati and everything. Like, if there was a war that took place, how it would look and what I would wear [as an artist] if I was going to fight right-wing guns or whatever. You go out there all militant, or you go out there super beautiful. I just sort of had this fantasy narrative of people going to war dressed as beautifully as they possibly can."
'Beauty Nap'
"This is also a very high decadence piece. I just wanted to create a really, really lush beauty experience, but also one that's reminiscent of mortality. So when you see just the flowers and the lilies and the grass and if you lie on it and you sleep on it, it's like taking a dirt nap, it's almost like being dead. If you look on there, it's like you're in repose for the last time. But it's so comfortable, and it's really comforting to look at. So it has, like, this tension between high beauty and mortality, and mortality is much more subtle. It's almost like the idealized version of mortality. So it's really underhanded, and it's very interactive. I really encourage people to get on it and take selfies of themselves."
"Last Ticket for the Beauty Train" is on display at the KP Projects gallery at 170 S. La Brea Ave. through Nov. 4 from noon to 6 p.m. Tuesdays through Saturdays. For more information, visit kpprojects.net
follow me on twitter @sonaiyak
---
From the Emmys to the Oscars.
Get our revamped Envelope newsletter, sent twice a week, for exclusive awards season coverage, behind-the-scenes insights and columnist Glenn Whipp's commentary.
You may occasionally receive promotional content from the Los Angeles Times.