Billie Jean King and Emma Stone on 'Battle of the Sexes' and the enduring fight for equality
The 1973 Battle of the Sexes tennis match between Billie Jean King and Bobby Riggs, and the surrounding socio-political environment for women (and LGBTQ people), is the subject of the upcoming film "Battle of the Sexes," starring Emma Stone as King and Steve Carell as Riggs.
The Times spoke with Stone and King in a joint phone call about the match, its enduring impact on the fight for gender equality and what that looks like for the pay equity conversation currently going on in Hollywood.
Every person should [get] equal pay for equal work. The men have the power. We need them to step up, because they could do this overnight… Once women are making the same, the world will be a better place.
— Billie Jean King
Ben Stiller pushes himself in new direction 'Brad's Status' and 'The Meyerowitz Stories'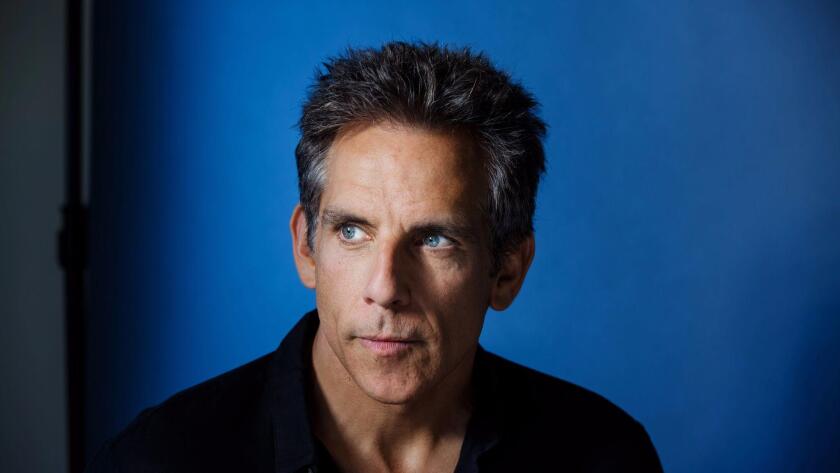 In two movies this fall, Ben Stiller can be seen pushing himself in new directions as an actor, finding idiosyncratic, serio-comic tones to explore characters who find themselves in midlife crises and at crossroads perhaps not so far from where Stiller may currently also find himself.
Admitting he didn't at first naturally connect the two roles himself, Stiller noted how it has become meaningful to him that in "Brad's Status," written and directed by Mike White, he plays a father struggling to relate to his son, and in "The Meyerowitz Stories," written and directed by Noah Baumbach, he plays a son trying to get closer to his father.
I happened to be at a place in life where I have an older father and I have a young son, so there's that place where you're dealing with both and figuring out how to navigate that.
— Ben Stiller
Angela Robinson dishes on the origin story of 'Professor Marston and the Wonder Women'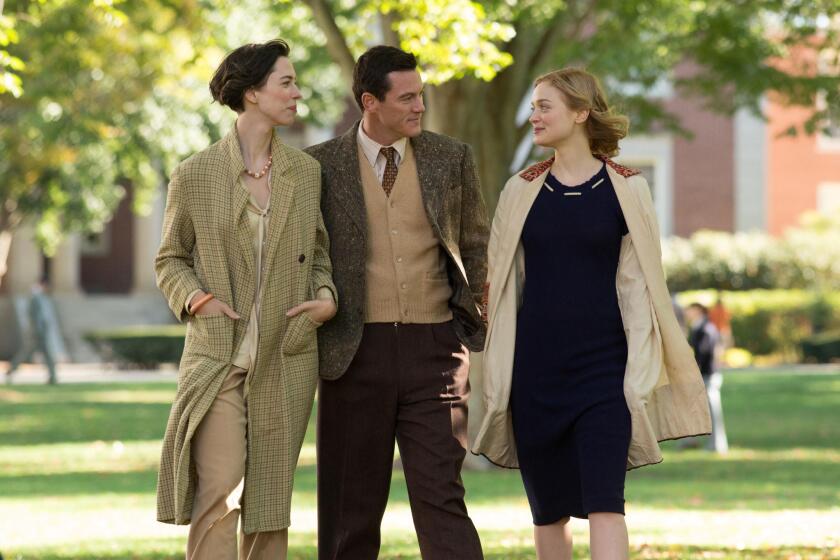 Writer-director Angela Robinson first came to the story of William Moulton Marston, Elizabeth Marston and Olive Byrne more than eight years ago as, in her words, "a straight-up Wonder Woman fan." This was well before the recent rush of books on the origins of the character and certainly without any idea that her project on the three of them would come out in the wake of the landmark success of a "Wonder Woman" movie.
I quickly was like, 'I can't tell a movie about Wonder Woman without exploring the women,' And I feel like that's what Marston was engaged in too, his fascination that manifested in Wonder Woman. 
— Angela Robinson
Richard Linklater's latest film, 'Last Flag Flying,' takes a nuanced look at how friendship affects aging/masculinity
If you're Richard Linklater, you can't really top the past few years, which saw the release of such landmark work as "Boyhood" and "Before Midnight," can you?
Yet here comes the 57-year-old with his low-key intimacies and profound digressions once more, prepared to take awards season by storm with "Last Flag Flying." The Amazon/Lionsgate release, set to open Nov. 3, is a reunion movie that stars Bryan Cranston, Laurence Fishburne and Steve Carell as a group of Vietnam War veterans at the start of the second Iraq war — and contends with such big topics as aging, masculinity, friendship, responsibility and war.
"I like the idea of three guys getting back together and what that means. The relationships of old friends is always fascinating. Because of course it's also about the long-term relation with yourself — how you're the same and how you're different."
— Richard Linklater
With four films coming this year, Domhnall Gleeson is aiming for much more than a 'Star Wars' villain
After seeing Domhnall Gleeson's 2017 filmography, no one can ever accuse him of being typecast. The 34-year-old Irish actor has four wildly different projects arriving this fall, each pushing Gleeson into new emotional territory.
"What I like about it is they're all different sorts of films," Gleeson says, sitting on a couch in the Soho Hotel in London. "I was reading an interview awhile ago with an actor I really like – I think it was Ryan Reynolds – and he said what he would like to do is to be in different genres of film and try to contribute to all of them. I think that's a good model for a career."
All the movies you can see this fall, from blockbusters and family films to indies and Oscar contenders
The 2017 Fall Movie Preview is a snapshot of the films opening through early November, from "It" to "Thor: Ragnarok." Release dates and other details are subject to change.
Taika Waititi and the 'Thor: Ragnarok' cast introduce the newest faces of the Marvel Cinematic Universe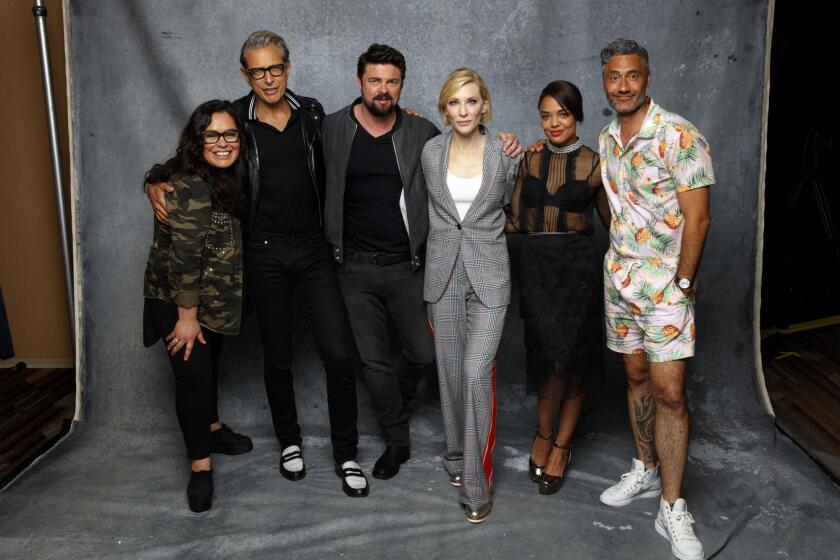 "Thor: Ragnarok" might be the third title in the Marvel Cinematic Universe about the god of thunder, but this colorful deviation is no mere knockoff of its predecessors. The driving force behind the film's electric, retro-tinged changes is director Taika Waititi, best known for writing and directing the cult comedies "Hunt for the Wilderpeople" and "What We Do in the Shadows."
"Ragnarok," which opens Nov. 3, finds Thor imprisoned on the planet Sakaar, where he must fight to survive in the Grandmaster's gladiator games. It's the stuff of life and death. But Waititi didn't lose sight of the fact that it's still entertainment.
Never forget that we're making a cosmic adventure with a space Viking.
— Taika Waititi, director
And while it's easy to get caught up in the whirlwind of Waititi's aesthetic changes (Thor cut his hair!), perhaps the most exciting addition to the Marvel universe is the new cast members, who feel like they were plucked from a late night, Internet fan casting session. All your faves are in this flick. Jeff Goldblum, Tessa Thompson, Karl Urban, Rachel House and Cate Blanchett are all part of Waititi's "space Viking" opus.
So we rounded up the newbies to find out who they're playing and what it's like being on team Marvel.
Denis Villeneuve explains how 'Blade Runner 2049' is no replicant of the original
When he signed on to direct "Blade Runner 2049," which hits theaters Oct. 6, Denis Villeneuve was determined to carry on the groundbreaking aesthetic of director Ridley Scott's original 1982 neo-noir sci-fi thriller. At the same time, he didn't want to create a mere replica — or replicant, as the case may be.
"The movie we did is deeply inspired by the first movie, but we tried not to become a pastiche or parody," says the French Canadian director behind such films as "Arrival" and "Sicario." "We used elements from the first movie with humility and tried to find a strength in them. But this movie has its own personality."
Villeneuve walks us through his film, one scene at a time.
In 'dangerous and harsh' locales, cinematographer Mandy Walker looked for beauty in 'The Mountain Between Us'
In 20th Century Fox's romantic drama "The Mountain Between Us," Kate Winslet and Idris Elba star as two strangers stranded together atop a remote snow-covered mountain after a plane crash. The Times caught up with cinematographer Mandy Walker to discuss the challenges behind filming on a frozen mountaintop for the film from director Hany Abu-Assad.
"Hany wanted everything to be as realistic as possible. And the actors were so amazing. We really went to those locations and went up to between 10,000 and 11,000 feet, we got up in a helicopter, and it got down to -40 [degrees Celsius] sometimes. The challenge for me was that Hany also said, 'I want this film to be elegant and I want to move with the actors as they're traveling on their journey.' "
Sometimes we go a little colder and a little darker when we feel that the characters are maybe going to die, and we're always moving with them. We want the audience to feel like they're on the journey. They're in a situation that's really dangerous and harsh, but beautiful.
— Mandy Walker
'The Shape of Water,' 'Lady Bird' and other fall festival movie premieres that Oscar voters will be watching
The movies listed — premiering at festivals in Venice, Telluride and Toronto — will likely comprise much of the meat of this year's Oscar race. (Also factor in "Dunkirk," Sundance standouts "Call Me by Your Name," "The Big Sick" and "Mudbound," and Cannes favorites "Wonderstruck" and "The Florida Project.")Here's a look at how the upcoming premieres stack up.
'Lady Bird'
Story: Rebellious Catholic high school girl (Saoirse Ronan) looks to escape Sacramento and move to New York in Greta Gerwig's directorial debut.
Pedigree: The talented Ronan already owns two Oscar noms.
'The Shape of Water'
Best case: Dreamy Guillermo Del Toro fairy tale marks a return to form for the filmmaker and showcases the talented Sally Hawkins.
Worst case: Festival reviews touting the movie as " 'Creature from the Black Lagoon' directed by Douglas Sirk" prove catnip for cineastes but not so much for the general public.
It was hard for 'Stronger' subject Jeff Bauman to face who he really was
After Jeff Bauman watched "Stronger" for the first time, he wasn't sure how he felt. He was hot, that was for certain; he couldn't stop sweating. He just wanted to go home and sleep.
So that's what he did. But when he woke up the following morning, he was still having trouble accepting the depiction of himself in the film. The movie, opening Sept. 22 and based on the 31-year-old's own book about losing his legs as a result of the Boston Marathon bombing, didn't shy away from Bauman's struggles.
It portrayed me partying and drinking and not showing up for therapy once a week when I should have been there three times a week. That's real. I was lost going through this. He got me totally right. But was hard to face it and see that other people saw that.
— Jeff Bauman
Bill Skarsgard's Pennywise from 'It' looks to leap off the page and into the psyche of viewers
Heath Ledger's Joker is rooted in the real; you can break down the psychology. But Pennywise is not a real person.
— Bill Skarsgard
The villain from Stephen King's "It" terrified when he was left to childhood imaginations in the author's 1986 doorstopper. And he is likely to send similar shudders after appearing, in the form of young Swedish actor Bill Skarsgard, in the new Warner Bros. release opening Friday.
One of the great fixtures of modern literary evil, Pennywise, with the help of the 27-year-old Skarsgard, is attempting to jump mediums and give a new generation an injection of fear.