13 Images
Twelve patriotic films
'Captain America: The First Avenger' | 2011
Patriotic plot: After scrawny everyman Steve Rogers (Chris Evans) is deemed unfit for military service during World War II, he signs up for a top-secret project that physically transforms him into a Nazi-fighting superhero.
(Jay Maidment / Marvel Studios)
1939 | 'Mr. Smith Goes to Washington'
Patriotic Plot: Idealistic Jefferson Smith (Jimmy Stewart) is appointed to fill a vacancy in the U.S. Senate. Confronted with crooked politicians and corrupt practices in Washington, he refuses to give up fighting for a democratic government.
(Academy of Motion Picture Arts and Sciences)
1942 | 'Yankee Doodle Dandy'
Patriotic plot: It's the all-American rags-to-riches story of George M. Cohan, an entertainment legend. Tracing his start in vaudeville to his retirement and comeback, the film was a huge spectacle in the grand tradition of movie musicals.
(Turner Entertainment)
1993 | 'The Sandlot'
Patriotic plot: This classic coming-of-age kids' movie is saturated with American nostalgia, depicting a summer full of swimming in the public pool, telling ghost stories at treehouse sleepovers, and playing baseball by the light of Fourth of July fireworks.
(John Bramley / 20th Century Fox)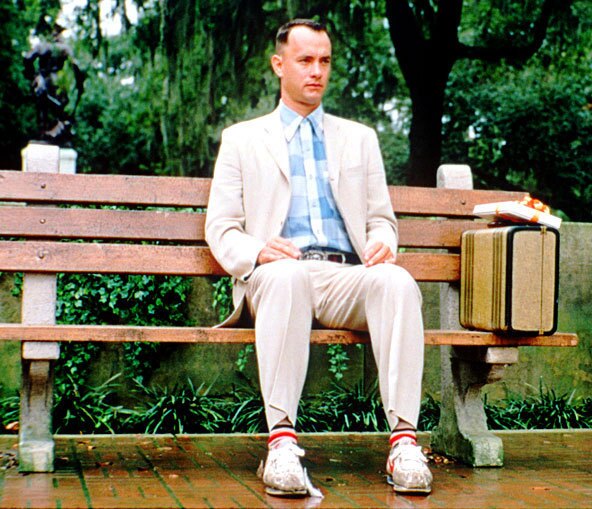 1994 | 'Forrest Gump'
Patriotic plot:
Tom Hanks
stars as Forrest, a man who may be a little slow when it comes to intellectual capacity, but lives his life to the fullest. He represents the U.S. as a soldier in Vietnam and as an international table tennis champion, but his most important contribution to the people may have been his ability to unify the country with his simple act of running coast to coast, imparting common-sense wisdom as he went along.
(Phillip Caruso / Associated Press)
1995 | 'Tall Tale'
Patriotic plot:
A boy (Nick Stahl) who must save his father's farm teams up with a legion of American legends, including Paul Bunyan (Oliver Platt, pictured), Pecos Bill (
Patrick Swayze
) and John Henry (Roger Aaron Brown).
(Melinda Sue Gordon / Walt Disney Pictures)
1996 | 'Independence Day'
Patriotic plot:
What could be more patriotic than Americans defending their homeland on the Fourth of July? Of course it isn't foreign invaders, but otherworldly envoys attacking this time. The movie kicks off July 2 when an alien mothership deploys 36 saucers to hover menacingly above the world's most populated cities. Heroes emerge as the extraterrestrials attack, including President Thomas J. Whitmore (
Bill Pullman
) and Marine Corps Capt. Steven Hiller (Will Smith, pictured). Whitmore dodges the massacre by jetting off in Air Force One, while Hiller takes the aliens head on and even manages to trick one into crashing in the Grand Canyon. By July 4, the unlikely pair and their fellow survivors are ready to launch an attack of their own.
(Claudette Barius / 20th Century Fox)
1998 | 'Saving Private Ryan'
Patriotic plot:
After storming the beaches of Normandy, a company, lead by Capt. John H. Miller (
Tom Hanks
) sets out to find a missing soldier. Going behind enemy lines, they search for Pvt. 1st Class James Francis Ryan (
Matt Damon
), whose brothers were lost in the war. Despite losing men of their own, the soldiers continue their search.
(David James / Paramount Pictures)
2000 | 'The Patriot'
Patriotic plot:
Mel Gibson
plays normal, goodhearted farmer Benjamin Martin, living with his family in Colonial times during the
American Revolution
. But when a British officer kills his son, he grabs his trusty axe and joins the military effort, helping take out the unwanted forces occupying his lands.
(Columbia Tristar)
2003 | 'Legally Blonde 2: Red, White & Blonde'
Patriotic plot:
Elle Woods, played by
Reese Witherspoon
(right), goes to
Washington
, on behalf of her pup Bruiser. The Harvard law grad takes on the Capitol as an aide for congresswoman Victoria Rudd (
Sally Field
, left) to work on a bill that will end animal testing.
The towheaded fashionista is joined by her trusty friend and manicurist Paulette (Jennifer Coolidge), who delivers this nationalistic quote when Elle wears her country's colors: "You look like the Fourth of July. It makes me want a hot dog real bad." Watch the clip
here
.
(Sam Emerson / MGM Pictures)
2004 | 'National Treasure'
Patriotic plot:
While this action-packed
Jerry Bruckheimer
film attempts to rewrite history and, at one point, has
Nicolas Cage
using the Declaration of Independence as a shield against bullets, nearly every scene includes an artifact from or a monument to American history.
Cage plays
Benjamin Franklin
Gates, a fifth-generation treasure hunter who travels the globe
pursuing an impressive war chest
, which was hidden, forgotten and rediscovered by the crusading medieval knights who eventually spawned the Freemasons. However, the map to this national treasure is written with invisible ink on the very document that helped the colonists break from the British. The careening treasure hunt (also starring
Jon Voight
,
Sean Bean
, Diane Kruger,
Christopher Plummer
and Justin Bartha) spawned a 2007 sequel
"National Treasure: Book of Secrets,"
which revolved around
Abraham Lincoln
's assassination and Mt. Rushmore.
(Buena Vista Pictures / Robert Zuckerman / Associated Press)
2008 | 'John Adams'
Patriotic plot:
This
Golden Globe
and Emmy-winning TV miniseries about our second president,
John Adams
(
Paul Giamatti
), and his role in establishing the United States starts with the Boston Massacre and ends with his death on July 4, 1826, 50 years after the Declaration of Independence was signed.
(Kent Eanes / HBO)