What Patricia Arquette said that drove the audience wild at the GLAAD Media Awards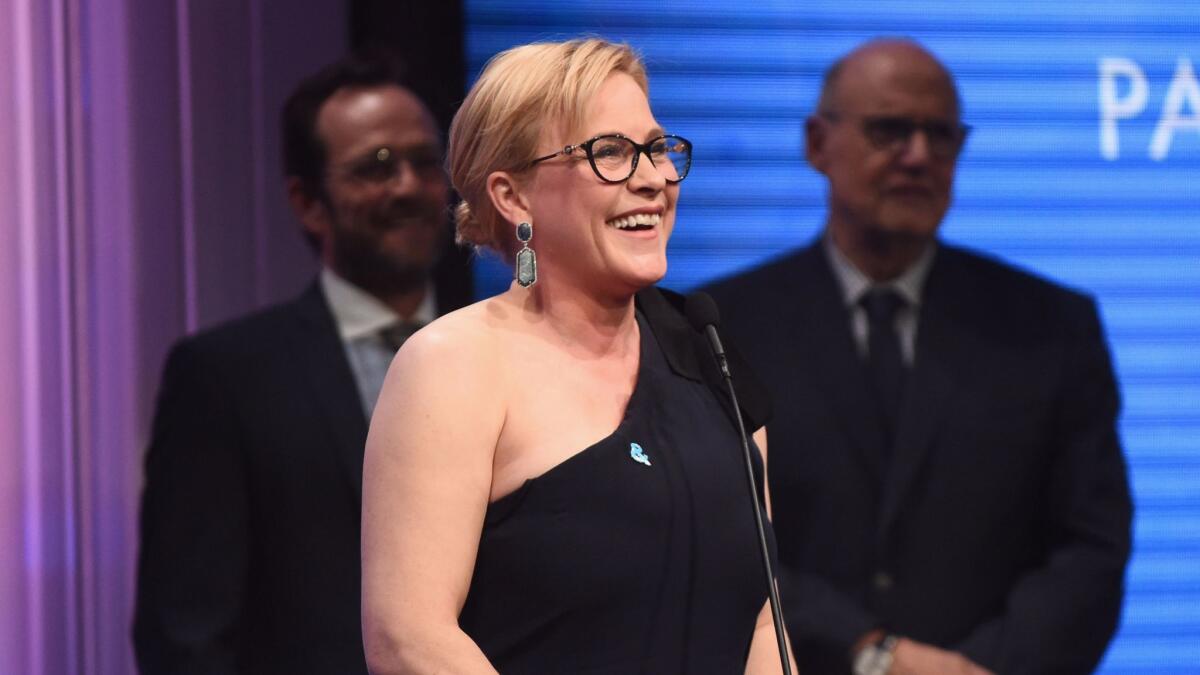 Patricia Arquette's acceptance speech at the GLAAD Media Awards on Saturday night was nearly drowned out by the audience's raucous applause.
The outspoken actress, who used her 2015 Oscars acceptance speech to speak out against the gender wage gap, got choked up accepting the organization's Vanguard Award, reading a speech that focused on her sister Alexis, a trans woman who died last year because of AIDS-related complications.
"My sister Alexis challenged the movie industry at its core," she said. "She had a very successful career as an actor and she knew she was risking losing her livelihood in living her truth, that she would lose parts in living her life as a trans woman. She risked it all because she knew she couldn't live a life that was a lie. So whatever mark I have made in this life in activism will always pale in the light of Alexis' bravery and the light of every trans kid growing up in America."
Teary-eyed, Arquette added: "Visibility matters, and right now trans visibility really matters. It is not an easy life to be a trans person in the United States of America today."
Held at the Beverly Hilton, the 28th annual awards ceremony and fundraiser felt especially poignant following the election, controversies over the treatment of trans students in schools and the Pulse nightclub shooting last June. The ceremony, hosted by comedian Cameron Esposito, had no shortage of jabs at President Trump.
"Donald Trump lost the popular vote this year," Esposito said to a chorus of whoops and cheers from the audience. "He was inaugurated in front of a crowd as tiny as his petulant baby hands. Donald if you're watching, to you I say, Meryl was too easy on you."
The night kicked off with a live auction, during which GLAAD raised $85,000. (That was before donations from the crowd went on to exceed $280,000.) The opportunity to write, produce and record a song with songwriter Justin Tranter went for $21,000; a piece of artwork by the artist Mr. Brainwash was snapped up by Tranter himself for $14,500.
Pop star Troye Sivan was the other big honoree of the night, taking home the Stephen F. Kolzak Award. At 21, Sivan was the youngest person in GLAAD history to do so.
The Australian singer, who came out publicly in a YouTube video in 2013, dedicated his award to drag queen Marsha P. Johnson, transgender activist Sylvia Rivera, gay rights activist Bayard Rustin and writer James Baldwin, among others.
He also shouted out his mom, Laurelle Mellet, who organized a petition in Australia that helped to abolish gay panic as defense in a murder charge. "Basically, if you kill a guy in a state in Australia and you claim that they made a pass at you, you get your sentence downgraded from murder to manslaughter," Sivan said. "And my mom just helped abolish that like last week." The audience rose in a standing ovation to Mellet, who sobbed during her recognition.
"Please don't let anyone strip you of your truth and your love, because those are the foundations of who we are as a community," Sivan said. "In a time where you might be tempted to retreat into the shadows, I ask you to please be louder. Keep holding hands, keep finding pride in your identity, keep standing up for those in our community who are most vulnerable. Keep love in your heart and don't forget to share it with the world."
Among the stars in the crowd were Mary J. Blige, Josh Hutcherson ("The Hunger Games"), Trevante Rhodes ("Moonlight"), Jussie Smollett ("Empire"), Carly Rae Jepsen, Tatiana Maslany ("Orphan Black"), Tom Payne (whose character, Jesus, on "The Walking Dead," recently came out) and Jeffrey Tambor ("Transparent"). Broadway star and Tony winner Cynthia Erivo ("The Color Purple") performed a stirring rendition of John Lennon's "Imagine" that brought the audience to its feet.
The award for outstanding drama series went to the Freeform drama "Shadowhunters," "Transparent" took home the award for outstanding comedy series and "Moonlight" won outstanding film (the only other option was "Star Trek Beyond"). Tarell Alvin McCraney, who wrote the semi-autobiographical story that became "Moonlight," accepted the award for the film, his second GLAAD award.
"In 2010, I won the GLAAD for this little piece called 'Wig Out,'" he said. "And I have to say, I didn't know if I would be here again. But I did think, 'What would I say if I won GLAAD again? What would I hope?'
"My hope was that I would be here standing because I told, finally, my story. That would've meant I had to get brave. That would mean I would have to have found the right allies, the right family, and it would have to come welling out of us, all together. And you would see broken, scared, black, sometimes gay, oftentimes queer, always Tarell standing in front of you."
The GLAAD Media Awards will air on Logo at 10 p.m. Thursday.
follow me on twitter @sonaiyak
Get the Indie Focus newsletter, Mark Olsen's weekly guide to the world of cinema.
You may occasionally receive promotional content from the Los Angeles Times.