Renowned Iranian film director Abbas Kiarostami dies at 76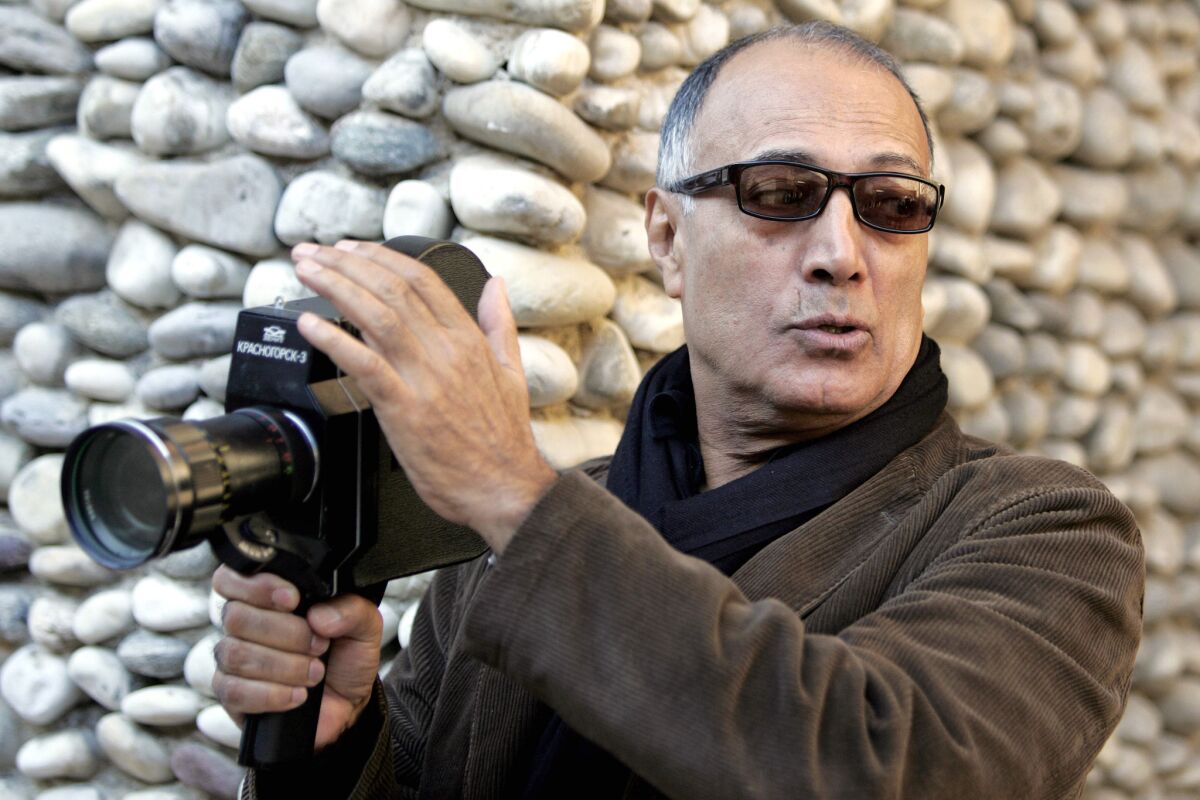 Abbas Kiarostami, the Iranian writer-director whose "Taste of Cherry" won the Palme d'Or at the Cannes International Film Festival in 1997, died Monday in Paris at 76, according to the Associated Press.
Born in Tehran in 1940, Kiarostami studied painting at the University of Tehran before working as a graphic designer. Kiarostami made an early career of creating Iranian television commercials, eventually transitioning to making films for children.
Kiarostami stayed in Tehran through the Khomeini revolution, working within the boundaries set for him by censors.
"No film is apolitical. There are politics in all films," Kiarostami told The Times in a 2013 interview. "Any film that is anchored in a society, any film that deals with humanity is necessarily political. There are politics in it, but I do think my role is to make audiences sense the politics indirectly."
Despite the political upheaval in his homeland, Kiarostami's films preferred instead to focus on the realm of intimate, telling stories about a child returning a classmate's book or a man's search for someone to assist with the aftermath of his suicide.
"My way of expression is full of complications and mystery because that's my perception of life," Kiarostami told The Times. "I've always said that my only inspiration in my films is taken from life. And as life is full of mystery, there is no other way I can represent life than in mysterious films. It's just my way of being."
It was the 2010 critically acclaimed "Certified Copy" starring Juliette Binoche that served as the director's first film to be shot and produced outside of Iran. Kiarostami moved on to "Like Someone in Love" in 2012, a film set and shot in Japan.
Kiarostami was one of the 683 individuals invited to join the Academy of Motion Picture Arts and Sciences on Wednesday, nearly 20 years after he won Cannes' top prize.
It was announced in March that the director was battling gastrointestinal cancer and had gone to Paris to seek further treatment.
Kiarostami is survived by two sons, Ahmad, a multimedia publisher, and Bahman, a documentary filmmaker.
Twitter: @midwestspitfire
ALSO
Why the academy's focus on international writers and directors matters
Michael Cimino, Oscar-winning director of 'Heaven's Gate' and 'Deer Hunter,' dies at 77
Jesse Williams and the academy just changed Hollywood's race conversation. What's next?
Get our L.A. Goes Out newsletter, with the week's best events, to help you explore and experience our city.
You may occasionally receive promotional content from the Los Angeles Times.