Film academy invites more women than men to key director, writer and producer branches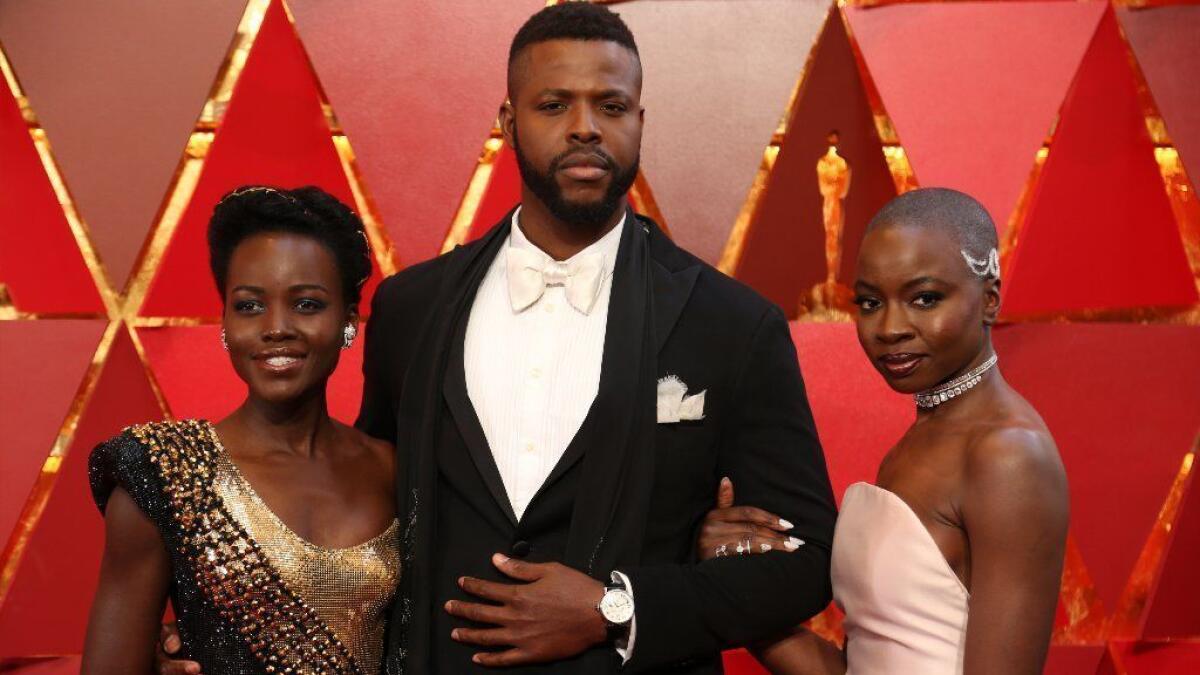 As of Monday, there are a whole lot more people in Hollywood who'd like to thank the academy.
In its latest step toward diversifying its historically white-male-dominated ranks, the Academy of Motion Picture Arts and Sciences opened its doors to the second-largest class of new members in its history: 842 industry professionals were invited to join the organization, down from last year's record-setting 928 but up from the previous year's 774.
Representing 59 countries, the group of invitees includes such celebrities as Tom Holland, Claire Foy, and Lady Gaga, who won the original song Oscar earlier this year for "A Star Is Born," as well as many performers, filmmakers and below-the-line professionals whose names may never grace a movie poster at your local multiplex.
Taken together, they represent the leading edge of an ongoing wave of change at the 92-year-old institution as it strives to meet its own ambitious diversity benchmarks.
In early 2016, facing a second consecutive year of #OscarsSoWhite controversy, the academy publicly announced an initiative to double the number of women and minorities in its ranks by 2020. Three years later, the organization has reached that goal with people of color and is on track to meet it with women next year.
As the academy has remade itself from the inside out, its voting membership has ballooned by more than 50% from 5,765 in 2012 to 8,733 today, with many of its new members coming from overseas. Including non-voting members, the academy's ranks have grown to nearly 9,800 in total, dramatically reshaping what has always been considered the entertainment industry's most exclusive club.
With its latest class, which is 50% female, up slightly from 49% last year, the representation of women in the organization has climbed to 32%. Twenty-nine percent of this year's invitees are people of color, down from 38% last year, holding the share of academy membership steady at 16%.
Notably, at a time when gender disparities in hiring remain a hot-button topic in the film industry, 10 branches of the academy invited more women than men this year, including — for the first time — producers, directors and screenwriters. The female directors brought into the academy's fold include Jennifer Kent ("The Babadook"), Nisha Ganatra ("Late Night") and Mélanie Laurent ("Galveston").
"The gender parity is exciting for cinema, not just the academy," said Kent, an Australian who was invited by both the writers and directors branches. "It's been so out of balance for so long."
Among the actors invited, who range in age from the 23-year-old Holland to 88-year-old Jean-Louis Trintignant, were three cast members from the 2018 blockbuster best picture nominee "Black Panther" — Sterling K. Brown, Winston Duke and Letitia Wright — and two actresses who starred in 1993's "The Joy Luck Club," Tamlyn Tomita and Rosalind Chao. (While Oscar nominees are frequently extended invitations for membership, Yalitza Aparicio, who earned a lead actress nod this year for her debut performance in "Roma," did not make the list, though her more experienced co-star, Marina de Tavira, did.)
Some of this year's invitees, including Emmy winners Elisabeth Moss ("The Handmaid's Tale," "Mad Men"), Alexander Skarsgård ("Big Little Lies," "True Blood") and Archie Panjabi ("The Good Wife," "Blindspot"), are better known for their work on television than in film. Many others work outside of the Hollywood studio system in the independent and foreign film worlds.
"Although on the one hand it feels surreal to be invited as an outsider filmmaker, on the other hand as a lifelong cinephile I'm excited to contribute to the pool of voices responding to new cinema," said writer and director Anna Biller, who has directed the low-budget feminism-inflected features "Viva" and "The Love Witch." "I think it's exciting that the academy is expanding their membership to more women, independent filmmakers and people of color, and it will be interesting to see if that changes the types of movies that are made and supported."
The large influxes of new members in recent years have dwarfed the classes of years past, which were limited by quotas and generally numbered around 100. That has generated grumbling among some within the academy's ranks who feel that standards have been slackened in the effort to boost inclusion.
In April of last year, producer and former studio executive Bill Mechanic wrote a blistering letter to academy president John Bailey resigning his seat on the board of governors in part over its handling of the diversity campaign.
"While allowing the academy to better reflect the world is a great idea, the wholesale numeric approach devalues the artistic criteria which has always made it a unique institution," Mechanic told The Times.
But many see that way of thinking as out of step with the changing times. (Never mind that the academy has long included numerous members of questionable cinematic achievement, including the likes of Erik Estrada, Meat Loaf and Lorenzo Lamas.)
"I just think that if membership doesn't change, then the Oscars don't change," said Josephine Decker ("Madeline's Madeline"), who was invited to join the writers branch. "To me, the only way the Oscars are relevant, period, is if they're speaking to now. I think it's vital that you invite change and you invite the voices of the people who are trying to do something new with the medium."
"We always have to do a better job of being more inclusive and representative of America," said documentary filmmaker Josh Fox, who earned an Oscar nomination for his 2010 film "Gasland." "It's extremely important we change major institutions like this to include people from other races. They've had problems in changing and it's a good sign that all these numbers are shifting, because we also need to have diverse political opinions."
The documentary branch, which has grown rapidly in the past several years, accounted for the second-largest group of invitees this year behind the short films and feature animation branch. "Proud to announce that the documentary branch has reached gender parity for first time," Roger Ross Williams, who represents the branch on the academy's 54-member board of governors, wrote on Twitter.
Even as the academy touts facts and figures showing its progress toward diversity, however, evaluating just how inclusive the organization has become is, to some extent, a matter of perspective.
In a landmark 2012 analysis, The Times reported that Oscar voters were then 94% white and 77% male. On the one hand, since 2015, the share of women in the film academy has grown by 7%, while the proportion of people of color has doubled. On the other hand, that still leaves the academy 68% male and 84% white, reflecting stubborn underlying inequities that remain in the film industry as a whole.
New member Jimmy Chin, who co-directed this year's Oscar-winning documentary feature "Free Solo," said the academy shouldn't let up on the gas.
"When it comes to diversity, nothing feels fast enough," Chin said. "We have a long way to go and I look forward to participating in the change. It's imperative, it's urgent, it's the job of culture to lead the way. We want to see real change happen and embraced in the industry even if it means story by story, film by film."
Vacationing in Maine, writer-director Kay Cannon ("Blockers") learned of her invitation via an email from her publicist as well as a message from filmmaker Ava DuVernay saying, "The academy looks good on you, lady." Scrolling through the list of invitees, Cannon was struck by the volume of women among the new members. It's a long overdue development, she believes.
"I feel like stories that are driven by women still don't get enough attention," Cannon told The Times. "There have been movies that might have been completely neglected by men — it's not what they're thinking or caring about — but to women they're everything we're thinking and caring about. That needs to have value. And now you feel like they'll be somebody in the room."
Times staff writers Amy Kaufman, Mark Olsen and Glenn Whipp contributed to this report.
Twitter: @joshrottenberg
Get the Indie Focus newsletter, Mark Olsen's weekly guide to the world of cinema.
You may occasionally receive promotional content from the Los Angeles Times.