Meet Hannah John-Kamen, breakout super-villain in 'Ant-Man and the Wasp'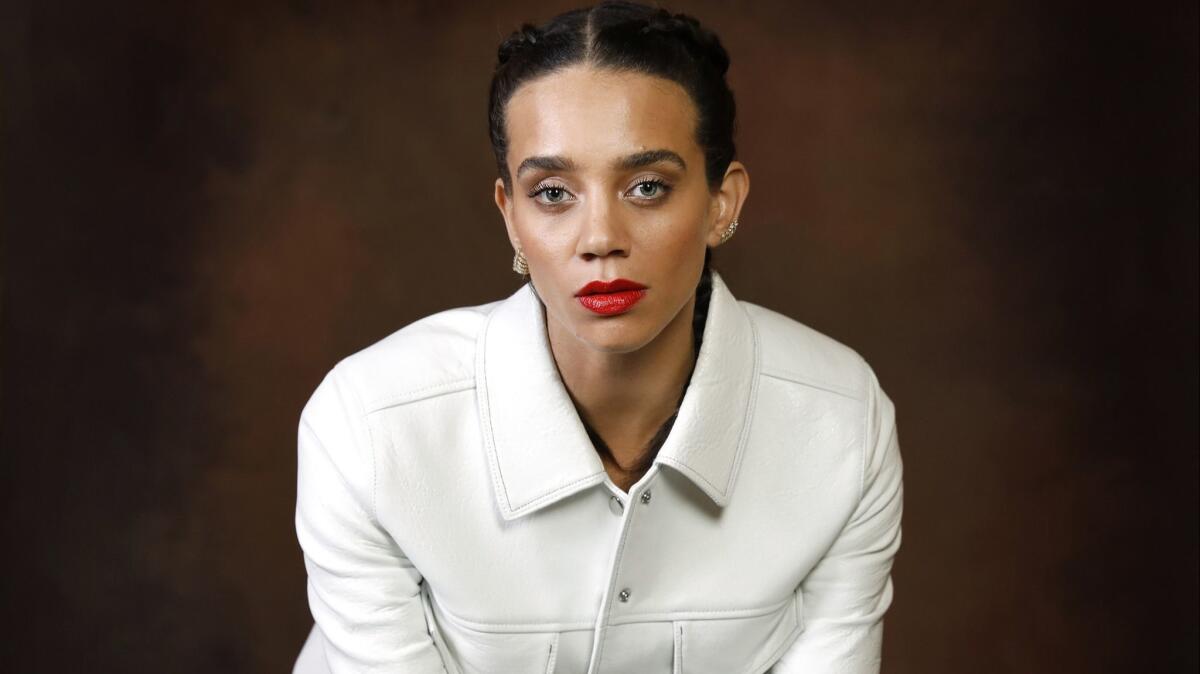 Hannah John-Kamen, the soon-to-be breakout star of Marvel's "Ant-Man and the Wasp," came to director Peyton Reed with a really, really good letter of recommendation.
"It said, 'Dear Peyton,' " explains Reed. " 'I'm excited you're doing the movie and I just want to put in the good word for Hannah. I worked with her and she was terrific. Signed, Steven Spielberg.'"
The endorsement from Spielberg — who directed her in her role as a deliciously unscrupulous gaming company exec in spring's "Ready Player One" — certainly didn't hurt. But John-Kamen, whose credits include "Black Mirror," "Game of Thrones" and Warner Bros.' big screen "Tomb Raider" reboot earlier this year, didn't need much of an extra boost.
She landed the role of Ghost, the super-powered antagonist of Disney's July 6 release, by wowing Reed and Marvel brass during a search for an actress who could hold the screen opposite "Ant-Man" stars Paul Rudd and Evangeline Lilly.
Not that she takes the gesture for granted.
"To have a letter from Steven Spielberg – come on, who says that out loud? It's really wonderful, and it's an honor," she says and smiles bashfully in a suite at the Langham Huntington in Pasadena, fondly recalling how they'd sing show tunes and standards between scenes — "Singin' in the Rain," "West Side Story," Sinatra. "And he's got a great voice," she adds. "I think on-set karaoke should be a thing on every set now."
Review: 'Ant-Man and the Wasp' is a bright, cheery tonic from the Marvel superhero factory »
The London-based actress, 28, kicked off her screen career seven years ago in British television ("Whitechapel," "The Hour") but won a sci-fi following with "Killjoys," the SyFy space series she's starred in for three seasons and counting as the tough-as-nails leader of a team of bounty hunters.
"It was just incredible, and I'm still pinching myself," says John-Kamen of the Marvel process. She put herself on tape for the "Ant-Man" role while shooting "Killjoys" in Toronto, where she films four months out of the year. During a camera test at Atlanta's Pinewood Studios the actress impressed producers not only with her dramatic skills but with her physicality, performing stunt sequences as part of her tryout.
"I was amazed at how much she was able to do in camera with respects to fight choreography, in addition to the intensity and the acting chops I'd already seen," says producer Stephen Broussard. "It's always better if you're getting this from the actors in-camera."
When she got the Marvel Cinematic Universe job, her celebration had a soundtrack. "I jumped around and played Miley Cyrus," she says and laughs. Her victory song? The Miley banger "Do My Thang."
The sequel to 2015's "Ant-Man" finds size-shifting superhero Scott Lang (Rudd) under house arrest two years after running off with rogue Avengers in "Captain America: Civil War." As Hope van Dyne (Lilly) and her father, Hank Pym (Michael Douglas), embark on a new mission, a mysterious nemesis with her own high-tech suit enters the picture with her eyes on Pym's technology, and the powerful ability to "phase" through material objects.
READ MORE: How 'Ant-Man and the Wasp' continues Marvel's push for gender equality »
Brought to life by John-Kamen, Ghost is an example of gender-flipping that not only serves the narrative, but also moves the franchise forward as Marvel finally propels more female characters to the fore. (Next year's "Captain Marvel," starring Brie Larson, will be the 21st MCU movie and the first in the franchise to be fronted by a solo female heroine.)
Like all new Marvel recruits, John-Kamen prepared by reading the comics that featured the character — but it was short work, given Ghost's limited presence in the comics. She found the lack of substantial lore exciting because it presented an opportunity to create something new: "I was like, 'Brilliant!' "
Rewritten from a male hacker to a female operative in "Ant-Man and the Wasp," the character took on more complexity and depth. Re-envisioning her as a female antagonist allowed the filmmakers to conceive of a back story that aligned her ability to "phase" through matter — and the terrible toll that her powers exact on her — with the larger theme of fathers and daughters that echoes throughout the "Ant-Man" films.
"When she read [for the role] she was really tough and physical, but she also played the vulnerability of that character," says Reed. "We liked the idea of presenting an antagonist who has these powers, which are potentially dangerous and lethal, but they're an affliction for her more than they are a power."
Even the way John-Kamen fought as Ghost lent the performance a vital physicality, he added. "She moved in a way that was fierce, but also balletic," he said, noting that she frequently insisted on performing stunts herself without the aid of a double. "Obviously there are some stunt people in the movie, but the bulk of it is Hannah."
Donning Ghost's futuristic suit, a high-tech skin she depends on for more than just combat, helped John-Kamen instantly transform into the volatile character. "I'd put the suit on and it would make me do this thing with my hands," she says, clenching her fists, "and when I was walking — I felt like the Terminator. I had this swag when the suit was on, and when the suit was off I'd kind of get shy."
But the emotion and pain beneath the physicality, both in and out of that suit, are the elements that make Ghost a surprisingly sympathetic baddie.
"I approached her as not being a villain," says the actress. "In my mind it's everyone else's fault; they're the bad guys. I'm the good guy, and it's every man and woman for herself. She's a complex cookie. She's got a lot of depth and she's vulnerable." She smiles. "I think the audience are going to be very, very confused as to how they feel about her."
It's not the first time a character has been re-imagined from the comics in the MCU. Ghost was predated by the Ancient One, a character that appeared in the comics as a male Tibetan mystic but, in a case of controversial casting, was played by white actress Tilda Swinton in 2016's "Doctor Strange."
Marvel creatives heard the outcry over erasing the character's Asian identity, and Broussard — who also worked on previous MCU films including "Doctor Strange" as a member of the Marvel creative team under executives Victoria Alonso, Kevin Feige, and Louis D'Esposito — says they continue to learn by listening.
"You have to realize that these things are popular and they carry a sort of cultural responsibility to them," he said of the blockbusters that comprise the multi-billion dollar Marvel franchise. And with great responsibility comes great… humility, he suggested. At least when fans and critics are calling out even unintentional tone-deafness.
"If perhaps sometimes your first instinct is to be defensive about a choice when it's criticized, you have to put that away and realize people are going to come to you with a point of view that is worth listening to," he said.
Any young girl, any mini-me watching the movie, can go, 'I want to do that.'
— Hannah John-Kamen
In the interim, Marvel delivered a groundbreaking hero in "Black Panther," directed by Ryan Coogler and starring a largely black cast that included Chadwick Boseman as the MCU's first black lead superhero. The company took another long-awaited step forward with "Captain Marvel," filmed this year with directors Anna Boden and Ryan Fleck at the helm.
And when it came to casting Ghost in "Ant-Man and the Wasp," producers opened their search to performers of all ethnicities.
"It was more about, if we're going to reinvent this character from the ground up from what it was in the books, we should be open to all sorts of people," explained Broussard of the colorblind casting search. "We just wanted to be surprised with a great actress."
When they cast John-Kamen, who is biracial, the character of Ghost became not just a woman, but a woman of color — and one for whom neither gender nor ethnic background is a defining characteristic or plot point, but a normalized part of her reality. Just like the predominantly white male heroes and villains who have come before.
"Yes – the wonderful thing is, it doesn't matter," says John-Kamen. "It's not about that! It's not shining a torch on it, but it isn't ignoring it. It's just there, and it's great. Any young girl, any mini-me watching the movie, can go, 'I want to do that.'"
Putting diversity on screen in the Marvel universe is "important to all of us," says Reed. "It's really important to me that people want to see themselves reflected in movies, and this is not white America anymore — thankfully… [The MCU] is a universe filled with white people, and I think it needs to be less so. It just feels obvious to me."
The grand result of the team's open creative and casting process is an intriguing antagonist whom audiences might want to stick around. "Ant-Man and the Wasp" may be one of the smaller pictures in the MCU, but its timing — as the first installment to follow the universe-shaking events of April's "Avengers: Infinity War" — has big implications.
Could we see more of Ghost in the future of the MCU, particularly in the wake of Thanos' fateful "Infinity War" power-snap? Reed grins at the prospect of Ghost functioning as a wild card in the Marvel toolbox. "I like the idea of, potentially in the future of the MCU, is she going to be a hero? Is she going to be a villain? It's complicated...
"It's an interesting thought," he allows, "but I cannot comment on it at this point in time."
Likewise, John-Kamen might be new to the Marvel fold but she already knows how to keep top secret info under wraps. Days after the "Ant-Man and the Wasp" press tour she's heading back to Toronto to film the fifth and final season of "Killjoys," whose fourth season begins airing this month.
Now that she's penetrated Hollywood, is she clearing her schedule after a banner 2018 racking up roles in three back-to-back studio tentpoles?
"You actually, literally, never know what's going to happen," she says of her uncertain Marvel destiny with a teasing smile. "You never know what the future holds."
Get our L.A. Goes Out newsletter, with the week's best events, to help you explore and experience our city.
You may occasionally receive promotional content from the Los Angeles Times.