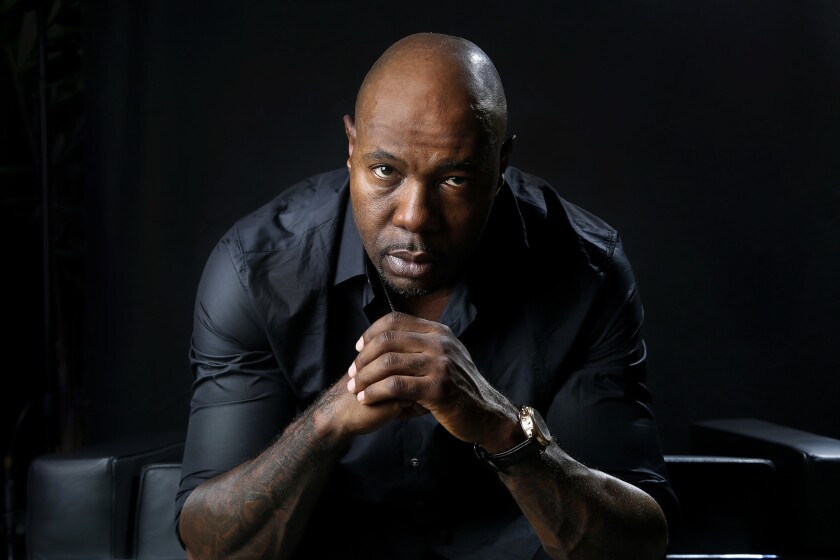 Reporting from HAVERHILL, Mass. —
A pair of 50-pound dumbbells rested on the ground outside of Antoine Fuqua's trailer on the set of "The Equalizer," which was filming at an abandoned Lowe's hardware store several miles outside of Boston.
It would be easy to assume they were there for Denzel Washington, who plays the reluctant but nonetheless lethal vigilante Robert McCall in the crime drama adapted from the 1980s television series, which opens nationwide Sept. 26.
But it wasn't Washington who was curling the hefty weights during "The Equalizer's" shooting breaks last summer. It was Fuqua, the 48-year-old filmmaker whose movies have become as muscular as the director's physique. It's a good thing he's in shape, as there have been many battles since he delivered his breakout film 13 years ago; it's telling that the director and his once and future star share a boxing coach.
Much has happened — and not all of it rewarding — to Fuqua since he directed Washington to his lead actor Oscar-winning performance in 2001's "Training Day." He clashed with Bruce Willis in making "Tears of the Sun," was prevented by Universal Studios from reteaming with Washington in "American Gangster" and made several critically and commercially middling dramas, including "King Arthur," "Shooter" and "Brooklyn's Finest."
The director flirted with several high-profile projects, including "Unbroken," based on the bestselling book about World War II hero Louis Zamperini, but it fell through (Angelina Jolie got the gig), and Fuqua's documentary about rap mogul Suge Knight lost its momentum.
But then some terrorists in the White House restored Fuqua to the spotlight.
"Olympus Has Fallen" looked to be the poor relation of "White House Down." Both movies were almost identical in plot, but the latter film had a more established director — "Independence Day's" Roland Emmerich — more than twice the budget and a prime summer release date.
None of it mattered.
Fuqua's film, which opened three months ahead of Emmerich's, crushed "White House Down" at the domestic box office. "Olympus Has Fallen" grossed nearly $100 million, while "White House Down" barely made it past $70 million. The director's career was restored, and, two weeks after "Olympus Has Fallen" was released last March, "The Equalizer" arrived on Fuqua's door.
Like "Training Day" and almost all of Fuqua's work, "The Equalizer" is an often brutal R-rated action movie whose main character lives in a world of punishment and pain.
"What's interesting about Denzel's character is the violence is like alcohol or a drug — it's an adrenaline rush," said Fuqua, a Pittsburgh native who began his career doing music videos for rap artists and other musicians. "There are violent men. And men who understand violence. And sometimes men who understand violence will avoid it at all costs. And this is a person who becomes really comfortable doing violence."
Just like Fuqua himself.
Fixing things
Fans of the 1980s television series will recall "The Equalizer's" basic setup: A former intelligence agent named Robert McCall (played by Edward Woodward) turns into something of a neighborhood handyman, albeit more skilled at righting wrongs than fixing leaky pipes.
In the screenplay for the film by Richard Wenk ("16 Blocks," "The Expendables 2"), McCall is working at a home improvement store, trying to keep to himself on the job and at home. He reads great books like "The Old Man and the Sea" and "Invisible Man" alone in a diner when he can't sleep.
One night at the restaurant he meets Teri, a teenage Russian prostitute played by Chloë Grace Moretz. When McCall sees that Teri's pimps have roughed her up, something deep inside him is brought to the surface — and pretty soon very bad things start happening to very bad people.
"He's the guy who the voiceless and the powerless call," Wenk said. "I called him in my first draft 'The Changer of Circumstances.'"
That's also a fitting way to describe Washington's relationship with Fuqua.
After Fuqua was replaced by Ridley Scott at the helm of 2007's "American Gangster" in a dispute over its budget, the director would occasionally connect with Washington to discuss collaborations.
"I told my agent," Fuqua said, "'He will call when he's ready.'"
"The Equalizer" had been kicking around Hollywood for years and had been in development at the Weinstein Co. before it came to Sony Pictures and the Escape Artists production company. Various directors — Paul McGuigan, Nicolas Winding Refn and Rupert Wyatt — had been considered, but the project repeatedly stalled.
When Washington became interested in starring and recommended Fuqua to Escape Artists, "The Equalizer" had new life. He and Fuqua sat down and discussed how they could turn their "Training Day" experience to their advantage.
"The Equalizer's" McCall and "Training Day's" Det. Alonzo Harris are both fierce men, but they approach their blood sport from different directions.
"Alonzo is all external. McCall is all internal," Fuqua said. "McCall has lived a certain secret life that was obviously based on violence, and he thought he was doing it for all the right reasons. And he has reached a certain age in his life where he starts looking at his life internally, stripping it down to its most basic elements."
Washington decided not only to cut a fair amount of Wenk's dialogue, but he also suggested to Fuqua that his character suffer from obsessive-compulsive disorder, methodically rearranging everyday objects in an exact, prescribed manner.
Even when McCall turns violent, he does so with equal mathematical precision, which is where Fuqua's directorial choices in "The Equalizer" are most visible.
Not long into the film, McCall visits some of Teri's pimps, hoping he can somehow buy her freedom. They don't accept his envelope of cash and quickly come to regret their decision.
As shot by cinematographer Mauro Fiore (who was the director of photography on "Training Day" and James Cameron's "Avatar"), McCall sees a fight the way a grandmaster commands a chess match: He's three moves ahead of everybody from the very start.
"His heart rate slows down," Fuqua said. "Everything becomes more in focus for him, whereas most people panic. And that's a really dangerous individual. But how do I get inside of him? How do I see it the way he sees it and make the audience feel up close and personal with it?"
The director's answer is to shoot some of the action from his actor's point of view.
"We've seen violence before. But how do you make it feel like you're in the room? The camera becomes like another cast member — you're almost one of the victims."
That visceral proximity appealed to some — but not all — critics at the Toronto International Film Festival, where the film premiered earlier this month. The Hollywood Reporter said it was "viscerally satisfying on a primal level" and predicted it would be a commercial success. (Others found it to be a stylish retread of Fuqua's earlier work.)
Even before "The Equalizer" opens, Sony is developing a sequel, and Fuqua is contemplating where he can take McCall — and Washington — in the next movie.
Bond of trust
At the center of "The Equalizer" — and, in many ways, Fuqua's career — is his working relationship with Washington. Once again the director was able to pull an unusually unvarnished performance from Washington, who has developed a reputation as a stickler who isn't always the easiest person to work with.
"After 'Training Day,' we got a lot of offers to reteam," Washington said. "But nothing immediately panned out.
"To dedicate yourself to a movie, you have to have a reason — when you sign on to a project, especially as a director, you're devoting two years of your life to it. For me, as an actor, the story has to be there, the character, the possibilities for a performance. And I know for Antoine it's got to be the same thing — if he's going to give those two years, he has to have a story he wants to tell with his skills as a filmmaker."
When Washington saw the script for "The Equalizer," he felt that finally the two would be on the same page.
"The reason why I called Antoine to direct this movie wasn't just because of the material, though it was that too," Washington said. "It was also because we had built up a confidence in each other after 'Training Day.' On this movie, Antoine was counting on me to focus on the character, to create a performance that would make Robert McCall feel drawn from life. And I was counting on him.
"I knew Antoine was going to be better than anyone else in creating the best environment for me and the other actors to do our jobs. And he did that. It's trust — I know that he's got my back, and he knows I've got his, so we can make the million creative choices that will make the movie stand out."
Fuqua said the secret to his relationship with the actor is preparation.
"I remember the first day of 'Training Day.' I asked him if he wanted to look at the monitor. And he said, 'Nah, you're flying this plane,'" Fuqua said. "And I walked away and I was thinking, 'Oh, my God. I can't screw this up.'
"He's trusting you to get it done when he's signing off on you. That's how he is — he is trusting you to direct the movie. He doesn't direct the movie. You do. And that gives you a certain amount of confidence. But it's also scary as hell, because of who he is and how powerful he is as an actor. Denzel is a perfectionist, and he expects the best from everyone."
Scary, but apparently fruitful.
Fuqua recently completed directing Jake Gyllenhaal in the 2015 boxing movie "Southpaw," and he is planning on reteaming with Washington in at least two planned movies: a highly publicized remake of "The Magnificent Seven" and, quite likely, another "Equalizer" movie. Following the recent shooting of Suge Knight, his Showtime documentary about the controversial music mogul should be done sometime early next year.
Back on the movie set in Boston, Fuqua picked up the dumbbells and did a couple of rapid curls, as if they weighed half what they actually did, before he returned to filming.
"See," he said with a smile. "If you've got the right form, it's not really that hard."
---