Review: Plunge into the wonders of 'April and the Extraordinary World'
Los Angeles Times Film Critic
Though its output is at times overshadowed by work from other countries, French animation is a force to be reckoned with, and never more so than in the strangely wonderful, wonderfully strange "April and the Extraordinary World."
With Marion Cotillard voicing the title character in both the original French and the English dubbed version, "April" is ambitious in scale and often gorgeous to look at. Directed by Christian Desmares and Franck Ekinci, it benefits most of all from the work of much-admired veteran French graphic novelist Jacques Tardi.
Tardi, best known for bringing the intrepid heroine Adèle Blanc-Sec to life, is credited here for "creation & graphic universe," which means he came up with the world April and her friends move in. And extraordinary is an excellent way to describe it.
See more of Entertainment's top stories on Facebook >>
Part science fiction cosmos, part alternate reality steampunk universe and all adventure all the time, the cosmos Tardi has visualized and screenwriters Ekinci and Benjamin Legrand have written is imaginative in a way that by intention is both familiar and out of this world.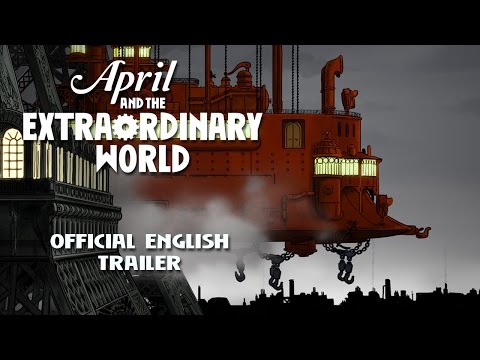 "April" begins with a brief but crucial prologue, set in July 1870, with Napoleon III ruling France and the country headed into the Franco-Prussian War. On the eve of the conflagration, Napoleon III and his top general make a clandestine nighttime visit to the lab of visionary inventor Gustave Franklin. Gustave has been working on a top secret project, a serum that (shades of "Captain America") will make French soldiers invulnerable.
But that serum had unexpected results on the animals Gustave tested it on, and in the chaos that follows that revelation, the emperor expires, the Franco-Prussian War never happens, and history finds itself going down a wormhole to terra incognita.
For reasons that are revealed much later, what also happens is a worldwide wave of disappearances of top scientists. With no one to invent things, nothing is invented, not radio, not television, not even electricity.
What results is a classic steampunk world where all transportation relies on outdated steam power. That means massive use of first coal and then charcoal to power things, wars with North America for control of forests, and a Paris that is a visual marvel.
Created in rich but muted colors, as befits a city that has to deal with the pollution aftereffects of all that steam power, "April's" Paris features not one but twin Eiffel Towers and intricately imagined machines like a cable car that can go from Paris to Berlin in a swift 82 hours.
In this world our first stop is 1931, 60 years later, where Gustave's by now aged son Prosper, a.k.a. Pops (voiced by the venerable Jean Rochefort in French), his son Paul (Olivier Gourmet) and Paul's wife, Annette (Macha Grenon), are still on the hunt for Gustave's invention, now called the Ultimate Serum.
On the hunt for the family is an agent of the law, Inspector Pizoni (Bouli Lanners), as implacable as Inspector Javert of "Les Misérables" but much funnier, who is determined to claim the serum for the state.
The great bulk of "April and the Extraordinary World" takes place 10 years later, in 1941, with Paul and Annette's by now teenage daughter April taking center stage, living in an enormous hollowed-out military statue and searching for the serum as desperately as her parents.
April's reasons, however, are strictly personal. Darwin, the family cat (voiced by Philippe Katerine), who an early injection had given the power of sophisticated speech, has been felled by all the pollution and is in danger of losing his life.
While April toils away, Pizoni has not given up the chase, now employing a young thief named Julius (Marc-André Grondin) to track down the young woman or else.
Complicated as this sounds, it only sets the stage for "April's" main action, which involves unusual animals, secret labs, even an ambulatory house that plays like a tribute to Hayao Miyazaki's "Howl's Moving Castle." This is one grand adventure, and, animated or not, those are always welcome.
Twitter: @KennethTuran
------------
'April and the Extraordinary World'
MPAA rating: None
Running time: 1 hour, 46 minutes
Playing: Landmark's Nuart, West Los Angeles
Get the Indie Focus newsletter, Mark Olsen's weekly guide to the world of cinema.
You may occasionally receive promotional content from the Los Angeles Times.