A.V. Rockwell on her short film 'Feathers' and why 'the land of the free' isn't free for all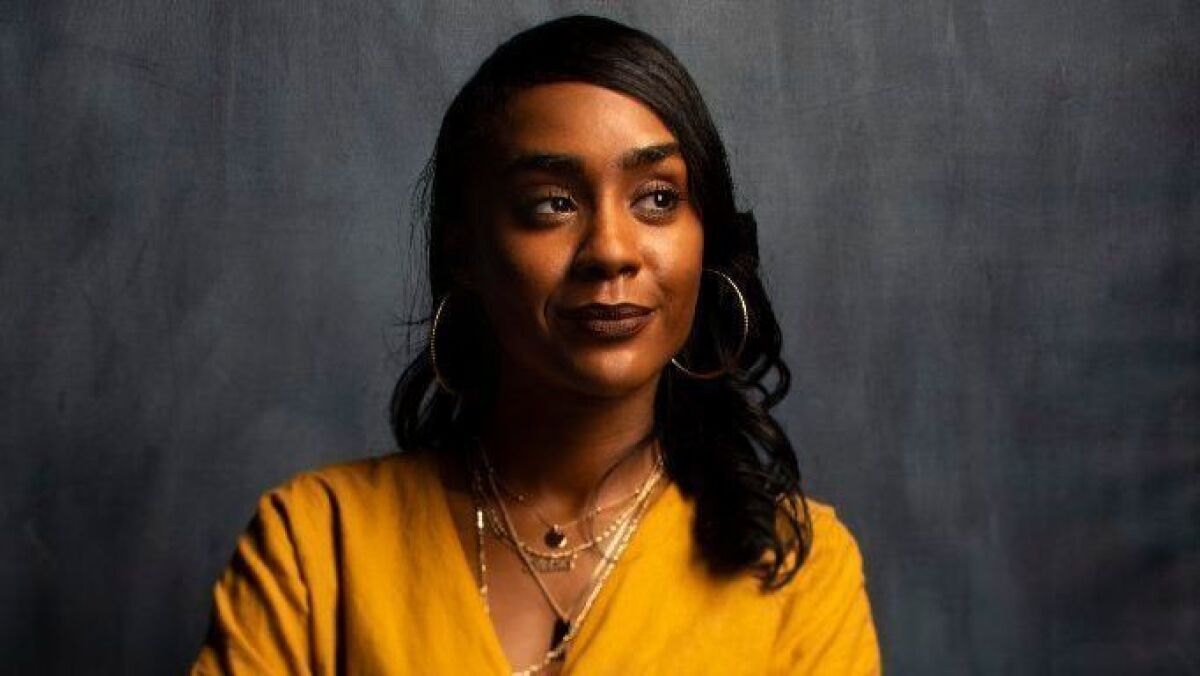 Reporting from Toronto —
Being a filmmaker isn't something that was on A.V. Rockwell's radar as a kid. But as a student at NYU while studying abroad in Paris, she took a European cinema class that exposed her "to a whole new world of what moviemaking could be."
"I'd just sit in my room and watch all these movies and discover work from [Italian writer-director Federico] Fellini and [French-Swiss director Jean-Luc] Godard and all these incredible filmmakers," she said. "That really expanded for me what storytelling could be."
Years later, the Queens, N.Y.-born writer-director is at the Toronto International Film Festival with her short film "Feathers."
The 20-minute picture follows Elizier, played by Shavez Frost, a dejected new student at the Edward R. Mill School for Boys. He's challenged to overcome tragic memories and present hazing by his peers as he learns how to navigate the world while black and male.
During a visit to the Los Angeles Times photo and video studio at TIFF, Rockwell spoke about her filmic style — which was also on display in the music-driven short film "The Gospel," commissioned by Alicia Keys — and the inspiration for "Feathers." She also details her hopes for the industry as a rising woman of color filmmaker.
How would you describe your approach to making movies?
When I first fell in love with filmmaking, I just loved it as an outlet for expression. … But it wasn't until the end of school, seeing "Battle of Algiers" when I was like. "Wow, this is what filmmaking can be" in terms of the power of what you can say with your work.
It was around that time when I started to align filmmaking with a bigger purpose of trying to use stories to not only speak to the world we live in and the challenges and connecting with each other, but really bringing people together. I found so much purpose in filmmaking.
My stories can be dark at times, but I definitely push to create a sense of hope [by] telling stories that can ultimately bring different individuals and communities, people of different worlds together.
Where did the inspiration for "Feathers" come from?
I did another short called "Kids," and in that, which was very provocative, I was trying to get at how impressionable kids can be, so I was still mulling that over. Then I heard this song called "Feather" and the lyrics of the song by Little Dragon, the way I interpreted it, spoke to a certain level of freedom, and when I think of America, it's about how it's the land of the free, yet it only seems to be free for some. I thought about "what does that feel like?" and wanted to explore that [in this film].
FULL COVERAGE: 2018 Toronto International Film Festival »
It wasn't until the summer that Philando Castile and Alton Sterling were killed — I remember waking up that morning and not wanting to watch [the videos of their deaths at the hands of police] but I did. I was in a daze, from devastation, for days. And when you think about how frustrating it can be as a black person to speak on these things and feel so ignored — how does that make you feel? How does it make you feel to move through the world feeling like everyone is telling you that your life doesn't have the same amount of value as the next nonblack boy. So, this project for me is just an exploration of that and the generational trauma that black males, specifically, go through.
What do you hope audiences take away from seeing it?
The value of a human life. When I think of Philando Castile and his daughter, who had to watch him die so traumatically — that will be with her for the rest of her life. She'll never forget that, and who know how it's going to emotionally shape her and how she moves through the world. Her father was unfairly punished and now she is being punished for the rest of her life. Who knows how this will shape her children? It's just endless.
And when people try to defend and say "Well, he shouldn't have done this or that…" — tell that to her. Tell that to a child that has just lost their parent.
And secondly, while it's important to continue to push society for what we want and how it can make changes, what can we [as black people] do ourselves to help ourselves, to heal, to empower, to move forward, to transcend, to get through this? I think focusing on that is important to me as well.
I love that we're all over these magazine covers and some people are getting all of these opportunities, but to what degree is change actually happening?
— Filmmaker A.V. Rockwell
As a newer filmmaker, how does it feel coming into the industry as it's talking about inclusion behind the scenes in addition to on-screen. Does it factor into how you move through the world?
From day one, once I decided I wanted to pursue this career, I always had an awareness that I was going to face obstacles behind the camera and with audiences. I've thought a lot about how audiences will receive something that has a woman's name attached to it. Is that going to change how they perceive it or how deeply you connect with it? I've worried about those things, and it's always been with me to be prepared to push past that.
In the time that we're in now, it's amazing and surreal that changes are happening. It definitely makes me feel a lot more empowered and free to be myself without feeling like I'm going to be minimized because of it. But I am skeptical sometimes because it's a press moment and you're seeing the spectacle of people wanting to embrace [diversity and inclusion], but that doesn't mean the actual demographics have changed. I love that we're all over these magazine covers and some people are getting all of these opportunities, but to what degree is change actually happening?
I can't wait to get to a point when I don't have to be identified as a "female director," or some other subcategory of filmmaker. I just want to be a filmmaker and come into conversations the way my male counterparts usually do and just talk about the art.
---
Get the Indie Focus newsletter, Mark Olsen's weekly guide to the world of cinema.
You may occasionally receive promotional content from the Los Angeles Times.