The musical, millennial life of 'Baby Driver's' Ansel Elgort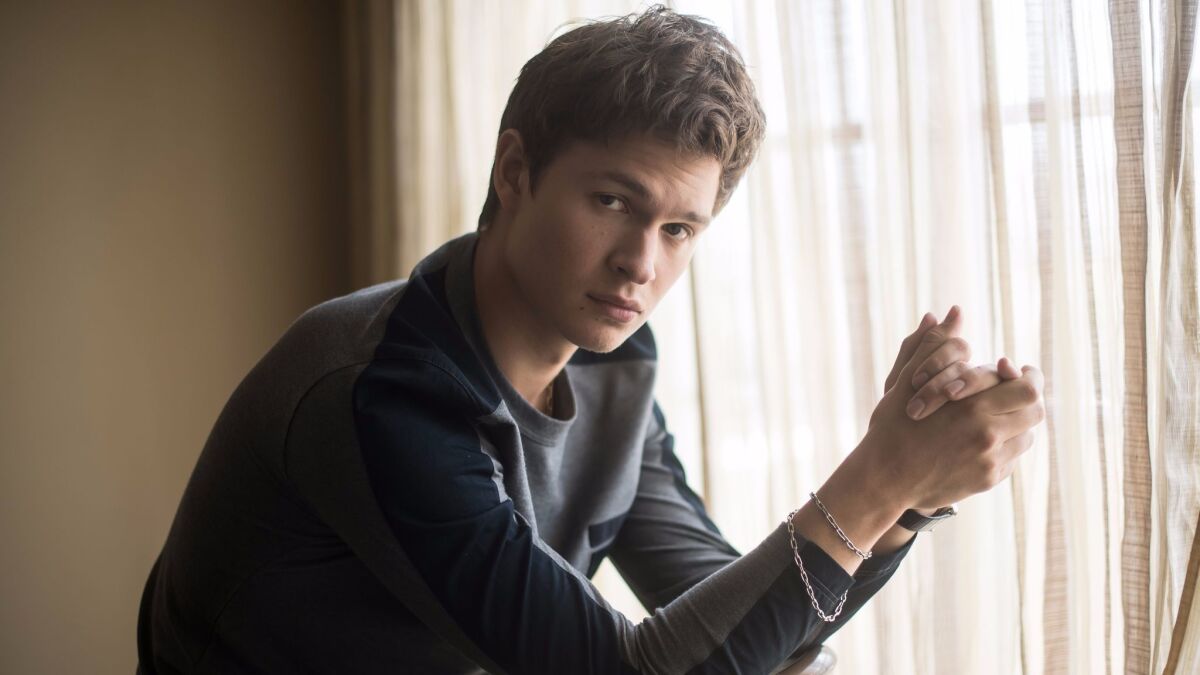 Ansel Elgort was deep into a club music period when he found himself on the spot during a pivotal audition for director Edgar Wright.
He'd been spending his spare time in the studio with Swedish House Mafia's Steve Angello, living and breathing the electronic dance jams he makes under his DJ moniker, Ansølo. But in his day job as a rising Hollywood star, he hadn't yet convinced Wright he was right for the role of the soft-spoken, rhythm-obsessed lead of "Baby Driver," a music-driven action caper 22 years in the making.
As Elgort worked in the Silver Lake dance studio of choreographer and Sia collaborator Ryan Heffington, things weren't totally clicking. Then Wright asked the "Fault in Our Stars" and "Divergent" actor to name a song he knew by heart. Elgort surprised the director with "Easy," by the Commodores.
"I was so taken aback that a 20-year-old would say that, that in itself made me think that maybe he was right for the part," says Wright, who filmed Elgort acting out a scene to the song, which eventually became the soundtrack to a memorably moving sequence and the film's recurring emotional motif.
I think that's what landed me the job. It still is my go-to karaoke song.

— "Baby Driver" star Ansel Elgort on "Easy," by the Commodores
"He was great — and he proved, exactly like he said, that he knew all the lyrics," added Wright. "That was the thing that really clinched it. And in the next draft, I wrote 'Easy' into the script."
Seated at the controls of a cozy recording studio in West Hollywood, Elgort, now 23, starts humming the opening notes of the 1977 Motown hit he first learned to play on the piano when he was 12. "I think that's what landed me the job," he says and grins. "It still is my go-to karaoke song."
In 2015, after a role in Jason Reitman's "Men, Women & Children" and between appearances in the second and third "Divergent" blockbusters, Elgort signed with Island Records, home to Fall Out Boy, Elton John, Demi Lovato, and Nick Jonas. Lately he's been working with another music producer, Scott Storch, on a couple of EDM-influenced pop tunes he's planning for a full album.
He pulls his laptop out of a backpack and plays a track they cooked up two nights prior, Storch on the keyboards and Elgort singing and producing. "He's a real artist," says Elgort.
The actor's musicality helped him land "Baby Driver," an ambitious passion project from "Shaun of the Dead" and "Hot Fuzz" filmmaker Wright that's filled with syncopated action scenes and car chases galore. Around Elgort, Wright lined up heavyweights such as Jon Hamm, Jamie Foxx and Kevin Spacey in a story so punctuated by music, cast members received scripts with a custom playlist to listen to as they read.
Ever since the film's debut at the South by Southwest Film Festival, critics have been heaping praise on the screeching-tires action romance about a young getaway driver called Baby (Elgort) who soundtracks his life with a steady stream of pop, rock, jazz and soul while falling in love and reckoning with his criminal connections.
And now the film has proved surprisingly potent at the box office as well, nabbing an estimated $30 million over its first five days of release (nearly as much as the $31 million that "Scott Pilgrim vs. the World," Wright's previous highest-grossing film in the U.S., scored over its entire run). That's sure to be a boost for Elgort, especially since "Baby Driver" marks his first lead role in three years.
The actor, singer and sometimes DJ already boasts a massive young fan base, including 7.9 million Instagram followers he engages with frequently, sharing glimpses from his life on the media circuit, on the basketball court or hanging out with his girlfriend, ballerina Violetta Komyshan. Fame seems to have come fast and easy to Elgort. But in discussing his rising film career and his budding side hustle, music, another word keeps coming up: art.
The son of artists (his father is fashion photographer Arthur Elgort; his mother is opera director Grethe Holby), Elgort grew up immersed in Manhattan's art scene. He graduated in 2012 from NYC's LaGuardia High School for performing arts — the "Fame" school, where he studied acting — and stepped right into his stage debut off-Broadway in the drama "Regrets."
A year later he made his film debut in Kimberly Peirce's "Carrie" remake before being cast as Shailene Woodley's brother in the YA adaptation "Divergent." Reuniting with Woodley as the star of 2014's hit teen weepie "The Fault in Our Stars" skyrocketed him to teen heartthrob status before he graduated to millennial superstar, thanks to his natural proclivity for social media, the currency of his generation.
He has good reason now to keep his eyes on the prize. Standing a lanky 6'4" with an easy charm, the fresh-faced actor is, after all, among the most employable demographic in Tinseltown: young, white, and male. But four years into the game his image has arguably been bogged down by the occasional cocksure comment that, while dashed off with a youthful confidence, has not always translated charitably.
"I'm super easy to hate," he admitted in an interview with Billboard. "But it's fine. It's hard to be liked and successful."
In person he's agreeable, attentive, surprisingly undemanding. He greets me at the recording studio sans entourage or handlers, on the tail end of an L.A. trip he's packed with business meetings. "You have to sort of do those," he shrugs, "because otherwise someone else will go in and then they'll send that person the script. You have to be ahead of it all."
He seems to know that humility is the best look for a movie star, even as he brims with a direct and unsinkable confidence. "I think being a movie star is more hyped up than it really is," says Elgort, who adds that he still takes the subway everywhere back home in New York. "If I want to go restaurants every night with paparazzi outside and make my life about being famous, I could do that. But I have more interesting things going on in my life than being famous. At least, more interesting to me."
Navigating the Hollywood-celebrity complex with an on-brand charisma, he still acts, at least, like a youthful 23-year-old. One moment he lights up like a fanboy at the thought of Skrillex being in the building; later, he casually revisits the moment last fall on the set of the indie drama "Jonathan" when he flashed a handwritten anti-Trump message to spying paparazzi.
"They're taking your photo, so you might as well put something in it," he says. "It was probably a little immature, but that's how I felt at the time. I still feel that way, to be honest."
He appreciates the ease with which he broke it to his parents that he wasn't going to go to college and laments recent cuts to public arts funding under the Trump administration. "If I hadn't become an artist, I would have been a loser," he says candidly. "Somebody who doesn't really belong on an academic path. I wouldn't have been successful if I hadn't had the opportunity to become an artist."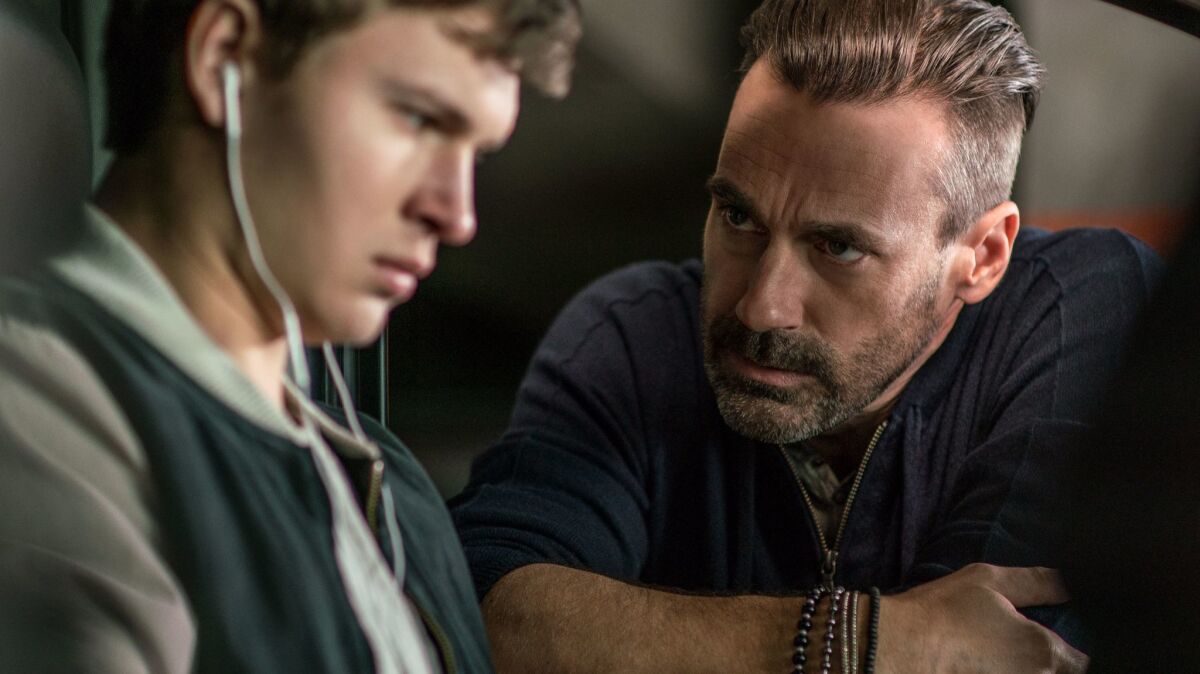 "He's a sweet guy and a crazy talent," says Jon Hamm, who plays a volatile criminal called Buddy in "Baby Driver," menacing Elgort in scenes underscored by Queen's "Brighton Rock" and Barry White's "Never, Never Gonna Give Ya Up." "He has a beautiful quality in that he really seems to enjoy it. Sometimes kids his age put on this world-weary, ironic, detached thing. Ansel's like, 'No! I really like this.'"
Elgort remembers being confident at age 9 that he wanted to be a performer. Music came naturally, especially for a kid from the YouTube, Spotify and Soundcloud generation. Like his onscreen alter ego Baby, who fights a bad case of tinnitus by listening to his collection of iPods, his tastes run the gamut.
"When I was a kid, ELO was super square — at school you would not say you were an ELO fan," Wright explained, laughing at some critics' disbelief that someone like Elgort would listen to the bygone era jams on "Baby Driver's" charging soundtrack, like "Bellbottoms" by the Jon Spencer Blues Explosion and Sam & Dave's "When Something Is Wrong With My Baby." "But now it's like, 'I love ELO!'"
For example, on one of Elgort's current playlists, a work in progress titled "The 50 Best Songs of All Time": "Porcelain" by Moby, "Life on Mars" and "Heroes" by David Bowie, "Stan" by Eminem, and "Don't Matter" by Akon. "Akon is great," he says, smiling. "And he's always doing good things. He does more for his home community than most artists do."
John Legend was an early role model for the young Elgort; electronic musicians like Avicii came into his life later. Both inspirations are evident in the R&B-style crooning he blends with dance beats in his songs like "Thief," an '80s-inspired single he debuted in February, and "All I Think About Is You," the track he dropped last week.
Many of his songs trace a similar theme of loneliness and longing. All of them are more or less love ballads written about his girlfriend, he admits with a smile, although "now I think my songwriting is getting a little deeper, which is good." Music has also been a salve as he's hurtled headfirst onto the sets of blockbuster movies and long, isolating shooting days while building his career.
"I've done three 'Divergents,'" he says, taking a long, reflective pause. "That feels like a blur. What I remember most about 'Divergent,' to be honest, is making music in my trailer. I love being creative, but not every day on 'Divergent' is a creative day. Sometimes you're just running away from people shooting at you."
"When I'm acting, I'm a little bit of a mercenary — I'm hired to be a part of someone else's puzzle," he explains. "But music, this is my puzzle." His overall plan with music, he says, is always shifting. "I don't want to have my goals control my art, you know what I mean? Of course, I would like to play a gigantic stadium tour. That would be awesome."
When I'm acting, I'm a little bit of a mercenary. I'm hired to be a part of someone else's puzzle. But music, this is my puzzle.

— Actor-musician Ansel Elgort
In the distant future, Elgort can see dipping his toes into directing; he's already taken his first steps toward adding producer to his résumé with "The Dukes of Oxy," a true crime pic about high school pharmaceutical traffickers. He's producing alongside Michael De Luca, Oscar-nominated for "Captain Phillips," "Moneyball" and "The Social Network."
Whenever conversation wanders to artists he admires, it seems he's also given thought to the relationship art has had with the off-screen lives of his own idols. As we bid goodbye, I ask about the hoodie he's wearing, emblazoned with the face of Marlon Brando — an acting legend he once named as his role model when Vogue interviewed him at the age of 18. And yet...
"I love Brando, but I don't want to have a life like his," he says, planning to linger a little bit longer in the studio to tinker with some songs.
"I'd like to have a nice, happy life. I'd like to have kids that love me and a wife that I'm devoted to. As an artist he was brilliant because he was himself, but his life was very tragic." He pauses. "I'd like to be a little more like Paul Newman."
ALSO
'Shaun of the Dead's' Edgar Wright accelerates toward the mainstream with 'Baby Driver'
The future of 'Spider-Man' rests with indie director Jon Watts
5 reasons Kumail Nanjiani and Emily V. Gordon stayed married after turning their love life into 'The Big Sick'
Get our L.A. Goes Out newsletter, with the week's best events, to help you explore and experience our city.
You may occasionally receive promotional content from the Los Angeles Times.