Ansel Elgort sails into deep Waters with 'Fault in Our Stars'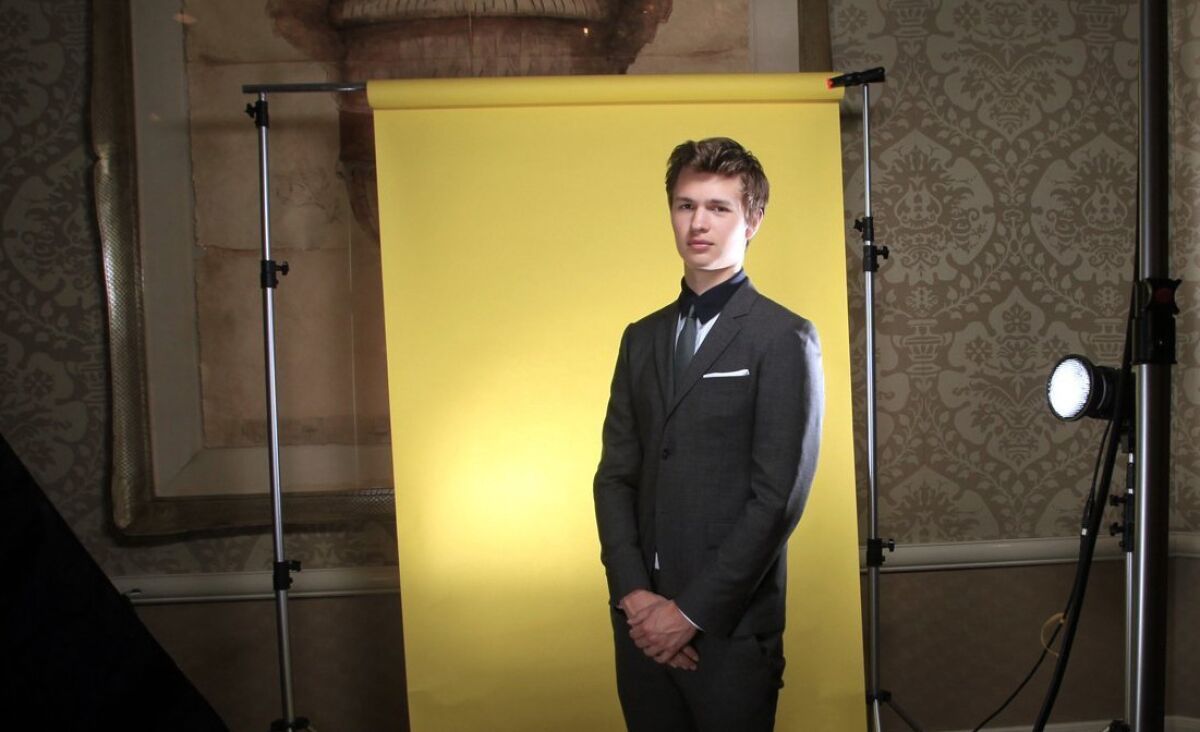 Having already gone through the social media wringer when he was cast in the young-adult franchise "Divergent," Ansel Elgort thought he had a pretty good idea about how passionate and protective readers can be about their favorite books. Then he won the role of Augustus Waters, the love interest in the movie adaptation of John Green's bestselling romance "The Fault in Our Stars," and the 20-year-old actor realized he had crossed into an uncharted realm.
For the first few hours after the news broke last May, Elgort's Twitter following mushroomed, and many of the newcomers weren't shy about sharing their opinion about his casting.
"I was on my phone nonstop, refreshing Twitter and reading all these aggressive comments," Elgort remembers. "'Who the ... is this guy?' 'He's not Augustus Waters!' 'He's not what he looks like at all! His eyes aren't even blue!'"
They are, in fact, hazel. And Elgort's hair is light brown, not dark, as described in the book. But judging from fans' enthusiastic reaction to an early screening of the movie (which arrives in theaters June 6), those surface distinctions will be quickly forgotten. As Green puts it: "Augustus was going to be the hardest character to cast. And I think once people see Ansel, they'll realize there are more important things than the color of his eyes."
At the beginning of "The Fault in Our Stars," Augustus meets Hazel Grace Lancaster, the story's 16-year-old narrator, at a cancer support group meeting. She doesn't want to be there but then notices this "lean and muscular" older boy with a crooked smile staring at her, making her "rather blushy." Afterward, she notices him looking at her again and asks him why.
"Because you're beautiful," he answers. "I enjoy looking at beautiful people, and I decided a while ago not to deny myself the simpler pleasures of existence."
That's when the swooning starts (with the tears soon to follow), as the melancholy and often funny "Fault" follows the evolving relationship between the cancer-stricken teens looking to love and live deeply and understand what it means to leave a mark on the world.
MOVIE SNEAKS: Trailers, interviews and more on Summer releases
The movie reunites the 6-foot-4 (and, yes, lean and muscular) Elgort with Shailene Woodley, who plays Hazel. The pair played siblings in "Divergent" this year, though both had read for "Fault" well before they were cast in that film. Woodley signed first. When she learned Elgort would be screen testing opposite her, she told him to read the book — or face her wrath.
"I was like, 'I gotta read this ... book,'" says Elgort, who, for all his artistic inclinations (he is a dancer and musician), isn't much of a reader. "And I read it like a mad man. And I cried a lot, and it really hit me hard."
It also gave him the ability to improvise when he read with Woodley, adding information from the book (Augustus likening Hazel to a young Natalie Portman) that threw Woodley off a bit.
"Supposedly she dominated the other guys in the audition, and I was the only guy able to dominate her a little bit," Elgort says. "And it was all because she made me read the book. And the main reason I read it is that I knew Shailene would ask me — in front of everyone — the second I walked in the room whether I read it. And there's no way I could lie to her face."
PHOTOS: 25 young adult novels turned into films
That anecdote, with its mix of strength and vulnerability, captures as much as anything Elgort's appeal for the filmmakers. Director Josh Boone says Elgort possesses an almost "magical purity," while author Green puts it more plainly.
"A lot of guys that came in knew how to play cool Gus," Green says, "but very few of them knew how to be fragile while still being Augustus Waters."
Elgort admits now that he wasn't entirely sure that he could bring alive the character's more desperate moments, relating his initial frustration at being unable to summon up the fear and anger needed in a pivotal scene. But he succeeded, likening it to an out-of-body experience.
"It was three hours of my life just losing it," Elgort says, tearing up a bit at the memory. "I felt like a little baby again. I couldn't stop crying, even in between takes. And it was so rewarding. I wasn't sure it was going to happen and it just … happened. At that point, it wasn't acting any more. It was just real.
"Let me tell you," he adds, with that crooked smile, "I slept well that night."
---
Get the Indie Focus newsletter, Mark Olsen's weekly guide to the world of cinema.
You may occasionally receive promotional content from the Los Angeles Times.