Black hair in Hollywood: five women share their stories
To make it in Hollywood, you need a lot of talent, a lot of luck, and if you're a black woman, the right hair. From the time black women began appearing on screen, they were often forced to alter their hair to appeal to white audiences.
But with more diversity behind the camera in recent years, there's been more freedom in the ways black women can wear their hair on screen. Here are the hair stories of a legendary black hairstylist and four black actresses.
RELATED: The black hair revolution is happening now on a screen near you »
The pioneer
The 'Good Times' of 89-year-old Hollywood hair stylist Ora Green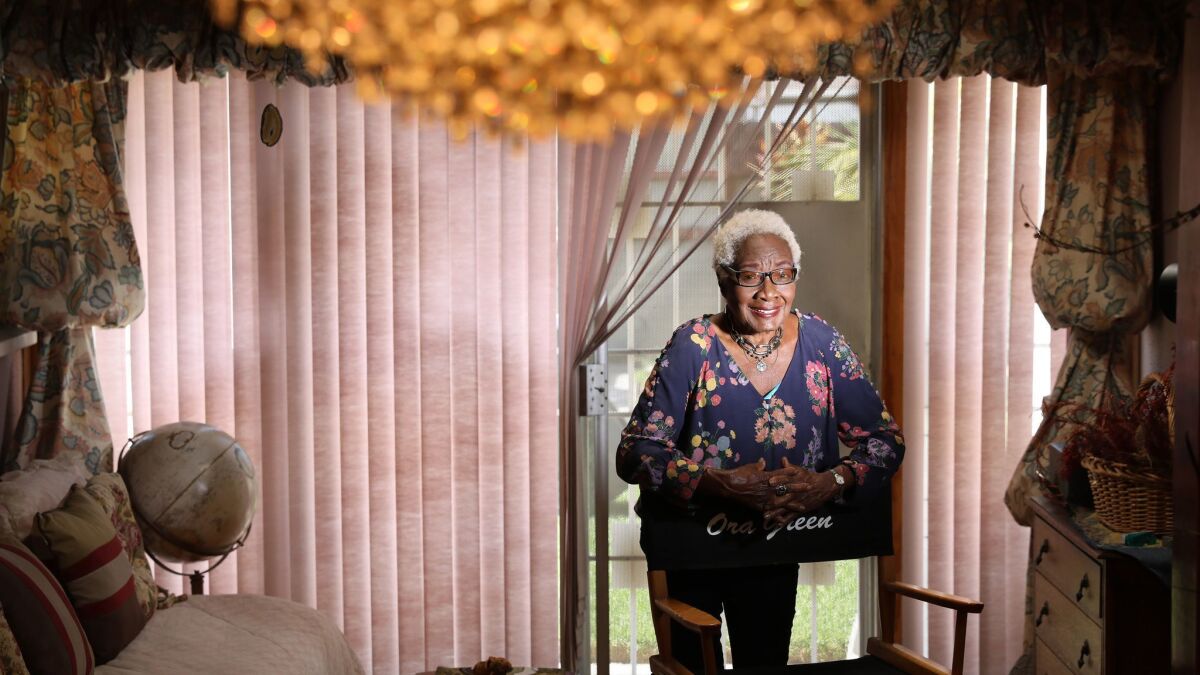 Signs of Ora Green's Hollywood career fill the inside of her South L.A. home. There are photos of her grooming rockstar Alice Cooper's hair, a signed photograph from late actor Bernie Casey, a more recent photo with new Lakers star LeBron James and her commemorative director's chair.
Green, 89, and impeccably dressed in thick-rimmed glasses, floral top, chain necklace and her signature high heels, is sitting with her granddaughter, the actress Jaquita Ta'le, describing how she came to find a place in the largely white industry.
Born in Goodman, Miss., Green grew up in Jackson, the state's capital. She began doing hair at 16. "Growing up, we would take a brown paper bag and twist the paper bag … and twist the hair around that and tie up the top," she said. "When you took those out, you had curls."
After high school, Green briefly moved to Chicago, where she married her first husband. Back in Mississippi several years later, she met and married her second husband, who was in the Navy. Initially stationed in San Diego, Green, her husband and two sons moved to L.A. "I was a milliner; I liked to make hats," she said. "I'm a quasi-designer, hairstylist. The girls at work would say, 'You need to be in wardrobe,' because I was stylish."
In the late '70s, after attending Cal State L.A., Green was invited by a friend to work on the show "Good Times," which premiered in 1974.
"She was a hairstylist as well — rest her soul — and she says, 'You're better than me … why don't you come over and talk to them?' We were both black, and it's a black show."
She was a Hollywood late bloomer when she began working as a hairstylist on "Good Times" at 36. "The kids were younger, they were like 27," she said. "That worked out OK. … I was so excited."
Green went on from "Good Times" to work with the pioneer hairstylist of Hollywood's golden age, Sydney Guilaroff, on a home movie featuring the late movie star Elizabeth Taylor. She said Guilaroff also liked her style — typically a uniform of black skinny jeans, a black cropped top and heels.
After getting into the hair and makeup union, Green worked for Universal Studios, and from there, the work just kept coming. She was first nominated for an Emmy for a dreadlocked style on the 1987 TV series "Frank's Place." She's worked on 1986 TV series "Dynasty," 1991's "Hook," 1998's "Blade" and many other films and TV shows. In 2005, she designed wigs for a LeBron James billboard campaign. Her most recent film project was in 2010 for Tim Allen's "Crazy on the Outside."
Green often did simple hairstyles using a straightening comb and curling iron, but her biggest challenge and greatest joy was working on period hair styles. "The only time you had a creative look, you could do something creative with your wisdom and your ability was when I started doing period hairstyles," she said. "We had reference books, which we still do."
She noted that throughout her career, she was typically one of few black hairstylists in the industry. "There were not many," she said. "When I started, there must've been about four, the most would be six. And they were good."
Over the years, her own hair transformed. "When I first started, I think I was wearing a wig," she said. "I wasn't showing my hair. I wanted to be right there with the rest of the girls. I wanted to have the white girls' hairdo." But after an incident on the set of "Blade," when actor Wesley Snipes said Green reminded him of his mother, she knew she had to make a change.
"My girlfriend … she said, 'Nope, you're not going to look like anybody's mother. Come into makeup, we're going to change your hair.' We started bleaching my hair." The look stuck; Green's granddaughter said she's kept it up since the mid-1990s.
Though retired, Ta'le said the hairstylist stays active at the Culver City Senior Center in a club called the Merry Makers. There, she does volunteer work and participates in a sewing class and the center's annual fashion show, for which seniors design clothes and model their creations.
"She's a legend," said Sue Cabral-Ebert, head of L.A.'s Local 706 makeup and hairstylists guild, lovingly referring to Green as "Auntie Ora." "She's tremendously talented and stylish, a joy to be around. … She can outwork five people half her age."
---
Loose and natural
Tracee Ellis Ross wants everyone to love their hair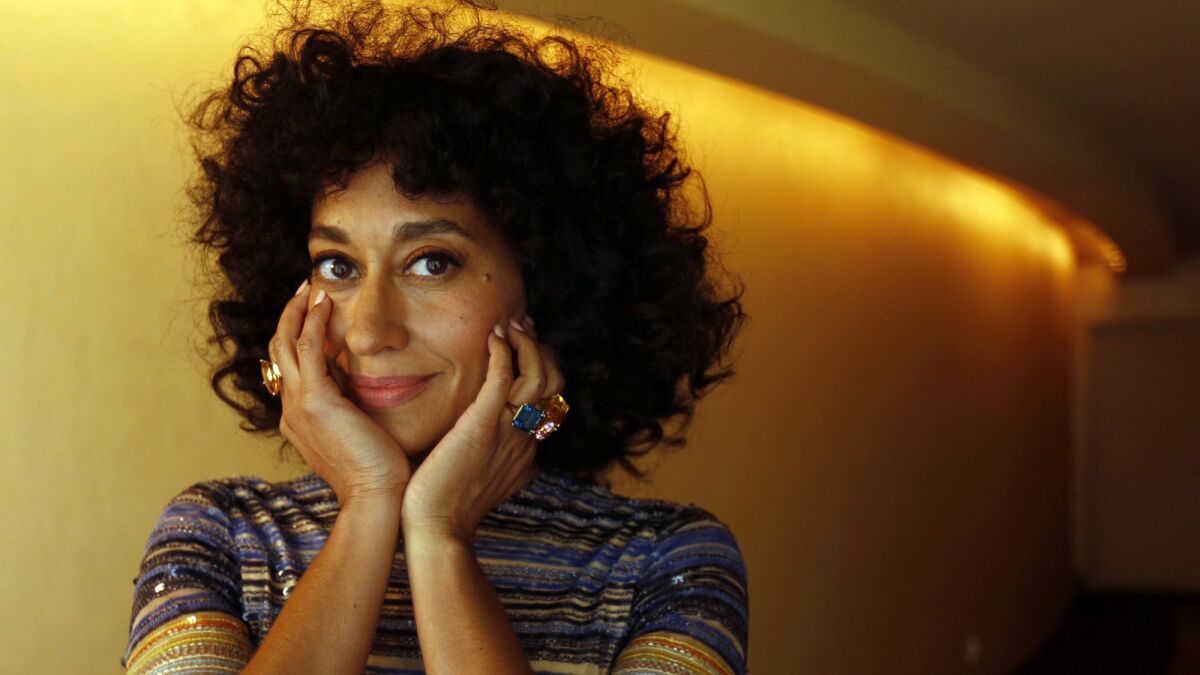 Tracee Ellis Ross wasn't always celebrated for her thick mane of big, loose curls.
She recalls being approached at the Essence Music Festival when she was starring in the series "Girlfriends," her first leading role. "I remember someone saying, 'Girl, you're on TV. Why don't you get your hair done?' And I was, like, 'This is the way God did my hair.' "
As a mixed-race woman, the "black-ish" star acknowledges that her hair texture may have given her more freedom than other black women in the industry, but she still struggled to find her own style.
"I remember growing up and having my own journey with discovering my own texture," she said, "logging hours in the trenches with my hair, trying for many years to beat it into submission and get it to do what I thought it was supposed to do so I could look sexy and be considered beautiful like what I saw in magazines and on television."
---
"I remember someone saying, 'Girl, you're on TV. Why don't you get your hair done?' And I was, like, 'This is the way God did my hair.' "

— Tracee Ellis Ross
---
She initially pushed to wear her hair in its curly state on "Girlfriends." The style eventually became a distinctive part of her character, Joan, but even on a TV show starring four black women, she found there weren't stylists on set who knew how to work with her natural hair. So she did it herself, waking up three hours before call time each shoot day to ensure her hair looked good on TV.
Now, as the natural hair movement has spread across the country, Ross finds herself envied for her voluminous locks. But one particular meme, a black-and-white image showing a black girl crying in the shower with the caption, "That moment you realize you don't have Tracee Ellis Ross' hair," upset her.
"There is nothing in me that wanted anything about my hair or who I am to make someone feel bad about themselves," she said. "If anything, I would want my hair to inspire someone to figure out what their hair could do because that was the journey I had been on."
---
The razor's edge
What Sanaa Lathan discovered after shaving her head for 'Nappily Ever After'
About a year ago, Sanaa Lathan posted to her Instagram revealing she had completely chopped off her signature long locks for Netflix's "Nappily Ever After," which explores a black woman's journey with her hair as she deals with the aftermath of a broken heart.
The film, based on the 2000 novel by Trisha R. Thomas, was almost made 15 years ago by Universal Pictures with Halle Berry attached as the lead. "Nappily Ever After" producer Tracey Bing was first sent the film in 2005 when she was the vice president of production at Warner Bros. Pictures.
"From 2005 to five years ago, the script always stayed with me as something I wanted to make. Five years ago, I was asked to put together a slate of African American films," Bing said. "The first film I thought about was 'Nappily Ever After.' "
While shooting the film, Lathan's hair journey mirrored Violet's, the character she plays. She dyed her hair, used a variety of wigs and in the film's most memorable scene, took a razor to her blond hair, shaving it down to the scalp. Lathan said the scene was real — she opted to shave her own hair instead of using a bald cap.
"We always knew we needed someone who wanted to shave her hair off," Bing said. "We knew wigs were not going to work. When we reached out to Sanaa and she was game, that was amazing."
"Once I did the reveal, I was just surprised about the response," Lathan said. "It was almost like people were saying I look better with it."
Over the past year, Lathan's hair has grown out slightly, and she recently wore it in its short, natural state for other roles, including in Showtime's "The Affair." But keeping her hair this way would have been nearly unthinkable when she began her career in the 1990s.
"You'd be going up against somebody who was maybe biracial and would have long hair," she said. "I literally got the feedback many, many times: 'Can she look more like this girl who has hair down to here, or has a weave?' "
"That was definitely the message that my generation constantly got," she added. "You're not going to be able to get a job if you go natural."
She hopes fans of her 1990s and 2000s romantic comedies including "Love and Basketball" and "The Best Man" can find the same type of comfort in "Nappily Ever After."
"I have a lot of movies, especially those love story movies from the '90s that people tell me they watch over and over. … I hope 'Nappily' does that for people," Lathan said. "Maybe it will be somebody who needs a little push outside of their comfort zone. Maybe it will be somebody who wants to wear their hair natural but they're scared. It'll give them that extra boost of confidence."
---
Off with the wig
How Simone Missick embraced her natural hair and landed a dream role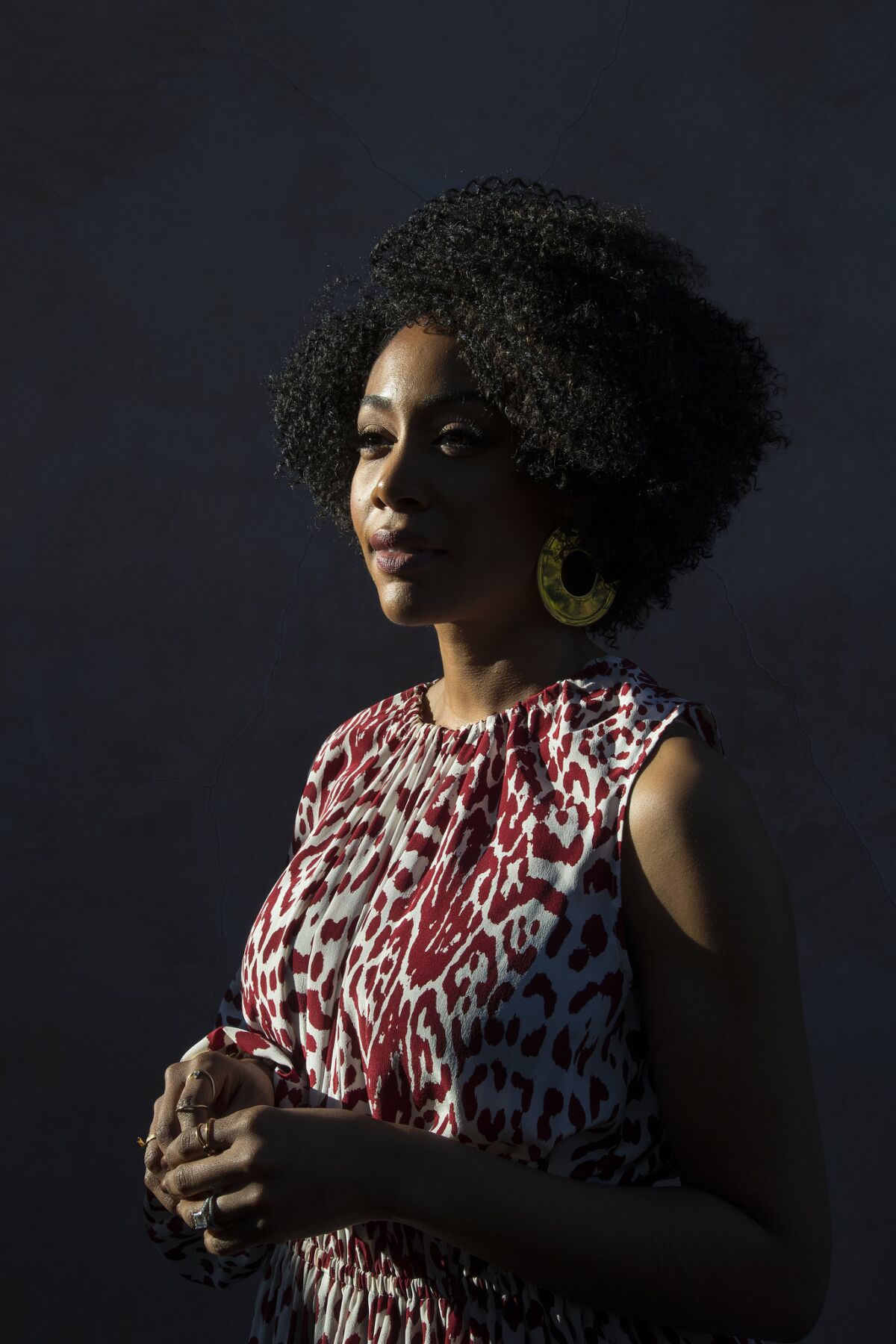 It took 10 years of the L.A. acting grind before Simone Missick landed her role as police detective Misty Knight in Netflix's "Luke Cage" series. And many of her anxieties around the auditioning process revolved around her hair.
"When I first moved to L.A., it was very much this feeling of you need to have a weave to be successful," she said. "This seemed like one of the things the gatekeepers required in order to get your foot in the door."
Missick waited tables to scrape together enough money for expensive hair styles. In addition to straight hair, she found success with a curly wig — one she and her friends nicknamed "book 'em."
"I booked dozens and dozens of commercials with this curly look," she said. "The term 'ethnically ambiguous' became very popular. Even though I'm African American, the hair texture certainly gave the impression that perhaps [I] could be something else" and that makes [me] more amenable to the people who perhaps are not familiar with black people as much."
Missick even had two sets of headshots. For "fun, friendly, best friend" roles, she used the curly haired look; for the "smart, strong, assertive lawyer," she went with straight hair shots. "It was such a mind trip," she said. "It made me question why is this so important."
Around 2009, with the help of celebrity hairstylist Felicia Leatherwood, Missick began to embrace her natural hair texture in everyday life. But it wasn't until 2015 that she dared to wear her hair fully natural in an audition tape for Marvel's "Luke Cage."
"It was something about the character that made me say, I'm going to wear my natural hair," she said. "I remember when I sent the audition to my manager, she said, 'Your hair looks amazing.' I had been with my manager for four years at the time, and she had never said anything about my look."
"I got the call from Marvel saying, 'You are Misty Knight.' And they said, 'We love your hair, don't change a thing.'"
---
The power bob
Erika Alexander's story behind 'Living Single's' most iconic hairstyle
"Living Single," the 1990s sitcom starring Queen Latifah, Kim Coles, Erika Alexander and Kim Fields as a group of friends coming into their own in New York City, was celebrated for showcasing the multiplicity and style of young black life.
Alexander played Maxine Shaw, an intelligent, brash lawyer whose braided bob hairstyle became a powerful cultural symbol for working black women.
"It was a smash," Alexander said. "It was not just a statement of being black, but my skin color also locked in with something as an encouragement for black women power and sexuality."
Growing up in the mountains of Arizona, Alexander wore her natural hair but rarely saw herself reflected in popular culture or her community.
"I had been a stage actor doing very serious plays around the world since I was 17, so I didn't have the luxury to be myself as most girls do," she said. "I walked in, and I was a tool for whatever the play needed or whatever the part required."
Alexander's hair followed the many phases of her career. There was the relaxer she got in high school. The weaves she wore on stage — one left Alexander's hair so damaged that she cut it off and regrew it. As cousin Pam on "The Cosby Show," she kept a natural look. Her 1992 ABC series "Going to the Extremes" led her to Jamaica.
"They were white producers; they didn't know what to do with my hair," she said. "They just asked me, 'Do you mind cutting off your hair?' I had no problem with it."
After that, Alexander sought out ways to grow her hair again and went to a New York salon where a stylist introduced her to nu-locs — hair made of yarn that mimicked neat dreadlocks. When she wore the style during her audition for "Living Single," it instantly stuck, becoming part of the Maxine Shaw persona.
"I can't take credit for that style because the person who paved the way was Whoopi Goldberg with her locs in 'Jumpin' Jack Flash,' " she said. "It turned out to be, in a lot of women's minds, a revolution for how they could be inside a professional environment but yet look put together."
---
---
Get our L.A. Goes Out newsletter, with the week's best events, to help you explore and experience our city.
You may occasionally receive promotional content from the Los Angeles Times.