Review: Quinn Shephard's mean girls psychodrama 'Blame' loses focus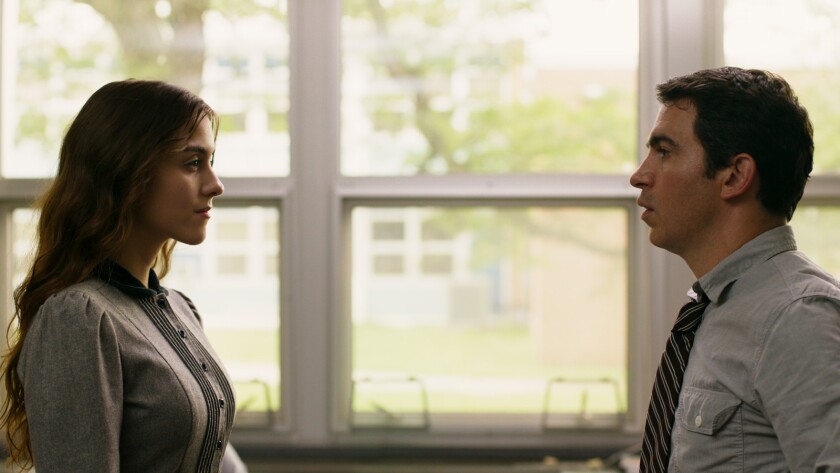 If the teen psychodrama "Blame" can feel a bit hastily rendered, that's because, according to 22-year-old writer-director-star Quinn Shephard, the tyro filmmaker was rewriting her script (first penned when she was 15; her mom, Laurie Shephard, shares story credit) "right up to the start of principal photography" and well after.
The result is a potentially timely and provocative story that's all over the map, never quite building to an effective enough crescendo or catharsis.
Shot largely at Shephard's hometown high school in Metuchen, N.J., the movie involves pretty, awkward 11th-grader Abigail (Shephard) who recently suffered some vague emotional breakdown. She's taunted by several "cooler" classmates: the brash, cruelly intentioned Melissa (Nadia Alexander), the conflicted Sophie (Sarah Mezzanotte) and puerile dudes Eric (Luke Slattery) and T.J. (Owen Campbell).
Enter earnest substitute drama teacher Jeremy (Chris Messina), a struggling theater-type with an unsupportive girlfriend (Trieste Kelly Dunn), who decides to stage scenes from "The Crucible" for the school's acting showcase. But when he casts Abigail over Melissa in the lead, it causes a ripple effect of jealousy, lust, insecurity and general nastiness that proves an unwieldy, unconvincing mix. Jeremy's handling of it all feels particularly ham-handed.
This capably acted, if unevenly paced film often lacks focus and depth as it bounces from Abigail to Jeremy to Melissa and back, while spending undue time on extraneous hookup activity and mean-girl bits.
-------------
'Blame'
Not rated
Running time: 1 hour, 39 minutes
Playing: Laemmle Music Hall, Beverly Hills; also on VOD
See the most-read stories in Entertainment this hour »
---
Get the Indie Focus newsletter, Mark Olsen's weekly guide to the world of cinema.
You may occasionally receive promotional content from the Los Angeles Times.