The stars of battle rap satire 'Bodied' on the politics of wokeness: 'The whole world is in a battle rap right now'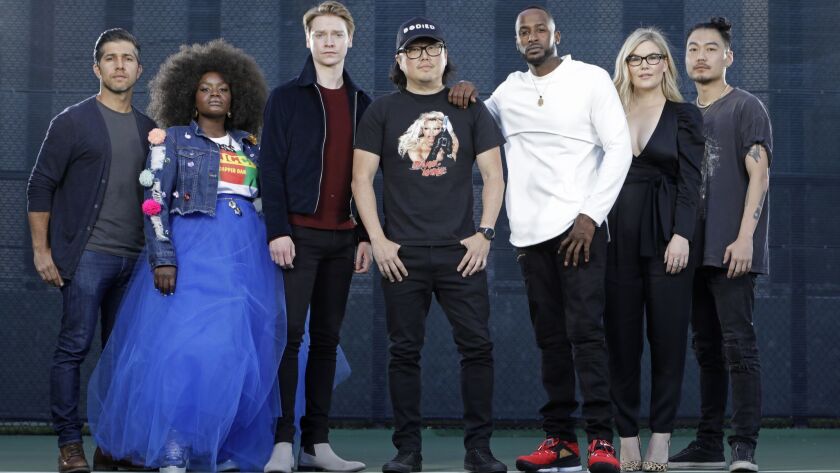 It's taken two years for director Joseph Kahn's blistering battle-rap satire "Bodied" to make it to screens — a period of aggressive political and cultural upheaval in America that's unexpectedly only made the zeitgeist-skewering comedy more relevant.
"Bodied" debuted last year at the Toronto Film Festival to critical acclaim and hit screens in a limited theatrical release earlier this month. Today it opens on its biggest platform yet: YouTube Premium, where the trailer alone has already garnered millions of views since premiering in October.
Like battle rap itself, a lyrical contact sport waged with words in front of jeering and cheering crowds, the R-rated "Bodied" is an equal-opportunity offender unabashedly lobbing barbs at all comers inside and outside the battle world.
But, the cast marvels as they reunite over lunch in Hollywood, oh, the barbs they could've dropped using the last few years as fodder....
"There's been a whole new president since we filmed the movie," notes Disney Channel alum Calum Worthy, who makes a subversive star turn as Adam Merkin, a woke white grad student who becomes an unlikely battle rapper.
Rapper Dumbfoundead started his career in the scene, gaining fans and notoriety from legendary battle competitions posted online. He adds to his acting résumé in "Bodied" as Prospek, a battler proudly repping L.A.'s Koreatown. "There's like two years of crazy [stuff] we could have put into battle raps!" he says.
"A perfect example is Kanye," adds Jackie Long, the "ATL" and "Idlewild" actor who brings impressive layers to Behn Grymm, the veteran who takes Adam under his wing and comes to question the monster he's helped create. "We've got the perfect movie for him right now."
Produced by Eminem and written by former battle rapper Alex Larsen, a.k.a. Kid Twist, "Bodied" begins as naive fanboy Adam drags his skeptical feminist girlfriend Maya (Rory Uphold) to an underground rap battle to research his thesis on the use of the N-word in battle rap.
Soon the polite white liberal outsider is parlaying his poetry skills into spitting his own devastating rhymes. Under Grymm's tutelage, he becomes a rising star in the minority-dominated space where stereotypical jokes tread a fine line between satire and violence.
But with great power comes great responsibility, and the film leaves it up to the viewer to decide if we're watching a hero's origin story.
"I was worried that I wouldn't be able to do the world of battle rap justice," says Worthy, who worked closely with Larsen and real battle rappers to cultivate the lyrical rhythm, cadence and confidence of a true battle-rap champ.
With a social media following of more than 2 million, many of whom are young fans, even taking on a project like "Bodied" was a deliberate career choice for Worthy, a former "Austin & Ally" star whose credits include "American Vandal" and the upcoming horror comedy "Corporate Animals."
"When I read the script I really wanted to do it because it tackled free speech and cultural appropriation, which even back then were two of the most controversial topics in America and around the world," he says. "The idea of doing a movie around that was something I thought the world needed, and now needs even more."
Real-life battle rappers Alex "Kid Twist" Larsen, Dumbfoundead, Dizaster, and "Bodied" co-star Shoniqua Shandai talk to The Times at the Toronto International Film Festival about confronting race and racism in America in the controversial battle rap
Adding authenticity to "Bodied's" fast-paced dynamism and furious musicality are real-life battle rappers including Dizaster, who plays an intimidating contender dubbed Megaton. It was their energy and support that brought the set to life, says Long, who breathes hidden dimension into the secretive Grymm.
"I feel like I'm in their world and I understand what they go through," Long says. "At the end of the day I hope this movie does great things for battle rap."
All the -isms that collide in greater society make prime targets for ridicule in "Bodied," from the lazy race and gender clichés lesser rappers hurl at Adam's inner circle of battlers (including Che Corleone, played by Walter Perez, and Devine Wright, brought to commanding life by a scene-stealing Shoniqua Shandai) to the pretentious faux-progressivism of his grad school cohorts.
In Kahn's film, words are weapons, and it's how you use them, rather than the words themselves, that matters. The battle rap of "Bodied" becomes an unlikely safe space to deconstruct the fraught wars of discourse that keep America divided today.
"I think it's important to have a conversation about that distinction; otherwise we just get into this place where we're just policing each other and it gets so extreme that we're not listening to each other," says Kahn. The director jokes that Twitter, where he's been known to spar and spit witticisms, is his own version of battle rap.
He's been surprised to find some of the film's most controversial lines land huge laughter from film festival and sneak audiences around the country. "I have made, somehow, an extremely racist movie that everyone thinks is not racist," he laughs.
Kahn is joking, of course. "I made the movie to explore," he says. "There are two parts to a filmmaker: You make the movie and you analyze it as you make it, and there is the actual interaction with the public. And one of the things I really wrestled with was, 'Why do people laugh at racist jokes?'
"Bodied" director Joseph Kahn and stars Charlamagne Tha God, Calum Worthy, Jackie Long and Rory Uphold sat down with The Times at the Toronto International Film Festival to discuss the controversial satire set in the world of battle rap, "the last s
"Another thing I've been thinking about over this past year is the idea of the perfect liberal person who has no stereotypes, no misogyny, no fear of anybody and no sense of any racism whatsoever: That person does not exist," he continues.
Perez had worked with Kahn before on the dizzying 2011 horror comedy "Detention" and knew what he was getting into when the director called about starring in "Bodied."
"I wasn't really caught off guard," says Perez. "He described Che Corleone — this pompous, full of bravado Nuyorican character from Oakland, and I was like, 'Alright, cool!' Then I read the script and I thought, 'This is intense. How are people going to react to this?'"
Battle rap is like stand-up comedy, he adds — not for the easily offended.
"I don't have a problem with that," says Dumbfoundead, whose own 2009 battle versus Kid Twist, filled with an onslaught of easy Asian jokes, partly informed the "Bodied" screenwriter's reflexive take. "You're supposed to use everything about a person and have no mercy. I think once you get offended, you lose.
"If you watch the battle-rap scene now, people are trying to spit more 'woke' battle raps," he laughs uproariously. "I saw these two white dudes battle recently about who's more woke. That was the battle!"
"That's something that also drives me nuts," adds Uphold, whose Maya presents a surprising foil to Adam's morally dubious protagonist. "This performative aspect now, especially — sorry — with men, that is a performative wokeness. Dudes, you doth protest too much. I don't need to know about your feminism. Shut up and act. Show me, don't tell me."
One dazzling battle scene between Dumbfoundead and Shandai draws out the complexities of how we negotiate identity politics and turns stereotypical Asian, black and female slams on their head.
"That actual rap was in my audition sides and my agent, this older white man, said, 'I don't like this. I don't think this is good for you, I don't think this is a good role for women,'" Shandai recalls. "But I was like, 'You don't get it … this is shoving the stereotypes back in their face.
"It's me actually taking power and saying, 'I know what you think of me. Do better,'" she continues. "Being able to say all these horrible things that are said to women and black women constantly, and to be empowered and to challenge a man, felt so good."
The actors share the same hope for "Bodied": Not only to provoke debate over Adam's journey into the world of battle rap, but to put hard topics on the table and spark crucial conversations about how he got there and what he ultimately becomes.
"For me the barometer of success is that after people see this film they'll have discussions like this," says Worthy. "['Bodied'] doesn't really make a statement, necessarily. It's a platform of questions and at the end of it, people get to decide for themselves."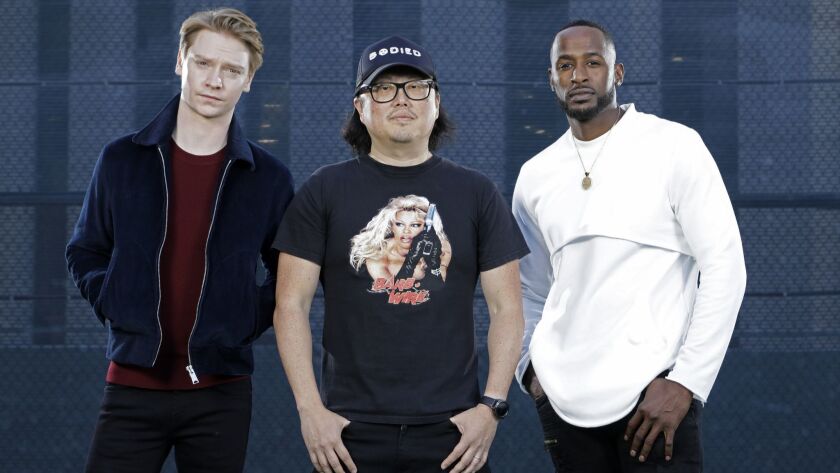 ['Bodied'] doesn't really make a statement, necessarily. It's a platform of questions and at the end of it, people get to decide for themselves.
Calum Worthy
"Ideally the goal is for like-minded individuals to figure out a way to start communicating about this," says Uphold. "The fact that minorities, or people of color, women, LGBTQ, people that aren't able-bodied aren't all aligned is wild to me."
Shandai nods. "What I can appreciate in this time is that people are being forced to reveal themselves," she says. "Everyone's displaying their racism, their ageism, their colorism, their homophobia. Once we can start conversing I think there will be a greater opportunity for change, because now we can see it."
Kahn places the intentions of "Bodied" within our current age of political, social and cultural acrimony, and in a nation divided under President Trump. "I have to put it out there: I am a Trump-hating liberal," he declares.
"One thing I've realized," he says, "is Trump is a battle rapper. He is literally playing the dozens. He is calling out people, making fun of their names, making fun of their races. He is a battle rapper, and the only way to defeat him is to battle rap back."
Trying to silence those one disagrees with in the name of political correctness isn't the answer, he adds. That's where audiences might take cues from the barb-dropping, rhyme-slinging, thick-skinned lyrical warriors of "Bodied."
"We have to debate," Kahn says. "The whole world is in a battle rap right now and you can't win a battle rap by just saying, 'Be quiet.'"
---
Get the Indie Focus newsletter, Mark Olsen's weekly guide to the world of cinema.
You may occasionally receive promotional content from the Los Angeles Times.