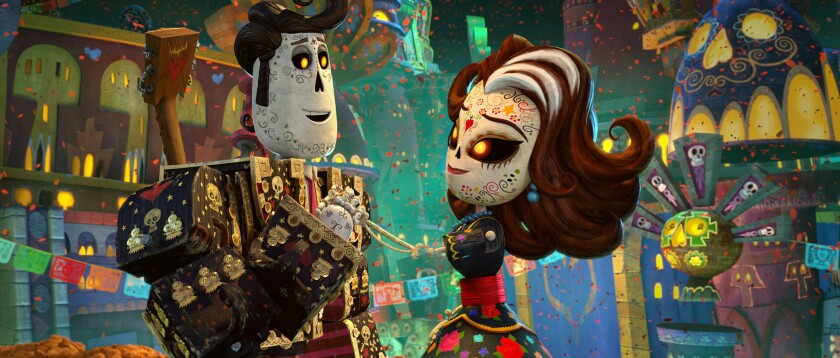 "The Book of Life" juxtaposes overwrought visual imagery with an undernourished, familiar story — regrettable flaws in one of the few animated films to focus on Latino characters and the rich heritage of Mexican folk culture.
La Muerte (voiced by Kate del Castillo), the benevolent ruler of the Land of the Remembered, and Xibalba (Ron Perlman), the treacherous lord of the Land of the Forgotten, bet on the fate of three children in the mythical town of San Angel. Family tradition demands that Manolo (Diego Luna) become a bullfighter, but he objects to killing and wants to be a musician. Joaquin (Channing Tatum) is determined to become a hero fighting bandits, even if he cheats with Xibalba's medallion guaranteeing invulnerability.
Both men are seeking the hand of the inevitably beautiful and spunky Maria (Zoë Saldana). But Joaquin acts so much like Gaston in "Beauty and the Beast," the ending is a forgone conclusion: What heroine chooses a vainglorious soldier over a sensitive songwriter?
The main characters look like puppets with hinged joints, and the film might have worked better in stop-motion animation than in computer graphics. A bigger problem is that director and co-writer Jorge R. Gutierrez modeled so much of the film on traditional Day of the Dead artwork. The characters are covered with brightly colored details that quickly become distracting. When Gutierrez presents an entire realm rendered in a similarly flamboyant style, the viewer's eye gets lost in a labyrinth of decorated skulls, balloons, candles and fabrics.
For "Corpse Bride," designer Carlos Grangel drew on Day of the Dead imagery more effectively. The artists at Pixar are working on a film with a related theme. Perhaps the dead will fare better in their next screen incarnation.
"The Book of Life."
MPAA rating: PG for mild action, rude humor, thematic elements, brief scary images.
Playing in general release.
---