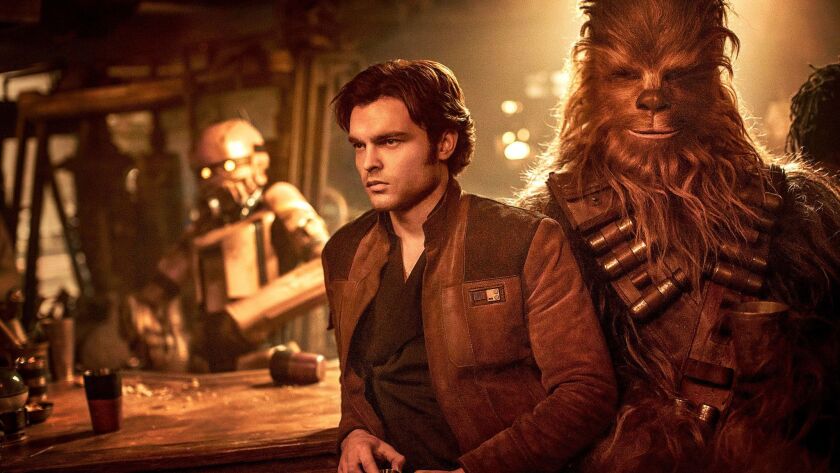 With a lack of any big-ticket competition, Disney's "Solo: A Star Wars Story" maintained its box office dominance for the second weekend in a row despite a hefty drop from its disappointing opening weekend haul.
The film added an estimated $29.3 million in ticket sales in the U.S. and Canada, a 65% decline from last weekend, for a cumulative $148.9 million, according to figures from measurement firm ComScore.
After two weekends in release, it now looks likely that the final worldwide total for "Solo" will fall short of the $532 million that the franchise's previous spinoff film, "Rogue One," made in the U.S. alone.
Currently, "Solo" stands at $264.2 million globally including an underwhelming $115.3 million in international receipts. It has opened in every major market except Japan (where it bows later this month).
In second place, Fox's "Deadpool 2" earned $23.3 million in its third week, for a cumulative $254.6 million in earnings. While strong numbers, the sequel continues to lag its predecessor, which had minted $285 million through its third weekend.
STX Films and Lakeshore Entertainment's drama "Adrift" was the highest-grossing newcomer, opening in line with expectations and taking third place with $11.5 million.
The romantic survival story stars Shailene Woodley and is based on the book by Tami Oldham Ashcraft detailing the real-life experience of 41 days stranded at sea. The film earned a B rating on CinemaScore and a 71% "fresh" rating on review aggregation site Rotten Tomatoes.
In fourth place, Disney's "Avengers: Infinity War" continues to do strong numbers in its sixth weekend, adding $10.4 million in earnings for a cumulative $642.9 million.
Rounding out the top five, Paramount's "Book Club" earned an additional $6.8 million in its third week for a cumulative $47.3 million. Its 32% decline from last weekend was the lowest in the top 10.
Also new this week, BH Tilt's low budget thriller "Upgrade" opened with $4.5 million at No. 6.
Starring Logan Marshall Green, the film follows a technophobe who, after being paralyzed, receives an experimental AI treatment with a voice and mind of its own. It earned an 85% on Rotten Tomatoes.
The final new wide release of the week was Paramount's "Action Point," which premiered at No. 9 with $2.3 million.
Starring Johnny Knoxville, the R-rated stunt comedy did a box office face-plant with numbers far below already modest expectations; it posted the lowest wide release debut of Knoxville's career.
The film, which shares creative DNA with but no official connection to Knoxville's popular "Jackass" franchise, earned poor reviews across the board with a C+ on CinemaScore and a 17% "rotten" rating on Rotten Tomatoes.
Lionsgate's "Overboard" remake added an additional $2 million in its fifth week and maintained its hold on the top 10.
The film, which has grossed $45.5 million to date, is now the highest-grossing movie from Pantelion Films, which is focused on catering to Latino audiences. It has outperformed 2013's Mexican dramedy "Instructions Not Included," also starring Eugenio Derbez, which earned $44.5 million during its theatrical run.
In limited release, Magnolia's documentary "RBG" continues to perform well with an additional $1.1 million grossed over the weekend across 432 locations for a per-screen average of $2,338. The film has earned an impressive $7.8 million in five weeks and is now Magnolia's highest-grossing film to date.
Also shaping up to be a limited-release standout, A24's critically acclaimed drama "First Reformed" added 62 screens and $455,435 in earnings (a 56% increase) in its third weekend, for a cumulative $1 million. The Paul Schrader-directed film has a 98% "fresh" rating on Rotten Tomatoes.
The Orchard's crime drama "American Animals" opened this week in four locations with $140,633, for a solid per-screen average of $35,158. Following four friends who conspire to steal rare and valuable books from a school library, it earned an 84% "fresh" rating on Rotten Tomatoes.
The film was acquired at this year's Sundance Film Festival in a unique collaboration between the Orchard and movie ticket subscription service MoviePass, which has been heavily promoting the title to its subscribers.
Next week, A24 premieres the horror flick "Hereditary," Global Road debuts the sci-fi thriller "Hotel Artemis" and Warner Bros. unveils the heist comedy "Ocean's 8." Focus Features opens the Mr. Rogers documentary "Won't You Be My Neighbor?" in limited release.
follow me on twitter @sonaiyak
---
UPDATES:
11:50 a.m.: This article has been updated with more opening figures and cumulative earnings.
This story first published at 9:50 a.m.
---