Shailene Woodley's survival instincts drew her to telling Tami Oldham Ashcraft's story in 'Adrift'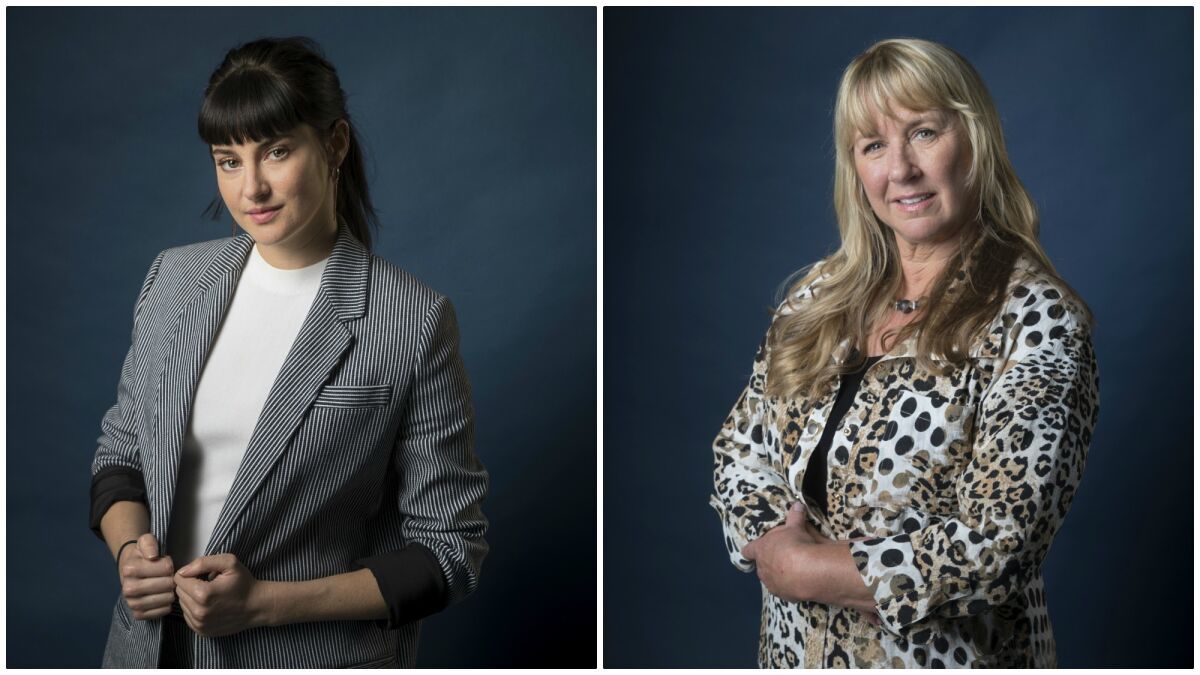 A dozen miles offshore, Tami Oldham Ashcraft sat on a boat bobbing in the middle of the ocean. She wasn't alone — there were camera crews all around her — but the memories of her time stranded at sea began flooding her mind.
It had been almost 35 years since she set out to sail 4,000 miles from Tahiti to San Diego with her fiancé, a Brit named Richard Sharp who shared her wanderlust. But three weeks into their journey, the couple hit a category-four hurricane whose 140-knot winds left the 44-foot yacht they were on nearly decimated.
And now, on the ocean set of "Adrift," Ashcraft was reminded of how she felt waking up after 27 hours unconscious to discover the wreckage. She was watching the actress Shailene Woodley portray her for a new movie about how she survived, stranded at sea, in the 41 days following the devastating storm.
Sunburned and covered in fake blood, Woodley was shooting a scene in which she tried to repair some of the damage to the vessel, covering a leaking hole with duct tape.
"Watching her rip that tape, I just wept. I just cried, because I could just so relate with that," Ashcraft said, tears coming to her eyes again. "If there had been somebody filming me, that's exactly what it would have looked like."
Though it was an emotional moment for Ashcraft, the experience didn't overwhelm her. In fact, she still loves the ocean. Just a few months after being rescued — her yacht was found by another boat in Hilo, Hawaii — she was back on the water and got her hundred-ton captain's license. She and her husband raised their two children on San Juan Island in Washington — part of a remote archipelago that requires a ferry trip to get to. And every day, she wears a tiny gold sextant around her neck — a reminder of the navigational tool that she says saved her life during her time adrift.
"I've got salt water in my blood," said Ashcraft, now 58, who grew up surfing at San Diego's Sunset Cliffs. "And I've always wanted to make a film and tell my story. Every time I'd tell somebody what happened to me, they'd be like, 'Has there been a movie made about this?'"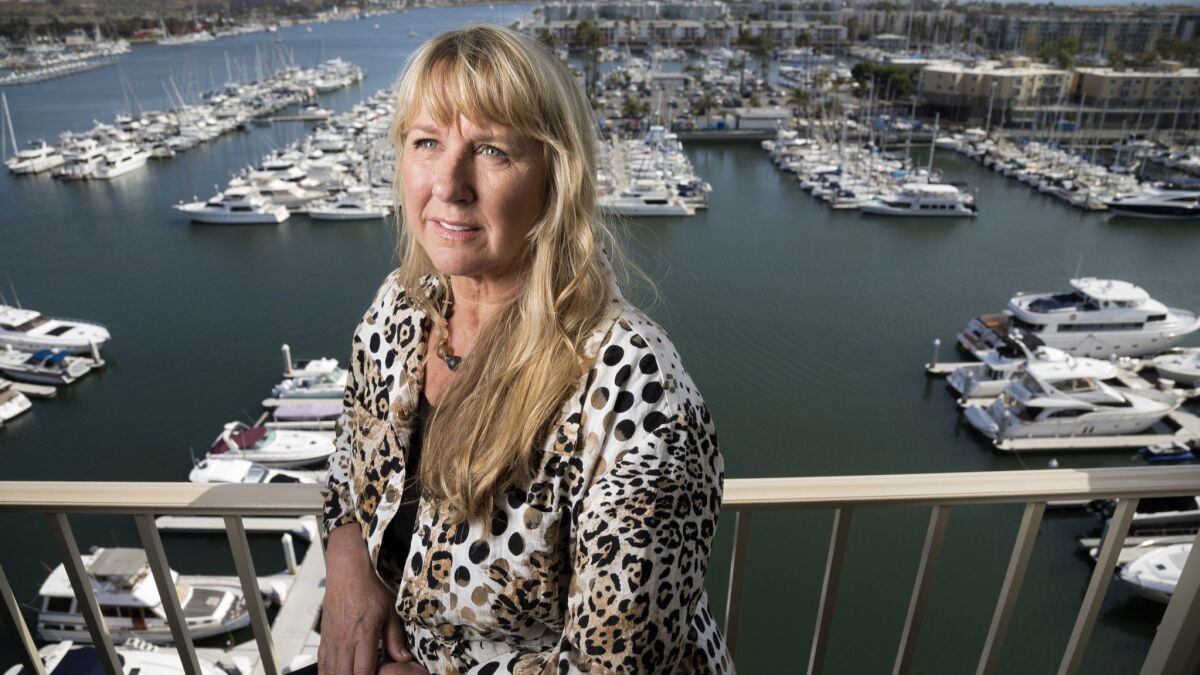 Woodley, herself a free spirit with a love for the outdoors, immediately gravitated toward Ashcraft's story. It just took her awhile to find it. When she was first sent the film's screenplay, she was protesting the Dakota Access Pipeline — a cause she was so invested in that she got arrested in October 2016 on suspicion of criminal trespassing and engaging in a riot.
"It was around the arrest, because I missed it in my inbox — anything that came in that was work-related, I was sort of disregarding a bit, because I was so focused on North Dakota," said Woodley, 26.
After posting bail and returning home a month later, her agents flagged the project for her. She tracked it down in her inbox, climbed into bed and started reading. Within minutes, her mom walked in and found Woodley sobbing, moved on "such a molecular level" by the survival tale.
But the actress was at a transitional moment in her career. After appearing in a slew of high-profile projects — "The Fault in Our Stars," "The Spectacular Now," the "Divergent" franchise — Woodley was feeling burned out. So in 2015, she called her agents and told them not to send her any scripts. She wasn't quitting acting, she assured her team, she just wanted a break to pursue her other passions, including supporting Bernie Sanders' presidential campaign.
That worked for a while, until Woodley was offered a role in "Big Little Lies" alongside Reese Witherspoon, Nicole Kidman and Laura Dern.
"At first I was like, 'Great, thank you. I'm not gonna read it because I'm still in my means of other pursuits,'" she said. "But when they told me everyone who was involved, I decided to read it, and immediately, I was like, 'Of course.'"
Working on the HBO series — on which she's now in the midst of filming a second season — renewed her passion for acting, reminding her that it was possible to feel creative on a set. So when "Adrift" came her way — even though she was still devoting time to her political pursuits in North Dakota — she decided to do it.
As it turned out, her time camping out on the Standing Rock reservation would serve her well while filming "Adrift." There, she'd often been hungry and cold but learned how to push through her discomfort. "When you're in situations that are potentially extremely physically harmful to the point where death could find itself upon you," she said, "the small things just don't matter."
Though there were plenty of safety precautions on "Adrift," it wasn't exactly a cushy film set. Director Baltasar Kormákur — known for his work on nature survival stories such as "Everest" and "The Deep" — wanted to film the movie as authentically as possible. That meant lugging hundreds of pounds of expensive camera equipment out by boat to desolate parts of the ocean, where cast and crew had to battle the elements while shooting.
"The first day, Shailene was so seasick, lying on the boat throwing up," the director said. "She threw up and said, 'Just give me a moment,' and then she was fully committed — moments after nearly throwing up her lungs."
Kormákur thought Woodley had a "special authenticity" to her because she was a West Coast girl — she grew up in Simi Valley — and he liked that she was a hardworking actor "with none of that star bull..." He was particularly impressed with her while filming a surfing scene in which she is thrown from her board and swirled around in the waves underwater.
"She doesn't have a lot of vanity anyway, but she totally lost it then and allowed her body to be shown in a not glorious way," he said. "I felt Shailene was right for this because, like Tami, she's strong headed. There's a very courageous woman at the center of both of them."
Woodley and Ashcraft had communicated long before filming began, first through e-mail. After reading the screenplay, the actress wrote a long message to Ashcraft sharing how much she connected with the story.
"Oh my gosh, she just spilled," Ashcraft said. "She is so passionate, she just puts it all out there. None of this nicety-nice, in-a-box thing. She said she wanted to honor the story and thought she could encompass the role. It was so awesome and so sweet and just overwhelming, in a way, for me."
For years, Ashcraft had found it difficult to share her story with others. She'd written a book about her experience, published in 2002, and toured yacht clubs giving inspirational speeches. Boaters were interested in the gritty details — What pieces of the vessel remained intact? How did she repair the boat? — but no one could truly relate to her.
"It's too much for people," she said. "You don't even know how bad it got to be on the brink of death, really."
Woodley approached Ashcraft cautiously. While she found her real life subject to be open and available to all questions, she tried to be "conscious of her boundaries and respecting the fact that this could bring up a little bit of trauma or healing for her."
"Ultimately, there was the constant reminder that we were making a movie based on a true story," she said. "There was a sense of importance and a reverence that all of us carried with us. You could feel her energy the entire time."
Ashcraft says that, for many years, she struggled to comprehend the gravity of what she'd been through. (She also struggled with the ramifications of a head injury she'd suffered at sea for five years after the hurricane.) When she put her head on her pillow at night, she said, she'd block out the experience.
"But now," she said, "seeing everything on the big screen, I'm coming to terms with it."
"A lot of people say to me, 'Oh, I would just die out there.' But you know what? Really, you probably wouldn't. You would try as much as you can, because you really have no choice ... You figure a way. And maybe in the process, you do die. But you're not gonna curl up in a ball. That's not how it works."
It's that perseverance and unwavering optimism that Woodley so connected with. Because of many of her beliefs — her efforts to slow climate change, in particular — she said she's often told she's too idealistic.
"Listen, until someone gives me another solution, I'm not gonna stop," she said. "Taking away the trees on our planet and ruining our ocean will leave us without oxygen to survive. Practically, I don't know how that fact doesn't rub people harder. If we don't protect our planet, we cannot survive. It's basic human instinct to survive."
Follow me on Twitter @AmyKinLA
---
Get our L.A. Goes Out newsletter, with the week's best events, to help you explore and experience our city.
You may occasionally receive promotional content from the Los Angeles Times.