How massive is 'Black Panther' at the box office? A record-shattering $235 million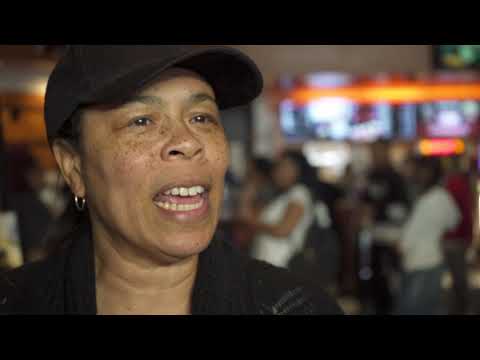 The Times spoke to fans who attended opening day screenings of "Black Panther" in Los Angeles to discuss what the film meant to them.
The King of Wakanda reigned supreme this holiday weekend as Disney's "Black Panther" proved to be a pop cultural phenomenon, shattering box office records with an estimated $235 million in U.S. and Canadian ticket sales for the four-day holiday weekend.
The Marvel Entertainment release, the first global superhero blockbuster with an African American director and a mostly black cast, exceeded expectations and set records for a February opening and for a Presidents Day weekend debut. The previous record holder was "Deadpool," which made $152 million domestically over the four-day holiday in 2016.
"Black Panther" is the fifth highest domestic opening weekend of all time, behind only "Star Wars: The Force Awakens" (2015), "Star Wars: The Last Jedi" (2017), "Jurassic World" (2012) and "Marvel's The Avengers" (2012).
Critics and audiences pointed two thumbs straight up. "Black Panther" landed an A-plus audience rating from CinemaScore, and a 97% "fresh" rating among critics on Rotten Tomatoes. That makes "Black Panther" — directed and co-written by 31-year-old Ryan Coogler ("Creed") with co-writer Joe Robert Cole and starring Chadwick Boseman — the most well-received superhero film ever, Marvel or otherwise.
"Results like this go beyond anything anyone ever could have hoped for," said Dave Hollis, president of global distribution at Disney. "The momentum that the film has, has left us unable, even, to keep up with projections. It's unbelievable."
"Black Panther" is set in the mythical kingdom of Wakanda, which is rich with the miracle metal vibranium and is the most technologically advanced nation on the planet. The Afrocentric movie touches on ideas of colonialism and the reverberations of slavery.
FULL COVERAGE: Marvel's 'Black Panther' »
A prevailing belief among some in Hollywood has been that movies with mostly black casts don't do well at the foreign box office, but Disney reported $169 million in international ticket sales — a figure expected to climb dramatically when "Black Panther" opens in major markets including China, Japan and Russia.
With Hollywood criticized for not putting diverse voices behind the camera or enough people of color in starring roles, the box office numbers for "Black Panther" are telling, Hollis said.
"It's a testament to an extraordinarily made film," Hollis said. "But also, a big part of it too says very clearly that inclusion and representation matter. It's a powerful thing for people to see themselves and know that they're seen in the films we put up in a movie theater. Audiences deserve to see themselves on screen. Not only because it's the right thing to do, but it makes for better, richer storytelling."
An ethnically diverse audience pool gave "Black Panther" five out of five stars on a comScore/Screen Engine PostTrak audience survey. The moviegoers were 37% African American, 35% white, 18% Latino, 5% Asian and 5% other.
Hollis added that more "Black Panther" ticket buyers were in the 18-24 and 25-39 age brackets than is typical for a Marvel superhero movie.
"Black Panther" had Imax's biggest weekend ever, bringing in $35 million globally from 676 screens.
"The film represents taking a movie and turning it into an event, and that's what Marvel, Imax and Ryan Coogler have accomplished with these results in our network," said Greg Foster, chief executive of Imax Entertainment.
"It absolutely opened up the film for a new audience," Foster said. "There were people who don't go to the movies as frequently as we'd like, and this was a movie that was top of mind. People had to be there."
In the No. 2 spot at the box office was Sony's "Peter Rabbit," in its second weekend, with $23.1 million for the holiday weekend.
Universal's racy "Fifty Shades Freed," also in its second week, finished third with about $19.4 million.
"Jumanji: Welcome to the Jungle" brought in $10 million, good for fourth place in its ninth weekend and raising its cumulative domestic total to nearly $380 million. That makes it the second-highest-grossing movie ever for Sony, behind only the first "Spider-Man."
Warner Bros.' "The 15:17 to Paris" finished fifth with about $9.1 million.
Even with low expectations, two other films opening over the weekend underperformed. Lionsgate's animated comedy "Early Man," which received a B from CinemaScore and an 81% "fresh" on Rotten Tomatoes, brought in about $4.2 million and finished seventh at the box office. Pure Flix's biblical epic "Samson," which was not scored by CinemaScore and was poorly received by critics, earned about $2.3 million to finish the weekend at No. 11.
Meanwhile, a milestone for "The Greatest Showman": The film, starring Hugh Jackman, finished its ninth week with $6.4 million in ticket sales. That pushed the movie past the $155 million mark, topping "La La Land" and becoming the highest grossing original live-action musical.
"Monster Hunt 2," which earned a modest $400,000 at the domestic box office, had a record-breaking opening in China. The film earned $190 million in its opening weekend there, where the Chinese New Year holiday is being celebrated. The movie set a record for a single-day gross with $97 million on opening day.
Follow me on Twitter: @debvankin
Get our L.A. Goes Out newsletter, with the week's best events, to help you explore and experience our city.
You may occasionally receive promotional content from the Los Angeles Times.