'Crazy Rich Asians' dominates the box office, makes history for representation
Warner Bros.' highly-anticipated "Crazy Rich Asians" dominated the box office this weekend, making history for Asian American representation and becoming the highest-opening romantic comedy since 2015's "Trainwreck."
The first contemporary English-language Hollywood film with an all-Asian cast since "The Joy Luck Club" 25 years ago, "Crazy Rich Asians" earned $25.2 million over the weekend and a cumulative $34 million since its opening on Wednesday, according to figures from measurement firm ComScore. Analysts had predicted that the film would collect $29 million through Sunday.
"It's a well-made movie, and it's tapped into the zeitgeist culturally as an important touchstone across the domestic marketplace," said Jeff Goldstein, Warner Bros.' distribution chief.
According to Goldstein, 38% of audience members over the weekend were Asian, 41% were white, 11% were Latino and 6% were African American. "We started on Wednesday with a 44% share for the Asian audience," he said, which represents a rare trend. "The shift illustrates the broadening of the movie, which will continue as time progresses."
The movie appeals to everyone, he said: "I think it just looks like fun. The people are handsome and pretty and the locations are exotic. It looks like a nice diversion from life."
For author and CNN contributor Jeff Yang, whose son Hudson stars on the ABC sitcom "Fresh Off the Boat," the film marks a sea change for Asian American representation in mainstream culture.
"Certainly for Asian American audiences, this is a signal moment for us," he said. "It really is the first time that we've seen in a contemporary setting an all-Asian cast with an Asian American protagonist light up the screen. And the storyline itself, I've likened it as the first real Asian American Disney princess story. At its core, this is a story about an immigrant Asian American woman who finds herself essentially in a fantasy land from which she couldn't possibly have imagined coming herself."
It's this universal story that appeals to audiences outside of the Asian community, Yang says.
"Asian Americans, we simply aspire to see a story from our community, from our perspective told, period. But I think it's that Disney princess element that any viewer can key into. And we're seeing already that many beyond the Asian American community are responding to that tried-and-true 'tale as old as time' kind of context of this film."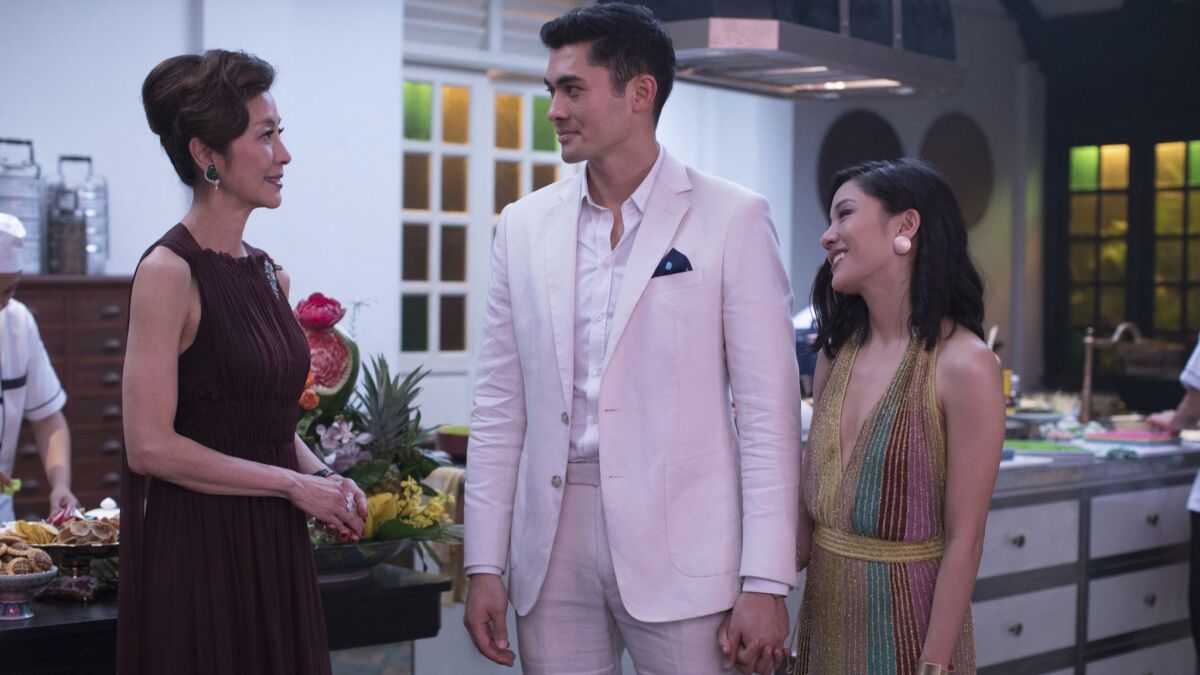 RELATED: 'Crazy Rich Asians': Why the historic Hollywood rom-com matters »
The romantic comedy, which cost $30 million to produce, is based on the bestselling novel by Kevin Kwan about a Chinese American woman who learns her boyfriend hails from one of Singapore's wealthiest families. Starring Constance Wu, Henry Golding and Michelle Yeoh, "Crazy Rich Asians" was shot in Malaysia and Singapore and will be released in international markets, including most Asian countries, in the coming weeks.
According to a July study by USC's Annenberg Inclusion Initiative, of the top 100 films of 2017, only 4.8% featured a character of Asian descent with a speaking role. With the success of this film and others like "Black Panther," "Get Out" and "Girls Trip," studios may soon be looking to change that.
Goldstein says the lesson for major studios here is to take risks and try things that are outside the box. "We're always looking to do that, it's often hard to find that right project that you really believe in. And it takes a lot of work to execute effectively and professionally a project like this and we're proud that we were able to do it."
"As someone who's watched Hollywood undermarket and assign low expectations to uncompromising works by creators of color for all my life, to see films like this breaking out beyond expectations is incredibly satisfying," said Yang. "At the same time, it does underscore the fact that this is not a new phenomenon.
"We've seen works by filmmakers of color and stories that feature performers and characters of color consistently outperform expectations," he continued. "That's great, but it also means studios are not doing enough. If you are surprised by how well your movie did, you left money on the table and that I think is one of the lessons that needs to be learned from this. If you believe in the work that you're putting out there and you get it in front of the audiences that are most primed to consume it, the results will be there."
"The Joy Luck Club," which broke ground in 1993 as the first major studio movie to depict Asian American contemporary life, earned $32.9 million — $57 million adjusted for inflation — over the course of its entire run. "Crazy Rich Asians" is on track to surpass that by next weekend.
Period films like "Memoirs of a Geisha" and "Letters from Iwo Jima" are the most recent Hollywood studio films featuring all-Asian casts. They were released in 2005 and 2006, respectively.
"Crazy Rich Asians" earned positive reviews from audiences and critics, with an A rating on CinemaScore and a 92% "fresh" rating from review aggregation site Rotten Tomatoes.
Now in its second week, Warner Bros.' "The Meg" dropped one spot to No. 2, earning $21.1 million over the weekend for a cumulative $83.7 million.
STX Entertainment's "Mile 22" debuted at No. 3 with $13.6 million.
The film, which was intended to launch a franchise, is the second-lowest opening of the four collaborations between director Peter Berg and actor Mark Wahlberg as well as one of the worst-reviewed films of their careers — and of this summer.
About an American intelligence officer tasked with transporting an asset, the film earned poor reviews with audiences and critics, with a B- rating on CinemaScore and a 20% "rotten" rating on Rotten Tomatoes. With an estimated budget between $30 million and $50 million, the film is largely being considered a disappointment.
Sony's "Alpha" opened at No. 4 and tied with Paramount's "Mission: Impossible — Fallout," which added $10.5 million in its fourth weekend, for a cumulative $180.7 million.
"Alpha," which cost more than $50 million to produce, earned a B+ rating on CinemaScore and a 84% "fresh" rating on Rotten Tomatoes.
In limited release, Sony Pictures Classics opened "The Wife" with $111,137 in four theaters for a solid per-screen average of $27,784. It earned a 93% "fresh" rating on Rotten Tomatoes.
Roadside Attractions' "Juliet Naked" opened in four theaters with $60,922, a per-screen average of $15,230.
Next week, Global Road opens the family adventure "A.X.L." and STX Entertainment debuts the comedy "The Happytime Murders," starring Melissa McCarthy. In limited release, Magnolia Pictures opens the comedy "Support the Girls" and Sony reveals the Sundance prize-winning thriller "Searching" starring John Cho.
follow me on twitter @sonaiyak
---
UPDATES:
12:15 p.m.: This story has been updated with comments from Goldstein and Yang.
This story was originally published at 9:55 a.m.
Get our L.A. Goes Out newsletter, with the week's best events, to help you explore and experience our city.
You may occasionally receive promotional content from the Los Angeles Times.