Desiree Akhavan's 'Appropriate' sense of identity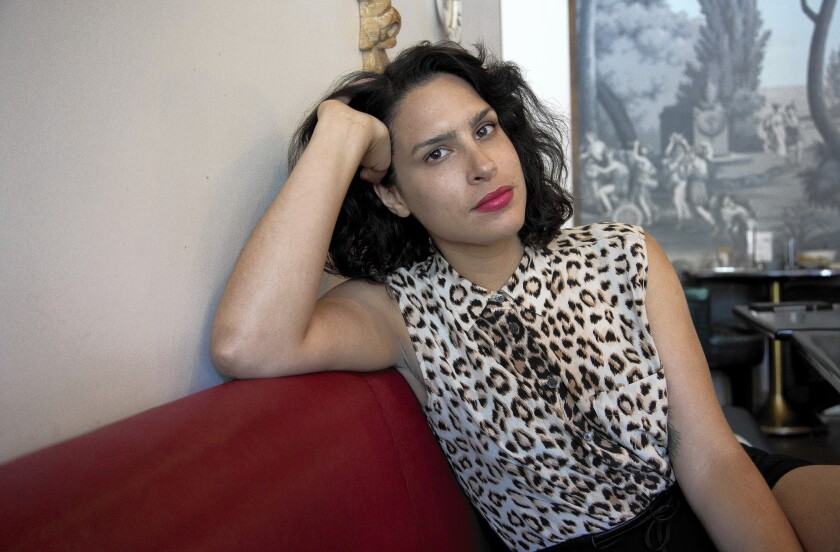 Most references to director, writer and actress Desiree Akhavan place a neat three-word descriptor by her name: bisexual Iranian American, often followed by the words "the next Lena Dunham."
Yet Akhavan isn't trying to fit into an already defined space in comedy or in life. At 29, she yearns to establish her own comic identity that's distinctive from the work of performers who have inspired her over the years, such as Mel Brooks, Woody Allen, Louis C.K., Sarah Silverman — and yes, Lena Dunham.
Her first feature, "Appropriate Behavior," screens Tuesday at Outfest, Los Angeles' LGBT film festival, after an enthusiastic reception at its premiere at this year's Sundance Film Festival. Set in Brooklyn, the comedy tells the story of Shirin, played by Akhavan, a bisexual Iranian American managing a breakup with a longtime girlfriend while searching for both a job and her identity.
"That's the major struggle of my life, I think, is finding my footing and my home," Akhavan said over an iced coffee recently at Lamill coffee boutique in Silver Lake. "This film is just my response, my comedic response, to all of it. I think everyone has those issues, mine are just nicely clear-cut because I'm Iranian and queer and a woman from New York."
The film was her thesis for the New York University graduate directing program, which she completed last spring. Her comedic voice is self-aware and sardonic, like Dunham's, but layered through the various worlds Akhavan has learned to navigate. In the film, while shopping at a lingerie store, she replies to the sales associate's casual "May I help you?" with, "Actually, yes, I'm looking for the grown-up underwear of a woman in charge of her sexuality and not afraid of change."
"This is the stuff that I'm dealing with on a daily basis, but the minute I write it down it feels fictional in a way but still personal," she said. "I don't feel exposed by it because only I know the truth of what my story is, but I do know what I find universal and compelling, and that's what I hope the work is."
Akhavan caught the attention of Dunham, and she's playing a character on the upcoming fourth season of HBO's "Girls." Comparisons to Dunham are flattering but tell only part of the story, Akhavan said.
"I think, obviously, we're very different, and there is a certain moment when you're kind of wondering, 'I don't think all male comedians are compared to each other,'" Akhavan said. "I think we all have our own specific distinct style and our own point of view that are different. I think slowly I'm going to push and there's going to become room for more than one female funny perspective."
Finding her place
"Home" is a word Akhavan uses repeatedly, mostly in the figurative sense of finding a "home" within herself.
The daughter of Iranian immigrants, Akhavan grew up in the suburbs of New York and attended the rigorous Horace Mann School in the Bronx. Growing up, she struggled to find her place.
"When I'm around Iranians, I don't feel Iranian at all, but when I'm around Americans, I don't feel American at all," Akhavan said. "In high school, there's an 'otherness' to me that I can't put my finger on. I think most [children of] immigrants have this feeling that you really have to create your own space and your own comfort with all of it."
Akhavan describes herself as an outcast, performing what she considered a "one-man show to an audience of no one." Then an acting teacher at Horace Mann sat her down in front of a computer when she was 14 and told Akhavan, "I think you could write a really good play."
Akhavan went on to study theater and film at Smith College. While studying film in London, she met Cecilia Frugiuele, an Italian also studying there.
"We met and she understood me in a way that no one in my life understood me before," Akhavan said, referring to Frugiuele as her first "real friend."
Shy and quiet Frugiuele said she envied Akhavan's outspokenness at first. The friends remained close throughout graduate school, Akhavan attending NYU's Tisch School of the Arts as a thesis student and Frugiuele going to school in London for producing.
At NYU, Akhavan found success with a droll Web series she created for class with fellow student Ingrid Jungermann called "The Slope," which follows a lesbian couple living in Park Slope. As Akhavan started to work on her film she turned to Frugiuele for help with rounding out her story.
"I had written a draft, which was completely different from what ended up in the film, and I shared it with her and she and I sat down and thought, 'What are we missing here? What's going to make this work?'" she recalled. "Cecilia would give me notes and say, 'OK, why don't you include more family issues? I think this is compelling, why don't you move in this direction?' We very much crafted the story together."
Frugiuele pitched the film to her London-based production company Parkville Pictures, and it picked up the film, giving Frugiuele her first feature producing role and Akhavan her chance to direct and act. The team finished the film on Jan. 16 and premiered at Sundance just two days later.
While finalizing distribution plans for "Appropriate Behavior,"
Akhavan is moving forward with other projects — another feature with Frugiuele, a TV pilot about bisexual dating and a Web series. Though she has "next projects" on the horizon, Akhavan says she just follows the stories she wants to tell rather than a planned trajectory.
"I never thought I'd be such a happy, grateful person and feel so at home in the world and comfortable and OK with who I am," Akhavan said. "Whatever I am, I like it. And that was the difference."
---
Get the Indie Focus newsletter, Mark Olsen's weekly guide to the world of cinema.
You may occasionally receive promotional content from the Los Angeles Times.