A kiss is not just a kiss at Cannes, where the mood is edgy this year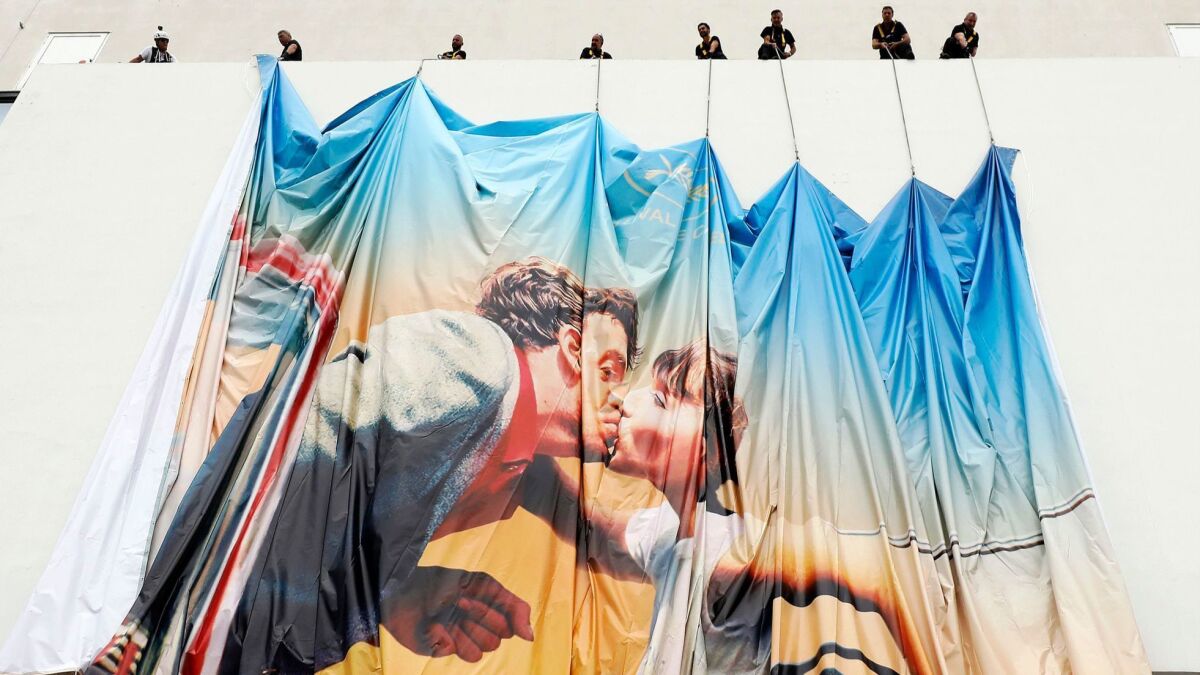 Film Critic
Reporting from CANNES, France —
The kiss is everywhere, but underneath the surface at the 71st Festival International du Film things are not quite so harmonious.
That kiss, a still from Jean-Luc Godard's 1965's "Pierrot le Fou" featuring Jean-Paul Belmondo and Anna Karina smooching from adjoining autos, is the central image of this year's festival poster and can be found on walls and banners all over town.
And in truth, as Cannes prepares to open Tuesday night with Iranian director Asghar Farhadi's Spanish-language "Everyone Knows" starring Javier Bardem and Penélope Cruz, much seems the same as usual.
Huge advertisements for upcoming films like "The Spy Who Dumped Me" overshadow hotel entrances; actors playing animated characters from "Hotel Transylvania 3" stroll La Croisette's seaside promenade; and a full-scale mock-up of the Millennium Falcon's cockpit sits outside the Hotel Carlton to promote the forthcoming "Solo: A Star Wars Story," which plays here next week out of competition.
But look a little deeper and the situation changes, things start to feel edgier. Those hotels have made it more difficult to access their lobbies; La Croisette, the main boulevard, has huge new planters in place to prevent the kind of truck attack that devastated nearby Nice two years ago; and according to the Hollywood Reporter the city "recently doubled its annual anti-terrorism budget by adding a hefty $2.4 million," including a new K-9 force. And the ongoing Netflix fight got even testier this year with the streaming service pulling its slate to protest the festival's rules requiring that all films in competition have theatrical release in France.
The festival itself is undergoing changes. Thierry Frémaux, the event's director, banned "grotesque" selfies on the red carpet, changed the closing night ceremony from Sunday to Saturday "to increase its prestige" and, most important to the 4,200 journalists and critics who show up annually, changed the decades-old tradition of allowing the press to see films ahead of their evening premieres.
This caused such an uproar, especially among French critics, that the festival issued an unprecedented 1,500-word defense of its actions and Frmaux held an unexpected press conference on Monday in part to address the issue.
"We wanted the gala screening to be the first screening, to return to being a major event, a surprise for everyone," he said. "This is not against the press. We need the press, we love the press, I promise."
To preserve its position as the world's top festival, Cannes always has to be something of a balancing act, maintaining equilibrium between commerce and culture, between art-house cinema and more popular fare, even between French films and those from the rest of the world.
This year, however, that balance has been a bit harder to achieve.
Of the 21 films in competition, five, including Godard's latest, "The Image Book," are French, and another eight have some percentage of France financing.
By contrast, there are no films from Britain and only two from the U.S.: Spike Lee's based-on-fact "BlacKkKlansman," starring John David Washington, and David Robert Mitchell's "Under the Silver Lake," a neo-noir L.A. story starring Andrew Garfield and Riley Keough.
In an attempt to restore balance, Cannes has done a variety of things, from snagging that gala "Solo" European premiere to inaugurating an in-person conversation series called "Rendez-Vous With … ," which will include John Travolta, Oscar winner Gary Oldman and superstar directors Christopher Nolan and Ryan Coogler.
There are also English-language films present in Cannes' parallel events, the Directors' Fortnight and Critics' Week, including two of the best dramatic films to come out of Sundance 2018.
That would be, in the Fortnight, Debra Granik's uncompromising "Leave No Trace," starring Ben Foster as a veteran who is homeless by choice. And the opening night Critics' Week attraction is Paul Dano's exceptional rendition of Richard Ford's marital discord novel "Wildlife," starring Carey Mulligan and Jake Gyllenhaal.
Although the festival competition has numerous films from unheralded directors, highly anticipated work from known folks are in the mix as well. At the top of many lists are:
-- "Cold War." Pawel Pawlikowsi's first film since he won an Oscar for the unforgettable "Ida" is a love story similarly set in Communist Poland.
-- "Shoplifters." Always emotionally resonant, Japan's Kore-eda Hirokazu tells a story of a family of petty criminals.
--"Burning." Korean Lee Chang-dong's first film since 2010's masterful "Poetry" adapts Haruki Murakami.
-- "Capharnaüm." A new work from Lebanese director Nadine Labaki, whose "Caramel" opened a window into a rarely seen culture.
-- "Ash Is the Purest White." A gangster romance from China's gifted Jia Zhangke.
Aside from "Solo," promising-sounding out of competition films include Terry Gilliam's long-gestating "The Man Who Killed Don Quixote" and Joe Penna's "Arctic," a cold weather survival tale starring the versatile Mads Mikkelsen.
Documentaries also factor in the Cannes mix, including "Whitney," a new film by Kevin Macdonald (who did the excellent "Marley") on singer Whitney Houston.
Cannes Classics, the festival section devoted to the glories of the past, has a number of docs that are worth paying attention to, including "Be Natural: The Untold Story of Alice Guy-Blaché," Pamela B. Green's examination of the pioneering French director, and "Jane Fonda in Five Acts," Susan Lacy's excellent work that debuted at Sundance.
One of the sad notes for this year's Cannes is the death, just before the festival opened, of 81-year-old Pierre Rissient, a key behind the scenes player and, in the words of director Bertrand Tavernier, "a total cinephile."
Having been, among other things, an assistant director on Godard's "Breathless," a way-early champion of Clint Eastwood and a passionate advocate for everything from Jane Campion to Asian cinema, Rissient typified the artistic balance for which Cannes has always strove. He will be missed.
Get our L.A. Goes Out newsletter, with the week's best events, to help you explore and experience our city.
You may occasionally receive promotional content from the Los Angeles Times.