Quentin Tarantino gets testy at Cannes over question about women's roles in his films
Reporting from Cannes, France —
There were plenty of hard questions Quentin Tarantino could have faced as he greeted reporters for the first time following the Cannes premiere of "Once Upon a Time … in Hollywood."
Did he change his approach to on-set safety after Uma Thurman alleged in February 2018 that the director pushed her to perform a "Kill Bill" stunt that left her permanently injured? Why did he cast Emile Hirsch, who pleaded guilty to assaulting a female executive in 2015, in his new film? Does he have any response to Rose McGowan's claims, published in her 2018 memoir, that he repeatedly and publicly spoke about masturbating to her feet in the movie "Jawbreaker"?
FULL COVERAGE: 2019 Cannes Film Festival »
In his latest film, why does Leonardo DiCaprio's character idolize Roman Polanski, whose 1977 rape charge Tarantino once defended by deeming it "statutory rape," saying the teenage victim willingly participated.
But Tarantino avoided nearly all of those lines of inquiry at the film's press conference here on Wednesday afternoon. The most contentious moment during the question-and-answer session came when a female journalist from the New York Times asked the filmmaker why he gave a talented actress like Margot Robbie — who plays Sharon Tate in the late-'60s Hollywood period piece — such little dialogue.
"I just reject your hypothesis," Tarantino said bluntly, a scowl on his face.
Robbie jumped in to defend the director, saying she felt the moments she had on screen honored the "lightness" she had always heard Tate embodied.
"I don't think it was intended to delve deeper," the Oscar-nominated actress said. "I think the tragedy, ultimately, was the loss of innocence. To show those wonderful sides of her could ultimately be done without speaking. … I got a lot of time to explore the character even without speaking. Rarely do I get to spend so much time on my own as a character. That was actually an interesting thing for me to do as an actor."
READ MORE: Film critic Justin Chang's Cannes Film Festival diary »
"Once Upon a Time … in Hollywood," which debuted to largely positive reviews on Tuesday evening, stars Leonardo DiCaprio as a western star struggling to maintain his relevance in the movie business.
He relies on his best friend and stuntman, Brad Pitt, to boost his confidence and help out around the house — a Benedict Canyon mansion that just happens to be next to Polanski and Tate's home. As they drive around Hollywood, to and from studio lots, the men eventually cross paths with a bunch of young hippies who turn out to be disciples of the late murderer Charles Manson.
Despite the setting, Pitt said he didn't see the film as a depiction of rage against women.
"I don't see it as a rage against individuals — I see it as a rage against a loss of innocence," said the actor. "That time, 1969, when the Manson murders occurred was a time — building up to that, there was the Free Love movement. There was a lot of hope. … And when that event happened, and the tragic loss of Sharon and others, what scares people and why it lasts so much today, I think, was because it was a sobering, dark look at the dark side of human nature."
The only other difficult question the cast and crew faced was about Polanski. In February, Tarantino publicly apologized to Samantha Geimer for making "cavalier remarks" about her 1977 rape charge against the Polish director. So when he was asked on Wednesday about why DiCaprio's character believes Polanski is "the greatest filmmaker alive," Tarantino chose his words carefully.
"He doesn't really talk about him as the greatest filmmaker alive, he talks about him as the hottest filmmaker alive," he said, referring to the amount of money "Rosemary's Baby" grossed in 1968. "I'm a fan of Roman Polanski's work, but in particular 'Rosemary's Baby.' I like that a lot."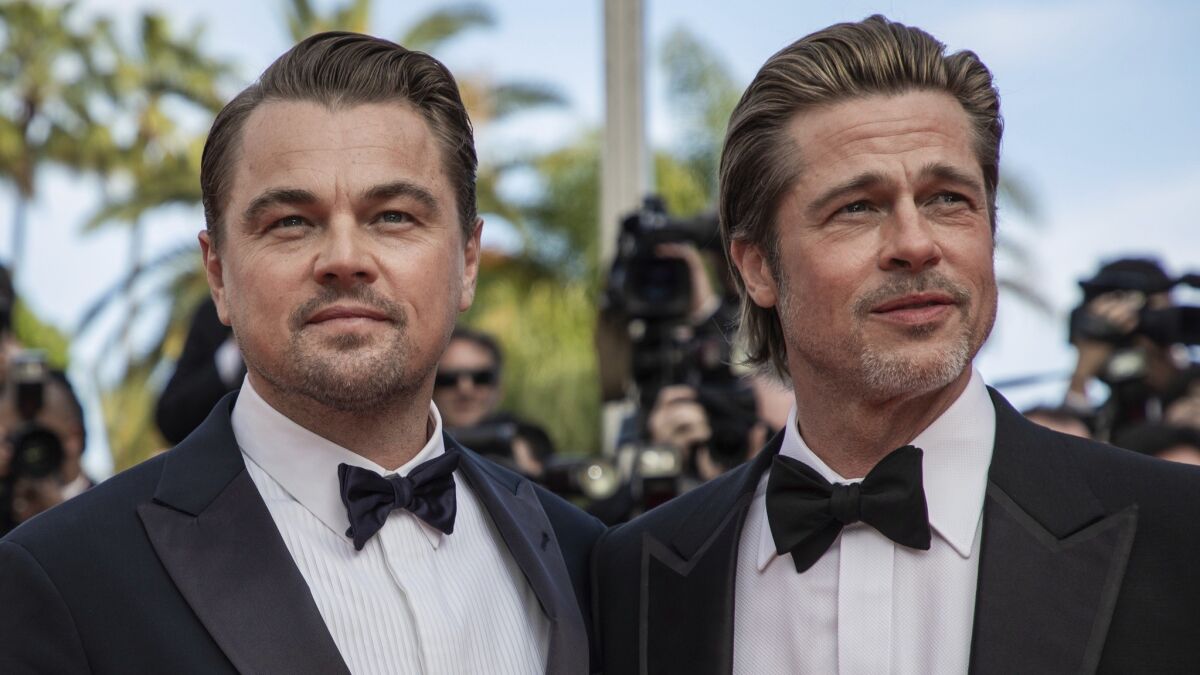 Tarantino said he had met Polanski a "couple of times," but did not consult with the director about his portrayal in "Once Upon a Time … in Hollywood."
Because the characters in Tarantino's film are taking stock of their lives, one journalist asked the group to reflect on their own journey.
"I can honestly say that my taking stock is different than it would have been three years ago, or four years ago, or even 10 years ago, because I just got married six months ago," Tarantino said, pointing to his wife, the Israeli singer Daniela Pick.
"And I've never done that before, and now I know why. I was waiting for the perfect girl," he added. "So frankly, to tell you the truth, my taking stock is happening right now."
The remainder of the press conference involved the team talking about whether they would prefer to live now or in the '60s and DiCaprio and Pitt exuberantly discussing what it was like to collaborate for the first time.
"It's that thing of knowing you've got the best of the best on the opposite side of the table holding up the scene with you," Pitt said. "We have the same reference points. We've been going through this at the same time and have similar experiences to laugh about, and I hope we get to do it again."
Follow me on Twitter @AmyKinLA
---
Get our L.A. Goes Out newsletter, with the week's best events, to help you explore and experience our city.
You may occasionally receive promotional content from the Los Angeles Times.