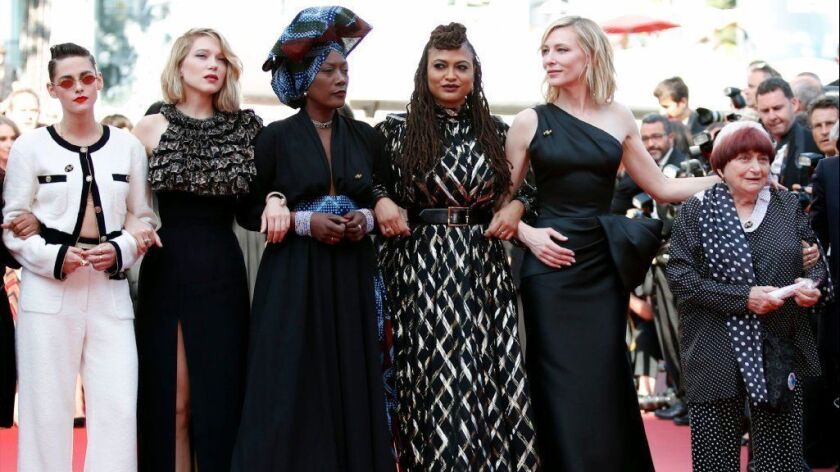 Linked arm in arm, 82 women from the film industry marched up the stairs of the red carpet at the Cannes Film Festival here on Saturday, hoping to make a statement about the need for gender equality in the movie business.
​"The stairs of our industry must be accessible to all. Let's climb," said Cate Blanchett, the president of this year's festival jury. After leading the group of women down the carpet, Blanchett stood at the top to read a statement alongside director ​Agnès Varda, who translated the remarks into French.
​The two women were​ joined by a range of others from the international film community — fellow jury members Kristen Stewart and Ava DuVernay, actresses Salma Hayek and Marion Cotillard, directors Patty Jenkins and Haifaa Al Mansour, and CAA talent agents Hylda Queally and Maha Dakhil.
​In her speech, Blanchett said ​82 women were on the steps because that is the "number of female directors who have climbed these stairs" since Cannes' inception in 1946. In the years since, she noted, 1,688 male directors have made the same trek.
Furthermore, she added, the festival's most prestigious prize, the Palme d'Or, has been given to 71 male directors but just two female directors, Jane Campion and Varda, who received an honorary version of the award.
"These facts," Blanchett added, "are stark and undeniable."
This year, there are three female directors vying for the Palme d'Or: Nadine Labaki, Alice Rohrwacher and Eva Husson, the French filmmaker whose "Girls of the Sun" premiered Saturday immediately after the red carpet protest.
​Wearing a 50/50 button — a symbol of the "50/50 by 2020" arm of Time's Up, which is working toward gender​ parity in Hollywood in the next two years — Blanchett said that though women are not a minority worldwide, "the current state of our industry says otherwise. We stand together on these steps today as a symbol of our determination and our committment to progress."
The event, which was streamed live on the festival's YouTube page, was emceed by French commentators, who noted that a new "awareness has come since H-Day — Harvey Day, as it is called," meaning the months following the revelations of mogul Harvey Weinstein's alleged sexual abuse. "Unfortunately, a terrible event — [but] the consequences nevertheless can be very important," the hosts said.
As the ladies walked down the carpet, "The Carnival of the Animals" — a classic composition by Camille Saint-Saëns — set a powerful tone. The instant the event was over, however, and the women congregated in the lobby of the Grand Théâtre Lumière, ​the deejay put on "Oh, Pretty Woman​."
The event was an about-face from festival director Thierry Fremaux, who said earlier this year that it was not Cannes' role to "organize #MeToo events … because we don't have the skills or legitimacy to do so.
"We are equalizing the proportion of women staffing the festival and within our selection committees, which is important," he told Variety in March. "Last year, Jessica Chastain, who was on the jury, made me understand the importance of the ​'​female gaze'​ during the selection process. She was right. We are also adding our voices to the fight for equal pay. These topics abound. The world is not the same since the Weinstein case; it has woken up. And it's fortunate.​​"
Follow me on Twitter @AmyKinLA
---